New Products & Services
March 1, 2014
Interphex 2014 Show Preview


The pharmaceutical and biopharmaceutical industries will congregate March 18–20 in New York at the Jacob Javits Convention Center for Interphex 2014. The conference and exhibtion will showcase products and services from over 650 exhibitors. The following is a small selection of these exhibitors' offerings at the show.
Watson-Marlow Pumps Group


Aseptic filling solutions
for a variety of applications
Flexicon aseptic filling systems provide automatic aseptic filling, plugging and capping. These highly flexible systems have integrated full- or partial-stoppering and crimp-capping of vials. The equipment features a ready-to-use and easy-to-validate filling system for small batch production for various vial sizes. Designed for use under laminar air flow, Flexicon systems can be supplied with optional restricted access barrier systems or as a customized solution for integration into an isolator. Booth 2823 — Watson-Marlow Pumps Group, Wilmington, Mass.
Garvey

An automatic tray loader
that can handle 800 vials per minute
This company's new automatic multi-lane tray loader for pharmaceutical vials can load up to 800 vials per minute into cardboard or plastic trays with very low vial-to-vial impact. Loading six rows at a time, this unit reduces the number of strokes required to load a tray, preserving vial integrity. All movements are controlled by servo-driven linear motors. The unit can be mounted to compatible accumulators, depending on line speed and vial size. Booth 3166 — Garvey Corp., Blue Anchor, N.J.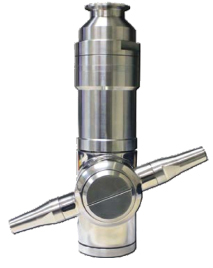 Gamajet

Reduce manual cleaning-in-place
with this hygienic machine
The new Aseptic 8 tank-cleaning machine is constructed of U.S. Food & Drug Administration (FDA) compliant materials, providing a hygienic alternative to manual cleaning-in-place. The Aseptic 8 utilizes patented rotary-impingement cleaning technology, which ensures that tanks are effectively and quickly cleaned. The amount of water, chemicals and energy required for cleaning are drastically reduced with the use of this apparatus, says the company. Created with no grease in the gear train, this fluid-driven machine operates at a wide range of pressures and flowrates and is resistant to clogging. Booth 1845 — Gamajet, Exton, Pa.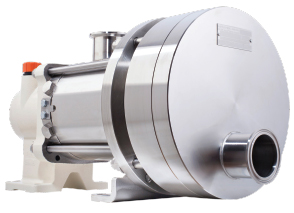 Mouvex

When full containment is required,
use these pumps
The SLS4 and SLS8 pumps are hygienic eccentric-disc pumps that are engineered for use in a wide array of applications that require full containment. The SLS4 can handle differential pressures up to 10 bars and the SLS8 can handle differential pressures up to 6 bars. High-quality machined parts give an optimum surface finish and the streamlined sealless design does not require packing or a magnetic drive. The double stainless-steel bellows ensure product containment and safety. The SLS series of pumps provides very high suction and discharge pressures, allowing them to self-prime and fully strip lines, for maximal product recovery. Booth 2633 — Mouvex, Auxerre, France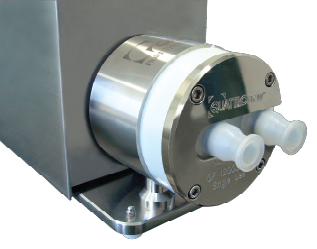 Quattroflow

These pumps feature single-use
molded plastic chambers
The QF1200 Series of single-use four-piston diaphragm pumps are intended for biological-handling applications in the pharmaceutical and biotechnology industries. Featuring single-use, injection-molded pump chambers, these pumps create less waste materials. These replaceable chambers reduce downtime between batches and are simple to change out. QF1200 pumps are also convertible from single-use plastic elements to fully cleanable or sterilizable stainless-steel heads, as required by the application. The absence of mechanical seals results in linear flow characteristics and high turndown capability, allowing for safe transfer of fragile media. Booth 2633 — Quattroflow, Kamp-Lintfort, Germany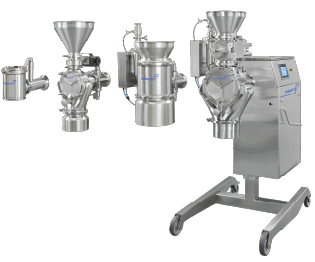 Frewitt

Three unique milling processes
on one machine
These new modular milling systems bring together three different milling processes into one machine. The modular system is capable of conical reduction of powders and granulates, control screening and fine grinding, and users can easily interchange mill heads to switch between processes. The system consists of a conical sieve mill with a rotor at medium revolutions per minute (rpm), a cylindrical sieve mill with a turning stator with lower rpm and a hammer mill with high rpm. A drive arm connects the entire drive and control network to the milling system both electronically and mechanically. With an updated control and operator-interface design, the mills' programmable logic controller (PLC) can be integrated into higher-level control schemes. Booth 2140 — Frewitt SA, Granges-Paccot, Switzerland

Process three container types on one machine with this system
Modular machines from this company can process nested syringes, vials and carpules, all on a single unit. Disposable systems for the various kinds of dosing pumps can be incorporated as needed, to further customize the module's flexibility. Integrated in-process monitoring results in high filling precision and batch yields. Also, batch-to-batch turnaround and idle times in machines employing isolator barriers can be minimized. Booth 2227 — Optima Packaging Group GmbH, Schwäebisch Hall, Germany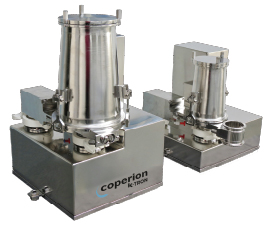 Coperion K-Tron Pitman

This micro-ingredient feeder
has interchangeable modules
The MT-16 micro-ingredient feeder has interchangeable feeding modules allowing for versatility between twin-screw or single-screw operation. This flexibility allows the equipment to handle a broad range of materials, including powders and granules. The overall feed capacity of the feeder is 0.02 to 27 dm³/h. The design allows for extended screw profiles, with a small footprint, resulting in closer discharge dimensions. The unit features a totally enclosed weight sensor and drive motor with high torque for handling difficult materials. The MT-16 provides accurate feeding in food, pharmaceutical and chemical processes in applications such as jet-mill feeding and continuous extrusion. Booth 2757 — Coperion K-Tron Pitman Inc., Sewell, N.J.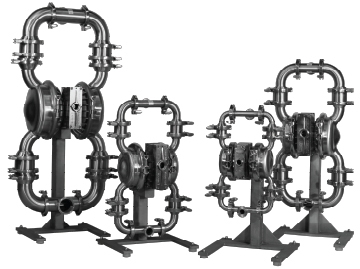 Wilden Pump & Engineering

Handle delicate products
with these AODD pumps
Saniflo air-operated double-diaphragm (AODD) pumps have been specifically designed to satisfy the regulatory guidelines established by the FDA for sanitary process applications and are available with a full validation package. Saniflo pumps incorporate a straight flow-through design, and have self-priming, dry-run and deadhead capabilities. These pumps can also handle shear-sensitive products, such as cell structures and delicate polymers. The absence of mechanical seals gives full product containment and all contact surfaces are made of pharmaceutical-grade elastomers and polished 316L stainless steel. These pumps are available in five sizes from 13 to 76 mm, and feature flowrates from 58.7 to 920 L/min. Booth 2633 — Wilden Pump & Engineering LLC, Grand Terrace, Calif.
This pressure calibrator features an integrated onboard pump
The 719Pro electric pressure calibrator is a test tool designed for calibrating high-accuracy transmitters, pressure switches and pressure gages. It features an onboard electric pressure pump that can generate up to 20 bars, eliminating the need for an external handpump. This calibrator also measures, simulates and sources 4–20-mA loop-current signals and can also measure up to 30 V d.c. Its internal 24-loop power supply can power a transmitter under test conditions. Booth 3731 — Fluke Corp., Everett, Wash.

These abrasive cloths remove corrosion-causing debris
Abratec cleanroom abrasive cloths are designed with various levels of abrasive grit for debris removal. The cloths feature this company's Quiltec fabric, which is abrasion-resistant. Featuring sealed-border technology, the cloths can effectively remove corrosion-causing debris without contributing additional particles to the remediation process. Abratec cloths are intended to work with solvent blends typically found in sterile processing environments. Booth 1338 — Contec Inc., Spartanburg, S.C.

Prevent contamination with this X-ray inspection system
The X5 X-ray inspection system identifies and rejects contaminants and delivers accurate product controls at line speeds of up to 394 ft/min. The rounded, sloping surfaces of the system ensure that particles and droplets cannot accumulate, unlike equipment with flat surfaces. The addition of impermeable seals to the X-ray cabinet prevent water ingress. A new tubular framework made from 304-grade stainless steel allows for operation in harsh working conditions. Contaminants such as metals, glass, vinyl, bone, rubber, stones and ingredient clumps are automatically detected, and the packs in question are diverted from the line for investigation. Under- and over-weight packs can also be eliminated from the packing line, along with irregular and improperly packaged items and packs with incorrect content levels. Inspection data can be automatically monitored and extracted to provide an audit trail for each production run. The unit's conveyor belt features a quick-release mechanism for reduced downtime. Conveyor belts for the unit are available in widths of 300, 500 and 600 mm to suit individual requirements. Other features include a sideways-opening door to the cabinet interior, a 12-in. touchscreen and a number of cooling-system options. Booth 2776— Loma Systems, Farnborough, U.K.

Use these freeze-dryers for cultured or fermented materials
Atlas freeze-dryers are capable of freeze-drying materials in situations where maintaining the original structure and properties of the original product is important, such as for the handling of cultured or fermented products. Both batch and continuous processes can use these freeze-dryers, which are also appropriate for sterile operations. The dryers feature automatic control of drying cycles for each batch. Some models are built with continuous de-icing functionality to enhance drying capabilities. Booth 2421 — GEA Process Engineering, Inc., Søborg, Denmark
Mary Page Bailey