New Products & Services
January 1, 2010
January New Products (International)
Reduce rubber contamination with these elastomers; ceramic membranes; WirelessHART products; fermentation monitoring; and more
Reduce rubber contamination
in food with these elastomers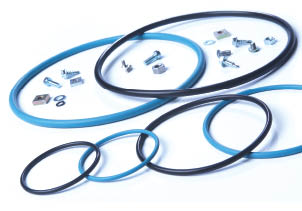 Precision Polymer Engineering
Detectaseal (photo) is a new, FDA-compliant, metal-detectable elastomer designed to help food companies reduce the risk of rubber contamination during processing. Detectaseal fragments as small as 2 mm can be identified by conventional inline metal detection equipment, ensuring early warning of rubber contamination. The seals are available as FDA-compliant grades of EPDM, nitrile and fluorocarbon elastomers, in blue and black, and in standard and non-standard sizes for use in a broad range of process equipment. — Precision Polymer Engineering (PPE) Ltd., Blackburn, U.K.
http://www.prepol.com
Ceramic membranes help filter
surface-treatment effluents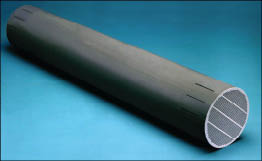 Elga Process Water
This firm's new range of membrane plants for the surface-treatment industries feature CeraMem industrial strength membranes (photo). Compared to conventional polymeric membranes, CeraMem ceramic microfiltration (MF) and ultrafiltration (UF) membranes are less prone to fouling and have a greater resistance to high temperatures, as well as aggressive cleaning chemicals and abrasion. Membrane life is typically doubled, says the firm. The membranes are suitable for applications such as alkaline degreasing, cutting oil treatment and electro-coat paint treatment. — Elga Process Water, Marlow, U.K.
http://www.elgaprocesswater.co.uk


A family of products
for WirelessHart communication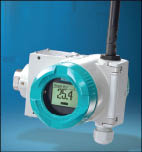 Siemens Industry Automation
For the first time, this firm has developed products for WirelessHart communication. The new product family comprises two transmitters, a gateway to Industrial Ethernet and software, as well as an adapter for process instruments in preparation. Both the new Sitrans P280 pressure transmitter and the Sitrans TF280 temperature transmitter (photo) feature a WirelessHart interface and a graphical display with backlight function. All other process instruments from this firm that do not have WirelessHart interfaces can be integrated into WirelessHart communication with the Sitrans AW200 adapter. Finally, the new IE/WSN-PA Link gateway manages the WirelessHart network with all the nodes and establishes the connection to the Simatic-based automation and control system via Industrial Ethernet. — Siemens Industry Automation Division, Nuremberg, Germany
http://www.siemens.com/industry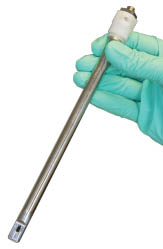 Stratophase
Monitor fermentation in realtime
with this probe
Developed in collaboration with the Center for Process Innovation (Wilton, U.K.), the Insertion Probe variant of this firm's SpectroSens system enables realtime monitoring of bioproduction fermentation processes. The multi-output SpectroSens Insertion Probe (photo) tracks compositional changes and monitors temperature in the liquid. Multiple discrete readings can be taken simultaneously at numerous locations, providing more reliable measurements and a reduced chance of false positives. Using only light at the point of measurement, the sensors are intrinsically safe and spark-free. — Stratophase, Romsey, U.K.
http://www.stratophase.com
A new version for this
flowsheet simulation software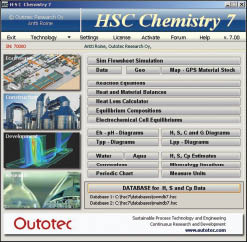 Outotec Research
The new HSC Chemistry 7.0 is a straightforward simulation tool (photo) designed to guide process-development and research scientists. Compatible with Windows Vista, Vista 64 and Windows 7, HSC Chemistry 7.0 is a software program for process flowsheet simulation, which also contains 22 other calculation modules displayed as options in the main menu, and 12 databases together with extensive thermochemical, heat transfer and mineralogical data. The Flowsheet Module has four different modes: particles, reaction, distribution and experimental. The new Unit Icon Library comprises 515 high-resolution icons that have been created to visualize process flowsheets. — Outotec Research Oy, Pori, Finland
http://www.outotec.com/HSC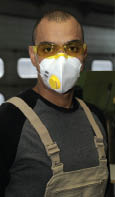 MSA in Europe
Disposable respirators
for protection against aerosols
Affinity FLS (photo) is a new generation of foldable disposable respirators. Its high-performance thin and light filtering media provide a comfortable fit even when used for longer periods. Affinity FLS offers protection against penetrating solid and liquid aerosol particles. Meeting requirements of EN 149:2001, the different types of masks conform respectively to protection levels FFP1, FFP2 and FFP3. A color-coding system ensures easy identification and helps the user to select the correct kind of mask for a given application. — MSA in Europe, Berlin, Germany
http://www.msa-europe.com
GEMÜ
This globe valve
now comes in smaller sizes
The GEMÜ 520 actuated globe and control valve (photo) is particularly suitable for handling steam, air, water and process lines on account of its membrane actuator. The existing sizes DN 65–150 are now extended to smaller nominal sizes DN 32–50. New actuator-valve body versions have also been developed to expand the range of applications. In DN 32–65, the valve can be used with operating pressures up to 40 bar with valve bodies in cast steel GP 240 H and stainless steel 1.4408. Other new options include valves that can be actuated with a considerably reduced control pressure of 1.5–4 bar. — GEMÜ Gebr. Müller Apparatebau GmbH & Co. KG, Ingelfingen-Criesbach, Germany
http://www.gemue.de
A wide range of gear pumps
gets extended even more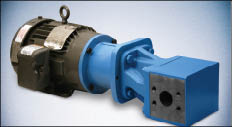 Michael Smith Engineers
The established range of Viking External Gear Pumps (photo) has been extended to include models that provide flows from as little as 0.2 L/min up to 760 L/min. Available from this firm, the SG range now includes 29 models, and includes models rated for maximum continuous pressures of up to 34 bar and maximum intermittent pressures up to 172 bar. As a result of the wide range of models, configurations and material options, Viking SG Series Gear Pumps are suitable for applications such as centralized lubrication systems; polyurethane metering and mixing; compressor lubrication; burner feed; pipeline sampling; heat transfer; and adhesive and sealant dispersion. — Michael Smith Engineers Ltd., Woking, U.K.
http://www.michael-smith-engineers.co.uk
Conductive plastic pumps
for safe transfer operations

GoatThroat Pumps
Available in March, the SCP-6500 Pumps (photo) feature a lug with a grounding wire on the front of the pumps, and made with conductive plastic, these pumps allow users of flammable liquids to ground the pumps, making them safe for use with Class 1 and Class 2 flammables. All components of this pump that come in contact with the fluid are created with conductive plastic, so there is grounding of the liquid, the pump and, with correct bonding, the container. — GoatThroat Pumps, Milford, Conn.
http://www.goatthroat.com
Spot leaks with this
video-based software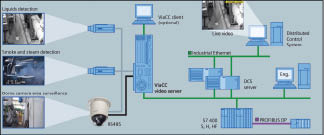 Siemens Industry Sector
ViaCC is a video-based software that quickly and effectively detects leaks in an industrial environment. This software-based sensor is an extension to conventional sensors, and enables recognition of smoke, fumes, leaking liquids and colors. ViaCC software contains detection methods that can be freely combined and that are suitable for detecting edges, colors, movements and so on. Up to twelve cameras record and transmit about 200 images per second to each server (photo). The automation state and the live situation are directly coupled, which enables process data to be inserted directly into a video image and saved. Live images of a fault enable service to be better planned with appropriate spare parts and tools. — Siemens Industry Sector, Industry Solutions Div., Erlangen, Germany
http://www.siemens.com/industry
A coupler for increased
hose maneuverability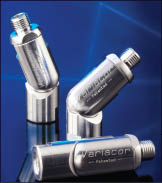 Bete
The patented Variacor coupling (photo) provides free orientation for hydraulic and pneumatic hoses and tools across a wide range of applications. The design of the coupling ensures optimum flexibility, which results in less wear on hoses. Also, increased maneuverability of the hose means easier handling for the user, with lower pressure and flow losses compared to conventional couplings, says the firm. The Variacor coupling is ideal for connecting two runs of rigid pipe or flexible hoses, or an end fitting, such as a nozzle or gun. It can be used for changing the angle of flow direction, axially between 180 and 90 deg, with full 360-deg swivel at either or both ends. — Bete Ltd., Lewes, U.K.
http://www.beteuk.com
This sensor monitors
a wide range of conductivities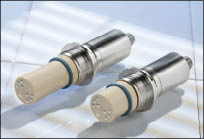 JUMO
The tecLine LF-4P (photo) is a new cell with four-pin technology for measuring conductivity. The device fills the gap between two-electrode cells and inductive measurement technology, and makes it possible to cover a very wide measurement range from about 1 µS/cm to 600 mS/cm. The cell consists of a sturdy PEEK plastic body with stainless-steel electrodes inserted into the front. An integrated Pt1000 temperature sensor provides the signal needed for temperature compensation. The cell is available in different fitting lengths. — JUMO GmbH & Co. KG, Fulda, Germany
http://www.jumo.net
WIKA Alexander Wiegand
A new diaphragm seal
for homogenization processes
The Model 999.30 diaphragm seal is available in combination with an intelliGauge Series mechatronic pressure gauge (photo). The diaphragm seal is tailor-made for the extremely dynamic homogenization process. The damped instrument is designed for a static pressure of up to 2,500 bar. The combination with the intelliGauge provides a local display via a bourdon-tube pressure gage and an electrical output signal without the need for an external power supply. — WIKA Alexander Wiegand SE & Co. KG, Klingenberg, Germany
http://www.wika.de
A large-bore needle valve
for viscous, contaminated media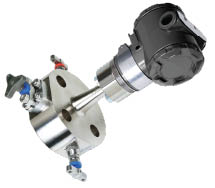 Parker Hannifin
A new 0.5-in. bore instrumentation needle valve (photo) gives plant engineers the means to improve reliability, and save both money and space in process and instrumentation applications involving viscous and contaminated media. The new H-Series needle valve is available as either a discrete hand valve for controlling media flow, or integrated into a monoflange-style manifold for the safe "double-block-and-bleed" connection of instruments to process lines. The large flow path of the 0.5-in. H-Series needle valve makes it less prone to blockage, and its metal-to-metal seal provides a bubble-tight seal over a temperature range from –55 to 538°C. — Parker Hannifin, Instrumentation Products Div. Europe, Barnstaple, U.K.
http://www.parker.com
Track air flow in larger pipes
with these sensors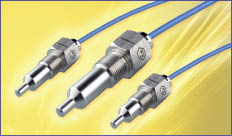 Hans Turck
This firm's ATEX-certified flow sensors for gaseous media are now available with probe lengths of 100, 140 and 220 mm. The new extended probes (photo) significantly enhance the sensors' functionality by allowing users to install the sensors in pipes with diameters of up to 440 mm. The IP67 stainless-steel sensors are certified for gas zone 1, and can be installed in the tube via a T connector. The sensors detect flow status of gaseous media, such as air, by evaluating the flow-induced temperature difference between the heated probe and the medium. — Hans Turck GmbH & Co. KG, Mülheim an der Ruhr, Germany
http://www.turck.com
Detect level of bulk solids
without making direct contact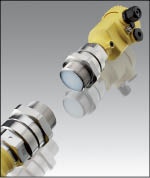 VEGA Grieshaber
The microwave barrier Vegamip 61 (photo) is designed for the requirements of the bulk solids industry. The microwave barrier measures without making direct contact with the medium, which is particularly advantageous when dealing with abrasive materials or very high temperatures. The device measures from the outside through a microwave-permeable window made of ceramic or plastic. The barrier consists of a Vegamip T61 transmitter and one or several Vegamip R61 receivers. The receiver measures the attenuation of the microwave signal, and generates a switching signal from it. The device can be used as a maximum- or minimum-level sensor. — VEGA Grieshaber KG, Schiltach, Germany
http://www.vega.com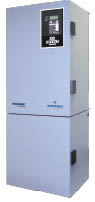 Emerson Process
Management
Wet chemistry moves into
the process for online monitoring
The Rosemount Analytical online wet-chemistry analyzers for sodium (photo), silica, phosphate, hydrazine and ammonia are used for process monitoring in the power and ultrapure water industries. The analyzers are easy to use. Pressing one button starts, calibrates and puts the instrument online. Routine reagent replacement and maintenance takes only 5 min every three months, and replacing the valve pump — the heart of the analyzer — takes about 15 min every two years. The addition of wet chemistry analyzers (acquired from Scientific Instruments Inc. in May 2009) complements this firm's line of conductivity, pH and dissolved oxygen sensors and analyzers. — Emerson Process Management, Baar, Switzerland
http://www.emersonprocess.eu
Sample or dose reactors
with this syringe pump
The Atlas Syringe Pump XL is a volumetric dosing or sampling system consisting of two syringes, with up to six port valves. Each syringe can aspirate or dispense independently from any valve port, allowing dosing of one reagent to many reactors, or many reagents to one reactor. With a flowrange of 5 µL/min up to 100 mL/min, it can be configured either into two refilling flows or one continuous flow, providing reaction sampling, advanced pH control and temperature-dependent dosing. — Syrris Ltd., Royston, U.K.
http://www.syrris.com
Track product color and gloss
without making contact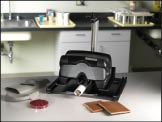 X-Rite Europe
The VS450 non-contact spectrophotometer (photo) is designed for color and gloss measurement on wet and dry samples, including cosmetics, paints, soil, plastics and powders. The device features an integrated gloss sensor for relative gloss measurements, and when used with iMatch formulation software, provides wet-to-dry correlation for improved quality control and formulation throughput. — X-Rite Europe GmbH, Regensdorf, Switzerland
http://www.xrite.com
A valve positioner package
for large actuators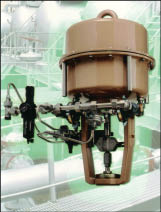 Samson Controls
The air output capacity required to achieve fast positioning in large actuators (diaphragm areas of 1,400–2,800 cm2) is too much for normal positioners, and so positioning accuracy can be compromised. A solution to this problem is a control-valve positioner package (photo), which facilitates exact positioning with fast response times over the entire operating range. The package consists of a positioner and a hook-up of several volume boosters with different output capacities. Closing and opening times of less than 2 s can be achieved over the entire positioning range. The package has proven itself for compressor bypass valves (anti-surge valves) and in petrochemical applications involving moving-bed adsorption processes. — Samson Controls (London) Ltd., Redhill, U.K.
http://www.samsoncontrols.co.uk
Fast, wireless data transfer
with this adapter
The new Bluetooth Ethernet Port Adapter FL BT EPA AIR SET is a rugged and reliable "wireless Ethernet cable" to transfer control data to machine units that are either moved frequently or are mobile in industrial environments. The newly developed Bluetooth Lean Stack and the priority assignment functions permit fast, Profinet and Profisafe wireless data transfer with uptimes of 8 ms. — Phoenix Contact GmbH & Co. KG, Blomberg, Germany
http://www.phoenixcontact.com
Inspect vials visually
and with high voltage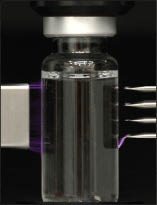 Seidenader Maschinenbau
Said to be the first implementation of visual inspection and high-voltage crack detection combined in a single machine, this module inspects vials and pre-filled syringes for cracks and leaks. A precise handling system orients the containers at an angle of 90–110 deg to at least four high-voltage electrodes (photo), which allows the detection of cracks that have fully penetrated the glass while ignoring surface scratches. The High-Voltage module is fully integrated in the company's VI and MS families of inspection machines, allowing camera inspection before high voltage inspection. Only products that passed all camera inspections undergo the check for cracks. — Seidenader Maschinenbau GmbH, Markt Schwaben, Germany
http://www.seidenader.de
An accurate way to feed
large quantities of bulk materials
The Model 26C Vibratory Feeder is a rugged, a.c.-operated unit that enables linear, exact feeding of large quantities of bulk materials. These electromagnetic feeders offer a cost-effective, sanitary alternative to screw feeders, says the manufacturer. The Model 26C is designed for feeding up to 4 ton/h, and features a totally enclosed, dust- and moisture-resistant, patented electromagnetic drive, which extends the core life and makes cleaning easier. — Eriez, Erie, Pa.
http://www.eriez.com
Gerald Ondrey