New Products & Services
December 1, 2009
New Products (International)
Extend level measurement; A firm now offers HMIs, too; one transmitter does the job of ten; and more

BinMaster
Level Controls
Extend level measurement
with this flexible probe
The Procap capacitance probe (photo) features a flexible, extendable cable design for high-, middle- or low-level detection when the probe must be mounted on top of the bin. The device is especially suitable for applications where a probe is used as a high-level alarm or needs to be extended more than 4 ft. This flexible probe is also suitable for use with any lump material that might bend, damage or break a rigid probe. The first ten inches of the probe are rigid and the rest of the probe is flexible. The cable can be any length up to 35 ft. — BinMaster Level Controls, Lincoln, Neb.
www.binmaster.com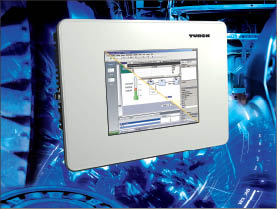 Hans Turck
Now HMIs are also
offered by this firm
In addition to sensors, fieldbus, interface and connectivity solutions, this firm now also offers a new product line of human machine interfaces (HMIs). The VT250 (photo) is the first model available — other models will follow next year — and it provides visualization, controlling and variable gateway functionality for communication between fieldbus structures and realtime Ethernet. The VT250 has a 5.7-in. touchscreen, and can be configured as a master or slave, regardless of the communication direction. Providing two realtime Ethernet ports, the VT250 allows the user to set up a line topology. A communication port supporting RS 232 and RS 485, and the additional USB port are also included. — Hans Turck GmbH & Co. KG, Mülheim an der Ruhr, Germany
www.turck.com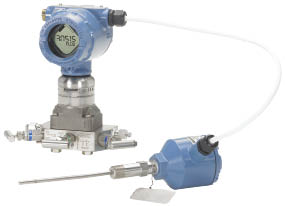 Emerson Process Management
This one transmitter
does the job of ten devices
The Rosemount 3051S MultiVariable Transmitter (3051SMV; photo) measures three variables and provides mass and energy flow output, thereby reducing the number of devices traditionally required to make differential pressure (DP) flow measurements from ten to one. The 3051SMV simplifies mass and energy flow measurement, increases accuracy and provides faster updates through patented, advanced compensation techniques. Full compensation of over 25 different parameters achieves a five-fold improvement in flow performance compared to uncompensated DP flow, says the manufacturer. The device updates flow measurement 22 times per second, enabling users to effectively track production, demand and total usage for process gas, steam and natural gas. — Emerson Process Management, Baar, Switzerland
www.emersonprocess.eu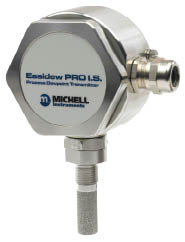 Michell Instruments
Do more with this
dewpoint transmitter
The Easidew PRO I.S. (photo) is a rugged, intrinsically safe, dewpoint transmitter suitable for use in the natural gas, petrochemical and process industries. The device is ATEX-certified for use in hazardous area Zone 0, as well as for use with galvanic isolators. As with other transmitters in the Easidew Range, the PRO I.S. is part of the Sensor Calibration Exchange Program, enabling users to maintain traceability through periodic recalibration while keeping the process in operation. All the calibration data are stored within the transmitter's flash memory, so calibration exchange, or service, can be affected in seconds. — Michell Instruments, Ely, U.K.
www.michell.co.uk
GEMÜ
A new motorized actuator
for linear valves
This firm has introduced a new motorized open/close actuator for globe and diaphragm valves. The 24-V d.c. actuator (photo) is an alternative to current designs and also to solenoid valves. Valves using this actuator are especially suited to applications without plant air. Also, the operating costs of the motorized actuator are said to be lower than those of a comparable pneumatic actuator or even a solenoid valve. The actuating speed is between 4–10 mm/s, depending on the nominal size. The S680 diaphragm valve, for example, closes in about 0.5 s in nominal size DN 15, and about 2 s for DN 25. The design of motorized diaphragm valves makes them insensitive to particles and solids in the medium — even grains of sand and pieces of lime scale in water pipes impair neither the function nor the tightness of the valves. — GEMÜ Gebrüder Müller Apparatebau GmbH & Co. KG, Ingelfingen-Criesbach, Germany
www.gemue.de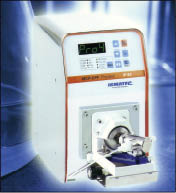 Michael Smith Engineers
Aggressive media are not a problem
for this dosing system
The combination of FMI rotary piston pump and Ismatec drives results in a range of pumps (photo) for very accurate and reliable dispensing, even when highly aggressive chemicals or viscous media need to be transferred. The pump heads are available with ceramic pistons and ceramic cylinder heads. There are no valves to clog, leak or maintain, and the piston is the only moving part. Drift-free operation (±1% from set point) is provided with flowrates from microliters per minute up to 2.3 L/min with positive displacement pumping up to 6.9 barg. Control options include RS232 and analog interfaces. — Michael Smith Engineers Ltd., Woking, Surry, U.K.
www.michael-smith-engineers.co.uk
Higher temperatures are okay
for this flowmeter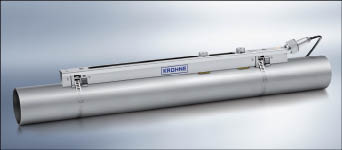 Krohne Messtechnik
The Optisonic 6300 XT (photo) is a clamp-on ultrasonic flowmeter capable of measuring fluids with temperatures up to 200°C, which makes the device suitable for applications involving heated hydrocarbons, molten sulfur, thermal oil and carbamate. The 6300 XT can be installed on heated and insulated pipes without the need to cool or shutdown the process. Two sensor types are available for covering pipe diameters of DN 15 to DN 400. — Krohne Messtechnik GmbH, Duisburg, Germany
www.krohne.com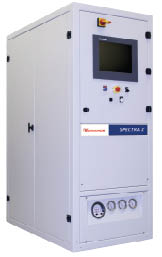 Edwards
Treat the offgas from solar cell production
with this system
Spectra ZW (photo) is a single, compact system for abating the deposition and clean gases used in the very high gas flow, chemical-vapor deposition (CVD) process steps in the manufacture of solar cells and flat panel displays. A wet scrubbing system is integrated within the Spectra ZW for a total abatement/waste-processing solution. The system has a maximum, standard process-gas flow of more than 16 L/min of silane, 200 L/min of H2 and 40 L/min of NF3 — all of which are commonly used during the CVD processing step in solar-cell manufacturing. In addition, most dopant materials, such as phosphine, diborane or trimethyl borate, as well as etch materials, can be abated and processed effectively by these units. — Edwards Ltd., Crawley, U.K.


Keep flange leaks from
spraying with this shield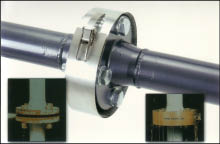 Allison Engineering
A new type of TÜV-approved, stainless-steel spray guard (photo) provides effective protection from dangerous spray-outs of fuel oils and other flammable liquids from pipes and flanges. The safety shield incorporates a steel band and an internal stainless-steel mesh that wraps around flanges and valves. The mesh is designed to sit against the flange — between it and an outer steel band — and compresses against it to ensure that sprays or leaks are dispersed, while also preventing lateral spray. The shield has been pressure tested to 50 bar, and has a quick-release connection for simple installation and removal. — Allison Engineering, Basildon, U.K.
www.allison.co.uk
A migration solution
for fail-safe controllers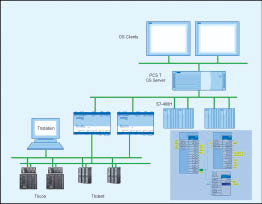 Siemens
The Gateway CM104 TSAA (photo) — a new migration solution for integrating Triconex fail-safe controllers into Simatic PCS 7-based control systems — enables existing systems to be expanded or modernized inexpensively and step-by-step. The new Gateway was developed to bring both the process control system and safety engineering up to the state-of-the art at the same time. It facilitates continuous communication between the Triconex, Trident or Tricon fail-safe controller and this firm's automation system. The Gateway is completely integrated into the PSC 7, and can be laid out as a single or fully redundant link between the systems. —
Siemens Industry Sector, Industrial Solutions Div., Erlangen, Germany
www.siemens.com
A full range of FRP products,
from pipes to tanks
The new Filamaster line of fiber-reinforced plastic (FRP) products includes a full range of ducts, tanks and pipes that are all made of corrosion-resistant materials. Filamaster vertical tanks come in capacities from 1,300 to over 30,000 gal. The round duct and pipe series are available with diameters from 2 to 60 in. A full set of connections can also be added, including bell ends, field kits, flanges, gaskets and elbows. The pipe and duct can be built for both high-temperature and caustic applications. — Filamat Composites Inc., Mississauga, Ontario, Canada
www.filamat.com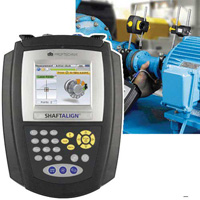 Prüftechnik Alignment Systems
The latest in shaft-alignment systems
is simple to use
Shaftalign (photo) is a new, laser-shaft-alignment system that combines simplicity of operation with precise measurement. The device features a backlit color display and the computer's built-in display light sensor optimizes image quality and the device power management. The "Active Clock" measurement mode automatically collects the laser coordinates for the corresponding shaft position. Only three or four readings over a rotation angle of less than 70 deg are required to achieve a precise alignment. — Prüftechnik Alignment Systems GmbH, Ismaning, Germany
www.pruftechnik.com
Precise analytical balances
for harsh industrial environments
For rough environmental conditions, the Excellence XP balances offer several features for hands-free weighing and protection from exposure to oily or dirty samples. All Excellence XP analytical and microbalances are equipped with adjustable, motor-driven windshields, which make operating the balance much easier and faster, especially when wearing gloves. The balances can be operated with two built-in SmartSens infrared sensors and up to two optional ErgoSens sensors. All weighing operations, including opening and closing the windshield, zero, tare and print/transfer results, can be performed without introducing any impurities. The windshields can be quickly removed and washed, and the mechanical concept of the SmartGrid hanging weighing pans means there are no difficult-to-reach gaps for ease of cleaning. — Mettler Toledo GmbH, Greifensee, Switzerland
www.mt.com
A new exchange resin
for industrial water treatment
Last month, this firm launched a new generation of gel-type, cation-exchange resins for industrial water treatment. Lewatit MonoPlus S 108 and S 108 H have optimized leaching behavior, which is an important quality characteristic regarding the effectiveness and commercial efficiency of an ion-exchange unit; the lower the resin's tendency for self-leaching, the less total organic carbon (TOC) is released, says the firm. This release of organic substances is undesirable because it can lead to blocking of the anion exchanger. The new resin beads also remain in excellent condition after many operating cycles. Even with short cycle times, the special monodisperse ion-exchange matrix ensures long service life. — Lanxess AG, Leverkusen, Germany
www.lewatit.com
Gear pumps that can also handle
highly viscous food additives
Gear pumps are commonly used for applications where fluids with high viscosities, high pressures and high temperatures have to be handled. Now, this firm has redesigned a gear pump, which has been used for years for conveying highly viscous, molten plastics, to handle all other chemical fluids with similar properties, such as resins or silicones, polyurethanes and polymer solutions, and highly viscous food additives. The pump features a slim construction and a large inlet, which makes it possible to reduce the net positive suction head required to be as low as 100 mm Hg. The design is capable of reliably conveying viscous fluids from vacuum containers. — Maag Pump Systems AG, Oberglatt, Switzerland
www.maag.com
Full-scale, PV-module durability testing
is now possible
The XR360 is the latest technology for accelerated exposure testing of complete photovoltaic (PV) modules. The unit integrates recent developments in environmental-chamber and xenon solar-simulation technology. The XR360 is capable of testing modules up to 1.9 m X 1.4 m, a capability that covers more than 90% of today's production modules. The system features a chamber equipped with four water-cooled, long-arc lamps, has full climatic functionality and has an expanded utility for running IEC tests not requiring light, such as a damp-heat test. — Atlas Material Testing Solutions, Chicago, Ill.
www.atlas-mts.com

Piab Vacuum Conveyors
A vacuum conveyor
that is GMP-compliant

The UC Series of vacuum conveyors (photo) comply with Good Manufacturing Practice (GMP) standards, and are suitable for pharmaceutical processing applications, including loading and unloading coating pans, manufacturing tablet cores and handling or transferring pharmaceutical powders. Fully pneumatic, the UC Series is built with unibody construction for tool-free dismantling and easy cleaning. Powered by pneumatically air-driven vacuum pumps, the UC Series can safely and quietly transport pharmaceutical ingredients such as sugar, dextrose, magnesium oxide or starch. Constructed of stainless-steel AISI 316L, the UC Series features an ultra-sanitary butterfly valve and a Gore Sinbran filter, which can trap particles down to 0.5 μm. The UC Series also includes FDA-approved silicone seals with a working range of –4 to 176F. The conveyors can also be custom built per application to meet specific user requirements. — Piab Vacuum Conveyors, Hingham, Mass.
A new decanter generation
for food-and-drink applications
The F Series represents a new generation of decanter. The GCF 405 is designed for products that are difficult to discharge, which makes it suitable for use as a clarifying decanter in brewing and beverage industries. The multifunctional machine with a bowl diameter of 400 mm ensures maximum performance combined with high clarifying efficiency and maximum dry matter in the solids. This is achieved by high speed, a high torque, large clarifying area and the deep pond in conjunction with minimum space requirements. The machine is a so-called hydro-hermetic decanter with a pressurized separation chamber; pressure buildup enables the solids to discharge reliably. The new design also provides major advantages for foaming and degassing products. — GEA Westfalia Separator GmbH, Oelde, Germany
www.westfalia-separator.com
Labels that withstand
very cold temperatures
The new CIL 91000 range of Self-Laminating Labels have been developed to survive cryogenic storage. The labels incorporate a clear wrap-around tail to permanently protect your computer-printed variable data, providing clear and reliable identification. These labels are suitable for vials and tubes, are waterproof and can withstand multiple freeze-thaw cycles, water-baths, solvents, abrasion and long-term storage in liquid nitrogen and ultra-low temperature freezers — even down to –196°C — without detaching, cracking or fading. Labels can be printed using a PC and laser or thermal-transfer printer. — Computer Imprintable Label Systems Ltd., Worthing, U.K.
www.cils-international.com
Refillable cylinders
for handling calibration gases
Ecocyl OSQ is a refillable cylinder for portable calibration and testing of highly sensitive, environmental monitoring devices. It uses a unique, negative-pressure technology that guarantees precision in the calibration-gas delivery requirements for ultra-sensitive instruments, which can be susceptible to damage from the positive gas pressure usually applied by other gas cylinders. Such instruments include detection monitors with integrated pumps or those monitors calibrated in docking stations with built-in pumping devices. These cylinders have integrated valve, pressure regulator and flow control, which are permanently protected by a protective cowling, reducing the risk associated with connecting hoses. — Linde Gases, a div. of The Linde Group, Munich, Germany
http://www.linde.com
Improve communication between
production and management
With the introduction of the manufacturing execution system (MES) InfoCarrier, this firm has bridged the gap between management and production, even for complex, continuous production processes. InfoCarrier is particularly suitable for manufacturing bulk products, but can also be used for lot management of raw and final products. A powerful logistics component of the MES for silo, packaging, storage and dispatch offers additional advantages. Developed by Provis GmbH & Co. KG (Waltrop, Germany), InfoCarrier has already been deployed by both small companies with a single production line, as well as Asia's largest producer of pigments and fillers. — on/off engineering GmbH, Wunstorf, Germany
www.onoffeng.de
A new perfluoroelastomer
for pumps and valves
A new, explosive decompression-resistant perfluoroelastomer has been launched for use in ultra-agressive processing applications. The Perlast G92E elastomer combines high levels of chemical resistance with an increased explosive decompression capability, setting a new performance standard for seals in pumps, valves and other processing eqiuipment exposed to high gas pressures (up to 20,000 psi). The material is suitable for temperatures up to 260°C. — Precision Polymer Engineering Ltd., Blackburn, U.K.
www.prepol.co.uk
NIR moves from the laboratory
to production environment
NIRQuest is a fiber-optic, near-infrared spectrometer easily adaptable for cost-effective, online process control measurements. The instrument covers the spectral range from 900 to 2,500 nm, making it suitable for applications such as moisture detection in grains and meats, materials characterization of semiconductor components, bacterial detection in food and beverage production and chemical analysis of pharmaceuticals. — Ocean Optics, Duiven, the Netherlands
www.oceanoptics.eu
Avoid kinking on tight turns
with this tubing
Tex-Flex fluorinated ethylene propylene (FEP) corrugated tubing (photo) can turn sharp corners without kinking. The manufacturer asserts that the tubing can handle bend diameters four times smaller than a typical smoothbore tube of the same size. The tubing's ability to bend without kinking makes it perform well in confined spaces, wrapping around machine legs and other obstacles that would normally restrict or kink a smoothbore tube. Tex-Flex corrugated tubing is lightweight, seamless and clear, allowing operators to monitor material passing through the tube. Tex-Flex is also offered in a high purity polyfluoroalkoxy (PFA). For higher-pressure applications, the tubes can be stainless-steel braided. Available sizes range from ¼ to 2 in. — Parker Hannifin Corp., Fort Worth, Tex.

Oseco
A magnet operates
on this rupture-disc sensor

The Flo-Tel rupture disc detection system (photo) is a noninvasive sensor that operates with a reed-switch and magnet technology. The design avoids several challenges of standard rupture disc sensors. Some sensors require replacement or rewiring after one use, and are often in contact with the process flow, creating possible leak paths. Designed to work with the Opti-Gard rupture disc, the Flo-Tel sensor positions a magnet over the rupture disc so that when the disc bursts, the magnet and disc arc away from the sensor, creating an open circuit signal. After rupturing, the disc is the only element of the system requiring replacement. The sensor is not in contact with the process flow, so there are no potential leak paths. — Oseco, Broken Arrow, Okla.

Michell Instruments
Measure oxygen drift-free
with this transmitter

The XTP600 oxygen transmitter (photo) is a self-contained oxygen transmitter for the process industries that measures oxygen content between 0.01 and 100%. Using the latest thermo-paramagnetic technology, the transmitter is almost drift-free. The XTP600 has no moving parts, so it can operate in harsh industrial environments without any interference from vibration. It is also stable at high hydrogen concentrations. The XTP600's compact size, simple design and explosion-proof housing make it ideal for installation next to the measurement point. — Michell Instruments, Ely, U.K.
These regulators suppress
internal cylinder forces for safety



ESAB Welding and Cutting Products
Purox and Oxweld oxygen cylinder regulators (photo) have a patented design that suppresses internal forces from a cylinder explosion within the cylinder walls. The design minimizes risk of injury in the event of an explosion. The regulators are machined from solid brass bar stock to ensure longterm performance with minimum maintenance. — ESAB Welding and Cutting Products, Florence, S.C.
http://www.edwardsvacuum.com