New Products & Services
March 1, 2011
New Products International
Removing very fine metal particles from milk powder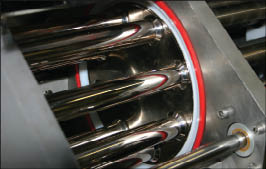 Goudsmit Magnetic Systems
Developed in collaboration with Friesland Campina Doma, this improved version of the rotating clean-flow magnet removes very fine metal particles from whey powder. And due to its renewed dynamic seal, the system is also dust-proof at an overpressure of up to 0.4 bar. The magnets move in a fully enclosed, rotating stainless-steel pipe and trap metal particles from 35 microns. The entire system is suitable for installation in ATEX Zone 1/2 D. — Goudsmit Magnetic Systems B.V., Waalre, the Netherlands
www.goudsmit-magnetics.nl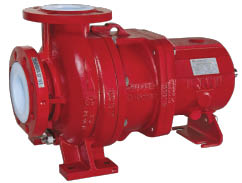 Richter Chemie-Technik
Mag pumps now available
in ISO/DIN design
Following the launch of plastic-lined, magnetic drive process pump RMA in ASME/ANSI design two years ago, this manufacturer is now introducing the ISO/DIN version RMI (photo). This seal-less magnetic-drive pump with fluoroplastic lining is available in eight sizes from 40-25-125 to 80-50-200 as a frame-mounted and close-coupled pump. The pump's pure PFA lining (3–5-mm thick) without carbon fillers offers very high chemical resistance, temperature resistance up to 150°C, full FDA conformity and inertness against pure fluids. Whereas the housing and impeller-magnet assembly are lined with pure PFA, pure PTFE is used for the wetted part of the dual can, which is made of carbon-fiber reinforced plastic. The pumps uses Safeglide Plus SiSiC bearing, which offer protection against dry running for 30 to 60 min. Flow capacities of up to 660 gal/min (150 m3/h) and delivery heads up to 360 ft (110 m) are available. — Richter Chemie-Technik GmbH, Kempen, Germany
www.richter-ct.com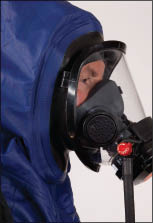 Saint-Gobain Performance Plastics
A new hazmat suit
gets NFPA certification
This company's first level-B chemical protective hazmat suit, OneSuit Shield, is certified to the National Fire Protection Agency (NFPA) 1994 Class 2 and 1992 standards. OneSuit Shield protects first responders from terrorism incidents involving the use of chemical or biological agents under NFPA 1994 Class 2, and under NFPA 1992, the new suit also offers certified protection against chemical liquid splash. OneSuit Shield features an open-face design with the self-contained breathing apparatus worn outside the suit, which allows the user to remain inside the suit until the mission is completed. Another feature is a unique mask interface (photo), engineered for seamless mask compatibility and optimal comfort and security. — Saint-Gobain Performance Plastics, Merrimack, N.H.
www.onesuittec.com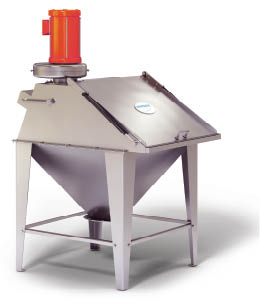 Hapman



Confine products within production cycle
with this bag dumper
This low-profile, bag dump station (photo) is an efficient way to minimize dust when introducing bagged products into a process. The unit incorporates a self-contained filtration system — featuring a low-maintenance, reverse-pulse cleaning system with an easily accessible single-cartridge filter — that provides 99.9% collection efficiency down to 1 micron. No external ducting or auxiliary fans are necessary. — Hapman, Kalamazoo, Mich.
www.hapman.com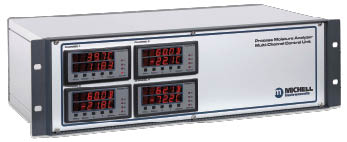 Michell Instruments
One analyzer now handles up to four measurement channels
The Promer I.S process moisture-in-gas analyzer is now available in a multi-channel format (photo), with the introduction of the Multi-Channel Control Unit (MCU). This enables up to four measurement channels within a single 19-in. subrack unit. The Promet I.S channels can be combined with a sister product for moisture-in-liquid measurement — the Liquidew I.S — into the MCU to enable both gas and liquid sample measurements to be taken in a single analyzer. Four user-adjustable alarm points and two analog 4–20-mA outputs are provided as well as a digital RS485 RTU for connection to external devices. — Michell Instruments Ltd., Ely, U.K.
www.michell.co.uk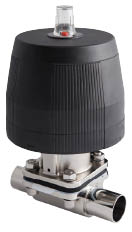 Alfa Laval
Modular valves
for pristine applications
The Unique Diaphragm Valve UltraPure (photo) can be operated manually using a handle or automatically with a pneumatic actuator. Lightweight and compact, the actuator can be fitted with a range of control and indication equipment. The standard valve body features low delta-ferrite content and specific sulfur content, and block and forged versions are available. Forged versions provide a cost-effective solution that is quick to heat up during thermal sterilization. The valves are configurable to meet most requirements, including aseptic conditions as well as sterile and ultra-hygienic processes. The valve offers benefits such as longer diaphragm lifetime, increased uptime and lower installation and operating costs, says the manufacturer. — Alfa Laval AB, Lund, Sweden
www.alfalaval.com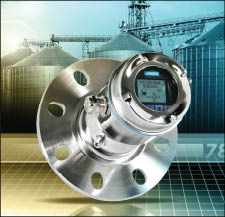 Siemens Industry Sector
The first 78-GHz transmitter
for solids level measurement
Sitrans LR560 (photo) is claimed to be the first radar level transmitter operating at 78 GHz frequency. The non-contacting, two-wire FMCW (frequency-modulated, continuous-wave) transmitter emits a narrow, 4-deg beam that avoids silo wall obstructions and other installation interferences. This allows the device to be installed virtually anywhere on the top of the silo. By operating at 78 GHz, the device emits a short wavelength to provide exceptional signal reflection, even from solids with a steep angle of repose. The instrument has a measurement range of 100 m, and is available with HART, Profibus PA or Foundation Fieldbus protocol. — Siemens Industry Sector, Industry Automation Dev., Nuremberg, Germany
www.siemens.com/sitrans560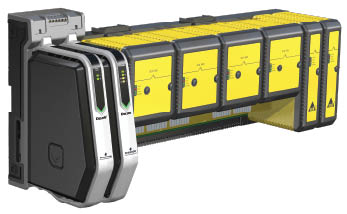 Emerson Process Management
New certifications for this process safety system
The DeltaV SIS process safety system (photo) complies with three burner-management systems (BMSs): TÜV has certified the system as meeting NFPA 85; Boiler and Combustion Systems Hazard Codes, the European Standard EN 298; and European Standard EN 50156. All of these standards cover the design and installation of fuel-burning equipment and their associated systems. The DeltaV SIS system has the flexibility to meet BMS needs, gives operators increased visibility for BMS operations and reduces engineering and complexity for BMS applications. DeltaVSIS simplex and redundant logic solvers are certified for use in SIL 3 applications in accordance with IEC 61508. — Emerson Process Management, Baar, Switzerland
www.emersonprocess.eu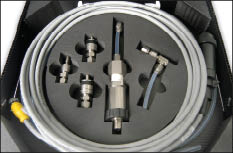 Swagelok
New options available
for this welding power supply
Two new options are now available for the M200 power supply, both designed to enhance weld consistency and quality. A new automatic inside diameter (I.D.) purge control system (photo) dynamically changes purge flow to maintain proper I.D. pressure at the weld joint. This patent-pending system helps eliminate undesirable reworking, which is critical for industries with high-purity requirements, such as semiconductor and biopharmaceutical. A manual mode and hand torch accessory are also available for welders who prefer the flexibility of manual welding with the consistency of orbital welding. — Swagelok Co., Solon, Ohio
www.swagelok.com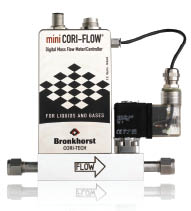 Bronkhorst Cori-Tech
Accurate dosing
of small mass flowrates
Cori-Fill (photo) is a compact solution for fluid dosage, based around the accurate mass measurement of the (mini) Cori-Flow series of Coriolis-type instruments, for flowrates between 200 mg/h and 600 kg/h. Cori-Fill technology features integrated batch counters and the facility to directly control a close-coupled shut-off valve for brief sequences down to 0.3 s, a proportional valve for longer sequences, or a liquid pump for dosing without the need for pressurized vessels. In contrast to gravimetric processes using weighing scales, Cori-Fill systems can add all ingredients simultaneously, shortening batch and agitation cycles. — Bronkhorst Cori-Tech B.V., Ruurlo, the Netherlands
www.bronkhorst-cori-tech.com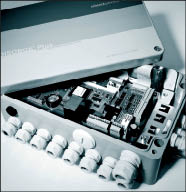 Schenck Process
Upgrading analog scales
to digital
The main feature of the Disobox Plus (photo) is the fact that it provides a simple solution to a complex requirement: it cost-effectively converts any conventional analogue scale into a high-performance digital scale. Combined with evaluation units from the Disomat range or the PC software Disoview E, it creates legal-for-trade mechatronic weighing systems with almost unlimited applications, transforming traditional scales into multi-functional precision weighing solutions for the challenges of tomorrow. The new electronic unit delivers output signals from up to eight load cells, which are recorded and digitized separately, so the operator can view the measurement voltage of individual cells at any time. As a result, the dead load distribution can be precisely specified during commissioning and electronic corner calibration can be performed very easily. — Schenck Process GmbH, Darmstadt, Germany
www.schenckprocess.com
New models added to this
range of temperature controller
The Unistat range of dynamic temperature-control systems has been extended with four new models. The Unistat 905, 905w, 912w and 915w have been designed for tasks in the chemical process industries, such as temperature control of reactors, autoclaves, mini and pilot plants, reaction blocks and calorimeters. The new models cover the temperature range from –90 to 250°C and have heating powers of 6 kW. Depending on the model, the units have cooling powers from 4.5 up to 11 kW. Speed-regulated circulation pumps with delivery rates up to 110 L/min guarentee an ideal circulation and the soft start protects glass reactors against breakage. — Peter Huber Kältemaschinenbau GmbH, Offenburg, Germany
www.huber-online.com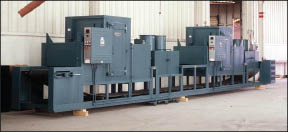 Grieve
This drying and curing oven
features two zones
No. 992 is an electrically-heated, 500°F two-zone belt-conveyor oven that is be used for drying and curing ceramic cement. Each zone has a 24-kW Nicrome wire elements to heat the oven chamber, while two 2-hp recirculating blowers deliver 4,000 cfm of vertical downward airflows to the workload. The conveyor oven features 4-in. thick insulated walls, aluminized steel interior and exterior, and two doors for access to the workspace and heating chamber. One cabinet houses the controls for each of the two heating zones (photo), and includes a digital-indicating temperature controller, manual reset excess temperature controller with separate contactors, and a recirculating blower airflow safety switch. — The Grieve Corp., Round Lake, Ill.
www.grievecorp.com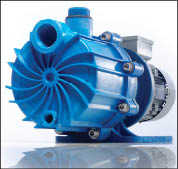 Michael Smith Engineers
This series of centrifuge pumps
is expanded
The Finish Thompson SP series of magnetic drive, self-priming centrifugal pumps has been extended with the addition of two new models. The SP10 and SP22 pumps (photo) deliver maximum flowrates of 12 and 45 m3/h, respectively, and maximum discharge heads of 13 and 37 m. The pumps are available in a choice of polypropylene or PVDF, which results in a tough and durable, corrosion-resistant pump. Maximum operating temperatures are 82°C for the PP version, and 104°C for the PVDF version. The pumps are suitable for handling fluids with high specific gravities (up to 1.8), such as sulfuric and phosphoric acids, and sodium and potassium hydroxides. — Michael Smith Engineers Ltd., Woking, U.K.
www.michael-smith-engineers.co.uk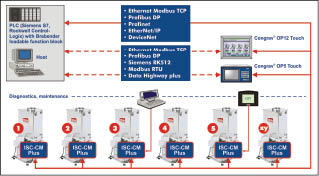 Brabender Technologie
This feed controller
is now smarter
This firm now offers a successor generation to its fully digital control-and-regulation modules ISC (intelligent signal converter) under the new designations ISC-CM plus (feed control module) and ISC-FC plus (speed control module with frequency converter). With all feed-specific parameters set, these modules are integrated into the company's weigh feeders, combining with them to form "intelligent" mechatronic units. In Ethernet or fieldbus interconnection, they can be interfaced with most automation systems (photo). Special loadable function blocks allow easy plug-and-play integration with PLC modules such as Siemens S7 and Rockwell ControlLogix. — Brabender Technologie KG, Duisburg, Germany
www.brabender-technologie.com
Stream packaging-line maintenance
with this portable tool
The CBT Mobile maintenance tool was introduced to help manufacturers streamline maintenance operations on packaging lines and optimize production. The portable device handles customized information to provide guidance on packaging format changes, troubleshooting and standard operating procedures. It can be managed and synchronized via a USB cable on a personal computer. Once the operator inputs information about a future format change, the device automatically generates the correct change order code to implement the necessary machinery alterations. To further maximize uptime, the interactive tool offers a troubleshooting kit with detailed guidance for breakdown situations. — Bosch Packaging Technology, Stuttgart, Germany
www.boschpackaging.com
Determine project savings
with this calculation tool
Launched in January, the Instrumentation Business Value Calculator (BVC) is an interactive tool that calculates the savings that can be achieved by adopting the latest instrumentation technology. The BVC assists with estimating the time and cost savings a business could achieve by implementing this company's instrumentation, a true lifecycle solution for designing, installing and maintaining instrumentation in plants. — Aveva Solutions Ltd., Cambridge, U.K.
www.aveva.com
Independent testing verifies
valve's containment performance
The ChargePoint valve minimizes the exposure of airborne particles to the operator and production environment while transferring potent ingredients from one piece of equipment to another. This is achieved by creating a barier between to product and the operator by means of a closed transfer system, by means of a unique split-butterfly-valve technology. The system has recently been tested by SafeBridge Consultants, Inc. The results of the tests verified that then valve performed well within the target of 5 µg/m3 for transfer runs conducted according to the ISPE Good Practice Guide. — ChargePoint Technology, Liverpool, U.K.
www.thechargepoint.com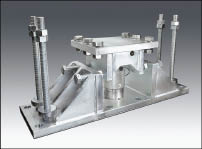 Sartorius
Even earthquakes
will not hamper silo weighing
For the safe weighing of silos in earthquake-prone areas, this firm has developed the Seismic Mount load-cell mounting kit (photo), which enables tilting of the load cells caused by thermal or mechanical expansion or contraction of the silo, its supportive structure. In this way, the risk of error due to these movements is reduced and reliable weight readings are ensured. The load cell dummy provided with the mounting kit enables fast and easy installation even without load cell, as overload or welding currents that are common during installation of silos may often damage or destroy the cell. Also, the mounting kits of the Seismic Mount series feature generously dimensioned lift-off protection. The kits are available for load capacities from 20 to 520 ton. — Sartorius AG, Göttingen, Germany
www.sartorius.com
Gerald Ondrey