New Products & Services
October 1, 2009
New products (international)
The latest in process equipment announced this month
Scrub more H2S
with this new adsorbent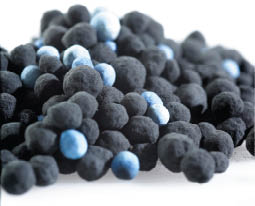 Purafil
This firm's Environmental Systems Div. (ESD) has launched its newest dry-scrubbing media, Odorcarb Ultra, which is said to be the first activated alumina media with the ability to remove 0.3 g of hydrogen sulfide per cubic centimeter of media. Odorcarb Ultra replaces Odorcarb II as the primary component of ESD's odor-control applications. Similar to its predecessor, the improved media also contains the patent-pending Media Life Indicating Pellets. These blue pellets (photo) appear white after chemisorption to distinguish new media from spent media. — Purafil Inc., Doraville, Ga.
www.purafil.com
Hazmat suits that
are certified for safety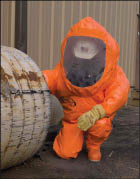 Saint-Gobain Performance Plastics
The ONESuit Pro hazmat suit (photo) has earned the highest level of certification recognized within the EU and Asia. The British Standards Institute has deemed the suit compliant with the recognized benchmark in fire and hazmat safety for 30 different member countries, EN 943-2 Type 1a standard. Along with EU certification, ONESuit Pro is said to be the only ensemble certified in the U.S. to both NFPA 1991 and 1994 standards. European certification requires testing not only of the fabric, but the entire ensemble — seam type, glove, boot, respirator interfaces and closure systems — to ensure it is an effective barrier against hazardous materials. — Saint-Gobain Performance Plastics, Merrimack, N.H.
www.onesuittec.com
Improve vessel cleaning
with this new range of spray balls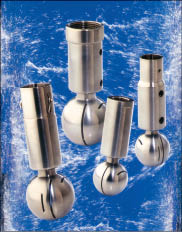 BETE
This new range of rotary spray balls (RSB; photo) is ideal for replacing static spray balls to ensure more efficient cleaning. Available in two sizes (RSB45 and RSB65), they ensure a maximum cleaning radius (depending on pressure and flowrate) from 1.5 to 2.43 m, which makes them suitable for smaller to medium sized tanks with 1.5- to 5-m dia. They can be supplied with 360 deg., 300 deg. up, and 180 deg. down spray patterns, and have a working pressure of 1–3 bar and a maximum working temperature of 95°C. A number of connections are available for easy retrofitting to existing systems. — BETE Ltd., Lewes, East Sussex, U.K.
www.beteuk.com






Connect and disconnect fluid lines safely
with this coupler

Walther Couplings
The clean-break, low-pressure couplings of the CT Series (photo) are designed for multipurpose use in chemical and fluid technology, hydraulics, machine and systems engineering, and process engineering. Manufactured from stainless steel, the CT Series is suited for aggressive and toxic substances, in the pressure range from vacuum to 64 bar. The clean-break technology enables the user to connect and disconnect the non-drip, non-squirting coupling safely and quickly. Nominal sizes of this Series (5, 7, 9, 12 and 19 mm) complement the manufacturer's range of couplers with larger sizes (25 to 100 mm). — Walther Couplings, Tring, U.K.
www.walther-couplings.com
A wireless modem
for gathering data remotely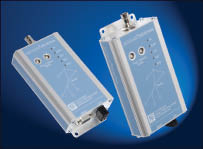 FF-Automation
The AutoLog WSN radio modem series (photo) is suitable for stand-alone wireless data applications or for integration into OEM products. A discrete component RF stage is used to give better performance than would be possible using the simpler "single chip" solutions found in other low-cost designs, says the manufacturer. VHF (138–225 MHz), UHF (406–512 MHz) and 869MHz (863–870 MHz) versions of the AutoLog WSN are available for simplex or half-duplex operation. The device has been optimized, through the use of advanced digital-signal processing (DSP) technology, for reliability and low current consumption, making it especially suitable for operation on remote sites without main power. — FF-Automation Py, Vantaa, Finland
www.ff-automation.com
For high throughputs,
consider this dry vacuum pump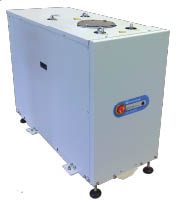 Edwards
The iXL 500 (photo) is the first member of the new iXL line of dry vacuum pumps. The iXL 500 is designed primarily for load-lock applications in solar-cell and flat-panel-display manufacturing where high gas throughputs and fast pump-down times are crucial. Compared to its predecessor, the iXL 500 offers up to 60% improvement in cost of ownership, says the manufacturer. The unit has a pumping speed of 1,600 m3/h while consuming only 7 kW of power. Its low-inertia booster shortens load-lock evacuation times with faster, more efficient pumping at higher inlet pressures. — Edwards, Crawley, U.K.
www.edwardsvacuum.com
This standardized canned-motor pump
has built-in protection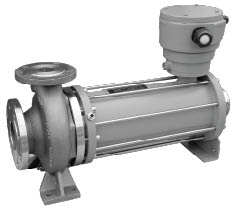 Hermetic-Pumpen
The newly developed HCN/HCNF range of canned motor pumps was designed for the most demanding areas of application. The HCN range is designed for aggressive, inflammable, toxic and highly volatile liquids, solvents or other substances. The HCNF range is used for liquid gases, such as ammonia, Freon, propane and carbon dioxide. The most recent development is a single-stage standardized chemical canned motor pump (photo, p. 32I-4) in accordance with EN 22858/ISO 2858. The area of application for liquids covers a temperature range from –120 to 120°C. The pump performance lies between 6 and 41 kW, with a maximum flowrate of 230 m3/h and a maximum head of 140 m. One special design feature is an integrated monitoring system for the rotation direction, which is firmly molded in the terminal box. A thermistor secured in the winding guarantees efficient protection of the motor. — Hermetic-Pumpen GmbH, Grundelfingen, Germany
www.lederle-hermetic.com
A better way to make pellets
of PS and POM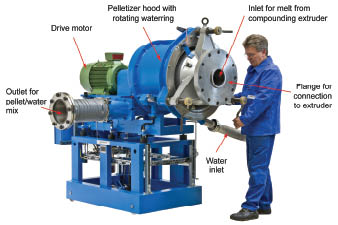 Coperion
The WRG range of water-ring pelletizers (photo) for making pellets of polystyrene (PS) and polyoxymethylene (POM) has the advantage that the cooling and conveying medium (water) does not come into direct contact with the die plate. The rotating knives cut the extruded strands of melts into pellets. Centrifugal action of the knives sends the still-hot pellets into the rotating water ring, which cools them and conveys them out of the pelletizer hoods. Favorable operating costs result from: the low energy requirement for the die plate and the rotor drive; the negligible wear on the knives and the die plate; and the simple and rapid startup process. A WRG 320 has been delivering 5,000 kg/h PS pellets for two years, and a 9,000 kg/h unit has recently been delivered. — Coperion GmbH, Stuttgart, Germany
www.coperion.com
These transmitters
track rotating equipment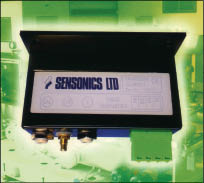 Sensonics
The DN8033 thrust and rod drop transmitter (photo) is designed to measure shaft axial or rod position of a range of rotating equipment. The 4–20-mA loop-powered module provides easy integration with either the local machine PLC or a plant-wide DCS since it is powered through the measurement loop. The unit operates in conjunction with the company's Senturian range of 8-mm-dia. proximity probes, offering a maximum measurement range of ±1 mm. The DIN rail-mountable unit provides two miniature multi-turn potentiometers for the setting of the gain and zero point parameters. — Sensonics Ltd., Berkhamsted, U.K.
www.sensonics.co.uk
A control valve
with faster action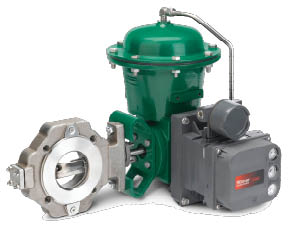 Emerson Process Management
The Fisher Control-Disk valve (photo) offers excellent throttling performance and is ideal for applications that involve fast processes and varying pressure drops. The valve's wide control range is twice that of traditional butterfly valves for better adherence to set point, which allows control closer to the target set point, regardless of process disturbances. When paired with a Fisher spring-and-diaphragm actuator and Fieldvue digital valve controller, the assembly can capture and deliver data to AMS ValveLink software, which provides an accurate picture of the valve, actuator and digital-valve-controller performance. The valve body meets PN 10 through PN 40, CL 150, and CL 300 ratings. Face-to-face and raised-face dimensions meet EN 593, API 609 and MSS-SP68 standards. — Emerson Process Management, Baar, Switzerland
www.emersonprocess.eu
Charge more than reactors
with this powder-transfer system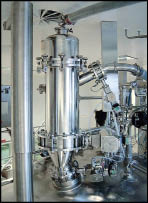 Dietrich Engineering Consultants
Although especially designed for safe reactor charging, the PTS powder-transfer system (photo) has proven itself in many applications of a much wider spectrum than traditional reactor charging. The PTS-System is exempt from ATEX 95, and therefore does not need an ATEX certification or confirmation. The system does not create its own ignition source and therefore is intrinsically safe. By means of active powder transfer, by a combination of vacuum and pressure, the PTS is able to replace risky open manual handling. Powders can be transferred from almost any receptacle, such as sacks, big bags, drums or storage vessels, and be discharged into any type of receiver. The system can be mounted directly on a vessel or is available as a mobile unit. The PTS is fully CIP (cleanable in place) and guarantees hygiene and complete containment. — Dietrich Engineering Consultants S.A., Ecublens, Switzerland
www.dec-sa.com
A peristaltic pump
with a variety of hose materials available
Pump Engineering
A compact, double-head hose pump that provides higher flows yet requires less space, is the latest addition to the range of Ponndorf peristaltic pumps. Available from this firm, the PK 40 high-pressure twin unit (photo, p. 32I-7) is capable of providing flowrates of up to 15,000 L/h at pressures up to 15 bar. These self-priming pumps offer advantages of peristaltic pumping that are especially relevant to the food processing and water treatment industries. For example, shear sensitive, delicate liquids, or those containing solids remain unaffected by the pumping process. The pump is fully reversible and is supplied with a wide selection of hose materials, including natural rubber, neoprene, hypalon, food-grade NBR and EPDM. — Pump Engineering Ltd., Littlehampton, U.K.
www.pumpeng.co.uk
A stronger magnet delivers
improved separation efficiency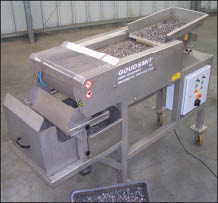 Goudsmitt Magnetic Systems
The redesigned High Gradient Separator (photo, p. 32I-7) has been developed for the recycling industry and is particularly suitable for operation in a difficult and dirty environment. The magnetic strength of the coils has been increased to 10,000 Gauss, which allows the magnetically weak iron and slightly magnetized particles to be removed from waste and residual streams. The complete system consists of a frame, a vibrating chute, a control unit, the separator and an easily adjustable splitter unit. — Goudsmitt Magnetic Systems B.V., Waalre, Netherlands
www.goudsmit-magnetics.nl





Supersonic nozzles
keep this spray-dryer filter clean
SaniCIP is a system of CIP bag filters for spray dryers that use reverse-jet pulsing technology to make sure that powder is removed from every part of the bag. Now, the SaniCIP filters have been improved to achieve even higher performance and longer life. Among the new features are the following: the diameter of the cylinders has been enlarged to reduce the wear rate in use due to sand blasting and rubbing; the air inlet has been redesigned tangentially to reduce risk of powder deposits forming; supersonic nozzles are used for reverse-jet pulsing instead of reverse-jet nozzles, which reduces compressed air and maintenance requirements; the clean-air plenum above the nozzles has been redesigned to be easier to clean in place; top covers now weigh less for easier removal; and the system now includes new sanitary explosion vent panels. — GEA Process Engineering, Søborg, Denmark
www.niro.com
Integrated software
delivers a host of advantages
The LDRA tool suite has been integrated with the IBM Rational Rose RealTime model-driven development environment. This integration introduces LDRA's powerful code quality analysis and code coverage techniques into the domain of model-driven development using Unified Modeling Language (UML). The LDRA tool suite supports the analysis, instrumentation and testing of both auto-generated and user-created source code both within the Rose RealTime user interface or the LDRA development environment. — LDRA Software Technology, Wirral, U.K.
www.ldra.com
This continuous gas analyzer
can also monitor CO2 emissions
Upgrades for the Advance Optima AO2000 Series Continuous Gas Analyzers are now available for expanding the monitoring capability to include carbon dioxide greenhouse gas emissions measurements to address expected U.S. Environmental Protection Agency (EPA) environmental compliance requirements. The regulations will impact reporting requirements for cement kilns, nitric-acid plants, power generation, incinerators, petroleum refineries and petrochemical plants. A full range of upgrade options is available to meet site- and application-specific requirements. Installation and commissioning services for all upgrades can be implemented onsite by this firm's factory-certified service engineers. — ABB Analytics Services, Houston, Tex.
www.us.abb.com
Accurate mass flowrates,
even for fluctuating velocity profiles
The new Multi-Trak Model 670S is an advanced, state-of-the-art instrument for measuring mass flowrates in very large ducts or stacks that have non-uniform velocity profiles, high turndown requirements, dirty gas streams, wide temperature ranges and fast velocity and temperature changes. The unit dynamically compensates for changes in the flow profile by using up to four independent mass-flow sensing points to measure the instantaneous, average gas-mass-flow velocity. The device has an accuracy of ±1% of reading and 0.5% of full scale, a one-second response to changes in flowrate, and patented Dry-Sense Technology that eliminates sensor drift. The sensors are FM, CSA and ATEX certified for hazardous areas, and are also CE Approved. — Sierra Instruments, Inc., Monterey, Calif.
www.sierrainstruments.com
A pressure transducer
for low-pressure applications
The 3300 Series pressure transducer is designed for low-pressure applications that demand small size and low cost along with high accuracy and stability. These transducers are especially suitable for chemical sterilizers, autoclaves, pneumatics, HVAC, pumps and compressors. The devices are available over the pressure range from 1 to 16 bar, and can operate at temperatures from –40 to 125°C, and have voltage, current and ratiometric outputs. — Gems Sensors & Controls, Plainville, Conn.
www.gemssensors.com
Ultrasonic flowmeters
for drop-by-drop dosing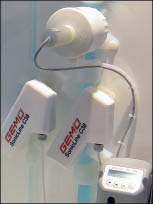 GEMÜ
The PFA SonicLine ultrasonic flowmeters (photo) are now available in a new, low-flow version for quantities from 0.03–6 L/min in DN 3/8 in. Flowrates from 0.5–1 mL/s are achieved, which corresponds to almost one drop at a time and opens up new areas of application in fine dosing of chemicals, says the manufacturer. The SonicLine is suitable for accurate (1%) and fast batch and dosing processes with high reproducibility (0.5% of measured value). All medium-wetted parts are made of corrosion-resistant, high-purity fluoropolymer PFA-HP. — GEMÜ Gebr. Müller Apparatebau GmbH & Co. KG, Ingelfingen-Criesbach, Germany
www.gemue.de
Move lubrication fluids
with this smooth-starting pump
The Allfuel Series of screw pumps is designed to move oils and other lubricating liquids with a maximum discharge pressure of 40 bar. Available in six different construction types, the pumps have many new features, including heating elements for the mechanical seal and filter chamber (which provides for smooth starting) and a filter design that simplifies maintenance. The design of the pump casing allows the filter to be changed without having to drain, dispose and refill the oil. — Allweiler AG, Radolfzell, Germany
www.allweiler.de
Mass flowmeters for controlling
high-purity gas flows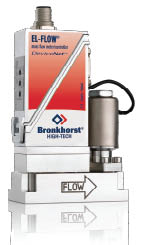 Bronkhorst High-Tech
These metal-sealed mass flowmeters/controllers (photo) are designed to meet the requirements of the semiconductor market and other high-purity gas applications. The devices feature high surface quality and are of modular construction with metal-to-metal seals for long-term tightness. Now, as an alternative to traditional face-seal fittings, optional downport connections (c-seal and w-seal) are offered to reduce mounting space and facilitate installation and maintenance. Metal-sealed units are supplied in ranges from 0.1–5 cm3/min up to 0.6–100 L/min (or higher on request). — Bronkhorst High-Tech, Ruurlo, Netherlands
www.bronkhorst.com.












These sensors do more
than measure control variables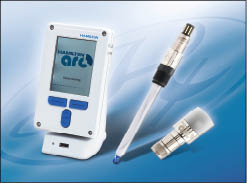 Hamilton
The ARC concept (photo) is a new family of sensors for process control, which includes pH, dissolved oxygen and conductivity measurements. More than just sensors, the devices are complete solutions that include sensors, and direct standard interface to the process-control system. In addition to the analog analytical signal, the units also deliver the power of digital sensor management. ARC Sensors are available with both standard 4–20 mA and digital ModBus interfaces built in and supported directly from the sensor itself. — Hamilton AG, Bonaduz, Switzerland
www.hamiltoncompany.com


Gerald Ondrey