New Products & Services
November 1, 2010
November New Products (Domestic Edition)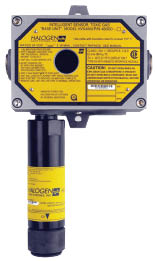 Halogen Valve System


This monitor detects toxic and hazardous gases
The Jupiter gas-detection system model HVS4000 (photo) monitors and reports information about hazardous and toxic gases to Scada systems. It is a microprocessor-based instrument capable of detecting a wide range of toxic gases in ppm quantities, including ammonia, carbon monoxide, ozone, chlorine dioxide and sulfur dioxide. The HVS4000 can also detect oxygen deficiency. Built with intrinsically safe inputs for use in hazardous locations, the system is certified as explosion-proof. Product features include a sensor-life indicator, an easy-to-read display, two settable internal relays and dual Modbus connections. — Halogen Valve System Inc., Irvine, Calif.
www.halogenvalve.com
Exair
An air nozzle that resists
corrosion and high temperature
The ¾ NPT Super Air Nozzle (photo) delivers 4.5 lb of strong blowing force for blowoff, cooling and drying applications located in corrosive, high-temperature, food and pharmaceutical environments. According to the company, the force generated by the stainless-steel nozzle is more than five times that of other air nozzles. The NPT nozzle is ideal for blowing heavy materials and for situations where the air nozzle cannot be mounted close to the target surface. The design of the air nozzle directs the compressed air to a single point of convergence to deliver a concentrated stream of high-velocity airflow. It meets OSHA standards for sound level, and is designed to prevent blocking. At 80 psi, the air consumption is 91 ft3/min. — Exair Corp., Cincinnati, Ohio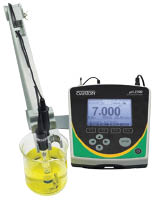 Cole-Parmer
A laboratory pH meter with an expanded range
The Oakton 2700 Series pH meters have an expanded range; they are capable of measuring pH values from –2.000 to 20.000 with accuracies of ±0.002 and a resolution of 0.001. The pH meter has an oversized, backlit display. The meters can stamp all calibration data and stored data with time and date, according to good laboratory practices (GLP). Other instruments in the series can measure ion concentration, dissolved oxygen and more. — Cole-Parmer, Vernon Hills, Ill.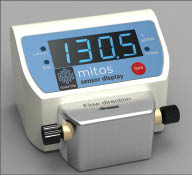 Dolomite Centre
Measure flow and pressure
in microfluidic systems
Mitos Sensor units (photo) are designed to measure flow and pressure in microfluidic systems. Capable of displaying results in realtime, the sensors have low internal volumes, and are designed to minimize interference with the liquid flow. The Mitos Sensor system includes a display unit, which interfaces with each of five flowrate sensors and one pressure sensor. The pressure sensor can measure pressures between –0.5 and 30 bar. The sensor units can be used to develop instrument systems for applications in environmental monitoring, petrochemicals, food and beverage, agriculture, chemicals and others. — Dolomite Centre Ltd., Royston, U.K.
www.dolomite-microfluidics.com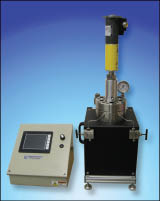 Supercritical Fluid Technologies
Stirred reactors for high-pressure chemistry research
The HPR Series reactors (photo) are designed for researchers interested in performing pressurized chemical reactions for synthesis or process development. The stirred reactors range in size from 50 mL to 4 L, and may be operated at up to 10,000 psi and 350C. The reactors are equipped with a magnetically coupled impeller for optimal mixing. These benchtop models are ideal for studies on catalysis, polymerization, hydrogenation, oxidation, isomerization and dehydrogenation. Supplied as ready-to-use equipment, the reactors fit into a fume hood. — Supercritical Fluid Technologies, Newark, Del.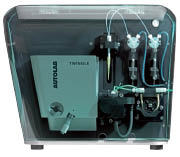 Metrohm USA
Measure molecular interactions with this system
The Autolab Twingle (photo) is a dual-channel surface-plasmon resonance system that allows users to perform high-accuracy measurements of molecular and kinetic interactions. The versatile, double-channel system can make simultaneous electrochemical measurements and is an ideal sensor for a research laboratory. Features of the Twingle include highly flexible data and control software, easy sample recovery and customizable kinetic evaluations and sample control. In addition, the company says, the instrument has a small footprint and an affordable price. — Metrohm USA Inc., Riverview, Fla.
www.metrohmusa.com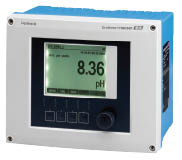 Endress+Hauser
Measure multiple parameters with this analytical platform
The Liquiline CM442 (photo) is a four-wire, two-parameter transmitter for analytical sensing applications. The device can accept data from two sensors and measure any combination of parameters, including turbidity and suspended solids, dissolved oxygen, pH, chlorine and conductivity. Using one instrument for measuring two process variables saves money and space. Liquiline's sensor inputs have a digital interface with plug-and-play capabilities, allowing users to interchange sensors quickly for calibration or other purposes. — Endress+Hauser, Inc., Greenwood, Ind.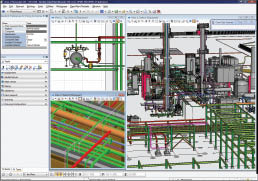 Bentley Systems
Share data across systems
with new modeling software
OpenPlant Modeler V8i 3-D plant modeling software (photo) enables realtime seamless sharing and data interoperability across different organizations and systems using an internationally recognized standard (ISO 15926; Realtime Interoperable Network Grids) — the first commercially available software to do so, according to the developer. Designed to address workflow requirements of globally distributed-and-sourced plant projects, OpenPlant Modeler V8i and related products extend integration among multiple infrastructure disciplines and improve team collaboration. OpenPlant Modeler provides functionality for piping and equipment, and serves all other disciplines involved in real-world plant design projects, including civil, construction, environmental, HVAC, process design and others. — Bentley Systems Inc., Exton, Pa.
www.bentley.com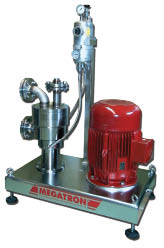 Kinematica
Avoid lumpy powder dispersion with this machine
The Megatron MT-VP powder dispersing/induction machine (photo) generates strong suction that prevents formation of lumps during the powder induction and wetting phase. The absence of lumps prevents plugging of the powder supply line, and improves the dispersing efficiency. Designed to be used both in pilot plant and production environments, the Megatron efficiently disperses powders into a flowing liquid regardless of density, and is appropriate for chemical, pharmaceutical and foodstuffs applications. — Kinematica Inc., Bohemia, N.Y.


This flow switch has no moving parts
The FS10A Flow Switch/Monitor is designed to continuously verify flows within liquid or gas process analyzer sampling systems. The small and lightweight instrument has no moving parts for reliable, virtually maintenance-free operation. The instrument is appropriate for a wide range of process- and emissions-sampling systems, including gas chromatographs, mass spectrometers, optical spectrometers and others. The FS10A is based on a thermal dispersion system that relates temperature differentials to mass flow. The corrosion-resistant instrument can operate across a wide flow range (50 to 10,000 cm3/h). Beyond tripping at a designated flow level, the instrument can also monitor flow for greater predictive power and calibrations can also be stored. — Fluid Components International LLC, San Marcos, Calif.
Deliver gas pulses accurately with this instrument
The MicroPulse is a solid-state means of producing small pulses of various gases. It is intended as an alternative to mechanical syringes. The compact instrument contains a miniature heat exchanger and precision temperature controller that can be fitted into process-control circuits without adding volume. MicroPulse delivers up to 1.75 mL of gas at standard temperature and pressure. Advantages of the device include: no moving parts, no need for compressed-air source, and the application to which it is connected can initiate a flow pulse automatically at any interval. — Intertech Development Co., Skokie, Ill.
These pumps are ideal for oil, fuel, water and acid transfer
The UP Series of self-priming gear pumps is available in configurations that make them ideal for water processing, as well as oil, fuel or antifreeze transfer. The pumps also work well with seawater, acids and alkaline solutions. There are six models in the series, all with different flow and pressure capabilities. The pumps are available with nickel-plated bronze or polytetrafluoroethylene (PTFE) gears, and stainless-steel or brass pump bodies. — Clark Solutions Inc., Hudson, Mass.
Additional control options for these valves
Spira-Trol control valves have extended options to ensure that the valves can be optimized for a specific customer application. Pneumatic-piston actuators have been added to the diaphragm and electric actuator ranges. The free-float design provides users with longer stem-seal life and improved valve shut-off performance. Spira-trol valves also now feature better capacities and a balanced trim option for high differential pressures. The valves are now additionally available in 6- and 8-in. sizes, due to high demand, says the company. — Spirax Sarco Inc., Blythewood, S.C.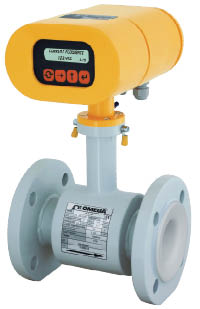 Omega Engineering



These flowmeters are designed
for conductive liquids
The FMG600 Series electromagnetic flowmeters (photo) are designed for measurement of conductive liquids. With no moving parts and a PTFE lining, the FMG600 meters can handle applications involving wastewater, pulp, foodstuffs and slurries. Standard outputs include analog, frequency, and RS485 communications. An optional sanitary tri-clamp mounting system allows use of the FMG600 flowmeters in applications not previously open to magmeters. Local- and remote-display models are available. — Omega Engineering Inc., Stamford, Conn.



This vibration transmitter delivers detailed information
The CSI 9420 is a smart, wireless vibration transmitter that delivers detailed information for machinery analysis to vibration experts, such as direct alerts on high vibration caused by cavitation or bearing defects, and high-resolution spectra. The CSI 9420 connects easily to any machine, and its wireless capabilities make the instrument ideal for monitoring equipment in remote or hard-to-reach locations. The vibration transmitter has shown effectiveness in several applications, says the company, including monitoring petroleum refinery pumps, cooling towers, compressors, agitators in settling ponds, and all types of motors, pumps and fans. — Emerson Process Management, St. Louis, Mo.
A new pump family offers two types of impellers
The SL Submersible Pump range offers two types of impellers to handle a wide range of process and wastewater applications. The SuperVortex Impeller provides free passage of solids up to 4 in. in diameter, making it ideal for liquids containing solids, fibers or sludge. The Channel Impeller is designed particularly for large flows of raw sewage. In addition to numerous customizing possibilities, the SL series features an efficient motor that is sealed with a moisture-proof plug, and a short rotor shaft to reduce vibrations. — Grundfos Pumps Corp., Olathe, Kan.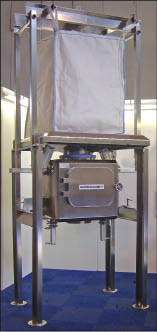 Spiroflow Systems



Clean this bulk bag discharger easily
The Model T11 Bulk Bag Super Discharger (photo) is designed for critical applications where hygiene and rapid dismantling of components without tools are essential to avoid microbial growth and cross-contamination between batches. The T11 can be custom-made to meet requirements for the pharmaceutical, dairy and food-and-beverage industries. Constructed entirely from stainless steel with no dead pockets, the T11 can be pressure-washed, steam-cleaned or manually washed or sterilized. The T11 features a dust cabinet that fully contains the bag during discharge, and a pharmaceutical-quality, dust-tight seal between the bag neck and the inlet of the transfer hopper. — Spiroflow Systems Inc., Charlotte, N.C.




Detect high solids level with customized extended rotaries
This firm has introduced a series of extended rotaries for top-of-bin mounting when the rotary is used as a high-level alarm. These vertically extended rotaries are desirable, because solid material will tend to be higher at the filling point and operators want to prevent filling the bin to the very top. The company custom manufactures extended rotaries to the length requested (up to 144 in.). The BMRX and Maxima+ fail-safe rotaries feature a durable motor with a de-energized operation that shuts down the motor when material is present to reduce wear and the operating temperature, thereby prolonging the motor life. — BinMaster, Lincoln, Neb.
www.binmaster.com
Filtersense
This particulate matter transmitter handles harsh environments
A new loop-powered particulate matter (PM) transmitter (photo) from this company can function in harsh environments and applications, such as coal flyash, carbon black, cement kilns, spray dyrers and chemical processing. The EPA-compliant product features heavy-duty construction, single-piece mounting, advanced induction sensing, and a protected probe. The product can detect leaks and emissions from baghouses, cartridge dust collectors and cyclones. — Filtersense, Beverly, Mass.
Ball valves with three seating options — graphite, metal and soft
Ultra-Seal Series 300 ball valves are two-piece, full-bore, flanged, seat-supported ball valves designed in accordance with ASME B16.34 and ISO 14313/API 6D standards. The series offers three seating options — graphite, metal and PTFE (polytetrafluoroethylene) soft seat — which allows engineers to select seat designs for temperatures as low as –196C and as high as 450C. For applications involving abrasive or corrosive fluids, the Series 300 valves are available with a range of coating materials, including tungsten carbide, nickel alloy and chromium carbide. The PTFE soft-seated design is recommended for maximum chemical compatibility with minimum coefficient of friction. — Tyco Flow Control, Princeton, N.J.
This cooling-water treatment covers more water conditions
GenGard 8000 is the latest offering from this company's GenGard family of cooling-water treatment technology. The new version of the product has expanded its capability to handle a wider range of pH values for cooling water, including neutral to alkaline water. The GenGard 8000 chemistry reduces the need to add sulfuric acid to cooling water systems. The new GenGard product gives process engineers the ability to use lower quality water in applications requiring cooling water, the company says, and also avoids corrosion and fouling problems. GenGard 8000 is designed for use with this company's process control and automation platform. — GE Power and Water, Trevose, Pa.
Manufacture of this HDPE is environmentally friendly
Vestolen A Rely 5922R and 5924R are the first two grades of high-density polyethylene (HDPE) for piping that are manufactured in this company's state-of-the-art facility in Germany, where their production places less stress on the environment by reducing air emissions, electricity usage and sewage generation. Rely 5924R delivers low-sag performance for large-diameter pipes and high-pressure pipes with low standard-dimension rates. Rely 5922R HDPE offers resistance to slow-crack-growth propagation in high-pressure pipe applications. — Saudi Basic Industries Corp. (Sabic), Riyadh, Saudi Arabia.
Measure hydrocarbon dewpoint with this gas chromatograph
The Danalyzer 700XA gas chromatograph offers a fully automated hydrocarbon-dewpoint-monitoring method, allowing natural-gas distributors and others in the oil-and-gas industry to obtain accurate measurements of a parameter that is difficult to assess because of a host of factors, such as gas composition, contaminants and corrosive compounds. Monitoring hydrocarbon dewpoint enables natural gas operators to avoid condensation that can over-pressurize the pipe. The 700XA combines two detectors and a controller within a single housing, reducing complexity and cost. The instrument exhibits high precision over a wide range of conditions, says the company. — Emerson Process Management, St. Louis, Mo.
Track and manage assets throughout their lifecycle
This firm has launched its next generation Asset Lifecycle Information Management solution, Asset Hub 6.0. Asset Hub improves productivity and reduces operational, safety and compliance risk over the full operating lifecycle of critical assets. New features to Version 6 include a Public API that significantly improves performance and reduces the cost of asset data interoperability with third party systems. Asset Hub 6.0 also features robust performance improvements for creating and managing maintenance task lists and bills of materials data. — NRX Global, Toronto, Ont.
www.nrx.com
Dryco


This dehumidifier is suitable
for hazardous locations
The XDH2000 (photo) is a patented, explosion-proof dehumidifier for mobile applications. Designed with a smaller footprint for hazardous chemical locations, the XDH2000 uses silica gel-impregnated desiccant technology. The company says the product is capable of twice the output of competing units with half the energy draw. — Dryco, Downers Grove, Ill.
Close gas lines when the temperature gets too high
FireBag thermo-activated shut-off devices turn off gas supply when ambient temperatures reach 212°F, preventing the spread of fire that can lead to gas explosions. The FireBag will meet the temperature and leakage requirements of ANSI/API 607 for natural gas, propane and butane. When the outside temperature reaches 203–212°F, metal alloy in the FireBag that keeps plug and cartridge together melts, and the spring pressure pushes against the gas opening to close it completely. Once triggered, the shutoff device works up to 1,697°F for one hour. No fire or heat detectors are required. — Assured Automation, Clark, N.J.
www.assuredautomation.com
Scott Jenkins