New Products & Services
November 1, 2008
November: New Products (North American edition)
Non-Sparking, Non-Magnetic Safety Tools
for Hazardous Locations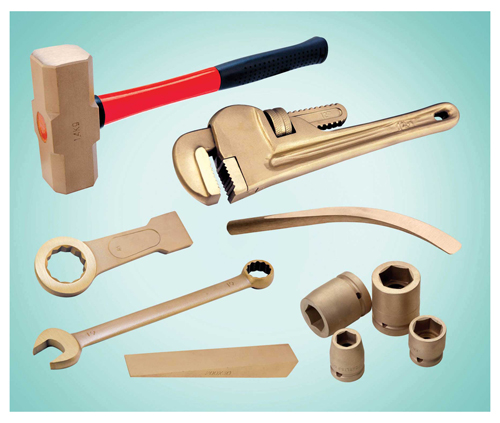 Manufactured from special aluminum-bronze or copper-beryllium alloys, these non-sparking, non-magnetic hand tools (photo) meet ATEX regulations for safe use in areas where hazardous, flammable or combustible vapors, liquids, dusts or residues may be present. This line of safety tools consists of hammers, flange wedges, striking wrenches, impact sockets, screwdrivers, shovels and other hand tools. They comply with the ATEX Directive stating that no tools that can cause sparks are permissible in Ex Zones 0, 1 and 2 (flammable gas, mists or vapors); Zones 20, 21 and 22 (combustible dusts) and M1 and M2 for mining. Each tool is laser engraved for the proper Ex Zone classifications indicating the zones for which it can be used. — CS Unitec, Norwalk, Conn.
Conductive Tubing Eliminates
Static Discharge and Prevents Buildup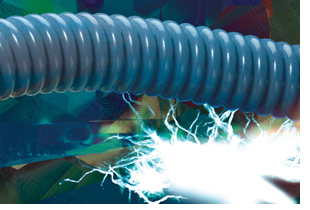 A full range of conductive fluoroplastic tubing is now offered in a variety of sizes and configurations to eliminate and prevent the build-up of static charges. PTFE Conductive Tubing (photo) is available with a conductive I.D. that conforms to AMS-H-27267 — having a minimum conductance of 10 – 20 micro-amps with 1,000 V-d.c. applied over a 14-in. length. Designed to eliminate static charges affecting combustible fluid transfer and to prevent the build-up of static charges that might damage sensitive electronic devices, it can be supplied a wide variety of configurations. Available in sizes from 1/8- to 4-in. I.D., Conductive Tubing can be supplied as smoothbore tubing, liners, and in convoluted and wire-wrapped convoluted styles. It provides anti-static properties to eliminate dust and other particulates, and offers increased wear- and UV-resistance. — Parker TexLoc, Fort Worth, Tex.www.parker.com


For Electrochemical Analysis,
Use this Rotating Disk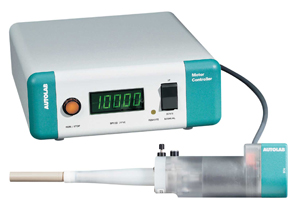 The Eco Chemie Autolab Rotating Disk Electrode (RDE; photo) is designed for electrochemical analysis. Featuring a sleek motor design and sealed, low-noise contacts, the RDE substantially minimizes the noise interference that is often associated with rotating disk studies. Autolab RDE maintains speeds from 100 to 10,000 rpm, and it can be controlled manually or from a remote analog system. To address a wide range of applications, electrode tips are available with both 3- and 5-mm diameter disks in Pt, Ag, Au and glassy carbon. A 5-mm blank tip is also available for personal material studies. Autolab RDE is backed by expert application and service support through this firm. — Metrohm USA, Inc., Riverview, Fla.
These Tank-Cleaning Heads
Improve Uptime
Two new NLB 3750 3D tank cleaning heads (photo) feature a redesigned hub assembly that triples the seal life of previous models and greatly simplifies seal replacement, according to the firm. Both deliver the 3D cleaning action made popular by previous NLB models, with rotating high-pressure water jet nozzles mounted on a revolving head to maximize interior coverage in tanks and reactors. The NLB3750-85 operates at pressures from 4,000 to 13,000 psi with a flow rate of 80 gal/min. The NLB3750-110 operates at from 4,000 to 8,000 psi and 110 gal/min. Both have stainless-steel bodies for durability and ease of cleaning. High-pressure water jets remove chemical and resin build-up from tanks and reactors faster and more thoroughly than manual methods, while eliminating the need for anyone to enter a confined space. — NLB Corp., Wixom, Mich.
Precision Handheld Pumps
for Pressure and Vacuum Calibration
The HPP series precision calibration pumps (photo) are available in four models. The HPP-100 and HPP-VAC are economical pumps designed for 0 to 6.9 bar (0 to 100 psi) and 0 to –.95 bar (0 to 028 in. Hg) vacuum, respectively. Both models feature dual O-rings on all pistons for smooth operation with zero leakage. The HPP-600 is a pneumatic pump that can generate both vacuum and pressure. It covers a range from –.95 bar (28 in. Hg) vacuum to 41 bar (600 psi) pressure. The HPP-10K hydraulic pump can generate pressure from 0 to 690 bar (0 to 10,000 psi). It is compatible with most hydraulic fluids, oils and water. All pumps are designed to provide long-term reliability in harsh environments, making it ideal for use in automotive, chemical and petroleum industries. — Omega Engineering, Inc., Stamford, Conn.
Fiberglass Grating can Replace Steel
in Many Applications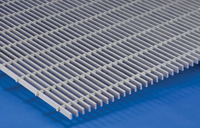 Duragrid 1-in. R-7300 fiberglass grating is specially designed to replace 1-in. steel grating in corrosive environments, such as offshore drilling and production platforms, refineries and chemical plants. It is extremely strong and impact resistant, able to span 36 in. with a load of 100 lb/ft 2 and a deflection of less than ¼ in. Virtually maintenance-free, it will not rust and corrode like steel grating, thus reducing maintenance costs. With a rectangular-bar design, it is well-suited for applications exposed to wave uplifts, or when all surfaces of the bars need to be kept clean. At half the weight of 1-in. steel grating, Duragrid is easily handled in installation, and cost less to ship than steel grating. Also, a non-skid surface on fiberglass grating is safe for workers, while having low electrical and thermal conductivity. — Strongwell, Bristol, Va.
New Communication Interfaces
Improve the Versatility of Flowmeters
This firm has introduced new communication options for its Micro Motion 2400S transmitter. These compact devices, which mount integrally onto Micro Motion Elite Coriolis meters, are now available with DeviceNet or Profibus DP communication protocols in addition to the traditional interfaces such as 4 – 20 mA, frequency and HART. The new communication options make the Micro Motion 2400S transmitter ideal for OEMs operating in global markets, where different communications standards are often employed. The transmitter provides a simple and fast interface with an existing PLC architecture together with the added benefits of direct digital communications. — Emerson Process Management, Boulder, Colo.
These Two Motors Designs
Comply with API Requirements
Two new PetroDuty motor designs are being offered by this firm — the 4th edition API-541 and 1st edition API-547. These new motor designs have been specifically developed to satisfy or exceed the strict requirements set forth by the American Petroleum Institute (API). The newest PetroDuty-541 is rated 500 h.p. and above, as set forth by the API, for use in critical applications in the petroleum industry. With a voltage capacity of 2,300 – 13,200 V, it also offers dual voltage at 2,300 and 4,000 V. The PetroDuty-547 is suitable for use in general purpose petroleum or chemical applications, as well as in other industrial severe-duty environments. Rated for 250 – 3,000 h.p, it has a voltage capacity of 2,300 – 3,200 V. Both motor designs operate on 50 and 60 Hz frequencies. — WEG Electric Motors Corp., Atlanta, Ga.
These Spigot Ends are Compatible
with All Major Piping Manufacturers
Factory-installed spigot connections are now available for this firm's thermoplastic valve and piping products line. Constructed of ultra-pure, corrosion resistant polypropylene or Kynar PVDF, the Series ZSP True Blue spigot ends (photo) minimize deadleg, and are designed for BCF (bead and crevice-free) and infrared butt-fusion and socket-fusion piping. Spigot sizing is dimensionally compatible with all major piping manufacturers. An optional Class 100 cleanroom and double-bagging procedure is available for ultra-pure applications. — Plast-O-Matic Valves, Inc., Cedar Grove, N.J.
This Firm Now Offers 22,800 Washer Sizes
in a Variety of Materials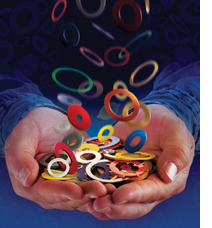 This manufacturer of washers has added 800 sizes to their product offering. With this addition, non-standard washers and spacers are now available (photo) without tooling charge in more than 22,800 sizes, and offered in a choice of more than 2,000 commonly specified and hard-to-find materials, including low carbon sheet steel, five types of spring steel, stainless steel, aluminum, brass, copper and nickel silver, as well as non-metallics such as Delrin, Teflon, Mylar and nylon. This broad variety of sizes encompasses miniature washers as small as 0.080-in. O.D., to large washers with O.D.s up to 5.140-in. Customers can simply select a size and specify a material and quantity at this firm's website. — Boker's, Inc., Minneapolis, Minn.
This Workstation Keeps Computers Safe
on the Plant Floor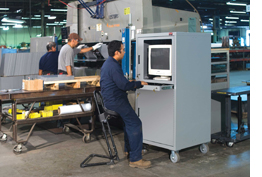 A new computer workstation (photo) is designed for shop floor use in manufacturing plants, maintenance facilities and warehouses — anywhere computer security and protection against dust, dirt and other airborne contaminants are important. The new workstation easily handles a 21-in. monitor, keyboard, CPU, printer and supplies. Features include: an ergonomic, sliding keyboard shelf; keyed alike built-in locks secure to the doors; a Lexan upper-door insert for easy screen viewing; a power surge suppressor strip; and vibration resistant 5-in. Performa rubber casters. The overall cabinet is 30-in. width by 28 ¼-in. depth by 59 ¼-in. height. The workstation is available with forklift base (ships assembled) or mobile base (casters not installed). — Lyon Workplace Products, Aurora, Ill.
This Anti-Surge Compressor Controller
has an Built-in HMI
This firm has introduced its first stand-alone compressor anti-surge controller with a built-in color HMI (human machine interface) display. The Em-400 HMI displays a live compressor surge map for easy viewing of compressor performance. In addition to the live compressor map, the Em-400 HMI also provides all of the information and control capability found in more expensive HMI systems. This compact display, which is built into the front panel of the Em 400 controller, does not require any additional panel space. Other features of the Em-400 include control of up to three compressor bodies, capacity control, performance monitoring, load sharing, recycle transfer control, user-directed pressure override control and standard ethernet communications. — Petrotech, Inc., New Orleans, La.
OVER
This Software Allows Engineering Teams to Do More with Less
The release of aspenONE V7 software enables process industry companies to achieve the seven best practices of engineering excellence. Building upon previous innovations from this firm, aspenONE V7 includes several new process engineering components. An integrated conceptual engineering workflow via a single user interface tightly integrates simulation, equipment design and economic analysis, and enables simultaneous rather than sequential engineering. A patented master data model (MDM) enables process manufacturers to effectively manage assets across the entire lifecycle — from design through operations. It also includes the industry's most comprehensive physical property database incorporating over 23,000 components, developed in collaboration with the National Institute of Standards & Technology (NIST), supporting complex process modelling and optimization requirements. — Aspen Technology, Inc., Burlington, Mass.
Free Software Predicts Control Valve Package Performance in a System
Nelprof control valve selection software version 5.0 is a powerful tool for selecting the right control valve package quickly and accurately. It is used prior to installation to predict the performance of the control valve package as a part of the system. Version 5.0 includes technical features that enhance control valve package selection from a flow and control point of view. Control performance criteria, such as installed flow characteristics, cavitation and noise, are the basis for selection. Other important features of Nelprof Version 5.0 include: flexible import/export; editing and calculation of multiple sizings with one command; product database and project updates via the web; enhanced IEC 60534-8-4 noise prediction method for liquids; and control valve sizing coefficients book. — Metso Automation, Northborough, Mass.
These Customizable First-Aid Kits are Designed for Use in the CPI
A full line of first aid products tailored to the rigorous requirements of the CPI has been launched. The Magid First Aid line comprises a choice of thousands of first aid items, including kits, treatments, over-the-counter medications and accessories. First aid kits are a particular strength of the Magid line, available in a wide array of configurations, and can be easily customized to meet the needs of any application. Also, the components of each kit can be ordered individually for easy replenishment, and, unlike most suppliers, Magid does not hold customers to a case order minimum requirement. — Magid Glove & Safety Manufacturing Company LLC, Chicago, Ill.
Go Paperless in Minutes with this Electronic Laboratory Notebook
The latest release of Nexxis ELN, an electronic laboratory notebook for routine analyses, features the introduction of ReDI (Rapid eForm Development and Implementation) a revolutionary technology that creates electronic forms from paper documents in minutes. ReDI has been developed to quickly transform existing paper worksheets, documents or SOPs into electronic forms with online scheduling, review and approval capabilities. Other features of the new Nexxis ELN include enhancements to the Advanced Process Editor for creating highly controlled and automated forms for use in regulated industries, the addition of a new Administration Dashboard that will display status information on system use and activity, plus consolidation of the Nexxis ELN modules into a single web application for easier use and simpler navigation. — Labtronics, Inc., Guelph, Ontario, Canada
Powerful, High-Flow Filtration in a Compact Footprint
The AFR Series Tubular Backwash Filter System is designed for continuous, high-flow filtration (single system flow rates up to 2,000 gal/min and 454 m 3 /h). The system is designed to replace a much larger eight-station tubular multiplex system in a compact, 1-m 2 footprint. A single, rotating flow diverter replaces multiple valves, actuators, linkages, and seals required by other systems, minimizing the number of moving parts for low cost operation and long service life. The AFR uses cleanable media in a wide selection of filter media materials and retention rates to eliminate labor and disposal costs as well as lost productivity associated with replaceable bags and cartridges. Isolated top-to-bottom backwash flow provides operator-free service and ensures complete and efficient media cleaning while continuing to deliver filtered product downstream. — Eaton Corp., Cleveland, Ohio
This Unit Simultaneously Meters and Conveys Lime to pH Neutralization
The Lime Feeder simultaneously meters and conveys lime to pH neutralization tanks and pools from silos, bulk bags, 50 lb. bags or any source. Equipped with a.c. or d.c. variable speed drives, it conveys lime vertically, horizontally or at any angle; over short or long distances; and over, under or around obstructions. The rugged flexible screw is the only moving part contacting lime, minimizing maintenance.
It is available integrated with this firm's bulk bag unloaders, bag dump stations, silos, or other lime storage containers or vessels, and is reportedly inexpensive to purchase and operate. Other lime-handling equipment for wastewater applications offered by the company includes bulk bag unloaders, bulk bag conditioners, bag dump stations and plant-wide bulk handling systems. — Flexicon Corp., Bethlehem, Pa.