New Products & Services
October 1, 2010
October New Products (International)
This decanter uses less energy
for sludge dewatering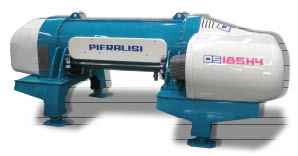 Pieralisi
Launched at IFAT last month, this new series of decanters (photo) has been designed specifically for the dewatering of sludge from industrial wastewater. The designers of the new decanter series have given particular attention to energy savings: thanks to the innovative internal fluid dynamics, it is possible to reduce the energy absorber, thus reducing the installed power, says the manufacturer. The new DS Series decanters will be available with capacities ranging from 3 through 150 m3/h. — Pieralisi S.p.a., Jesi, Italy
www.pieralisi.com


Perform all types of x-ray analysis
at your desk
The D2 Phaser with XFlash detector is said to be the first desk-top instrument offering angle-dispersive and energy-dispersive x-ray diffraction as well as x-ray fluorescence measurements under ambient conditions. Based on Silicon Drift technology, the XFlash detector features energy resolution of less than 180 eV at count-rate levels of more than 100,000 cps. Measurements can be made on even loose powders. — Bruker AXS GmbH, Karlsruhe, Germany
www.bruker-axs.de
This erosion-resistant diaphragm
means longer valve life
For its Industrial Diaphragm Valve (IDV) Collection, this firm has introduced the new Saunders XA diaphragm. Developed inhouse using a compound based on an ethylene-propylene technology, the XA offers increased erosion resistance in both corrosive and abrasive applications, including fertilizer, metals, chemicals and mining. Demonstrating a 70% improvement in elastic recovery, the new diaphragm leads to a better sealing performance and reduced emissions. — Crane ChemPharma Flow Solutions, Cincinnati, Ohio
www.cranechempharma.com
Extending predictive diagnostics
to remote applications
Last month, a new, physically smaller version of the CSI 6500 Machinery Health Monitor was introduced. The system — only 19 cm wide by 27 cm high — allows predictive condition monitoring for rotating equipment in a greater number of applications, and is more versatile for installation in remote or skid-mount applications. As in the full-size chassis option, prediction capabilities in the smaller unit can be delivered as a standalone solution, integrated with both the DeltaV and Ovation digital automation systems in the PlantWeb digital plant architecture, or interfaced to third-party hosts. — Emerson Process Management, Baar, Switzerland
www.emersonprocess.eu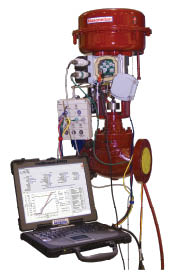 Dresser Masoneilan



Launch of the next-generation
valve diagnostic tool
The ValScope-Pro (photo) control-valve diagnostic tool helps operators identify problems by providing a scientific evaluation of valves in operation. The tool is portable, enabling users to troubleshoot valves in-line and in harsh environments to determine which valves need to be removed. A graphic interface allows users to view the valve as it is being tested and provides realtime analysis. The ValScope-Pro is compatible with analog, Fieldbus and HART communication protocols. — Dresser Masoneilan, Houston
www.dressermasoneilan.com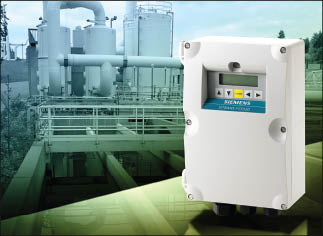 Siemens
When all you need to know is flow,
consider this clamp-on unit
The new clamp-on ultrasonic flowmeter, Sitrans FST020 (photo) is designed for basic applications that only require flow-reading functionality along with easy communication capabilities. The device measures flowrates of practically any liquid and meets the specific requirements of the water and wastewater, HVAC, power and chemical industries. The unit can be installed on pipe sizes up to DN 9000 (360 in.). The clamp-on unit is particularly suited for retrofit applications and installations where corrosive, toxic or high-pressure liquids rule out the option of cutting the pipe. — Siemens Industry Automation Div., Nuremberg, Germany
www.siemens.com/industry
This solid-fuels feeder is now
even more shock resistant
The Multidos HPG (high pressure gravimetric) weighfeeder is the new generation of weighfeeders and coal conveyors that are resistant to 3.5 bar shock pressure. The units tension roll and active belt-steering system maintains belt alignment, even in the event of uneven distribution of load. This removes the need for a V-guide and extends the belts service life. An internal belt scraper has also been incorporated to extend the life of the drive components. The inlet (610-, 914- or 1,000-mm wide) ensures an even flow from the coal bunker, even with coal grades having awkward material flow properties. — Schenck Process GmbH, Darmstadt, Germany
www.schenckprocess.com
Reference standards now available
in single-shot format
Sub-sampling of reference standards by users is not recommended because of the possibility of introducing errors, and thus deviating from the certified size value. To avoid the need for this, a new set of 10 image-analysis, particle-sizing reference standards are now available in convenient, easy-to-use, single-shot formats. The multi-modal standards are packaged in weights suitable for todays image analyzers (5–20 g). — Whitehouse Scientific, Chester, U.K.
www.whitehousescientific.com
A new compact, high-flow version
of filter regulator
This firm has developed and expanded its range of filter regulators to include a compact, high-flow version. Constructed from 316 stainless steel for both hazardous areas and industrial use, the 1/4-in. self-relieving filter regulator provides an easy installation, repair and replacement unit for FPSO (floating production, storage and offloading) units, onshore and offshore facilities, and production installations. Offering a 25-µm element and manual drain, the flow paths have been designed and engineered to minimize pressue drop across the valve operating range. — Midland-ACS, Wolverhampton, U.K.
www.midland-acs.com
Multi fluid and multi range
gives flexibility and cost reduction
The Select Series of digital mass flowmeters and controllers offers greater flexibility for user selection of both flow ranges and gas types. For user convenience, the firm has developed a free software tool called FlowTune. By hooking up the instrument to the RS 232 port of a laptop and running this configuration tool, the selection of different flow ranges becomes very simple. The instruments cover flow ranges from 0–1 mL/min up to 0–1,670 L/min, and are available in two configurations: The EL-Flow Select has a housing designed for laboratory and clean processing conditions; and the IN-Flow Select is of rugged design according to IP 65. — Bronkhorst High-Tech B.V., Ruurlo, the Netherlands
www.bronkhorst.com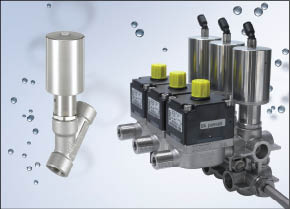 Bürkert Fluid Control Systems
This 2/2-way valve
is made of stainless steel
The pneumatically operated 2000 INOX angle seat valve (photo) consists of a pneumatic piston actuator and a two-way valve body. Both parts are made from 316L stainless steel and can be used with media at temperatures up to 180°C. In addition to high temperature resistance, the material offers optimal protection against corrosion. Available with nominal diameter of DN 10, the 2/2-way valve can be used for controlling fluids such as water, alcohols, oils, steam and air. Fuels, alkaline and saline solutions, organic solvents and neutral gases can also be isolated with the valve. — Bürkert Fluid Control Systems, Ingelfingen, Germany
www.burkert.com

Gerald Ondrey