New Products & Services
October 15, 2008
October: New Products (North American Edition)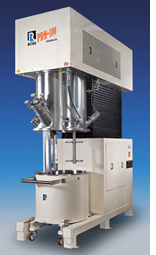 This Mixer is Ideal for Viscous Mixing and Dispersion
The PowerMix (photo) includes two separate agitation systems within one mixer. A planetary blade revolves in combination with a separate high-speed dispersion blade. Both revolve on their own axis as well as on a common axis, and the speed of each can be varied independently of the other. This combination allows a user to fine tune the mixer to meet his specific process needs and the shear rates that are required to optimize his process. The PowerMix is used for high-viscosity vacuum mixing and dispersion as well as the dispersion, of minor liquid or powder ingredients into powder mixes. The PowerMix is available in many sizes from a ½-gal laboratory unit, through a 750-gal production model. The unit shown was designed for vacuum operation, included a special light in the vacuum hood, special charging ports, a wall scraper, elevated base and a flush-type discharge valve. — Charles Ross and Son Company, Hauppauge, N.Y.






Manage Hydrogen Hazards in Plant Environments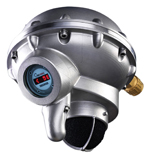 Hydrogen is a combustible gas that is difficult to detect and easily ignitable on contact with open flames, electrical sparks or static discharge. This fast, ultrasonic gas-leak detector (photo) quickly detects the ultrasonic noise generated by the escaping gas at a distance from the leak source. It detects the gas at leak initiation regardless of ventilation rate, gas dilution or the direction of the leak, and without the gas having to make physical contact with a sensor element. This makes it an ideal choice for detection in vessels and pipes in open and ventilated areas. The detector, which is based on robust microphone technology, has a detection radius for hydrogen up to 8 m at a leak rate of 0.01 kg/s. The detectors are SIL suitability rated and hold relevant C-UL and ATEX certifications. — General Monitors, Lake Forest, Calif.

Integrate these Brass Ball Valves into this Firm's Piping Systems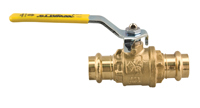 The Series FBV-3-Press, two-piece, full-port, brass ball valves are designed for use in this firm's ProPress piping systems. Its integral press-fitting tailpieces are designed to be quickly and easily pressed into ProPress piping systems and are rated at 200-psi CWP at 210°F. They feature a dezincification-resistant brass body, adjustable packing gland and bottom-loaded, blowout-proof stem with stem O-ring seal. FBV-3-Press valves are UL Listed and ANSI/NSF 61 certified ½ – 2 in. for potable water systems. Available in sizes from ½ to 4 in. — Watts Water Technologies, North Andover, Mass.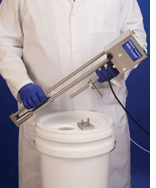 Easily Remove this Tank-Mounted Viscosity Sensor for Cleaning
A tank-mounted viscosity sensor (photo) is available for both water- and solvent-based applications, such as printing, glues and adhesives, that operates at atmospheric pressure and has removable wetted parts. The MXBOC Viscosity Sensor is suitable for use with tanks 7 – 26-in. deep and operates at atmospheric pressure. Featuring a new one-bolt mounting mechanism, the all-stainless-steel wetted parts can be easily removed for cleaning and sterilization without having to disturb the air or electrical connections. Using the "piston time-of-fall" method, the MXBOC measures viscosities from 0.1 to 100,000 cps and is CE and ATEX compliant. It requires 40 psi dry air and a three-way 24-V-d.c. air valve, and is PLC compatible for use with the firm's process controllers. — Norcross Corp., Newton, Mass.
Sheet Molding Compound Preheater Cuts Cure Time By 50%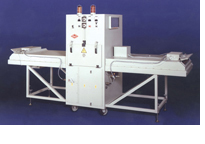 A new preheating system (photo) for plastic sheet molding compound (SMC) that uses radio frequency heating technology is now available. This new system is reported to enhance the distribution of reinforcement fibers in the molding process, which improves product quality and strength, reduces press cure time by 50%, and is especially effective for thicker bosses and structures. Facilitating the movement and distribution of fibers throughout molded parts, improving their strength and surface finish, this RF preheater reduces press cure time. Capable of preheating SMC loads up to 30 by 84 in. in under one min, the Macrowave SMC Preheater has a PLC that controls the heat cycle time, power level and conveyor movement to synchronize with the press operation. — Radio Frequency Co., Millis, Mass.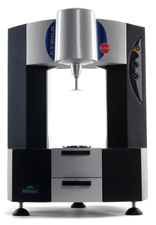 A Radical New Platform Design
Delivers Smart Rheology Solutions
Launched last month, the Kinexus rotational rheometer platform (photo, p. 32D-4) enables users to spend less time learning how to interact with their system and more time investigating ways to characterize and enhance a material's performance. Fully integrated into the firm's materials-characterization range, Kinexux delivers high-performance measurement supported by the company's expertise in complex materials, including macromolecular and multiphase systems. Two systems will be available: Kinexus pro, a high-end rheometer suitable for routine and research applications; and Kinexus ultra, for demanding low-torque applications, such as weakly structured and small-volume sample measurements. — Malvern Instruments Ltd., Malvern, U.K.
Contain Spray-Outs with this Safety Shield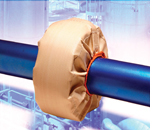 This firm has launched a range of safety shields (photo) that provide simple, yet highly effective protection from dangerous spray-outs, which can occur from pressurized pipelines containing diesel, lube oil and other potentially harmful liquids. The shields are designed to wrap around pipe joints, such as flanges, valves, couplings or any type of pipe fitting. It is not intended to contain the leaks indefinitely, but to prevent the hazardous spray that might cause a fire or explosion in zoned hazardous areas, or in the event of contact with hot surfaces. The shields are designed to be removed during maintenance or in the event of a leak, and are simply washed and used again. — Allison Engineering, Basildon, U.K.


When the Heat is on, this Device Keeps Pressure Gauges Cool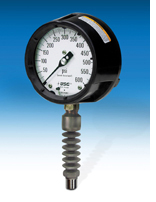 Extreme process temperatures reduce the accuracy, reliability, durability and lifespan of a pressure gauge. The Sta-Kool cooling element (photo) was designed specifically with high-temperature processing environments in mind. Under laboratory test conditions, the 316L stainless steel Sta-Kool cooling element was able to reduce 400°F liquid process temperatures to 100°F at the active portion of the Bourdon tube. The Sta-Kool has a maximum operating temperature of 750°F at 3,500 psi operating pressure, and a maximum operating pressure of 5,000 psi at 100°F. It can be either threaded or welded to any pressure gauge with ½-in. NPT male connection made from a compatible material. It can also be attached in between a pressure gauge and diaphragm seal for the most comprehensive process measurement-protection possible, protecting the instrument from both pulsation and temperature extremes. — Ametek US Gauge, Largo, Fla.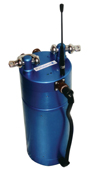 This Flowmeter Thrives in Hazardous Environments
The latest addition to the range of Flo-Dar open-channel flowmeter is an ATEX certified portable system with built-in GPRS Internet data transfer facility (photo). This new model enables the entire system to be mounted in the zoned area, with nothing above ground, and provides operators with a range of features and benefits. For example, unlike conventional sensors, it does not require weekly maintenance visits; it has a rechargeable lithium battery that can be recharged in hazardous areas; operators have no contact with the flow during installation; no profiling is required; and it has field-interchangeable sensors and monitors. The system is certified to ATEX Zone 1, works in surge conditions. It is suitable for all pipes and channels from 100 mm upwards. — Flowline Ltd., Borehamwood, U.K.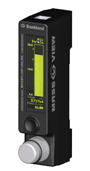 A Digital Flowmeter that Pretends It's an Analog Meter
This firm has designed a new series of mass flowmeters that offers an economical, digital alternative to conventional variable-area (VA) meters (also known as purge meters). The new Mass-View flowmeter series (photo) incorporates a digital bar graph of actual gas flow, which is, thanks to the OLED (organic light-emitting diode) technology, clearly visible from all angles, as well as indicating flow units, gas type and totalized figures. Also available with an optional in-built needle valve for flow-control duties, it is designed to mimic the straightforward features and vertical format of the VA meter, but with added benefits of: an electronic output signal; high measuring accuracy; virtual independence from gas temperature and pressure variations; freedom from parallax error; and inherently safe construction, with no glass components in the flow path. — Bronkhorst High-Tech B.V., Ruurlo, Netherlands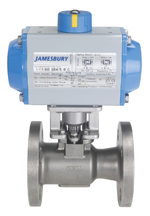 This Range of Valves Now Meets DIN Requirements
The new Jamesbury polymeric-seated flanged ball valves (photo, p. 32D-7) are now available in sizes DN15 – 150 in both full-bore and reduced bore. These valves conform to PED and ISO 17292 requirements, and feature a flexible-lip seat design that provides bi-directional shutoff for a variety of applications in industries ranging from chemical and petrochemical to petroleum refining, pulp and paper, and power. The range offers PN10, PN16, PN25 and PN40 drillings with DIN face-to-face according to DIN 3202. Materials are 1.4408 and 1.0619 conforming to AD2000. All valves are anti static and fire-safe according to API 607 edition 4. — Metso Automation, Wittenheim, Alsace, France
This In-Line Sifter is Designed for High-Production Volumes
The QA36, a pneumatic in-line sifter, is designed with a high net screening area and is ideal for operations with moderate to high production volumes. The capacity is over 500 lb/min on soft wheat flour and over 650 lb/min on hard wheat flour using a 30 mesh screen. The QA36 is manufactured with a high level of sanitation in mind, as well as ease of maintenance using lightweight components and formfitting, snap-on neoprene gaskets. This in-line sifter utilizes a gentle gyratory sifting motion and is designed to be directly inserted into a vacuum or dilute-phase pressure-pneumatic conveying system. — Great Western Manufacturing, Leavenworth, Kans.
Screen Classifying Cutter for Hard, Soft or Fibrous Materials
A new Model SCC-15 Screen Classifying Cutter cuts hard, soft or fibrous materials into controlled particle sizes with minimal fines at high rates, according to this firm. The cutter features a patented helical rotor design with dozens of cutter heads attached to a helical array of staggered holders called "interconnected parallelograms" to continuously shear oversize materials against twin, stationary bed knives. Primarily employed for coarse grinding of materials into particles of uniform sizes ranging from granules down to 20 – 30 mesh, the cutter has a 15 in. throat width and can be fitted with 30 parallelograms with 60 cutter inserts. Bed screen perforations range from 1/32 to 1-1/2-in. in diameter and up to 3 in. 2, according to material characteristics and desired particle size. The shaft rotates at 30 to 3600 rpm, producing up to 500 ft 3 /h of sized product, depending on the application. — Munson Machinery Company, Inc., Utica, N.Y.
Accurate Bulk Fluid Measurement for the Oil and Gas Industry
The Optimass 2000, a large diameter Coriolis mass flowmeter that features a twin straight-tube design, is designed for accurate and repeatable bulk measurement in the oil industry. Optimass 2000 is available in three sizes (4, 6 and 10 in.), and its wetted parts are constructed of NACE-compliant duplex stainless steel (ANS 31803). The meter is available with flange ratings up to 1,500 lb, and flange sizes from 4 – 12 in. The Optimass 2000 is CRN approved and can handle process pressures to 2,200 psig with an outer cylinder that can handle burst pressures in excess of 1,500 psi. Flow rates ranging from 250 to 4,400 lb/min. are easily handled by the Optimass 2000 with a measuring accuracy of 0.1%. One major benefit for the oil-and-gas industry is the low flowrate feature. A lower rate of flow prevents the buildup of static in hydrocarbons without affecting measurement accuracy. — Krohne, Peabody, Mass.
Online Machine Diagnosis Via W-LAN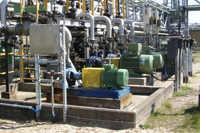 Sometimes it is complicated to access machines and equipment that has to be monitored using measuring instruments due to long distances for cables. Use of a wireless-based solution is considerably more efficient and offers greater potential savings. The C300_Wireless system (photo) is installed in a compact switching cabinet with a transmission module. Installation of the monitoring system is simply the mounting of the sensor, installing a switch-gear unit and laying the spur cable. If a failure occurs in the data link, the measured values are stored locally until connection to a control unit has been restored. The heart of the system — online machine diagnostics — is still based on established methods of measuring and evaluating structure-bourne noise signals and intelligently linking them to process data. — DMT GmbH & Co. KG, Essen, Germany
Kate Torzewski and Gerald Ondrey