New Products & Services
September 1, 2010
September New Products (International)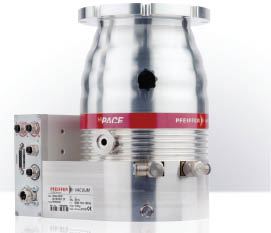 Pfeiffer Vacuum
A new line of turbomolecular vacuum pumps
HiPace M (photo) is a new series of magnetically levitated turbopumps that cover the pumping speeds of 300, 700 and 800 L/s and achieve high compression ratios for all gases. A special rotor design delivers unlimited rotor service life and dependable operation, says the manufacturer. With Protection Class IP 54, these pumps are suitable for use in industrial environments. The low, dynamic magnetic field does not interfere with even highly sensitive nearby equipment, a feature that makes the pumps ideal for analytical, coatings and semiconductor and R&D applications. The pumps feature an integrated electronic-drive unit that reduces the need for costly and cumbersome cabling. Both the power consumption and run-up time have been reduced. — Pfeiffer Vacuum GmbH, Asslar, Germany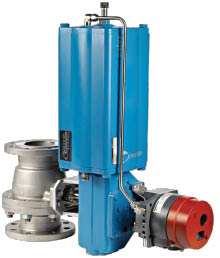 Metso Automation
Ball valves now available
with SIL certification
This firms offering of valves, actuators and intelligent controllers has been extended with the introduction of SIL-certified ball valves. Trunnion and seat-supported modular ball valve series X (photo) and M are classified and certified by Lloyd's in accordance with IEC 61508, Type A equipment. The SIL assessment study with field-proven reliability analysis confirms that the X and M Series ball valves can be used in applications up to and including SIL 3 in a single-valve configuration. — Metso Automation Oy, Helsinki, Finland
www.metso.com/iesd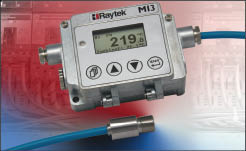 Raytek
A compact IR temperature sensor
for when space is limited
The MI3 Series of infrared (IR) temperature measurement sensors (photo) features a stainless-steel, IP 65 housing. The miniature pyrometer with integrated electronics is said to be the smallest fully functional, stand-alone IR temperature sensor for fixed installations. All operating parameters are accessed and configured through a standard interface with a large, backlit LCD display, or with the firm's DataTemp Multidrop software via the USB 2.0 digital interface. — Raytek, Santa Cruz, Calif.
www.raytek.com
Edwards


A new dry-vacuum pump
for semiconductor processes
Last month's launch of the iXL 120 (photo) expands this firm's range of dry pumps for use in semiconductor manufacturing processes. Designed for load lock and other clean applications, the iXL 120 provides the fastest pumpdown in its class and low energy consumption for high throughput and low cost of ownership, says the firm. With a peak pumping speed of 110 m3/h, the iXL 120 is 22% faster than any other pump with a 20-L chamber. The average energy consumption is only 550 W — one of the lowest in its class. Unlike most competing dry pumps, the iXL 120 incorporates oil-lubricated precision bearings and timing gears, which reduces vibrations during operation. The new pump also features a zero nitrogen purge option for processes that do not use corrosive gases. This option eliminates the need to provide N2 to the pump, thereby simplifying operation and reducing operating costs. — Edwards, Crawley, U.K.
www.edwardsvacuum.com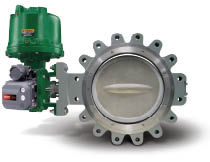 Emerson Process Management
Improved throttling now available
in more sizes
This firm has extended line sizes for the Fisher Control Disk valve (photo), which offers excellent throttling performance and is suitable for applications that involve fast processes and varying pressure drops. The valve's control range is said to be twice that of traditional butterfly valves for better adherence to set point. The new sizes are designed for installation between ASME Class 150 or Class 300 raised-face flanges with flangless (wafer) or single flange (lugged) body designs. Face-to-face dimensions are in compliance with API 609 and MSS SP-68 standards. — Emerson Process Management, Baar, Switzerland
www.emersonprocess.com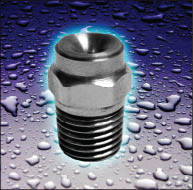 BETE
Large-flow spray nozzles
for reduced clogging
This new type of spray nozzle is designed with the largest internal flow passages available of its type to ensure clog-resistant capability in an axial, full-force nozzle. The MaxiPass L (photo) is ideal for low-flow (as low as 0.44 L/min) spraying applications where there may be contaminated or dirty liquids that can cause clogging problems with other types of nozzles. The nozzle incorporates the same critical internal S-shaped vanes that are used in the MaxiPass large-low nozzle. Available in 1/8 and 1/4-in. pipe connection sizes, the MaxiPass L delivers a full-cone spray pattern in either narrow, medium or wide spray angles. — BETE Ltd., Lewes, U.K.
www.beteuk.com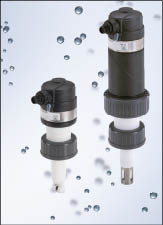 Bürkert Fluid Control Systems
These analytical transmitters
are versatile
This firm is expanding its line of analytical transmitters with Element neutrino analytical transmitters (photo) for use with different sensor types. The modular transmitters can be used for measuring pH, ORP or conductivity. The new transmitters feature a patented variable-electrical connection for pH electrodes, which makes it possible to use most pH electrodes with a 12-mm dia. and an S7 connection. The option of selecting from three cell constants (0.01, 0.1 or 1.0) for measuring conductivity ensures maximum versatility when exchanging sensors, as well as adaptability to the required task. An integrated Pt1000 sensor enables temperature compensation, and the temperature values can also be output as a 4–20-mA signal for use as a second process variable in the unit. — Bürkert Fluid Control Systems, Ingelfingen, Germany
www.burkert.com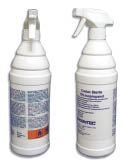 Contec
Keep surfaces clean with this
sterilized isopropanol solution
Manufactured in France for the European market, Contec Sterile 70% Isopropanol (photo) is adapted for use in critical clean environments and recommended for regular, effective removal of surface residues and contaminants. Ready to use formulation eliminates mixing, filtration, processing and quality control expense of in-house production, says the firm. Sterilized by gamma irradiation using validated processes, the isopropanol reduces endotoxin levels to below 0.25 EU/mL. — Contec, Inc., Spartanberg, S.C.
www.contecinc.com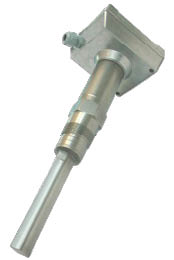 BinMaster
High temperature is not a problem
for this level sensor
The SHT (super high temperature) vibrating rod (photo) features a piezo system built specifically for higher process temperatures up to 482°F (250°C). The design of the patented reinforced membrane and the piezo system's insulation tube, which insulates the electronics from excessive heat, makes the SHT extremely durable, says the firm. The unit can be used for all kinds of powdered or granular solids, from very light, fluffy materials with a minimum material density of 1.25 lb/ft3 (20 g/L) to a maximum granular size of 1.5 in (40 mm). The level sensor can be used to prevent overfills or can be installed as a high-, mid- or low-level alarm. — BinMaster, Lincoln, Neb.
www.binmaster.com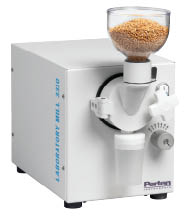 Perten Instruments
This disc mill touts improvements
over its predecessor
The new Disc Mill LM 3310 (photo) offers improvements over its predecessor (LM 3303), including: reduced noise with a new built-in motor; easy disc-distance setting and start/stop on the front of the mill; and improved procedure for disc change and distance control. Grinding chamber dimensions as well as the grinding discs of the LM 3310 are the same as the LM 3303, and particle size, particle size distribution and moisture loss are also the same as the previous model. The mill is suitable for grinding pellets, grain and other products for moisture and other analyses. — Perten Instruments, Stockholm, Sweden
www.perten.com
Detect leaks from
all shapes of tanks
Internal electrochemical corrosion can cause leaks in single- and double-walled tanks over time. The Eurovac NV leak detector (photo) is a vacuum-type leak detector according to EN 13160-2, Class 1. The device is suitable for detection of leaks in tanks containing flammable liquids of group and danger class A III and AdBlue (32.5% urea solution). The Eurovac NV is approved for single- and double-walled tanks (cylindrical, rectangular or spherical) made of concrete, asbestos cement, plastic and other approved materials for double-walled tanks, and tanks with inner linings. The system contains all display elements and controls, electronics, a vacuum pump, a pressure switch, a filter and three hose connections. — Afriso-Euro-Index GmbH, Güglingen, Germany
www.afriso.de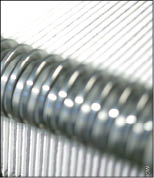 E. Begerow
Filter media that saves
rinsing time and costs
Mineral-free and made of high-purity cellulose, the new Becopad depth-filter medium (photo) offers very high filtration performance, high chemical resistance and strength, and minimum ion release. The range of applications includes haze reduction for fine chemical products, catalyst separation and demanding separation tasks in the production of pharmaceutical products. By reducing the rinsing volume by 50%, this new filter medium saves costly rinsing solutions and reduces rinsing times. The depth filters are fully washable and 100% biodegradable. — E. Begerow GmbH & Co., Langenlonsheim, Germany
www.begerow.com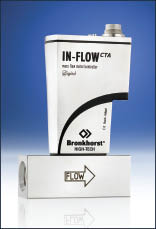 Bronkhorst High-Tech
These modular mass flowmeters
are ATEX approved
The new In-Flow mass flowmeters (photo) are modular instruments of rugged design according to IP 65 (dust- and waterproof). They can be combined with integrated or closed-coupled control valves to form compact digital Mass Flow controllers, delivering measured and controlled flow ranges of 10–200 mL/min up to 50–5,000 mL/min. The ATEX approval for use of these instruments in Category 3, Zone 2 hazardous areas is pending. The devices have analog I/O signals and an RS 232 connection as standard, with the possibility of integrating an interface board with DeviceNet, Profibus-DP, Modbus or FLOW-BUS protocol. — Bronkhorst High-Tech B.V., Ruurlo, the Netherlands
www.bronkhorst.com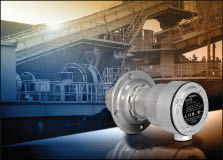 Siemens Industry Sector
A motion sensor
for industrial equipment
The new, heavy-duty motion-sensing switch Sitrans WM100 (photo) is used to detect the absence or presence of motion on rotating, reciprocating or conveying equipment. The devices act as an early warning system to avoid costly process interruptions and equipment breakdowns. Located outside of the process, Sitrans WM100 can be mounted up to 100 mm (4 in.) from the ferrous target. The motion sensors provide the contacts to shutdown machinery whenever zero speed is detected. On belt, drag and screw conveyors, or on bucket elevators, fans and pumps, the zero-speed alarm option can warn of equipment malfunctions. — Siemens Industry Sector, Industry Automation Div., Nuremberg, Germany
www.siemens.com
Reduce research costs
with this reactor system
EasyMax 102 is a semi-automated chemical-synthesis reactor system that replaces traditional, more cumbersome synthesis processes that rely on round-bottom flasks, oils and ice baths. Requiring almost no setup and operated by a simple touchpad, EasyMax has a built-in solid-state thermostat covering a wide temperature range (–40 to 180°C) without a cryostat. The iC Software Suite included with EasyMax integrates the entire experimental workflow; data can be collected or stored in-unit, and transferred to PC via USB. — Mettler Toledo, Schwerzenbach, Switzerland
www.mt.com/easymax