New Products & Services
October 1, 2013
Show Preview: K 2013
With over 3,000 exhibitors from 56 countries, K 2013 — the International Trade Fair for Plastics and Rubber (October 16–23; Düsseldorf, Germany; www.k-online.de) — is one of the largest sector exhibitions in the chemical process industries (CPI). Comfortable walking shoes are highly recommended if you are one of the more than 220,000 visitors from 109 countries planning to see whats on display throughout the 17 Halls 162,093 m2 of exhibition space at the Düsseldorf Fairgrounds.
The halls are organized into the following categories: machinery and equipment for the plastics and rubber industry; raw materials and auxiliaries; and semi-finished products, technical parts and reinforced plastics. At the center of Hall 6 is the special show, "Plastics move the world." There, selected exhibits will be presented illustrating the many improvements already attributed to plastic products today and their potential contribution to future challenges. To move includes not merely the direct contributions of plastics to different areas of mobility, but also emotional aspects, such as their effect on art and design, and their potential for solving future problems, including demographic growth, increasing energy consumption and climate change.
The new Science Campus, launched at K 2013 is a special forum presented by numerous scientific organizations. The event is intended to intensify the discourse between science and industry. For the first time, 16 universities, institutes and agencies have come together in Hall 7.0 of the exhibition area in Düsseldorf to present pioneering technologies and solutions for central challenges faced by the plastics and rubber industry. At the communication and discussion forum hosted at the center of the Science Campus, the hosts will discuss topical issues that concern the entire industry such as: surfaces (functional scope and processes); functional integration (materials and processes); lightweight engineering (structural materials and processes); material cycles (renewable resources, biopolymers, recycling); and scientific education.
At the Pavillion Printed Electronics Products and Solutions, the printed-electronics companies will introduce their new products directly to their specific target groups. Here, print technologies as well as functionalized surfaces such as RFID (radio-frequency identification) solutions, flexible displays and OLEDs (organic light-emitting diodes) will have a platform in order to be presented to trade visitors from the processing and user industries.
The following is a very small sample of some of the products and services on display at K 2013.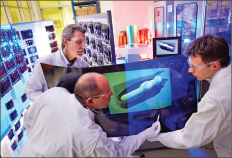 BayerMaterial Science
These plastic films enable three-dimensional displays
Special Makrofol RP (real projection) polycarbonate films from this company are used in 3D displays for car interiors. Traditional displays on flat, black surfaces are no longer popular, says the company. Thanks to recent developments in the electronic industry, images on these new displays are homogeneous and very sharp on 3D surfaces, too. Makrofol RP films are scratch-resistant and can be equipped with any kind of surface — from transparent to black, and from shiny to matt. The company is now developing products for touchscreen applications that are resistant to sweat, cleaning agents and chemicals. Hall 6.0, Stand A75 — BayerMaterial Science AG, Leverkusen, Germany
www.bayerbms.com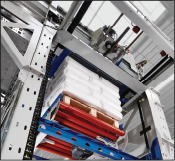 Beumer Group
This machine accurately stacks and packs bags onto pallets
The paletpac high-performance layer palletizer stacks bags of granulate or high-quality pigments on pallets of all common sizes up to a pack height of 2.4 m flexibly, with geometrical accuracy and extreme stability. Users can quickly and easily set the required parameters using a multi-program. Depending on the product requirements, the paletpac is fitted with a rotary clamp or double-belt turning device that moves the filled bags quickly and gently into the required position. Hall 12, Booth B21 — Beumer Group GmbH & Co. KG, Beckum, Germany
www.beumergroup.com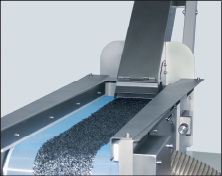 Automatik Pelletizing Systems
Gently dry abrasive materials with this belt dryer
The Duro belt dryer is designed for drying abrasive and sensitive compounds. Used mainly for underwater pelletizing, the Duro significantly reduces operating costs because the design of its pellet-contacting components means very little wear occurs during operation. Duro gently drys glass-fiber-reinforced products or high-fill mineral compounds to residual pellet moisture levels of less than 0.1%. Gentle treatment minimizes dust formation and enhances product quality, says the company. Hall 9, Stand A04 — Automatik Pelletizing Systems, Oberglatt, Switzerland
www.maag.com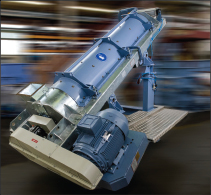 Plastic-recycling machines get bigger while using less energy
This company offers a complete range of machines for plastics recycling, from shredders via granulation, washing and separation lines, through to compactors. Among the machines on exhibit at K 2013 is the new model of friction washer — the FA 60/300, which covers the performance range of 2–3 ton/h for films, and 4–6 ton/h for rigid plastics. Also on display will be the Plastcompactor Type HV 50 for continuous agglomeration of films, fibers, foams and dust. — Hall 9, Stand B42 — Herbold Mechesheim GmbH, Mechesheim, Germany
www.herbold.com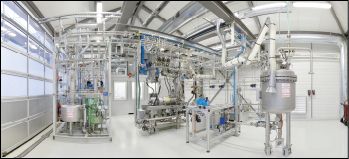 List
Reduce costs with this direct devolatization process
Traditional processing of elastomers uses a high concentration of solvent to keep the rubber solution viscosity low. But after polymerization, devolatalization of the solvent using steam stripping has been a significant cost for processors. This company has developed a direct devolatization process that reduces multi-step steam stripping and enables processors to eliminate the majority of water, energy and waste-disposal costs associated with traditional methods. With direct devolatization, 98% of the solvent is first removed in the main evaporator using mechanical and thermal energy. In a second step, material with 2–5% solvent is transferred to a "finisher", where continuous mixing and kneading augments the devolatization, resulting in rubber product with residual solvent of just 10–200 ppm, says the company. Hall 9, Stand C24 — List AG, Arisdorf, Switzerland
www.list.ch

Improve the properties of biopolymers with this binder
The Vinnex binder system enables biopolymers to be processed just like conventional thermoplastics. With Vinnex, a vinyl-acetate-based polymer-binder system, manufacturers can now develop high-performance blends of bioplastics that can be processed with conventional equipment. Vinnex makes injection molding, extrusion, vacuum forming, thermoforming and calendaring much easier, says the company. The binder is compatible with many biopolymers; polylactic acid (PLA), polyhydroxylalkenoates (PHA), polybutylene succinate (PBS) and starch can be used to create polymer blends with significantly improved physical properties. Hall 6, Stand A10 — Wacker Chemie AG, Munich, Germany
www.wacker.com
Haver & Boecker
Time savings and cost reduction with this bagging machine
At K 2013, this company is presenting the latest developments of its Form-Fill-Seal (FFS) technology. The FFS 2000 WT offers new features. In addition to polyethylene (PE) film, this FFS system can operate with woven FFS band film, and thus perform over a wide range of industries, says the company. Advantages of the new features include higher production capacity, time savings, and cost reductions for operating and maintaining the packing system. The bags are optimized by continuously monitoring the bulk density and adjusting the corresponding bag length. And because the bags are compactly filled, bag surfaces are clean and the bags are stable during transport. Hall 12, Stand A32 — Haver & Boecker, Oelde, Germany
www.haverboecker.com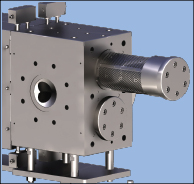 Maag Filtration Systems
A compact screen changer for extrusion applications
Introduced in July, CSC-R is a new generation of screen changer, which is said to have up to four times more filter area than conventional systems. The new line adapts the company's patented, large-area polymer screen changer to the needs and filter requirements of the extrusion industry. Thanks to the shape of the pistons that are now fitted with curved breaker plates, 75% of the active piston surface acts as a filtration area. For any given footprint, the screen changer's filtration area is four times larger, which results in longer screen lifetime, low pressure differential, a lower flux rate and an increased filtration area. Hall 9.0, Stand A04 — Maag Filtration Systems, Oberglatt, Switzerland
www.maag.com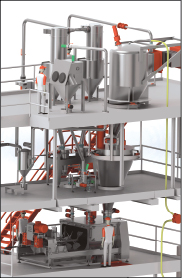 Dinnissen
A complete system for mixing and transporting powders
Launched at K 2013, the Lean Mixing concept offers a total and integrated solution for mixing powders, granules and granulates, including a system for transporting both the raw ingredients and the finished product. The integrated mixing and transport process avoids the disadvantages associated with pneumatic-conveying systems, such as increased risk of product damage, higher energy costs, higher contamination risks and extra handling, says the company. Lean Mixing uses big bags in which the ingredients have to be lifted only once. Once hoisted, the bags are transported via an automatic route-guidance system to the proper position for unloading. The company's FeederValves enable particle-free dosing of the ingredients. The system can handle capacities from 6 kg/h to as much as 50 ton/h. Hall 10, Stand B71 — Dinnissen B.V., Sevenum, the Netherlands
www.dinnissen.nl



This polymer can take the pressure and the heat
In the oil-and-gas sector, production failures can be catastrophic and costly. Unlike other high-performance polymers, this companys PEEK (polyether ether ketone) is said to provide 100% greater pressure handling capability, three times more creep resistance and 12 times the compressive strength at elevated temperatures. It meets excessive temperature and pressure demands with materials that can withstand pressures up to 30,000 psi, temperatures of –60 to 260°C and exposure to harsh chemicals, says the manufacturer. The company's PAEK (polyaryletherketones) are also replacing metal in the automotive and aerospace industries, thereby reducing weight and fuel consumption, along with the associated emissions of carbon dioxide. Hall 5, Stand A23 — Victrex USA, Inc. West Conshohocken, Pa.
www.victrex.com


Improved heat performance for engineered plastics
This producer of styrene maleic-anhydride (SMA) copolymers and compounds has recently introduced Xiran IZ grades that are designed to be highly efficient in increasing the heat performance of engineered plastic, especially in styrenics like acrylonitrile butadiene styrene (ABS). These grades were developed to meet the demand for styrenic engineered plastics with high temperature resistance and low volatile residue. The new Xiran IZ grades exhibit a glass transition temperature of 175°C or higher, and can be exposed to higher processing temperatures with "excellent" miscibility in styrenic polymers such as ABS, says the company. Hall 5.0, Stand E08 — Polyscope Polymers B.V., Geleen, the Netherlands
www.polyscope.eu
Gerald Ondrey