New Products & Services
October 1, 2013
weftec 2013 Show Preview
The 86th Annual Water Environment Federation Technical Exhibition and Conference (Weftec) will be held this October at the McCormick Place South Convention Center in Chicago. The conference runs October 5–9, with the exhibition taking place on October 7–9 and will feature more than 140 technical sessions and 27 workshops. Over 750 exhibitors will be showcased on the tradeshow floor. The following preview highlights a small sampling of these exhibitors' products and services.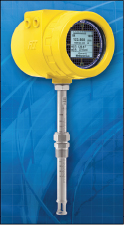 Fluid Components International
This gas flowmeter achieves a 1,000:1 turndown ratio
The ST100 flowmeter (photo) measures gas mass flowrate, total flow, temperature and pressure, storing up to five unique calibration groups to accommodate broad flow ranges at up to 1,000:1 turndown. The meter continuously displays all process measurements and alarm status, and it has the ability to query for service diagnostics. Information is displayed on the meter's graphical, multivariable, backlit LCD display screen. With a maximum operating temperature of 850ºF, the ST100 is designed for a wide range of plant operations, including wastewater applications for aeration systems, digester gas and disinfection gas. Booth 3944 — Fluid Components International, LLC, San Marcos, Calif.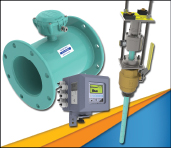 McCrometer



This full-profile-insertion flowmeter features hot-tap installation
The FPI Mag full-profile-insertion electromagnetic flowmeter (photo) features an accuracy of up to ±0.5%. The FPI Mag boasts simple hot-tap installation, requiring no service interruption, making it a good fit for retrofits, upgrades and maintenance projects. Hot-tap installation also reduces installation time by eliminating the need to de-water lines or cut pipe. The FPI Mag flowmeter is available for forward-only or bi-directional measurement in line sizes ranging from 4 to 138 in. Booth 1319 — McCrometer, Inc., Hemet, Calif.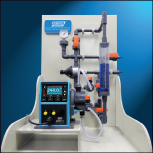 Watson-Marlow Pumps Group
A turnkey skid is a single-source peristaltic metering solution
This company's turnkey peristaltic chemical metering systems (photo) combine pumps, gages, columns and other accessories into a robust skid solution. Fully integrated and tested, the skids decrease installation time and costs, allowing users to obtain an entire system from a single source. In addition, each peristaltic skid features provisions for pressure relief, pump isolation and fluid calibration as standard without the need for degassing valves, strainers, back pressure valves, pulsation dampeners or other ancillary items typically associated with diaphragm pump systems. Booth 2416 — Watson-Marlow Pumps Group, Wilmington, Mass.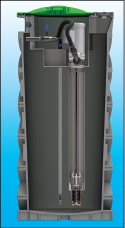 Moyno
A convenient alternative to gravity-based sewers
The new InviziQ pressure sewage system (photo) is an alternative to conventional gravity sewage options, giving users the flexibility to build and operate in almost any location. Rather than relying on gravity and a network of lift stations to transfer sewage, InviziQ pressure sewage systems utilize grinding and pumping technology for controlled movement of sewage to treatment facilities, even in areas with complex terrain topography or environmental sensitivity. The system's dry well design delivers clean access to the unit's motor and other working parts. Other features include stainless-steel pump cartridge, 150-gal emergency storage capacity and diagnostic software. Booth 436 — Moyno, Inc., Springfield, Ohio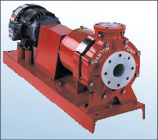 Vanton Pump and Equipment
Use these pumps across a very broad pH range
This company's line of thermoplastic pumps (photo) are engineered to handle chemicals and waste streams over a very broad pH range. Designed for use in industrial environments that handle water and
wastewater
, these pumps are also appropriate for applications involving the handling, dosing, collecting and transferring of corrosive or abrasive fluids. The pumps are engineered to individual requirements and are available in a variety of configurations, including: ANSI, mag-drive, close-coupled, self-priming, vertical to 20 ft and run-dry cantilevered. Booth 2459 —
Vanton Pump and Equipment Corp., Hillside, N.J.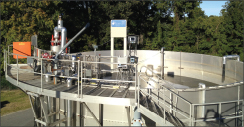 World Water Works
Remove ammonia from wastewater with this treatment system
Demon water treatment systems (photo) remove nitrogen from municipal and industrial wastewater streams that have high ammonia concentrations. The Demon system features ammonia-oxidizing bacteria (AOB), which convert half the ammonia to nitrite. A second anaerobic biological process uses anaerobic ammonium-oxidation bacteria to convert the combination of nitrite and remaining ammonia directly into nitrogen gas. This system requires less energy, eliminates the need for additional chemicals, and produces significantly less sludge, when compared to traditional nitrogen removal processes. The anaerobic process consumes carbon dioxide, giving this system a very low carbon footprint. Booth 736 — World Water Works, Inc., Oklahoma City, Okla.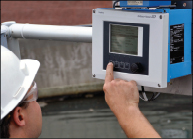 Endress + Hauser
Access data remotely with this Web-integrated transmitter
Liquiline CM44x multichannel transmitters (photo) monitor and control processes in many industries, such as water and wastewater, chemicals, oil-and-gas and power. These transmitters can accept inputs from up to eight digital sensors, including nitrate, spectral absorption coefficient (SAC), pH, conductivity, dissolved oxygen, turbidity, free-chlorine and ion-selective electrode sensors. Optional current inputs are available for processing signals from other process devices, such as flow, level or pressure sensors. Internet connection is available through the CM44x's Ethernet port, allowing users to perform remote configuration or access device parameters via an integrated Web server. Featuring a backlit display, the transmitter alerts users to errors, displays load curves and also allows for configurable viewing of the built-in data logger. Booth 3246 — Endress + Hauser, Inc., Greenwood, Ind.

Georg Fischer Piping Systems
This transmitter offers batch controller capabilities
The new Signet 9900 transmitter (photo) supports multiple parameters that include flow, pH, conductivity, resistivity, salinity, temperature, pressure and level. With optional batch and relay modules, this transmitter can also be converted to a batch controller system. The 9900 features a 3.90-in. by 3.90-in. auto-sensing backlit display with large, illuminated characters, allowing for visibility even at long distances. The display shows separate lines for units, main and secondary measurements as well as a dial-type digital bar graph. Other capabilities include relay and warning LEDs and an intuitive menu for customized programming. Booth 213 — Georg Fischer Piping Systems, Schaffhausen, Switzerland
Asahi/America, Inc.
A polyethylene-based piping system certified for drinking water
The Chem Proline piping systems have been certified by NSF to NSF/ANSI Standard 61-G, the nationally recognized health effects standard for drinking-water system components. Made from polyethylene resin, which is more resistant to slow crack growth than other materials, these systems present a lower-cost alternative to metal, fiberglass and lined steel pipe. Stocked in sizes up to 12 in. and available up to 88 in., Chem Proline systems are appropriate for use in water treatment and chemical processing applications using a variety of chemicals including sodium hydroxide, sodium hypochlorite, caustic soda and low-concentration acids. Booth 4677 — Asahi/America, Inc., Malden, Mass.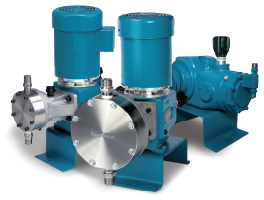 Neptune Chemical Pump

A mechanically actuated diaphragm pump designed for water
This company's Series 7000 mechanically actuated diaphragm metering pumps (photo) are designed specifically for water and wastewater applications. The mechanical design of the Series 7000 eliminates the use of contour plates on the liquid side of the diaphragm while the straight-through valve and head design allows for improved flow characteristics. The Series 7000 is self-priming and has a maximum capacity range of up to 300 gal/h (1,135 L/h) at 150 psi. Pump capacity is adjustable by micrometer dial while the pump is running. Booth 2605 — Neptune Chemical Pump Co., North Wales, Pa.
www.neptune1.com