Only on Che.com :: Latest News
September 30, 2013
Five companies are honored for achievements in chemical engineering
Chemical Engineering announced this year's four honorees and the winner of the 2013 Kirkpatrick Chemical Engineering Achievement Award at an award banquet held at ChemInnovations last week in Galveston, Tex. This biennial prize that the magazine has bestowed since the early 1930s recognizes the most noteworthy chemical engineering technology commercialized anywhere in the world during 2011 and 2012.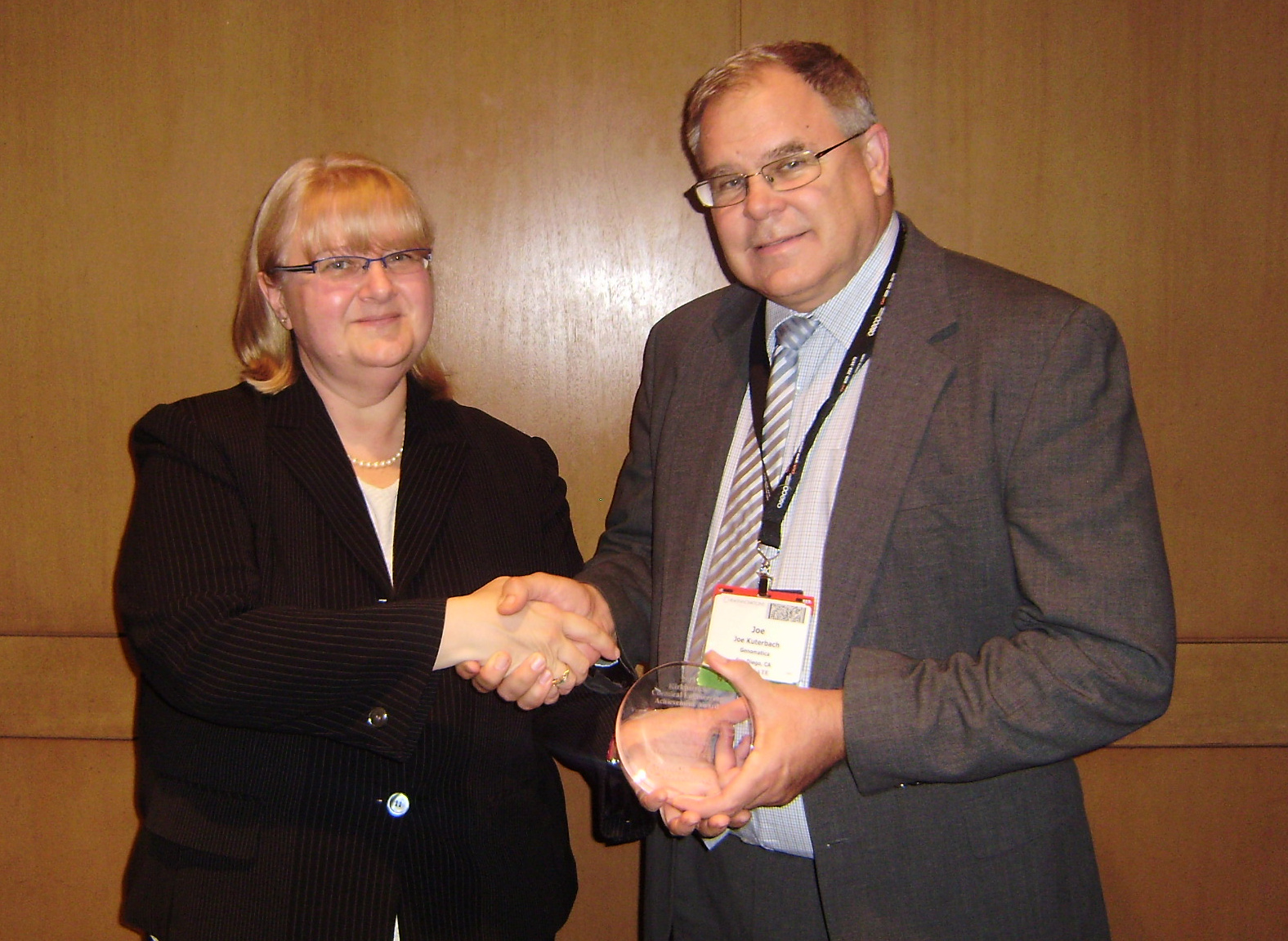 Joe Kuterbach, VP of Operations and Technology Transfer accepts the 42nd Kirkpatrick Chemical Engineering Achievement Award on behalf of Genomatica from Dorothy Lozowski, Chemical Engineering's Editor in Chief
The top prize of the 42
nd
Kirkpatrick Chemical Engineering Achievement Award went to Genomatica
(San Diego, Calif.; www.genomatica.com), for its bio-based butanediol. Working with its partner, DuPont Tate & Lyle BioProducts, Genomatica has successfully commercialized the production of bio-based butanediol (BDO). A total of 5-million lb of product was produced in only five weeks. According to the company, this is the first time BDO has been produced at commercial scale from renewable feedstocks. The bio-based process is said to have a smaller environmental footprint and is designed for better overall economics than conventional BDO made from fossil fuels. Genomatica credits its fast scaleup success, in part, to good chemical engineering discipline.
Honor awards were presented to Rive Technology
(Princeton, N.J.; www.rivetechnology.com) for its Molecular Highway catalyst technology; Braskem (S
a
o Paulo, Brazil; www.braskem.com.br)
for its sugarcane-based ethylene and polyethylene; Pacific Northwest National Laboratory
(PNNL, Richland, Wash.; http://www.pnl.gov) and Archer Daniels Midland for their propylene glycol from renewable resources; and to Eastman Chemical Co. (Kingsport, Tenn.; www.eastman.com) for its Perennial Wood.


Representatives from all of the honored companies were on hand to accept the awards at the dinner banquet held at Moody Gardens Hotel in Galveston, Tex. on September 25. Each of the honored technologies was also briefly described during the ChemInnovations conference earlier that day. More information about the technologies will be featured in the November issue of Chemical Engineering.