Why Is Powder Mixing so Difficult?
$95

VIEW ON DEMAND

Register to attend this live online webinar.
All registered attendees will receive a certificate of completion.
Hosted By:
The purpose of this webinar is to help engineers and scientists recognize problems with powder mixing. Some problems are easily solved with simple adjustments to fill level or blend time. Other problems involve the effects of certain design features of the mixing equipment. Most powder processing problems are because the physical processes of mixing are not well understood.

The basic objective of the course is learning how to make the best use of existing powder mixers. All opportunities should be explored and any improvements made to existing equipment before considering other types of mixers. Changing mixers will always create some new problems. An unbiased description of different types of powder mixing equipment is useful, but evaluation and testing of different mixing equipment is always recommended.

Understanding powder properties does not necessarily predict mixing success, but powder properties may explain why problems exist. All powder mixers will work, but only for certain types of powders and applications.
The differences between liquid and powder mixing

Answers to the most common questions about powder mixing:

How long do I need to blend?
How do I know if I have a uniform blend?
How should I use the blender I have?
Would a different type of blender work better?

Some common problems with powder mixers:

The mixer is overfilled
Blending runs too long
Wrong type of mixer

More about some common types of powder mixers:

Tumble blenders
Horizontal blenders
Rotating screw blenders
High intensity blenders
Engineers, scientists, and technicians who do powder mixing in process applications will learn about some difficulties with powder mixing.

People who have problems with powder mixing will learn about common problems and ways to improve mixing.

Engineers, and scientists who have new responsibilities for mixing processes or those who have existing process problems.

Technical people who are familiar with only one or two types of powder mixers may learn about other types of mixers that would work better for their processes.
Dave S. Dickey, Ph.D.
Senior Consultant
MixTech, Inc.


David Dickey started his own consulting business called MixTech, Inc. in 1998. Since then he has done independent consulting work to solve process and mechanical problems with various types of mixing equipment. Several companies have had him write specifications for new mixers or evaluate existing mixers. He teaches short courses on liquid mixing, powder blending, mixing scale-up, and advanced mixing through the Department of Engineering Professional Development, University of Wisconsin, Madison. He has also served as an expert witness in important litigation cases involving mixing equipment.

Before starting his consulting business he had more than thirty years experience with manufacturers of various types mixing equipment, including almost fifteen years experience with Chemineer, a major manufacturer of fluid agitation equipment in Dayton, OH. He coauthored articles in the Refresher Series on Liquid Agitation that they published in Chemical Engineering magazine in 1975 and 1976. As Technical Director for Chemineer, he did customer seminars, developed mixer design procedures for new processes, aided in customer lab tests with scale-up to process size mixers, and helped develop their successful HE-3 hydrofoil impeller. During other parts of his career at Chemineer he managed technical sales and product engineering.

David also worked for Patterson-Kelley in East Stroudsburg, PA, an important manufacturer of dry-solids mixers and other chemical process equipment. He designed and marketed pilot plant reactors and systems for American Reactor Corporation. He also worked for Robbins & Myers with technical and management responsibility for their Prochem Mixers division. His diversity of experience has helped him understand the importance of mixing to the overall success of many chemical and biological processes.

David Dickey received his B.S. degree in Chemical Engineering from the University of Illinois at Urbana, Il. He completed his M.S. and Ph.D. degrees in Chemical Engineering at Purdue University in West Lafayette, IN. Because of his long involvement with process equipment, he has developed a practical background in many disciplines of mechanical engineering. He is a fellow of the American Institute of Chemical Engineers (AIChE) and is a past president of the North American Mixing Forum (NAMF). He is also a member of the American Chemical Society (ACS) and American Society of Mechanical Engineers (ASME). He has authored or coauthored more than thirty technical publications on various aspects of mixing.
Scott Jenkins
Senior Editor
Chemical Engineering magazine


Scott Jenkins has been an editor at Chemical Engineering since 2009. Prior to joining CE, Scott worked in various capacities as a science journalist and communications specialist, reporting and writing on a variety of sectors, including chemical processing, biotechnology, pharmaceutical manufacturing and research policy. He also has industry experience as a quality assurance chemist and research experience as a synthetic organic chemist. Scott holds a bachelor's degree from Colgate University, and a master's degree in chemistry from the University of North Carolina at Chapel Hill.
| | |
| --- | --- |
| | What do I need to view this Webcast? |
Minimum Requirements:
Operating System
Processor
RAM
Internet Browser
Hardware
Media Players
Internet Connection

Windows 8 Pro

Windows 7
Widows Vista

Windows XP SP3
Android 4.3+

Apple Mac OS X 10.6 Snow Leopard
Apple iOS 5.1+

1 GHz1
1 GB

Internet Explorer 7.0+

Firefox 4.0+

Safari 5+

Google Chrome
10+

AUDIO: Sound Card with speakers

VIDEO: Monitor with 1024x768+ resolution support

Adobe Flash Player 10.3+2
Apple iOS http streaming enabled browser3

Android http streaming enabled browser4


Dedicated high speed connection of 700kbps+

1
Dual core processors are preferred.
2
In addition to having a properly installed Adobe Flash Player your system must permit live Flash streaming.
3
Apple iPad and iPhone only. Please use Safari on iOS devices for the best viewing experiences.
4
Android 4.3+. Please use Chrome on Android devices for the best viewing experience.
| | |
| --- | --- |
| | Support & Troubleshooting |
What support is available for users on Macintosh and Unix/Linux-Based operating systems?

This presentation incorporates advanced multimedia features that allow elements such as slides, polling questions, surveys, and application demonstrations to be dynamically sent to the audience synchronized with the presentation. Mac and Linux audiences may view the presentation using a supported Firefox Web browser and
Adobe Flash player
.
Please note that some presentations may not feature a Flash option.
Why can't I hear audio?

If you have internal speakers, make sure they aren't muted.
If you have external speakers, make sure they are powered on and aren't muted.
Make sure you did not lose Internet connectivity.
Make sure your system has passed the system test located under "Test my system now".
If your system is using Adobe Flash Player and you receive a "connection failed" message it's most likely due to a proxy server blocking Flash streaming. Please contact your local IT admin.
If you are using a mobile device, such as an iPhone, make sure you have enough bandwidth. We advise using dedicated wi-fi or 4G.
If you are using an Android device, Apple iPad or iPhone you will need to click on the media play button to begin the presentation. Android and Apple iOS devices do not permit streams to begin automatically.
If you are using a PC or Mac please ensure that your browser zoom level is set to 100% as the presentation is best viewed at that setting. In most browsers you can use Ctrl + 0 to reset your zoom level. This option can be also be found in the tools or view menu.
What is a pop-up blocker and how do I disable it?

Pop-up blockers are software programs that stop unsolicited "pop-up" browser windows from launching automatically. These windows often feature advertisements that can be an annoyance to users trying to browse the Internet, however some features of the Webcast may make use of pop-up windows to deliver key functionality. Depending on the software progam you have installed you may be able to add the Web site URL to a list of permissible Web sites where pop-up windows are allowed.
It is common to have one or more pop-up blockers that you may be unaware of. Most pop-up blockers reside either in the system tray (lower right hand corner of your screen by the clock) or as a toolbar in Internet Explorer (at the top of your browser, go to "View" and then "Toolbars"). These can be disabled in their options or preferences menus. (Common toolbars such as Google and Yahoo Companion have built in pop up blockers).
Also, if you are unaware of any other pop-up blockers that are running on your computer, you may want to see if you have personal firewall software running, such as Norton's Internet Security or ZoneAlarm. If you have either of these, they will also block pop-up windows.
Where can I download the latest streaming media players?

- Adobe Flash (for viewing Application Demonstrations and Video Roll-ins) -
http://get.adobe.com/flashplayer/
Where can I download the latest Internet browsers?


- Microsoft Internet Explorer 8 -
http://www.microsoft.com/windows/internet-explorer/worldwide-sites.aspx
- Previous versions of IE -
http://www.microsoft.com/windows/ie/ie6/downloads/default.mspx
- Firefox -
http://www.mozilla.com/firefox/
I occasionally hear a clicking noise during the presentation. How do I turn it off?


Windows 7 - Click on the Windows Start icon, then choose "Control Panel" > "Sound," > "Sounds" tab. Scroll down the "Program" menu until you reach "Start Navigation." Set the sound to [None] and click "OK." The clicking will be disabled.
Windows Vista - Click on the Windows Start icon, then choose "Control Panel" > "Sound," > "Sounds" tab. Scroll down the "Program" menu until you reach "Start Navigation." Set the sound to [None] and click "OK." The clicking will be disabled.
Windows XP - You can disable this noise by going to the Start menu, then "Control Panel". Open "Sounds and Audio Devices," and click the "Sounds" tab. Scroll down the "Program Events" menu until you reach "Start Navigation." Set the sound to [None] and click "OK." The clicking will be disabled.
Why do I get a "connection failed" or "connection blocked" message when I try to view Adobe Flash streams?

In addition to having a properly installed
Adobe Flash Player
your pc must permit rtmp (over port 1935) and / or rtmpt (over port 80) live streaming protocols. Please contact your local IT Administrator if you are unsure of your settings. IT Admins can
click here
to review additional information on configuring proxy servers to permit live Flash streaming.
Please contact Cristane Martin, Marketing Manager, at cmartin@accessintel.com

Get more from ChemEngOnline.com
Get email updates in your inbox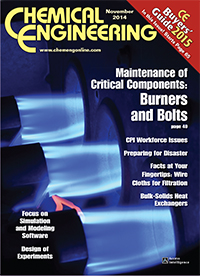 Our LinkedIn group is now over 33,000 members strong!

Join other CPI professionals from all over the globe and share best practices, expertise, concerns and more.
Provide feedback to Chemical Engineering Editors


Current members represent Worley Parsons, DuPont, SABIC, Fluor, Air Products, LyondellBasell, Nalco, Dow Chemical, Dow Corning, BASF, Jacobs Engineering, ExxonMobil, Shell, Chevron and more.



We also offer the following subgroup for more targeted discussions:

Search the Buyers' Guide
Facts at Your Fingertips (archive)
Back Issues