Please view the archived webinars below and check back for upcoming webinars.
---

Avoiding and Handling Environmental Incidents
Environmental Risk Management: A Framework for minimizing Economic Loss
REFER A COLLEAGUE

Webinar Summary:

Professionals responsible for managing oil & gas, chemical, or manufacturing sites know that environmental risk management is a critical concern that spans all functions of an organization. Practitioners struggle with managing complex processes to avoid catastrophic events that result in safety, environmental or economic loss. They need a clear framework that addresses end-to-end environmental risk management from prevention to remediation.


View this 1-hour webinar where experts, Ian Sutton, Mark Byrnes and Tripp Fischer, discuss the nuts and bolts of an environmental risk management system and best practices for prevention, assessment and remediation.

Bulk Solids Moving-Bed Reactors, Moving-Bed Reactors, Direct and Indirect Heat Exchangers, Gravity Dryers, and Conditioning Columns
Webinar Summary:

Processing of bulk solids frequently takes place in fluidized beds or agitated tanks. These technologies are usually capital expensive and have high operating and maintenance costs. Why not consider a moving-bed process vessel? Moving-bed process vessels are hoppers, bins, or silos modified to allow processing of a bulk solid such as heating or cooling, conditioning, drying, and conducting a chemical reaction. Compared to other fluidized beds and agitated tanks, moving-bed process vessels offer several advantages. They have no moving parts, and therefore capital, operating, and maintenance costs are relatively low. In addition, they offer surge capacity, eliminating the need for a hopper, bin, or silo for surge capacity or storage.

This seminar will discuss critical aspects of the design and operation of processing vessels.

Creating the Internet of Your Things in Chemical Processing
Webinar Summary:

The Internet of Things is not a futuristic technology trend: it's here today, and it starts with your things. You don't need to rip and replace; you can create the Internet of Your Things by building on your existing infrastructure, using familiar devices and services in new ways, and combining data you are already collecting, to ultimately help you make better-informed business decisions.

Manufacturing is fueled by big data, and intelligent systems have the potential to transform the Chemicals processing industry by improving the supply chain and optimizing manufacturing operations. Intelligent systems provide the backbone of technology that enables the capture of process data from industry devices, connectivity for data capture and business intelligence tools to convert that data into impact.

Attend this webcast to understand The Internet of Things and hear about some successful implementations of Intelligent Systems in the Chemicals processing industry and practical guidance.

Comply with 316(b) Using a VFD
Webinar Summary:

The EPA's new Clean Water Act section affects more than a thousand existing power plants and factories. Under section 316(b), facilities are required to use the "best technology available to minimize harmful impacts on the environment." You need to understand what this means to you. Industry experts will discuss how section 316(b) affects your operations and examine how variable frequency drives (VFDs) can help you achieve full compliance and decrease total cost of ownership.



Next Generation Training Software: A Virtual Reality Tour
Webinar Summary:

Join the discussion with Industry Expert, Hans Van den Wijngaert, about trends and the forecast of how the process industries have and will benefit from innovation in the utilization of real-time data access in collaborative 3D immersive environments. Discover how an Immersive Training Simulator can enable customized, scenario-driven 3D workflow simulations for HSE training, emergency drills and SOP rehearsals. Join us for this webinar to learn more about key knowledge retention, enhancing operational safety and efficiency with advanced, 3D virtual reality visualization software.



Why Is Powder Mixing so Difficult?
Webinar Summary:
The purpose of this webinar is to help engineers and scientists recognize problems with powder mixing. Some problems are easily solved with simple adjustments to fill level or blend time. Other problems involve the effects of certain design features of the mixing equipment. Most powder processing problems are because the physical processes of mixing are not well understood.

The basic objective of the course is learning how to make the best use of existing powder mixers. All opportunities should be explored and any improvements made to existing equipment before considering other types of mixers. Changing mixers will always create some new problems. An unbiased description of different types of powder mixing equipment is useful, but evaluation and testing of different mixing equipment is always recommended.

Understanding powder properties does not necessarily predict mixing success, but powder properties may explain why problems exist. All powder mixers will work, but only for certain types of powders and applications.

ISO 55000: The Sustainable Business Strategy for Operational Excellence and Safety
VIEW ON DEMAND
Webinar Summary:
Do you know if your assets are safe and in good operating order? Can you prove it today? Learn how to develop a strategy and roadmap for managing critical production assets aligned with the new international standard for Asset Management, ISO 55000. This new standard will serve as a foundation for operational excellence and safety. It will help asset managers to mitigate risk and ensure assets deliver value. From establishing an asset management policy and plan to ensuring adherence to process, roles, and responsibilities, take away key steps to compliance (or today's essential best practices in asset management).

How to Attract and Retain Top Talent
VIEW ON DEMAND
Webinar Summary:
In today's marketplace, the competition for top candidates is fierce. Being able to effectively attract and retain the best talent can be a crucial competitive advantage, resulting in higher-quality applications, increased attraction of passive candidates, higher offer acceptance rates, lower turnover, and decreased recruiting costs. Mr. Wolf will provide a roadmap for developing a more effective hiring process, creating a strong employer brand that attracts higher quality candidates, and tips on what your company can do to improve its talent pool.

What is Good Mixing?
Webinar Summary:

The purpose of this webinar is to help engineers and scientists recognize the differences between "good" and "bad" mixing. Mixing is not just one operation, but different aspects of fluid motion depending on the application and process objectives. Mixing may mean blending for uniform properties; intense local turbulence to promote chemical reaction; off-bottom suspension of solids for dissolution; dispersion of a gas for mass transfer; complete motion of a viscous fluid; or dispersion of immiscible liquid to form an emulsion. Describing "mixing" in real process objectives is important to understand how to achieve "good" mixing.

All liquid mixing involves flow patterns. Some flow patterns are incorrectly thought to represent "good" mixing. A strong surface vortex is usually a sign of poor mixing. An up-pumping impeller is not good for suspending solids. Different types of impellers work better in certain situations. Seeing flow patterns can be an aid in understanding "good" mixing.

Mixing has many differences. No one type of fluid motion or mixing equipment works in all applications. Understanding flow patterns can help establish ways to improve mixing. Mixing can be a solution to a problem or an opportunity for improvement. Understanding what works and what does not is an essential part of doing "good" mixing.

Shale gas future: Global distribution and industry impacts
Webinar Summary:
The increasing availability of natural gas from shale deposits in the U.S. is continuing to have a profound effect on many industrial sectors. While prominent shale deposits have received attention in the U.S., there is lower awareness of the distribution of shale across the globe and the enormous petroleum resources they represent. The economic advantage created by shale gas and the benefits to the U.S. economy of shale development are well reported. The impacts of the shale development on the technology used in the chemical industry is not discussed nearly as often. Increasing ethane use favorably impacts ethylene derivatives, but has negative implications for chemical products based on steam cracker co-products. The shifting feedstock slate creates challenges and opportunities for the industry. Less naphtha cracking creates less C3 and higher materials, leading to a shift toward on-purpose production of propylene, butadiene and other chemical intermediates. This Webinar is designed to help attendees better understand how the shale gas boom may play out globally, and what it will mean for the chemical industry in the future.
The Safe And Productive Maintainance of Piping Systems in an Operational Chemical Process Industry (CPI) facility
Webinar Summary:
Process piping inspection and preventative maintenance (PM) procedures are an essential element for any fixed equipment mechanical integrity (FEMI) program. The petroleum and chemical process industries (CPI) continue to have piping system failure incidents due to various forms of progressive deterioration of a system's ability to contain its fluid service under pressure. Hence, having an effective piping inspection and PM program written in accordance with the latest editions of ASME B31.3 Process Piping Code, API 570 Piping Inspection Code and its companion document API RP 574, Inspection Practices for Piping System Components, is foundational to the safe and continued cost effective operation of any CPI facility.
Process Solutions from Wet Chemistry to Near-Infared Spectroscopy - Ensure Product Quality & Prevents Downtime
VIEW ON DEMAND
Webinar Summary:
Many testing applications across a variety of industries nowadays need constant monitoring. However, bringing samples back to the lab for analysis can be time-consuming and inefficient. At-line, online or inline solutions for time-sensitive analyses prevent costly downtime and enable simultaneous monitoring of several process parameters in real time. A wide range of techniques from wet chemistry to near-infrared spectroscopy are suitable for your process environment!
---
Get more from ChemEngOnline.com
Get email updates in your inbox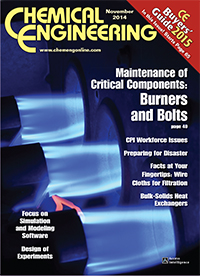 Our LinkedIn group is now over 33,000 members strong!

Join other CPI professionals from all over the globe and share best practices, expertise, concerns and more.
Provide feedback to Chemical Engineering Editors


Current members represent Worley Parsons, DuPont, SABIC, Fluor, Air Products, LyondellBasell, Nalco, Dow Chemical, Dow Corning, BASF, Jacobs Engineering, ExxonMobil, Shell, Chevron and more.



We also offer the following subgroup for more targeted discussions:

Search the Buyers' Guide
Facts at Your Fingertips (archive)
Back Issues