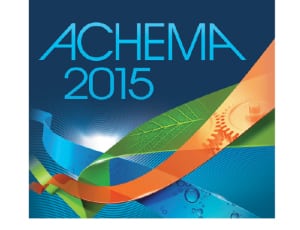 Achema 2015 — the 31 st world forum for the chemical process industries (CPI) — will be held June 15–19 in Frankfurt am Main, Germany. Organized by Dechema e.V. (Frankfurt; www.dechema.de), this year's event features 11 exhibition halls, which will provide a platform for over 3,600 registered exhibitors to showcase innovative products and services. Concurrently with the exhibition, an extensive technical conference will take place, with numerous panel discussions, lectures and special sessions planned. For further details on the event's agenda, please visit www.achema.de. Special focus will be given to the following topics: advances in bio-based processes; innovative process analytical technologies; and industrial water management.
Chemical Engineering, in collaboration with Vogel Media (Würzburg, Germany), will be covering Achema 2015 in the Achema Daily, a bilingual, daily newspaper that is distributed to event attendees. For readers unable to attend Achema 2015, a digital version of the Daily will also be available online.
The following show preview includes a small selection of the products and services that will be on display at the exhibition.