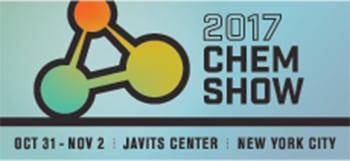 The 2017 Chem Show, taking place from October 31 to November 2 at the Jacob Javits Center in New York City, will focus on all types of processing equipment used across the breadth of the chemical process industries (CPI). The show will feature over 300 exhibiting companies and over 40 Equipment and Technology Showcase Presentations on a wide range of topics. The event also features a broad-ranging seminar program that includes focus areas such as maintenance, career advancement, process automation and industrial software. As part of its seminar program, the Chem Show will host presentations from the 2017 finalists for the Kirkpatrick Chemical Engineering Achievement Award, which is given every two years by Chemical Engineering to honor the most noteworthy chemical engineering technologies to reach commercialization. The finalists were selected by a panel of judges consisting of chemical engineering department heads at accredited universities. Each finalist company will give a presentation outlining their nominated technology during the Chem Show on November 1. The 2017 Kirkpatrick finalists and their technologies are summarized below:
CB&I and Albemarle are nominated for a jointly developed solid-catalyst alkylation process that eliminates the hazards associated with handling liquid acids
Chemetry is nominated for the eShuttle technology, which aims to make the chlor-alkali product chain safer and more efficient by generating no chlorine
Dow Coating Materials is nominated for the Canvera polyolefin-dispersion coating technology used to protect against leaching from metal containers
Dow Coating Materials is also a finalist for the new Paraloid Edge technology that produces urethane coatings without isocyanate or formaldehyde
Microvi's nominated technology is the Denitrovi biocatalytic nitrate removal process, which safely degrades nitrates from drinking water without the formation of sludge
Praxair is nominated for its Optimelt thermochemical regenerator process, which is an oxy-fuel glass-melting technology that uses endothermic chemical reactions for waste-heat recovery
The following are some highlights of the products that will be exhibited at the 2017 Chem Show.