An article that was recently published on the Massachusetts Institute of Technology's website (MIT; news.mit.edu) is titled "Why researchers should step out of the lab." It tells the story of an MIT doctoral student whose research was focused on developing filter materials that could increase the flowrates for reverse-osmosis (RO) desalination plants. At one point, the student visited a working RO plant and discovered that the topic she was working on was not a concern in operations. The operational concerns were most often related to issues that arose in installing, cleaning and replacing the filters, and not on flowrates. In essence, the student learned that she and other researchers were trying to solve a problem that wasn't a problem.
The student and her thesis advisor had been working with graphene oxide, and they demonstrated a large increase in flowrate over conventional materials, which they thought would increase efficiency and significantly reduce desalination costs. After interviewing industrial representatives, however, the researchers learned that the cost savings potential would be minimal. The article goes on to point out that many research papers had been written on the use of graphene for desalination — some using an extremely expensive form of graphene, making its practical use even less economically feasible.
The MIT team found new applications for the materials they were studying and have since formed a startup company to commercialize their technology in other processes. The former student is now CEO of that company, Via Separations (www.viaseparations.com). The team learned the benefits of looking beyond their laboratory and they hope that sharing their story is of value to other academic researchers.
Meeting industries' needs
While the pursuit of academic research alone has many merits, the connection of that work to industrial experience can be extremely powerful. Numerous university-industry partnerships exist, and industry reaches out to students in various ways, such as crowdsourcing*. For example, Evonik Corp. (www.evonik.com) recently launched a competition for college students for new ways to cut acrylic sheet. The competition is conducted by MindSumo (www.mindsumo.com), a company that connects students and industry in such challenges.
In addition to helping to solve practical problems, direct industry-academia interactions give students exposure to potential careers. It is in the best interest of both the academic and industrial worlds for students to learn more about industrial needs to better prepare them for jobs. Educational programs such as Solvay's Chemistry Connection (www.solvay.us) stimulate interest in science and technology at an early age by reaching out to elementary schools. Some companies are partnering with universities and offering financial assistance to train students in needed skills. One recently announced example is a $1.7 million donation from Rockwell Automation (www.rockwellautomation.com) to support a Connected Systems Institute at the University of Wisconsin-Milwaukee (www.uwm.edu) to focus on technologies and applications related to the Industrial Internet of Things.
More about the changing needs of the workforce and how industry and academia are addressing these can be found in this issue's Newsfront on pages 14–17. We hope you enjoy reading. ■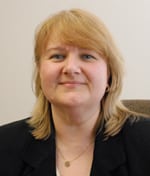 Dorothy Lozowski, Editorial Director
*Casting a Wide Net for Innovation, Chem. Eng., November 2015, p. 5