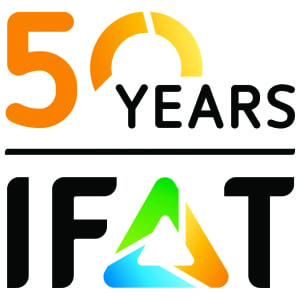 More than 3,000 exhibitors are projected to participate in IFAT 2016 — the International Trade Fair for Water, Sewage, Waste and Raw Materials Management (May 30–June 3; Munich, Germany). Celebrating its 50th year, IFAT has grown tremendously in all sections — including in the recently added sections on water supply, recycling and technology for municipal services.
IFAT occupies all 16 halls — a total of 230,000 m2 of exhibition space —and parts of the outdoor exhibition area of the Messe München exhibition center. More than 135,000 visitors from all over the world are expected to attend.
A small selection of products and services that will be exhibited at IFAT 2016 is presented below.
Submersible motor pumps for a broad range of applications
This company is showcasing the youngest generation of its Amarex KRT submersible motor pumps (photo) for the first time in Germany. This pump type is used for handling all kinds of municipal and industrial wastewater. Its maximum flowrate is 10,080 m3/h and its highest head is 20 m. With 850 kW, it offers the highest motor power available on the market as standard. To support as broad a range of applications as possible, the new submersible motor pumps are available with four different improved impeller types. Depending on the system's load profile, operators can choose a highly efficient motor variant, which corresponds to the IE3 efficiency level for standardized motors, in accordance with the IEC-60034-30 standard. Two bi-directional mechanical seals reliably protect the motor space against ingress of water. Hall A6, Stand 327/426 — KSB AG, Frankenthal, Germany