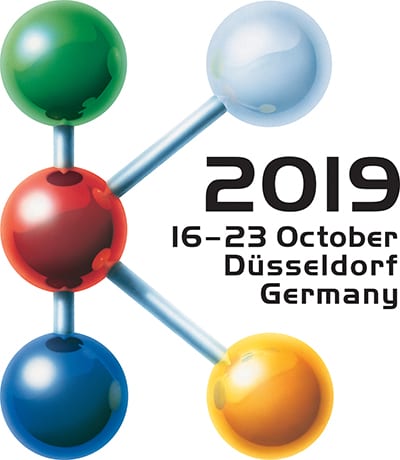 K 2019, known as "The World's No. 1 Trade Fair for Plastics and Rubber" and scheduled to take place in Düsseldorf, Germany from October 16 to 23, is fully booked. Over 3,000 exhibitors from more than 60 countries have registered to participate. K will occupy the entire Düsseldorf exhibition grounds with some 175,000 m2 of net exhibition space. More than 200,000 trade visitors from all over the world are expected come to the event.
"Plastics for sustainable development" and the "circular economy" are among the hot topics touched on at the exhibitors' stands, as well as being covered comprehensively in the supporting program. For example, the special exhibition "Plastics Shape the Future" also sees itself as a podium for solutions and answers to current social trends and discussions. Topics to be discussed include packaging waste, marine litter and climate change, as well as resource conservation, energy efficiency and recycling.
Organized by Messe Düsseldorf, the K show takes place every three years. Further information is available at www.k-online.de.
A small selection of products being exhibited follows below (Note: This online version has many more stories than the print version).
Technology for manufacturing composites
Previously operating as Sandvik Process Systems, this company is making its first appearance at K 2019 as an independent company within the Swedish Wallenberg group. The company manufactures solid and perforated steel belts used for improving productivity and quality in the processing of products as diverse as wood-based panels, film, floorings, advanced composites and more. Its Composite Solutions division designs, manufactures and installs systems for the production of a wide range of composite materials used across many industries, including automotive, aerospace, flooring, construction, non-wovens, textiles and many others. These include press systems used for impregnation, lamination and consolidation, a full range of upstream/downstream equipment, including precision scattering systems. Within its portfolio is the ThermoPress range of double belt presses — a modular system that enables multiple stages to be incorporated into a single efficient process — and the ScatterPro family of precision scattering systems (photo). Typical applications for these systems are pressing, lamination, impregnation, cooling and scattering. Hall 12, Stand 12/E19 — IPCO Germany GmbH, Göppingen, Germany