A recently announced business collaboration between Fluence Analytics (Houston; www.fluenceanalytics.com) and Yokogawa Corp. (Tokyo, Japan; www.yokogawa.com) will significantly expand the availability of the latest generation of Fluence's technology for continuous, real-time monitoring of polymerization processes.
Under the agreement, the two companies will accelerate deployment of ACOMP (automatic continuous online monitoring of polymerization reactions), a device that can allow tighter control, improved product yield and reduced waste in polymer manufacturing, according to the two companies.
"With polymer processes, handling the inherent variability in feedstock, equipment and operators, as well as the complexity of the molecules, is a difficult problem that can lead to out-of-specification products," says Fluence CEO and co-founder Alex Reed. "This challenge has been vexing to solve with modeling and laboratory testing, which occurs with a time delay, so most of [the] time, manufacturers just have to hope the recipe holds up."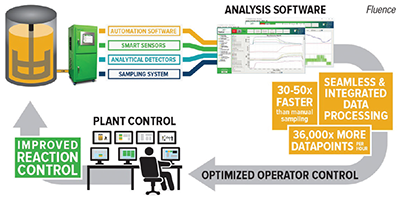 The ACOMP system (diagram) is designed to provide real-time information on polymerization reactions to enable adjustments to the process that will avoid out-of-specification products. The commercial system has an extraction system to continuously pull sample from the process, and the ability to automatically dilute the samples. Sensors for molecular weight, viscosity, residual monomers and other properties feed data into proprietary analytics software, which correlates the values from the detectors to product specifications or macroscale properties of the finished polymer. The system is integrated into an onboard programmable logic controller (PLC) and PC, and can be tied into a distributed control system (DCS) of the process to allow real-time changes to process parameters.
"Newer polymer chemistries are increasingly complex," Reed comments, "so there is a real need for these continuous measurements."
The ACOMP system has been successfully proven in the laboratory, in pilot plants, and in production scale, and already has commercial customers. Fluence is currently working to improve data analytics and further the industrialization of the technology for hazardous areas. They are poised to launch the latest generation of ACOMP in the coming months.