There are many regulations surrounding the production of waste at manufacturing facilities. By approaching regulatory practices in a proactive manner, sites can ensure personnel and environmental safety, as well as continuous compliance
When it comes to handling hazardous waste in the chemical process industries (CPI), it can be challenging to keep up with the ever-changing federal and state regulations. For those responsible for the cleaning and upkeep of facilities, it is crucial to stay up to date on industry changes to ensure compliance and avoid potential fines and penalties.
A quick search for "hazardous waste fines" brings a long list of businesses in every industry being penalized for mishandling disposal of hazardous waste. Because waste-handling is a highly regulated sector where regulations change all the time, manufacturers cannot afford to leave compliance to chance. In fact, one large manufacturing company was recently fined hundreds of millions of dollars for noncompliance due to decades-long contamination of groundwater.
We continue to see companies of all sizes receive hefty fines for hazardous-waste disposal violations. From a regulatory perspective, the U.S. Environmental Protection Agency (EPA; Washington, D.C.; www.epa.gov) can fine up to $75,867 per day per violation, especially for repeat offenders. As an example, if a manufacturer has a container storing hazardous waste without a lid properly secured on it, the EPA has the authority to determine how long the violation has occurred and can then fine the plant for every day of the non-compliance. Fines can also vary state by state.
Hazardous waste must be managed and disposed of properly, and inadequate waste management presents potential health and safety risks to people within a facility, in the surrounding community and in the wider environment. That is why it is important keep abreast of regulatory changes and updates year-round to make sure a manufacturing facility is meeting all compliance requirements.
Laboratories, healthcare practices, manufacturing plants and other facilities accrue hazardous chemical waste in both work and storage areas. In fact, it is reported that approximately 7.6 billion tons of industrial solid waste are generated and disposed of each year in the U.S. [1]. This means that there is no shortage of regulated items accumulated throughout the year that need to be managed and disposed of in a safe and compliant way. Whether a professional works for a large chemical plant or a small manufacturing business, it is important to take the necessary planning steps to ensure hazardous waste is properly managed.
With the U.S. government's increasing focus on enforcing regulations, not assessing, categorizing, segregating, transporting and disposing of all waste types in a compliant manner can result in fines and violations that are detrimental to manufacturers in every industry (Figure 1). Following the tips outlined in this article will help any manufacturing facility to practice year-round waste compliance.
Identify hazardous waste
Before anything else, it is best to first understand what is defined as hazardous waste. The EPA defines hazardous waste as "waste with properties that make it dangerous or capable of having a harmful effect on human health or the environment." Once an item containing hazardous properties is no longer usable for its intended purpose, it is deemed hazardous waste.
To be considered hazardous waste, the item must exhibit ignitable, corrosive, reactive or toxic characteristics. The item may also be on the EPA's U, P, F or K lists of hazardous wastes (Table 1). While the immediate assumption for some manufacturers might be that they only have non-hazardous chemical waste, there are several different types of hazardous waste to be aware of when sorting and managing materials.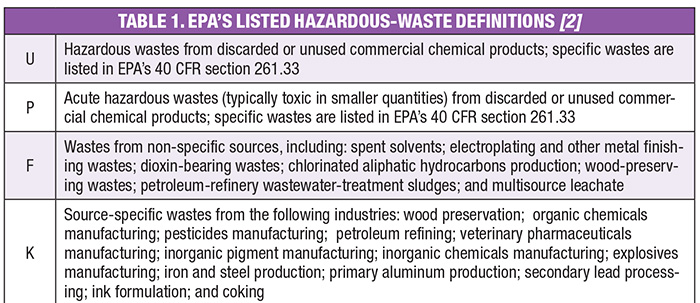 Once facility operators have an understanding of hazardous waste, the next step is to educate all appropriate employees on current and future regulations that could impact the facility (Figure 2). The following sections describe some of the most common and recent regulations.
Resource Conservation & Recovery Act (RCRA). The EPA regulates hazardous waste under RCRA, which was enacted in 1976 to ensure these wastes are managed in a compliant manner. The act mandates that generators of hazardous waste are responsible for waste from the time of generation to the final destruction, and sees that these wastes are managed in ways that protect human health and the environment. Generators of hazardous waste are regulated based on the amount of hazardous waste they generate in a calendar month, not the size of their business or facility. At the federal level, there are three generator categories: very small quantity generator (VSQG), small quantity generator (SQG) and large quantity generator (LQG) [3].
e-Manifest. The Hazardous Waste Electronic Manifest Establishment Act (e-Manifest) was enacted in 2012 with a goal of creating a national system for tracking hazardous waste shipments electronically, resulting in a centralized database that could be accessed in real time by the regulated community. The EPA's intent to update the system was to improve access to higher quality and timelier hazardous-waste shipment data and to save industries and states valuable time and resources. The EPA estimates that e-Manifest will ultimately reduce the burden associated with paper manifests by between 170,000 and 425,000 hours, saving state and industry leaders more than $50 million annually, once electronic manifests are widely adopted [4].
In October 2019, submission fees increased significantly, with the following fees effective through September 2023:
$8 per manifest (previously $5) for electronic manifest, both fully electric and hybrid
$14 per manifest (previously $6.50) for data and image upload
$20 per manifest (previously $10) for scanned image upload
$25 per manifest (previously $15) for mailed-in paper manifest
Hazardous Waste Generator Improvements Rule. Signed in October 2016, this final rule was intended to provide more clarity and flexibility to businesses. The rule enhances the safety of facilities, employees and the general public by improving communication surrounding hazardous waste risks and ensuring that emergency management requirements meet today's needs. The rule includes more than 60 changes to the Hazardous Waste Generator program first introduced in 1980 under RCRA, and the rule aims to close important gaps in the regulations. Adoption of the rule varies state by state [3].
Some states are authorized to establish generator categories that differ from those established by the federal government. To help current and potential hazardous waste generators follow state regulations, the EPA lists the states that have regulations differing from federal regulations and which states have the same generator categories. EPA also lists links to rules or guidance for those states that have different regulations [3].
Practice compliance year-round
It is highly encouraged to make sure a facility is staying compliant year-round. Similar to the unadvisable nature of beginning a large project within a few days of deadline, it is best to make sure that personnel at a facility handling waste are taking the necessary steps all year long. While it can be overwhelming to adhere to state and federal regulations, the following best practices can help sites to remain penalty-free.
Segregate incompatible chemicals. Incompatible hazardous wastes must remain separate, so it is recommended to use separate accumulation bins or drums that are designated for each specific categories of waste, such as aerosols, flammables, toxics, corrosive acidic, corrosive alkaline (basic), oxidizers and universal waste.
Label containers. Once the hazardous waste is placed into a drum or tank, the container must be properly labeled as required by regulations. Containers should be marked as "hazardous waste," "non-hazardous waste" or "universal waste," and include the accumulation start date, as well as an indication of the hazardous characteristic of the contents (Figure 3). It is also best management practice to include the contents on the label. If an inspector from the city, state or federal regulatory body visits the facility, proper labeling is one of the first things that they will examine. States often have specific hazardous-waste labeling requirements and may require regular inspections of hazardous waste accumulation containers and storage areas.
Ensure proper storage. All hazardous waste should be stored in a dedicated, permanent, clean and organized hazardous-waste area. The ideal location is away from highly trafficked areas, electrical panels, perishable or consumable product storage and dock doors. The containers should be placed on an impervious surface, such as pavement or tile, without floor drains.
Keep proper records. Maintaining an inventory log will help professionals manage and track waste generation volumes. Every time an item is identified as hazardous waste and placed into an accumulation container, it should be noted on the log and kept in the facility's records. Without proper record-keeping and thorough paperwork, manufacturers run the risk of being fined.
Once items are segregated and stored properly, hazardous waste disposal should be done in accordance with state and local regulations.
The severity of non-compliance
There are many consequences of improperly handling hazardous waste at any given time. Facility operators that do not understand federal, state and local regulations face environmental, health and safety risks, as well as chemical destruction. In addition, facilities may incur significant monetary penalties. While the financial burden of non-compliance is substantial, the negative impact these public fines have on brand perception can be even more damaging.
As environmental issues are a growing concern for the public, local and even national news outlets are quick to pick up on any perceived offenses made by corporations. Additionally, the proliferation of social media means that negative news about environmental fines or improper disposal of hazardous waste spreads quickly and widely across those channels. Common missteps that could result in fines include the following:
Lack of, or improper, labeling
Open containers of hazardous waste onsite
Dumping hazardous waste down the drain
Not possessing (or possessing inadequate) hazardous-waste manifests
Failing to properly train employees in hazardous-waste management, handling and emergency preparedness
Lacking compliance with hazardous-waste generator regulations
Not having hazardous-waste determinations on file
If a facility decides to not participate in routine hazardous-waste pickups throughout the year, it should understand the importance of staying compliant without the help of a third-party service provider. The average cost of having a proactive environmental-compliance program for hazardous-waste varies, but with millions of dollars in potential fines at stake for non-compliant practices and consumer loyalty at stake, organizations must be well informed about changes from regulators and update their hazardous-waste management programs accordingly.
Utilize a partner
With regulations varying state by state, as well as at a federal level, it can be extremely helpful to have a highly trained expert visit a site to identify best practices for managing the waste being generated. These teams of engineers, chemists and environmental health professionals understand that managing waste on an industrial scale often has two practical objectives — minimizing long-term liability and controlling costs — and can work to help a company achieve those goals. Ultimately, manufacturers should strive to minimize or completely remove the generation of hazardous waste by eliminating as many of its waste streams as possible throughout the year. By managing hazardous waste in a safe and compliant way by following regulations and partnering with an experienced waste services provider, facilities are able to ensure the protection of the public, employees, the environment and their overall brand.
Edited by Mary Page Bailey
References
1. U.S. EPA, Guide for Industrial Waste Management, March 2016.
2. U.S. EPA, Defining Hazardous Waste: Listed, Characteristic and Mixed Radiological Wastes.
3. U.S. EPA, Hazardous Waste Generators, www.epa.gov/hwgenerators.
4. U.S. EPA, The Hazardous Waste Electronic Manifest (E-Manifest) System, www.epa.gov/e-manifest.
Author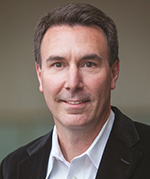 Wade Scheel is the director of governmental affairs for Clean Earth (Phone: 678-822-9963; Website: www.cleanearthinc.com), one of the largest specialty waste companies in the U.S. providing remediation, disposal, recycling and beneficial reuse solutions for contaminated soil, dredged material and hazardous and non-hazardous waste. Prior to his role at Clean Earth, Scheel held environmental, health and safety roles at Stericycle and Veolia Environmental Services. He has a B.S. in biochemistry from Iowa State University.