November: New Products (North American edition)
Non-Sparking, Non-Magnetic Safety Tools
for Hazardous Locations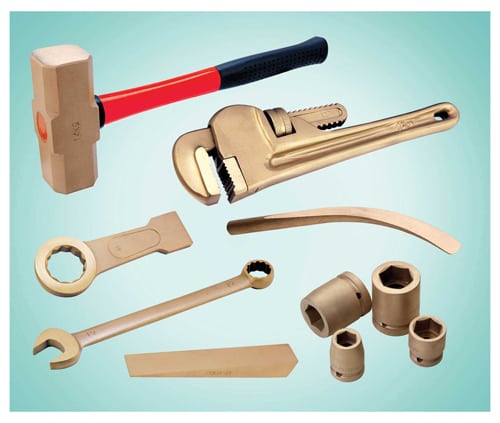 Manufactured from special aluminum-bronze or copper-beryllium alloys, these non-sparking, non-magnetic hand tools (photo) meet ATEX regulations for safe use in areas where hazardous, flammable or combustible vapors, liquids, dusts or residues may be present. This line of safety tools consists of hammers, flange wedges, striking wrenches, impact sockets, screwdrivers, shovels and other hand tools. They comply with the ATEX Directive stating that no tools that can cause sparks are permissible in Ex Zones 0, 1 and 2 (flammable gas, mists or vapors); Zones 20, 21 and 22 (combustible dusts) and M1 and M2 for mining. Each tool is laser engraved for the proper Ex Zone classifications indicating the zones for which it can be used. — CS Unitec, Norwalk, Conn.
Conductive Tubing Eliminates
Static Discharge and Prevents Buildup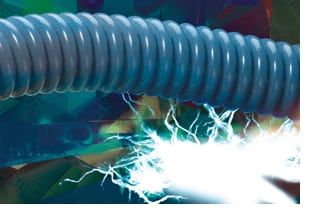 A full range of conductive fluoroplastic tubing is now offered in a variety of sizes and configurations to eliminate and prevent the build-up of static charges. PTFE Conductive Tubing (photo) is available with a conductive I.D. that conforms to AMS-H-27267 — having a minimum conductance of 10 – 20 micro-amps with 1,000 V-d.c. applied over a 14-in. length. Designed to eliminate static charges affecting combustible fluid transfer and to prevent the build-up of static charges that might damage sensitive electronic devices, it can be supplied a wide variety of configurations. Available in sizes from 1/8- to 4-in. I.D., Conductive Tubing can be supplied as smoothbore tubing, liners, and in convoluted and wire-wrapped convoluted styles. It provides anti-static properties to eliminate dust and other particulates, and offers increased wear- and UV-resistance. — Parker TexLoc, Fort Worth, Tex.www.parker.com


For Electrochemical Analysis,
Use this Rotating Disk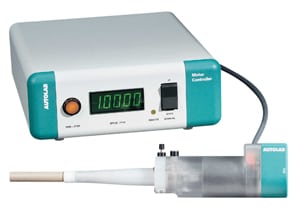 The Eco Chemie Autolab Rotating Disk Electrode (RDE; photo) is designed for electrochemical analysis. Featuring a sleek motor design and sealed, low-noise contacts, the RDE substantially minimizes the noise interference that is often associated with rotating disk studies. Autolab RDE maintains speeds from 100 to 10,000 rpm, and it can be controlled manually or from a remote analog system. To address a wide range of applications, electrode tips are available with both 3- and 5-mm diameter disks in Pt, Ag, Au and glassy carbon. A 5-mm blank tip is also available for personal material studies. Autolab RDE is backed by expert application and service support through this firm. — Metrohm USA, Inc., Riverview, Fla.
These Tank-Cleaning Heads
Improve Uptime
Two new NLB 3750 3D tank cleaning heads (photo) feature a redesigned hub assembly that triples the seal life of previous models and greatly simplifies seal replacement, according to the firm. Both deliver the 3D cleaning action made popular by previous NLB models, with rotating high-pressure water jet nozzles mounted on a revolving head to maximize interior coverage in tanks and reactors. The NLB3750-85 operates at pressures from 4,000 to 13,000 psi with a flow rate of 80 gal/min. The NLB3750-110 operates at from 4,000 to 8,000 psi and 110 gal/min. Both have stainless-steel bodies for durability and ease of cleaning. High-pressure water jets remove chemical and resin build-up from tanks and reactors faster and more thoroughly than manual methods, while eliminating the need for anyone to enter a confined space. — NLB Corp., Wixom, Mich.
Precision Handheld Pumps
for Pressure and Vacuum Calibration
The HPP series precision calibration pumps (photo) are available in four models. The HPP-100 and HPP-VAC are economical pumps designed for 0 to 6.9 bar (0 to 100 psi) and 0 to –.95 bar (0 to 028 in. Hg) vacuum, respectively. Both models feature dual O-rings on all pistons for smooth operation with zero leakage. The HPP-600 is a pneumatic pump that can generate both vacuum and pressure. It covers a range from –.95 bar (28 in. Hg) vacuum to 41 bar (600 psi) pressure. The HPP-10K hydraulic pump can generate pressure from 0 to 690 bar (0 to 10,000 psi). It is compatible with most hydraulic fluids, oils and water. All pumps are designed to provide long-term reliability in harsh environments, making it ideal for use in automotive, chemical and petroleum industries. — Omega Engineering, Inc., Stamford, Conn.
Fiberglass Grating can Replace Steel
in Many Applications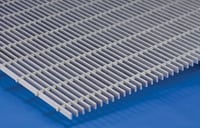 Duragrid 1-in. R-7300 fiberglass grating is specially designed to replace 1-in. steel grating in corrosive environments, such as offshore drilling and production platforms, refineries and chemical plants. It is extremely strong and impact resistant, able to span 36 in. with a load of 100 lb/ft 2 and a deflection of less than ¼ in. Virtually maintenance-free, it will not rust and corrode like steel grating, thus reducing maintenance costs. With a rectangular-bar design, it is well-suited for applications exposed to wave uplifts, or when all surfaces of the bars need to be kept clean. At half the weight of 1-in. steel grating, Duragrid is easily handled in installation, and cost less to ship than steel grating. Also, a non-skid surface on fiberglass grating is safe for workers, while having low electrical and thermal conductivity. — Strongwell, Bristol, Va.
New Communication Interfaces
Improve the Versatility of Flowmeters
This firm has introduced new communication options for its Micro Motion 2400S transmitter. These compact devices, which mount integrally onto Micro Motion Elite Coriolis meters, are now available with DeviceNet or Profibus DP communication protocols in addition to the traditional interfaces such as 4 – 20 mA, frequency and HART. The new communication options make the Micro Motion 2400S transmitter ideal for OEMs operating in global markets, where different communications standards are often employed. The transmitter provides a simple and fast interface with an existing PLC architecture together with the added benefits of direct digital communications. — Emerson Process Management, Boulder, Colo.
These Two Motors Designs
Comply with API Requirements
Two new PetroDuty motor designs are being offered by this firm — the 4th edition API-541 and 1st edition API-547. These new motor designs have been specifically developed to satisfy or exceed the strict requirements set forth by the American Petroleum Institute (API). The newest PetroDuty-541 is rated 500 h.p. and above, as set forth by the API, for use in critical applications in the petroleum industry. With a voltage capacity of 2,300 – 13,200 V, it also offers dual voltage at 2,300 and 4,000 V. The PetroDuty-547 is suitable for use in general purpose petroleum or chemical applications, as well as in other industrial severe-duty environments. Rated for 250 – 3,000 h.p, it has a voltage capacity of 2,300 – 3,200 V. Both motor designs operate on 50 and 60 Hz frequencies. — WEG Electric Motors Corp., Atlanta, Ga.
These Spigot Ends are Compatible
with All Major Piping Manufacturers
Factory-installed spigot connections are now available for this firm's thermoplastic valve and piping products line. Constructed of ultra-pure, corrosion resistant polypropylene or Kynar PVDF, the Series ZSP True Blue spigot ends (photo) minimize deadleg, and are designed for BCF (bead and crevice-free) and infrared butt-fusion and socket-fusion piping. Spigot sizing is dimensionally compatible with all major piping manufacturers. An optional Class 100 cleanroom and double-bagging procedure is available for ultra-pure applications. — Plast-O-Matic Valves, Inc., Cedar Grove, N.J.
This Firm Now Offers 22,800 Washer Sizes
in a Variety of Materials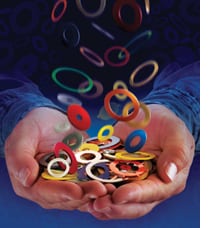 This manufacturer of washers has added 800 sizes to their product offering. With this addition, non-standard washers and spacers are now available (photo) without tooling charge in more than 22,800 sizes, and offered in a choice of more than 2,000 commonly specified and hard-to-find materials, including low carbon sheet steel, five types of spring steel, stainless steel, aluminum, brass, copper and nickel silver, as well as non-metallics such as Delrin, Teflon, Mylar and nylon. This broad variety of sizes encompasses miniature washers as small as 0.080-in. O.D., to large washers with O.D.s up to 5.140-in. Customers can simply select a size and specify a material and quantity at this firm's website. — Boker's, Inc., Minneapolis, Minn.
This Workstation Keeps Computers Safe
on the Plant Floor
A new computer workstation (photo) is designed for shop floor use in manufacturing plants, maintenance facilities and warehouses — anywhere computer security and protection against dust, dirt and other airborne contaminants are important. The new workstation easily handles a 21-in. monitor, keyboard, CPU, printer and supplies. Features include: an ergonomic, sliding keyboard shelf; keyed alike built-in locks secure to the doors; a Lexan upper-door insert for easy screen viewing; a power surge suppressor strip; and vibration resistant 5-in. Performa rubber casters. The overall cabinet is 30-in. width by 28 ¼-in. depth by 59 ¼-in. height. The workstation is available with forklift base (ships assembled) or mobile base (casters not installed). — Lyon Workplace Products, Aurora, Ill.
This Anti-Surge Compressor Controller
has an Built-in HMI
This firm has introduced its first stand-alone compressor anti-surge controller with a built-in color HMI (human machine interface) display. The Em-400 HMI displays a live compressor surge map for easy viewing of compressor performance. In addition to the live compressor map, the Em-400 HMI also provides all of the information and control capability found in more expensive HMI systems. This compact display, which is built into the front panel of the Em 400 controller, does not require any additional panel space. Other features of the Em-400 include control of up to three compressor bodies, capacity control, performance monitoring, load sharing, recycle transfer control, user-directed pressure override control and standard ethernet communications. — Petrotech, Inc., New Orleans, La.
OVER
This Software Allows Engineering Teams to Do More with Less
The release of aspenONE V7 software enables process industry companies to achieve the seven best practices of engineering excellence. Building upon previous innovations from this firm, aspenONE V7 includes several new process engineering components. An integrated conceptual engineering workflow via a single user interface tightly integrates simulation, equipment design and economic analysis, and enables simultaneous rather than sequential engineering. A patented master data model (MDM) enables process manufacturers to effectively manage assets across the entire lifecycle — from design through operations. It also includes the industry's most comprehensive physical property database incorporating over 23,000 components, developed in collaboration with the National Institute of Standards & Technology (NIST), supporting complex process modelling and optimization requirements. — Aspen Technology, Inc., Burlington, Mass.
Free Software Predicts Control Valve Package Performance in a System
Nelprof control valve selection software version 5.0 is a powerful tool for selecting the right control valve package quickly and accurately. It is used prior to installation to predict the performance of the control valve package as a part of the system. Version 5.0 includes technical features that enhance control valve package selection from a flow and control point of view. Control performance criteria, such as installed flow characteristics, cavitation and noise, are the basis for selection. Other important features of Nelprof Version 5.0 include: flexible import/export; editing and calculation of multiple sizings with one command; product database and project updates via the web; enhanced IEC 60534-8-4 noise prediction method for liquids; and control valve sizing coefficients book. — Metso Automation, Northborough, Mass.
These Customizable First-Aid Kits are Designed for Use in the CPI
A full line of first aid products tailored to the rigorous requirements of the CPI has been launched. The Magid First Aid line comprises a choice of thousands of first aid items, including kits, treatments, over-the-counter medications and accessories. First aid kits are a particular strength of the Magid line, available in a wide array of configurations, and can be easily customized to meet the needs of any application. Also, the components of each kit can be ordered individually for easy replenishment, and, unlike most suppliers, Magid does not hold customers to a case order minimum requirement. — Magid Glove & Safety Manufacturing Company LLC, Chicago, Ill.
Go Paperless in Minutes with this Electronic Laboratory Notebook
The latest release of Nexxis ELN, an electronic laboratory notebook for routine analyses, features the introduction of ReDI (Rapid eForm Development and Implementation) a revolutionary technology that creates electronic forms from paper documents in minutes. ReDI has been developed to quickly transform existing paper worksheets, documents or SOPs into electronic forms with online scheduling, review and approval capabilities. Other features of the new Nexxis ELN include enhancements to the Advanced Process Editor for creating highly controlled and automated forms for use in regulated industries, the addition of a new Administration Dashboard that will display status information on system use and activity, plus consolidation of the Nexxis ELN modules into a single web application for easier use and simpler navigation. — Labtronics, Inc., Guelph, Ontario, Canada
Powerful, High-Flow Filtration in a Compact Footprint
The AFR Series Tubular Backwash Filter System is designed for continuous, high-flow filtration (single system flow rates up to 2,000 gal/min and 454 m 3 /h). The system is designed to replace a much larger eight-station tubular multiplex system in a compact, 1-m 2 footprint. A single, rotating flow diverter replaces multiple valves, actuators, linkages, and seals required by other systems, minimizing the number of moving parts for low cost operation and long service life. The AFR uses cleanable media in a wide selection of filter media materials and retention rates to eliminate labor and disposal costs as well as lost productivity associated with replaceable bags and cartridges. Isolated top-to-bottom backwash flow provides operator-free service and ensures complete and efficient media cleaning while continuing to deliver filtered product downstream. — Eaton Corp., Cleveland, Ohio
This Unit Simultaneously Meters and Conveys Lime to pH Neutralization
The Lime Feeder simultaneously meters and conveys lime to pH neutralization tanks and pools from silos, bulk bags, 50 lb. bags or any source. Equipped with a.c. or d.c. variable speed drives, it conveys lime vertically, horizontally or at any angle; over short or long distances; and over, under or around obstructions. The rugged flexible screw is the only moving part contacting lime, minimizing maintenance.
It is available integrated with this firm's bulk bag unloaders, bag dump stations, silos, or other lime storage containers or vessels, and is reportedly inexpensive to purchase and operate. Other lime-handling equipment for wastewater applications offered by the company includes bulk bag unloaders, bulk bag conditioners, bag dump stations and plant-wide bulk handling systems. — Flexicon Corp., Bethlehem, Pa.
November: New Products International
An Inline Seal with a Clamp Connection
In addition to both threaded-pipe and flanged connections, sterile, standard-compliant connections for instruments are now also possible in the form of a clamp connection (DIN 11 864-3). The standard material for wetted parts is 1.4435 stainless steel, and special materials, such as 1.4539 stainless steel or Hastelloy, are also available. The 981.51 diaphragm seal (photo) is especially suitable for applications in the pharmaceutical and food industries, as well as for painting lines. The patented inline seal is notable for its cylindrical construction, enabling it to be mounted directly into pipelines and making it self-draining. — WIKA Alexander Wiegand GmbH & Co. KG, Klingenberg, Germany
Characterize Foreign Particulate Matter on Filters, Automatically
New capabilities have been added to the Morphologi G3 automated particle-characterization system, enabling the fully automated detection, enumeration and size classification of foreign particulate matter (FPM) collected on a filter (photo). In the pharmaceutical industry, this is especially important in controlling particulate contamination of materials for injection or inhalation. Analysis of FPM on filters has traditionally been performed by manual light microscopy; now, the Morphologi G3 brings fully automated image analysis to accelerate characterization and remove operator subjectivity. — Malvern Instruments Ltd., Malvern, U.K.
Three New Receivers for Dense-Phase and Vacuum Conveying
The P-Series vacuum sequencing receivers have been redesigned to the same finish standards as this firm's line of weigh feeders. As part of the redesign, the modularity of the P-Series receivers was improved through the introduction of extension modules to increase receiving volume. The new sealing and grounding designs make cleaning and disassembly more operator friendly. Premium Pneumatics offers dense-phase vacuum conveying for short distances, in addition to dilute-phase vacuum conveying capabilities. The vacuum receivers feature sanitary design and meet the 3-A sanitary standard for pneumatic conveyors. Three models include: the P10, conveying up to 600 kg/h; the P30 (photo), conveying up to 1,800 kg/h; and the P100, for up to 4,000 kg/h. — K-Tron (Switzerland) Ltd., Niederlenz, Switzerland
Save Fuel and Water with this Boiler Condensate Module
The planning, production and installation of high-pressure condensate systems used to be very complicated, but this firm has developed a compact module. The CSM-CC high-pressure condensate service module (photo) should be considered for a high-pressure condensate level of 50% and higher. The module is individually dimensioned for each order, and consists of a heat-insulated pressurized tank with sensors wired on a terminal strip, actuators, fittings, pump modules and a control cabinet. The condensate tank base contains a heating nozzle pipe in which the condensate temperature and pressure are maintained. Depending on fuel costs, condensate parameters and operating times of the boiler systems, the system can pay for itself in as little as a year, says the manufacturer. — Loos Deutschland GmbH, Gunzenhausen, Germany
This Level-Measurement Device Gets a Redesign
The completely redesigned plumb bob electrochemical level-measurement system, Nivobob (photo), offers the following enhancements: increased durability, via a brushless motor; a new rope system, which extends the time between services; and a larger measurement distance (up to 40 m with the tape version). For smaller plants without visualization systems, an additional remote box is available that allows up to 15 instruments to be remotely controlled. Measurement data can easily bne integrated into existing control systems, as the Nivobob offers both ModBus and Profubus DP communication, alongside the 4–20 mA output signal. — UWT GmbH, Betzigau, Germany
Four New Sizes of this Turbomolecular Pump
The line of HiPace turbopumps (photo) has been broadened to include four new sizes. They are characterized by their high pumping speeds for both light (H2, He) and heavy (Ar, CH4) gases, achieving high throughputs for even heavy gases. In addition to photovoltaics and semiconductor technology, the pumps range of applications includes coating architectural glass and eyeglass lenses, as well as industrial applications such as furnace engineering. Protection Class IP 54 and SEMI S2 assure their suitability for industrial applications. — Pfeiffer Vacuum GmbH, Asslar, Germany
Avoid Contamination with these Magnetic Mixers
The magnetic agitators of the BMR Series (photo) meet all requirements that exist today for GMP-compliant production. The open design of the magnetic impeller permits cleaning in place (CIP), as demonstrated by independent studies carried out by the Swiss University in Wädenswil, in accordance with the three methods European Hygienic Engineering and Design Group, total organic carbon (TOC), and riboflavin. The generous dimensions and material combination (silicon carbide on zirconium oxide) of the ceramic sleeve bearing offer the longest operating lifetime, says the manugfacturer. Thanks to hydrodynamic properties of the agitator blade and the patented "lift-off" lubrication channels, wear and the release of unwanted particles are almost negligible. — Zeta Holding, a member of the Christ Water Technology Group, Tobelbad, Austria
A New Tool for Scientific Automation
A graphic display of curves is essential for optimizing controllers and setting drive axes. The new TwinCAT Scope (photo) features a separate Logger and Viewer, and has been redesigned for scientific automation. The Logger, which can be installed in a Windows CE control system, records the data from different channels with time stamps and saves them intermediately. The data can come from different PCs and software devices, including PLC and Motion Control. The viewer fetches data from the Logger and displays it. — Beckhoff Automation GmbH, Verl, Germany
Pick the WFI System that Meets Your Needs
The Polaris range of water-for-injection (WFI) products is designed in accordance with GAMP, cGMP, ISPE and FDA guidelines to meet the product quality specifications of USP, Ph Eur and other international pharmacopoeia standards. Polaris MED multiple effect stills use a falling film technology to produce up to 10,000 L/h (with 3 bars industrial steam) of WFI from a purified warter feed, with options for simultaneous or alternate clean steam and WFI production. For higher flowrates, or where purified water is not available as a feed, Polaris VCD vapor compression stills are capable of producing up to 25,000 L/h of WFI from a softened mains water feed. They can ber heated by steam or an electric immersion heater, and an electrically powered vapor compressor provides the additional energy necessary to produce distilled water at a temperature between 25 and 90°C. Polaris CSG (photo) produces 5,000 kg/h of clean steam from a purified water feed, and incorporates a stripping device using clean steam to remove incondensable gases to improve product quality. — Veolia Water Solutions and Technologies, Saint Maurice, France
A Manifold for Precise Injection of Small Amounts of Fluid
This injection manifold mount system (photo) enables the precise injection of a fluid into a flow stream. Any ported VHS (very-high-speed) micro-dispense solenoid valve can be mounted so that the outlet port is in close proximity to the flow stream. This ensures the dual benefit of minimal captive capillary volume and increased injected volume repeatability. The new mount system is suitable for laboratory, biomedical and chemistry applications, and especially for flow-injection analyzers. Key features include a captive capillary volume of 0.5 µL and pressures up to 120 psi. — Lee Products Ltd., Gerrards Cross, U.K.
Up to Six Valves can be Mounted on this Distribution Ring
The valve ring distribution system on Vesta sterile valves (photo) allow complex processing using different operating, cleaning and sterilization media. Compared with conventional systems with single valves or complex and expensive valve blocks, the single-seat valves in the Vesta Multiport distribution system are located pocket-free in a ring with an appropriate annular passage section. A maximum of six isolation valves can be located in both the inlet and return circuits, and it is possible to have different valve sizes in one ring. The Multiport also allows different flow directions for the inlet and return pipework, with fixed grid spacings. — GEA Tuchenhagen GmbH, Büchen, Germany
This Sieve Mill Keeps Getting Better
The ConiWitt sieve mill (photo) offers a number of improvements over its predecessors. For example, the milling distance can be precisely adjusted to less than 1 mm, even without the sieve support ring that was required in the past. The sieve surface is 25% larger, and therefore the flowrate is higher than conventional models. With Triclamp connection, the milling head can be easily and quickly detached from the shaft, which makes the ConiWitt suitable for lighter-duty laboratory work. — Frewitt S.A., Granges-Paccot, Switzerland
Lots of Wireless Devices are Now Ready for Action
Last month, this firm began shipping open interoperable Wireless HART standard products from its Smart Wireless range of pressure, flow, level, temperature, pH and discrete transmitters and gateways; AMS Suite predictive maintenance and Wireless Snap-On software; 375 Field Communicator, and with native wireless interface DeltaV and Ovation digital systems. The continuous stream of future new products will also use the standard, introducing the soon-to-be-released valve position transmitter, the Smart Wireless THUM Adapter that will unleash standard diagnostics in legacy devices. — Emerson Process Management, Baar, Switzerland
A New Class for this Belt Scale
Intercont Opus is designed for legal-for-trade belt scales that have been used for evaluating electronics in Germany and other countries for many years. Compared to its predecessor, the Intercont Opus offers state-of-the art technology, based on the ARM9-based processor platform. Approval for the new product includes previous 1 and 2 accuracy classes, but also the most demanding class 0.5 in accordance with EC Directive 2004/22/EC, which means that it is recognized by all EU Member States. Intercont Opus is available as a panel-mounting unit or as a stainless-steel device for onsite installation. Modbus, Profibus DPV0, DeviceNet or Ethernet are available for connection to the automation system. — Schenck Process GmbH, Darmstadt, Germany
Transmit Temperature Readings Wirelessly with this Device
The Wtrans series now contains a new transmitter with M12 connection for adaption to existing Pt 1000 resistance thermometers (photo). Additional receiver designs are also available, which have two analog inputs instead of four, and also have two relays for a variety of monitoring tasks. The transmitters are located in a probe handle and are protected by a watertight housing. The radio frequencies used are largely insensitive to external influences, permitting transfer even in tough industrial environments. The probe is available with an installation length of 50 to 1,000 mm. The transmitter covers the temperature range of – 30 to 260°C (with a fixed protective tube), or – 100 to 500°C (with M12 connector and remote probe). — JUMO GmbH & Co. KG, Fulda, Germany
Save Energy and time with these New Rotary Blowers
Unveiled at Powtech 2008, the DB 166 C and DB 236 C (photo) are this firm's latest generation of rotary blowers. System operators not only benefit from the significant energy and operational savings that these blowers offer, but are also able to take advantage of considerable savings for installation, planning, commissioning and certification, says the manufacturer. Covering air deliveries from 10 to 25 m3/min for pressures up to 1,000 mbarg (500 mbar vacuum), the new DB blowers also provide "exceptional" reliability and availability. As with all other Compact Series blowers, these new models are fitted with an energy saving EU-eff1 rated drive motor as standard, and feature Omega Profile rotors with a specially designed block casing to ensure low energy consumption. Integration of the Omega Control Basic with the firm's advanced controller enables the units to precisely match blower performance to meet demand. — Kaeser Kompressoren GmbH, Coburg, Germany
These Filtration Membranes Outperform their Predecessors
Tetratex Extreme ePTFE membrane filter elements display a significantly higher permeability compared to previous Tetratex membranes, and deliver increased dust-collector airflow characteristics and excellent particle-capture rates, says the manufacturer. The complex structure of the membrane ensures particulate emissions can be maintained at near-zero levels for the operational life of the media. The new membranes are used for industrial filtration applications, and are designed to maximize filtration efficiency, airflow and operational durability. — Donaldson Filtration Components Ltd., Newton-Le-Willows, U.K.
Standard Milling Machines and Classifiers Get Downsized
Introduced last month at Powtech 2008 (Nuremberg, Germany; September 30 – October 2), the Picojet opposed jet mill is one of the manufacturer's minimachines that have been downscaled from the well-known standard machine range that will gradually be added to the Picoline series. The Picojet fluidized-bed opposed mill, with integrated classifier, features a 20-mm classifying wheel that runs at speeds up to 60,000 rpm, simultaneously maintaining the rinsing gap geometry with tolerances of just a few micrometers. Reinstalling the classifying wheel after cleaning can be carried out so precisely with no need for elaborate adjustment that all operation critical tolerances are reproducible. The classifier from the Picojet can be used as an independent module on the Picozirk classifier mill, or can be used on its own as the Picosplit classifier. For dry powder processing, the range is completed by the Picolex fine impact mill and the Piconizer spiral jet mill. — Hosokawa Alpine AG, Augsburg, Germany
New Software Version Enables Faster, More Complex Modeling
Ansys POLYFLOW 3.12 is the latest version of software for the analysis of plastic and rubber processing, glass forming and food processing. The new Version is faster, more efficient and can handle larger problems than previous releases, since it includes several new solvers and modeling features tailored for specific applications, says the firm. Newly built in is the ability to provide data to structural analysis software from the company, which improves the accuracy of virtual prototyping predictions. — Ansys, Inc., Southpointe, Pa.
This Long-Lasting Pumps Deliver Most Liquids from Drums
Made from high-performance polypropylene, these liquid-transfer pumps (photo, p. 32I-7) will safely deliver most solvents, acids, caustics and oils from 5–55-gal drums at a rate of 4 gal/min, depending on the viscosity. Typically, owners will need to change O-rings once or twice during the pump's 8–10-year lifetime. The pumps are offered with Viton, Santoprene, EPDM or Nitrile sealing, depending on the fluid. — GoatThroat Pumps, Milford, Conn.
Keep Turbines Ice-Free with this Hygrometer
Protection against icing is vital to prolonging the life and efficiency of gas turbines. Applying the cooled-mirror measurement principle, the Optidew hygrometer (photo) delivers a repeatable, drift-free dew point or relative humidity measurement. The robust design of the Optidew for anti-icing systems is capable of withstanding the moist demanding conditions. When compared with traditional polymer RH probe, the Optidew Anti-icing version offers far better accuracy and stability, says the firm. The unit has a dynamic measuring range from – 50 to 90°C dew point over a temperature range of – 10 to 90°C, and provides two 4–20-mA output signals. — Michell Instruments, Ely, Cambridgeshire, U.K.