November New Products (international)
This mini data logger
handles lots of data points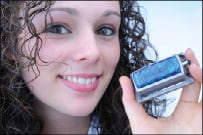 CiK Solutions
The MSR165 (photo) is a miniature, universal data logger for measuring and storing different physical parameters. The device is equipped with a temperature sensor, a humidity sensor with integrated temperature measurement, a pressure sensor and a three-axis accelerometer. Three optional ports, two for analog inputs and one for digital trigger input, are also available. The thumb-sized device weighs only 16 g and logs up to 1,000 recordings per second. Up to 2 million data points can be stored — more when expanded through SD RAM. — CiK Solutions GmbH, Karlsruhe, Germany
http://www.cik-solutions.com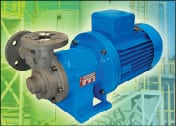 Pump Engineering
A mag-drive pump
that handles higher pressure
Recently launched by 3M Pumps and now available from this firm, the T MAG-M pump (photo) is a horizontal, sealless peripheral pump with a permanent-magnet drive system and no mechanical seals. Features include a high-power, synchronous magnetic coupling, which can be operated at liquid temperatures up to 350°C (without external cooling); a hydraulic design with a self-balancing impeller, which improves wear ring life; and a sealing system with flat gaskets, which prevents leakage to the atmosphere. The real shell is made in a single piece, without welding, and its ellipsoidal profile helps it to withstand higher pressure than traditional designs. The pumps deliver flows up to 12,000 L/h at pressures up to 16 bar. — Pump Engineering Ltd., Littlehampton, U.K.
http://www.pumpeng.co.uk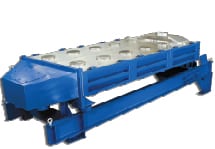 Rotex Europe
This screener now has
side access doors
The APEX Screener (photo) is a self-contained production screening machine that retains the gyratory motion and efficient processing characteristics of the Rotex Screener, yet incorporates new, ergonomically designed performance and service features. As its predecessor, the APEX features gyratory, reciprocating motion, positive screen cleaning, bouncing balls to reduce blinding and inlet-outlet connections. It is also enhanced with side access doors to enable screen cleaning and changes that can be performed by a single person. — Rotex Europe Ltd., Wavre, Belgium
http://www.rotex.com
Differential-pressure transmitters
for sterile applications
The new DPT-10 differential pressure transmitters (photo) are now available with housings in electropolished stainless steel in combination with sterile process connections. The device can be used in combination with diaphragm seals or diaphragm inline seals, and the connection to seals can be made directly or via a capillary extension. The DPT-120 Series is particularly suited to level measurement in pressure-blanketed sterile tanks and for monitoring sterile filters. — WIKA Alexander Wiegand SE & Co. KG, Klingenberg, Germany
http://www.wika.de
Plastic tubing for
multiple lines of corrosives
Fluoroplastic Paratubing consists of two to four tubes thermally welded longitudinally to create one conduit of multiple, individual tubes. Paratubing enables running several fluid lines as one entity and then splitting the tubes apart for branching to different connectors. This tubing is available in Texfluor FEP and PFA, and is offered in sizes as small as 0.031-in. I.D. with 0.030-in. wall thickness and up to 3-in. O.D. Different colors are also available for identification of different lines. — Parflex Div., TexLoc, Parker Hannifin Corp., Ft. Worth, Tex.
http://www.texloc.com
Save considerable energy
when mixing with these agitators
This firm has launched a new range of energy-efficient agitators designed to enhance flow by eliminating potential blockage areas. The detachable agitator shaft is completely smooth and the clutch is positioned outside the tank; this ensures excellent levels of hygiene, says the firm. Energy saving can lead to payback in less than one year compared to conventional, direct drive agitators. The high flowrate created by the uniquely shaped propellers provides much higher efficiency than blades with a standard pitch, which can lead to an installation that uses up to 80% less energy, says the firm. The product range includes top-mounted units — with (ALT) or without (ALTB) bottom support — the ALS side-mounted version, and the ALB bottom-mounted agitator. — Alfa Laval AB, Lund, Sweden
http://www.alfalaval.com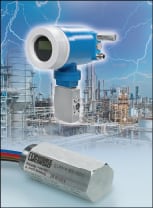 Phoenix Contact
Surge voltage protection
for sensor heads
Surgetrab surge-voltage-protection devices (photo) are for all commonly used standard signals that are installed with connection threads directly to the sensor head. This type of installation is said to save time and money, and an additional connection box for accommodating surge voltage protection is no longer necessary. The housing is a robust hexagonal pipe made of V4A stainless steel with the option of 1/2-in. NPT or M 20X15 threading. — Phoenix Contact, Blomberg, Germany
http://www.phoenixcontact.com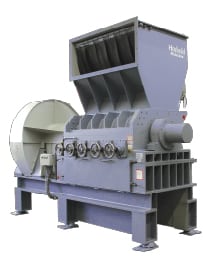 Herbold Meckesheim
Combining granulation
with shredding in one machine
A new series of slow-running granulators is now available in two sizes: HGM 60/100 and HGM 60/145. The so-called Hog shredder (HGM; photo) is a single-rotor, size-reduction machine that combines the advantages of a granulator (size-reduction by knife cutting) and those of a shredder. The system handles difficult materials, especially viscous ones or those containing many foreign bodies where the service life of knives would be too short with traditional granulator. The Hog shredder can be used in both dry and wet operation. Typical applications include pre-shredded tires, metal-reinforced rubber or plastic parts and shredded waste from car recycling. — Herbold Meckesheim GmbH, Meckesheim, Germany
http://www.herbold.com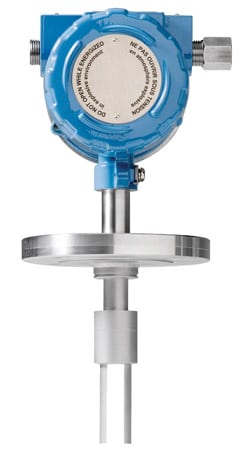 Emerson Process
Management
Zirconium improves corrosion resistance
in this density meter
The Micro Motion 7826 Insertion Liquid Density and Concentration Meter (photo) is now available in zirconium for enhanced corrosion resistance. The zirconium fork density and concentration meter is designed to monitor inorganic chemicals, such as hydrochloric, nitric and sulfuric acids. It can also be used for applications in the oil-and-gas industries as well as clean-in-place (CIP) processes in the food-and-beverage sector. The device has the same form, fit and function of the existing meter, offering an integral mount transmitter with two milliamp outputs and Modbus/RS-485 communications. — Emerson Process Management, Baar, Switzerland
http://www.emersonprocess.eu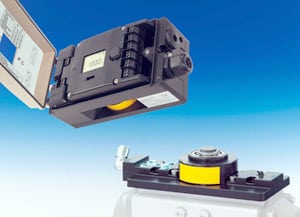 Samson
A new valve position monitor
that's easy to configure
The new Type 3738 Electronic Valve Position Monitor (photo) can be used on on/off valves in all fields of application. The device indicates the end positions and controls the actuators. The position monitor features a contactless, magneto-restrictive sensor system and an integrated microprocessor, and can be configured at the push of a button. It operates using a Namur signal in compliance with IEC 60947-5-6 and is powered by a two-wire supply. As a result, the position monitor can replace solenoid valves and limit switches without having to change the wiring or signal levels. Other functions include self-tuning and diagnostics. — Samson AG, Frankfurt, Germany
http://www.samson.de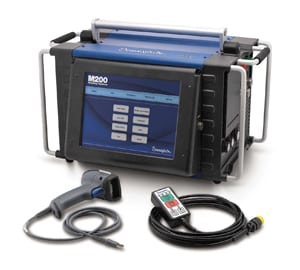 Swagelok
Enhanced graphical software
for better welding
New software has recently been released for this firm's welding system M200 power supply (photo) to deliver increased performance and an updated graphical interface. The portable M200 is easy to use and offers 200-A capability for orbital welding at a weight of less than 23 kg. A high-resolution 12.1-in. touch screen gives users a simple, intuitive pathway to enter weld programs. The streamlined display includes an improved weld-head graphic, which presents weld progress in greater detail to help operators better evaluate the weld. Progression, performance levels, and stop/start for each level of the weld are displayed in real time. — Swagelok Co., Solon, Ohio
http://www.swagelok.com
A tiny GC for
reliable gas analysis
The C2V-200 micro GC (gas chromatography) integrates micro-chip technology with narrow-bore capillary GC to achieve a high performance at low cost. The device is designed for ease of use, can be easily installed, and has reduced maintenance and low gas consumption. The GC columns can be programmed up to 10 temperature segments with a 0.01°C repeatability to temperatures up to 180°C. The integrated micro-chip injector and fast (240°C/min) temperature programming enables reliable analysis within seconds. — C2V, Enschede, the Netherlands
http://www.c2v.nl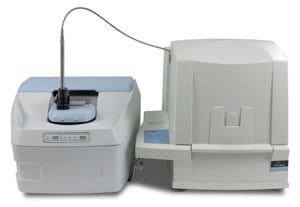 Perkin Elmer
'Hyphenated' instrument
for testing drugs and plastics
The DSC-Raman system (photo) combines the strengths of thermal analysis (differential scanning calorimetry; DSC) with Raman spectroscopy into an integrated system. When combined, the two complementary techniques provide greater insight into material changes at the molecular level. The system simultaneously analyzes chemical and structural information from the Raman spectrometer, and correlates it with the calorimetric data of the DSC. "Test drives" of the system at several universities and pharmaceutical companies have found the system gives greater insight into polymer crystallizations, drug-carrier interactions, curing and polymorphic changes, says the manufacturer. — Perkin Elmer, Inc., Waltham, Mass.
http://www.perkinelmer.com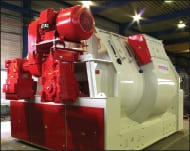 Dinnissen
Precisely mix a large number of
ingredients with this unit
The new Pegasus Mixer (photo) is capable of adding up to 18 different liquids — very precisely and in all possible types of combinations and quantities — to dry materials, such as powders, granules and granulates. These liquids can be oil-, water- or acid-based, and can be used to modify and improve the water content and chemical properties of the product. The unit operates with a precise coefficient of variation (2–3%), making it possible to realize an extremely homogeneous end result. The mixing occurs very quickly, making it possible to realize energy savings of 30–40%, says the firm. The mixer also features extra space at the top, due to the use of large, quick-release sides, which makes it possible to achieve capacity increases of 15–20%. — Dinnissen B.V., Sevenum, the Netherlands
http://www.dinnissen.nl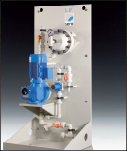 Seybert & Rahier
Standardized dosing systems
in a cost-efficient, compact design
Three types of dosing systems (photo) for conveying capacities up to 60, 550 and 1,500 L/h are offered under the name CVD 1 (for compact vertical dosing system). These systems are composed of a motor diaphragm pump; two-part ball valve on the pressure side; diaphragm overflow valve; wall mounting plate of polypropylene (with collecting basin); pipework of PVC-U, PP or PVDF on pressure side; and gaskets of EPDM or FPM. Modular construction enables the addition of numerous optional and standardized accessories, such as pulsation dampers, terminal boxes, leak sensors and a splash guard for the entire system. — Seybert & Rahier GmbH + Co. KG, Immenhausen, Germany
http://www.sera-web.de
Two new terminals
for more than 30 drivers
The Silver Series of touchscreen operator interface terminals (OITs) is designed for equipment manufacturers and end users that want to provide an integrated, customized interface for their equipment. Two models are offered — 7- and 10-in.-diagonal display sizes (photo) — that support a full set of features, including serial and Ethernet communication with multiple controllers; more than 30 drivers for communicating with devices; USB; SD Card; data logging; and flexible password security and multi-language support. — Watlow GmbH, Kronau, Germany
http://www.watlow.com
A parallel reactor system
for process optimization
The Atlas Parallel Systems — multi-position reactor stations for up to eight jacketed reactors or round-bottomed flasks — offer full, independent control and logging of all reaction parameters. Controlled from a single PC, temperature, pH, stirrer speed, dosing, heat flow and turbidity can all be monitored simultaneously, making the system suitable for process optimization. A number of systems are available, including the Lithium, which automates heating/cooling in round-bottomed flasks or vials with magnetic stirrers; the Sodium, for overhead stirring and temperature control; and the Potassium, for jacketed reactions from 50 mL to 5 L. — Syrris Ltd., Royston, U.K.