February: New Products (International)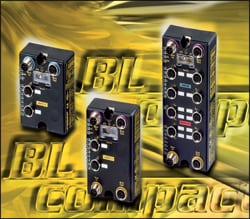 Hans Turck
This compact I/O block module
handles up to 16 signals
This new series of compact I/O modules (photo) uses technology based on the reliable BL67 modular I/O system, and includes different BL67 electronic components and a programmable gateway within a single epoxy-sealed housing that is resistant to dirt and shock. Up to 16 digital or analog signals on one single I/O block module provide increased application compatibility and enable the user to move towards a consistently decentralized process. The IP67 stations will be available in three housing sizes and six different I/O profiles for Profibus-DP and DeviceNet. The BL compact series will soon also support all established fieldbus protocols as well as Industrial Ethernet and IO-Link. — Hans Turck GmbH & Co. KG, Muelheim an der Ruhr, Germany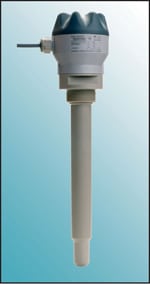 Rechner Industrie-
Elektronik


.
Level control,
even for sticky materials
Originally designed to cope with the problems associated with adhesive products, the 26 Series capacitive sensors (photo) have been found to have "excellent characteristics" for even general use in level control. They typically overcome the problems caused by products sticking to the sensor and the need for continual readjustment. This Series has been extended with the new Easy Teach range, with housing lengths that can reach deeper into containers. These sensors have a G 1 1/2-in process connection, and are available in lengths up to 2,000 mm. They are suitable for both wet and dry areas. — Rechner Industrie-Elektronik GmbH, Lampertheim, Germany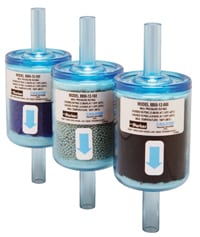 Parker Hannifin
Remove vapors from gases
with this line of disposable filters
This new line of Balston In-Line Disposable Adsorption Filters (photo) is designed to remove vapors from gases. Hydrocarbons, ketones, carbon dioxide, ammonia, mercury, methanol and freons are just a few of the many vapors that can be adsorbed. Each filter is capable of handling up to 50 psig operating pressure in gas service and up to 70 psig in liquid service. The units come standard with a 1/2-in. tube connection and are constructed in nylon. The filters can be used for sample analysis, venting applications, emissions monitoring, and direct food contact applications. — Parker Hannifin Corp., Haverhill, Mass.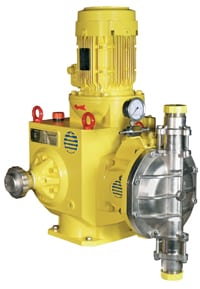 Milton Roy Europe
This dosing pump features
a hydraulically activated diaphragm
Primeroy L (photo) is the second product of this firm's range of compact industrial dosing pumps. It is designed around the GSD (Global Security Device) diaphragm liquid end, which provides a triple hydraulic security: internal pressure safety valve; diaphragm controlled hydraulic oil refill; and protection valve preventing the diaphragm from overrunning and extruding. The pump provides flowrates of 3,300 L/h with a maximum pressure of 45 bars. The pump is compliant with the API 675 and ATEX CE EX II 2G c T4 standards. Milton Roy Europe, Pont-Saint-Pierre, France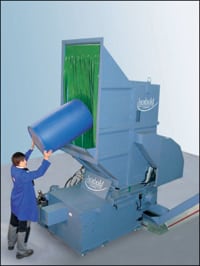 Herbold Mechersheim
Shred big parts
with this compact system
HR 102 P (photo) is a new single-shaft shredder that requires minimal space for shredding bulky hollow bodies, such as barrels (up to 220 L), purgings, tops and tails occurring during the production. Another application is bulky thermoforming waste, large injection-molded parts, and loose film waste. In addition to the conventional horizontal pushing device, this shredder has an additional pneumatically operated pushing device acting from above that has a positive effect on the material being sized by the rotor. If quality granulate is required, it is also possible to add a subsequent low-speed granulator from the firm's machine series. — Herbold Mechersheim GmbH, Mechkersheim, Germany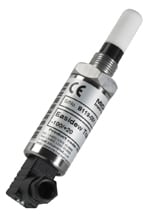 Michell Instruments
A dew point transmitter
for when the pressure is on
The Easidew T.X. dew point transmitter (photo) has been enhanced to take accurate measurements in pressures of up to 450 bar (6,500 psi). The device is a fully configured and calibrated moisture transmitter that can be instantly incorporated into an air or gas management and control system. The unit incorporates an Advanced Ceramic Moisture Sensor coupled with advanced microprocessor-based measurement circuitry to form a fully calibrated and interchange sensor transmitter. Calibration exchange, or service, can be affected in seconds, even by untrained personnel. Ongoing operating costs are said to be low because of the transmitter's stability and reliability. Typical applications include compressed air dryers, hydrogen content in power generators, industrial gas manufacturing and supply. — Michell Instruments, Ely, U.K.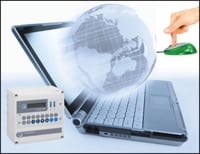 FF-Automation
A low-cost solution for
remote monitoring and control
The AutoLog ControlMan (photo) uses existing GSM/GPRS and internet networks for communication, so users do not need to invest in their own networking, server or maintenance staff. Everything is offered as remotely hosted service. Users can simply open a web browser from any PC and log in to monitor and control their remorte targets. Services include all the standard SCADA features, such as alarms, trends, reports, controls and process views. — FF-Automation Ltd., Vantaa, Finland
Siemmens
This module lets flowmeters
communicate via fieldbus
This firm has developed a new communication module (photo) for connecting flow instruments to Foundation Fieldbus (FF). The module is suitable for the series of Sitrans F M 6000 and Sitrans F C MASS 6000 devices, which are part of the USM II (Universal Signal Module) family. Based on the plug-and-play principle, the user simply clicks the module into the mount of the instrument. In addition to the new FF module, there are additional modules available for Profibus PA/DP, HART, Modbus RTU and DeviceNet. — Siemmens Industry Automation Division, Nuremberg, Germany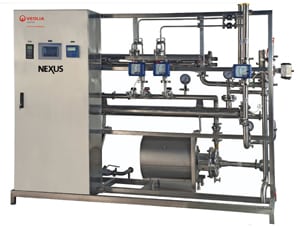 Veolia Water Solutions and Technologies
This water distribution system
is pre-validated
Nexus (photo) is a range of standard, packaged, pre-validated distribution systems for purified water and water for injection (WFI), providing flowrates up to 30 m3/h. Each package is complete with an inverter-driven pump, ASME BPE pipework, double tube-sheet heat exchanger and control panel. The hygienic design and fabrication in 316L stainless steel are fully compliant with GAMP, ISPE, cGMP and FDA requirements. Standard instrumentation consists of conductivity monitoring, temperature control and a loop-return flowmeter with options for TOC (total organic carbon) and ozone monitoring. Sanitation is performed either by electrolytically generated ozone (with ultraviolet O3 destruction), or hot water at 85°C (121 for WFI). — Veolia Water Solutions and Technologies, Saint Maurice, France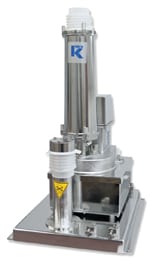 K-Tron
An enhanced way to feed
small quantities of ingredients
An enhanced version of this firm's micro-ingredient feeder MT12 (photo) is now available in both pharmaceutical and non-pharmaceutical models. The system accurately feeds free-flowing or difficult to handle powders at flowrates as low as 20 g/h and as high as 2 kg/h, depending on the material. Both loss-in-weight and volumetric feeder models are available. Among the new enhancements are: a new inverted hopper design (negative cone), to aid material flow; a revised bottom agitator design driven from below the sealed shaft; a new sanitary scale design, which includes internal cabling and strong frame for better stability and accuracy; and a draft shield with loss-in-weight models for feeding at very low rates. — K-Tron (Switzerland) Ltd., Niederlenz, Switzerland
Cut costs when operating
with this vertical pump
The Goulds VRS vertical rubber-lined cantilever sump pump is said to set new standards for energy efficiency and other costs. The VRS liners, impellers and casing halves are all interchangeable with the firm's SRL horizontal pumps, resulting in reduced parts inventory and maintenance costs. The VRS vertical pump also allows for liner replacement without requiring a change of the entire pump casing. The impellers are built with tighter tolerances than other vertical pumps, which improves the operating efficiency and saves up to 40% in energy costs, says the manufacturer. The VRS pumps are available in 2-, 3-, 5- and 6-in. dia. with 4 and 6-ft lengths. They can handle duties with up to 120 ft head, solids up to 1/4 in., and 75 psi working pressure. — ITT Corp., White Plains, N.Y.


Comprehensive rheological solution
for the petrochemical sector
In December, this firm introduced a comprehensive portfolio for the petrochemical industry that enables analyses of crude oil through refined products, such as bitumin. The firm offers a range of accessories for its rheometers so customers can, for example, simulate conveyance conditions in pipelines. A variety of pressure sensor systems, for pressures up to 40 bars and temperatures to 300°C, is available as well as a chemically resistant Hastelloy version. The RheoScope module for the Haake Mars rheometer platform enables simultaneous measurements of rheological characteristics and structural formations. This capability allows users to learn more about crystal growth in crude oil (waxing), to help optimize the flow of oil through pipelines. — Thermo Fisher Scientific, Inc., Karlsruhe, Germany


Air sampling
when sterility is a must
Good Air-monitoring Practice (GAP) requests that all the material used for the microbiological monitoring of the environment is sterile, and sterilization compliance must be documented for the inspector authorities. The Dispo-Head sterile disposable aspirating head for microbiological air samplers of this firm's SAS family has been produced to meet these GAP requirements. Each unit is individually packaged and includes a sterilization certificate. One cubic meter of air can be sampled in about three minutes, when used with the DUO-SAS-360. — International Pbi S.p.A., Milan, Italy


Monitor industrial effluents
with this conductivity sensor
The InPro7250PFA inductive conductivity sensor is engineered to endure the most hazardous conditions while screening for manufacturing seepage. It features a hermetically sealed calculation system and a safeguard for maintaining stable conductivity for difficult-to-measure developments in pulp and paper processes and industrial wastewater. It consists of two high-precission coils hermetically sealed in a chemically resistant polymer matrix, and is inert to strong mineral acids, inorganic bases and oxidizing agents and salt solutions. — Mettler Toledo, Greifensee, Switzerland


Monitor moisture content
with this NIR gauge
Critical control of moisture content can be used to control product quality, improve productivity, save fuel consumption and optimize drying processes. The CM710e range of Ethernet-enabled, online gauges uses near-infrared (NIR) technology to measure moisture. The system's operator workstation enables local interaction with an individual gauge, while the human-machine interface provides supervisory access to up to 16 Series 710e gauges within the same network. — NDC Infrared Engineering Ltd., Maldon, U.K.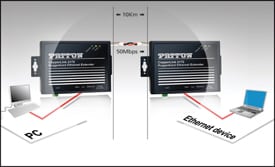 Amplicon
Connect Ethernet over distances
up to 10 km without drivers
This firm has added a new range of Ethernet Extenders (photo), which uses DSL technology to extend communications links up to 10 km over a single pair of copper wires. The units can operate transparently as part of an existing network with no drivers to install or complex setup procedures. All IP traffic that could be sent across a standard patch cable can be sent across an Ethernet Extender link. The extenders can be used to connect two existing LANs or to connect two isolated Ethernet devices together — one of which is typically a PC running application software. — Amplicon, Brighton, U.K.
Ensure enclosure safety
with this purge system
The newest version of the x-purge is designed to achieve hazardous area requirements for general-purpose enclosures and their internal electronics. The unit does so by continuously purging the enclosure with compressed air or nitrogen. The positive pressure in the enclosure ensures gas flow from inside to outside and eliminates the possibility of flammable gases re-entering the enclosure. The unit is constructed from stainless steel, which offers the benefits of strength and corrosion resistance. The x-purge is certified under NFPA Class 1, Div. 1., and another version, the z-purge, is certified under NFPA Class 1, Div. 2. — Eclipse Technologies, Inc., Houston, Tex.
www.eclipsetechnologiesinc.com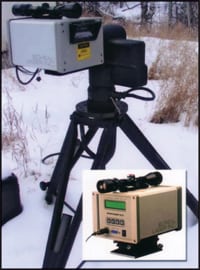 Allison Engineering
Check for leaks over a wide area
with this laser-based system
The portable Boreal Laser Gas Finder 2 (photo) is ideal for open-path, ambient gas detection and multiple-path monitoring applications. The unit is permanently calibrated, can be easily setup and operating in less than 10 minutes. An automated scanning mount enables full 360-deg. horizontal and 120-deg. vertical scanning. Typical applications include identifying methane hotspots and measuring CH4 fluxes in landfills, quantifying leaks of CH4 in natural-gas production and processes, quantifying CH4 and NH3 emissions and measuring CH4 and CO2 from area sources. — Allison Engineering, Basildon, U.K.
Improve pipetting
with realtime sensing
E-Man Hybrid is a new generation pipette incorporating the operational simplicity of a manual pipet with realtime sensing technology. That means the pipette allows for realtime monitoring of the position of the piston and the amount of liquid dispensed. With continuous volume tracking in place, the pipette offers great value for titrations and partial dispensing, as well as for measuring aspirated fluids. GMP/GLP functions, such as saved calibration and service alerts, are built in. Precision is increased because a visual alert indicates inadequately executed pipetting cycles. — Rainin, a Mettler Toledo Co., Greifensee, Switzerland
This analog signals conditioner
comes in a small package
With the new miniMOORE family of multichannel signal conditioners, up to four low-cost I/O channels are delivered in a 1-in. footprint — equivalent to 0.25 in./channel. Providing 1,000 Vrms input-to-output and channel-to-channel signal isolation, the complete miniMOORE family can be used to isolate, convert, boost and split analog signals. The metal housing protects against radio frequency and electromagnetic interference (EMI), which may be present from walkie-talkies, motors, transformers and fluorescent lights. The signal conditioners come in two- and four-channel versions. — Moore Industries-International, Inc., North Hills, Calif.