Splice detection system for paper and packaging; a Flow calibrator with extended range dual manifold capability...and more new products and services

Splice detection system
for paper and packaging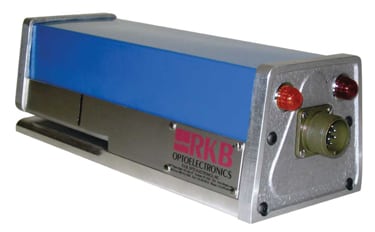 Sentinel Splice (Joint) Detection Technology (photo) is designed to monitor 1 – 16 webs of material and will detect any splice or joint that may exist within the web-based process. It is applicable to manufacturing processes that require the culling out of splices or joints prior to shipment. Unaffected by printed surfaces, material color, grade changes and process speeds, the Sentinel is a self-calibrating system that is powered by 24 Vd.c. It provides an opto-isolated, digital electronic output with a pulse width selectable for 1, 10 or 100 ms. The Sentinel can be connected directly to PLC control devices or interfaced into existing marking systems or directly control devices. — Splice Detection Technologies, Syracuse, N.Y.
Flow calibrator with extended range
dual manifold capability
Utilizing a two-meter manifold control system, the portable, automated Flow Gator calibrator (photo) operates in single viscosity fluids from 0.1 to 310 gal/min. Calibrations in multiple viscosities can be achieved from 0.35 to 310 gal/min. Instead of removing flowmeters from service for recalibration, the Flow Gator flow-transfer standard allows users to bring the calibrator to the flowmeter. This flow calibrator is intended for inline calibration and validation of meters using the actual process liquid. Rugged, lightweight and compact, the Flow Gator incorporates handheld electronics. Two dual-rotor turbine flowmeters, which provide exceptional repeatability of ±0.02%, enable the Flow Transfer Standard system uncertainty to be <±0.25% of reading. The Flow Gator system's intuitive, menu-driven calibration software enables end users to create calibration data files, which can be up loaded to a PC for storing historical calibration data. — Exact Flow, Scottsdale, Ariz.
Achieve consistent dispensing
over 8 or 12 pipette channels
The Pipetman Neo Multi 8- and 12- channel pipettes have recent design changes, including a reengineered spring that reduces pipetting forces. The unique design of the tip-holder, with successive sealing rings, offers the widest compatibility with a full range of the most commonly used tips. A dispenser spacer distributes dispensing forces equally. Plus, a patented mechanism distributes the pipetting forces equally over each channel, for consistent aspiration and dispensing of samples and identical performance across the pipette. Pipetman Neo Multi is available with nominal volumes of 20 µL or 200 µL. Accuracy and precision specifications are more stringent than ISO 8655-2 recommendations. — Anachem, Bedfordshire, U.K.
This flow controller is unaffected
by temperature and pressure
The family of B-Series mass flow controllers (photo) is designed to be insensitive to fluctuations in pressure and temperature. Each flow controller is built on a standard 1.125-in.-wide platform with a powerful user interface and local digital display. The mass flow controller actively measures line pressure and adjusts the control valve to virtually eliminate actual flow and flow-signal changes as caused by pressure fluctuations. In addition, the output of every B-Series mass flow controller is characterized over the full operating temperature range. The B-Series incorporates internal self-diagnostic routines that continuously check the health of the device. In the event of a diagnostic fault, an alarm code flashes on the user interface. An easy-to-use service port provides additional diagnostic capability, minimizing the need to remove the mass flow controller from process service. — Brooks Instrument, LLC, Hatfield, Penn.
This thermal-imaging camera
is portable
The Mikron MikroSHOT (photo) is the latest offering from this firms' Mikron Infrared thermal imaging product line. The MikroSHOT's Thermal-on-Visible mode allows for radiometric temperature data (from –20 – 350°C) to be displayed directly on the visible image. The pocket-sized MikroSHOT is lightweight (10.5 oz.) and uses off-the-shelf batteries (an a.c. adapter is also included). Its large 2.7-in. display and 160 X 120 pixel image resolution allow easy viewing of images. The SD card, USB and video output capability allow for analysis of the data on a laptop. MikroSpec 4.0 software is included for image analysis and reporting. — LumaSense Technologies, Santa Clara, Calif.
Communication blocks for field devices
into control systems
The PCS7 to IEC 61850 TCP/IP communication blocks have enabled problem-free integration of IEC-61850-capable field devices into instrumentation and control systems based on Simatic PCS7 or S7. The plant operator thus has an integral automation and control solution that can also be used in heterogeneous system landscapes. This facilitates the gradual and therefore inexpensive expansion or modernization of existing plants and equipment. All the subsystems are interconnected by means of Industrial Ethernet. The new "PCS7 to IEC 61850" communication blocks are intended not only for use in process-engineering installations, where a connection is to be established between the process control system and the power system control equipment, but also for small to medium switchgear, which are automated with Simatic PCS7 or S7. — Siemens AG, Erlangen, Germany
These thermal-transfer printers
feature internal memory
H-427 and H-436 Series Thermal Transfer Label Printers (photo), suited for high-volume printing, are available in 203 or 300 dpi resolution. These all-metal printers feature a full backlit LCD display; standard realtime clock; ink-in or ink-out ribbon use, 450-m capacity; serial, parallel, PS/2 and USB interfaces; and stripper sensor for strip-and-peel or tear-off applications. In addition, the H-Series contains internal memory for storing downloaded label formats, graphics and fonts, allowing the printers to be operated without being connected to a computer. The units come with this firm's Easylabel Start software for custom designing and printing bar code labels. — Tharo Systems, Inc., Brunswick, Ohio
An interface tool is now offered
to all Micro Motion customers
A complimentary support utility is now offered for all Micro Motion customers who use Modbus protocol to interact with their Coriolis meters. The Modbus Interface Tool is a PC-based data-delivery system that replaces more than fifty pages of Modbus register data in tabular form with a simple point-and-click spreadsheet presentation. The Modbus Interface Tool allows users to select, sort and group register data by Coriolis device, Modbus address, datatype or keyword. Control systems based on digital protocols, such as Modbus, are typically more accurate and provide faster response than analog control systems. The Modbus digital interface provides a complete window into the Coriolis device, including configuration, operations, maintenance and troubleshooting. — Emerson Process Management, Boulder, Colo.
This microphone measures sound based on light variations
The MO 2000 optical microphone (photo, p. 28D-4) utilizes a new type of transducer that processes acoustic signals on the basis of variations in light intensity. In the optical microphone, light from an LED is directed onto a reflective diaphragm via a transmitter fiber-optic cable. The diaphragm reflects part of the light into a receiver fiber-optic cable. If the diaphragm is moved by sound signals, the reflected light beam is deflected, with the result that more or less light is coupled into the receiver fiber-optic cable, and then converted into electrical signals. The current- and metal-free design allows the microphone to be uninfluenced by magnetic fields. — Sennheiser Electronic Corp., Old Lyme, Conn.
A viable alternative
to control VOC emissions
The design of this new wet electrostatic precipitator for sulfuric-acid-emissions control makes it easier to fabricate and significantly less expensive to install. Economical alloys are used to make the system significantly more cost effective while exceeding process requirements. The system's alloy construction allows shop fabrication to a much greater degree, which means significantly less field labor. The resulting project cost savings can be significant, says the firm. — A. H. Lundberg Associates, Inc., Bellevue, Wash.
Use this gateway for
industrial communication connectivity
The netTAP 100 (photo) is a flexible and cost-effective gateway designed to bridge the gaps between traditional fieldbus, realtime Ethernet-based systems and serial protocols. Based on this firm's netX chip, up to 1,000 protocol combinations are made possible in a modular compact DIN-rail mounted housing. The netTAP 100 is capable of linking any of the major fieldbus, realtime Industrial Ethernet's and serial protocols used in the market today. master and slave protocols for CANopen, DeviceNet, Profibus, CCLink, EtherCAT, Ethernet/IP, Modbus TCP, Powerlink, Profinet, Sercos III, MB/RTU, MB ASCII RS232-, RS422, and RS485 are included for realtime I/O data exchange. A standard USB port is used for configuration along with loading network firmware and diagnostics. — Hilscher North America, Inc. Lisle, Ill.
This laboratory-scale centrifuge
is designed for clean processes
The sanitary design of this laboratory filtering centrifuge is ideal for solid/liquid separation, washing and extractions of food ingredients, polysaccharides, crystals, botanical extracts and pharmaceuticals. The unit is rugged enough to handle dense products, including powdered metals. Separate feed and wash lines allows approximation of a production-scale centrifugation process. The basket, machined from a solid block of 316 stainless steel, has a 6-in. dia. and is 3.6-in. high with a 1-in. cap. It has a solids-holding capacity of 0.68 L, and is able to reach speeds of 4,000 rpm. The unit features a NEMA-4X electrical enclosure and base frame, a ½ h.p., totally enclosed, non-ventilated motor and a 110-V power supply. — The Western States machine Co., Hamilton, Ohio
Build this paperless data acquisition system
into a network
The RD8300 paperless recording system (photo) has features a high contrast 142 mm color Active Matrix TFT LCD with a rugged touch screen that can be operated by a finger or the onboard stylus. It has a built-in OPC server and email client, 6 to 12 universal and relay outputs, multiple media drives, and locking media access door. This CE-compliant product needs no additional equipment for harsh environments and is NEMA 4 rated. The unit can be used in a range of idnustries that require rugged equipment, as well as food processing and chemical laboratory applications. — Omega Engineering Inc., Stamford, Conn.
Manage energy use
with this software
The IndustrialIT cpmPlus Energy Manager software is offered to help users monitor, manage and optimize energy usage for maximum efficiency and cost savings. Energy Manager includes tools for planning and scheduling, energy-balance management, and reporting for overall electricity cost savings of 2 – 5%, says the firm. Energy Manager clearly indicates the cost of electricity and provides support to schedule electricity consumption for off-peak hours. It coordinates electricity purchases and sales with its own generation capacity, then schedules this generation during on-peak hours, when purchased electricity is most expensive, to provide additional cost savings. Energy Manager also includes reporting and analysis tools that evaluate the energy use patterns of all processes and pinpoint areas for improvement. — ABB, Baden, Switzerland
This indoor air-quality monitor
senses carbon dioxide
The Model CO200 checks for carbon dioxide concentrations in indoor environments where high levels of CO 2 are generated. The CO200 features a maintenance-free NDIR (non-dispersive infrared) CO 2 sensor, as well as a visible and audible CO 2 warning alarm with relay output for ventilation control. Indoor air quality is displayed in ppm as Good (380 – 420 ppm), Normal (≤1,000 ppm) or Poor (≥ 1,000 ppm). The unit contains an Automatic Baseline Calibration (minimum CO 2 level over 7. 5 d) or a manual calibration in fresh air, and features a Max/Min CO 2 value recall function. Extech's CO200 has a temperature range of –4 – 140ºF, a humidity range of 0.1 – 99.9% RH, and a CO 2 range of 0 to 9,999 ppm. — Extech Instruments, Waltham, Mass.
Magnets separate contaminants
from dry and liquid products
The 1-in. dia. ProGrade Tube Magnets are available in lengths of 4 – 24-in. and are primarily used to remove ferrous contaminants from liquids in tanks, as a quality control check of dry bulk materials, or in various other application settings where a powerful, portable magnet is needed. ProGrade Tube Magnets are offered in three strengths, enabling customers to select the right degree of magnetic strength for their application. Ceramic powered tube magnets remove medium-to-large tramp metal such as bolts, nuts and hand tools. Rare-earth powered tube magnets remove small ferrous contaminants such as pins, staples and clips. Xtreme Rare Earth powered tube magnets are best at separating out weakly magnetic fine ferrous contaminants. — Eriez, Erie, Pa.
For pneumatic instrumentation
requiring special air preparation

This firm now offers a new line of filter regulators, regulators and mini filters (photo). The four filter regulators are offered with flowrates from 16 to 72 ft/min. The filter regulators are designed with a rolling diaphragm for extended life with quick response and accurate pressure regulation regardless of changing flow or inlet pressure. Four mini filters, offered with high-efficiency coalescing filter media, are ideal for harsh-environment applications, such as chemical washdown areas. Five regulator models are offered in ¼ to 1 ½-in. ports with a maximum pressure capacity of up to 300 psig and flowrates to 300 ft/min. These products are ideal for pneumatic equipment and instrumentation requiring special air preparation. — Parker Hannifin Corp, Haverhill, Mass.
Alternative flurosurfactants
that are environmentally preferred
The anionic, short perfluoroalkyl chain PolyFox fluorosurfactants are formulated to meet the goals of the U.S. Environmental Protection Agency's (EPA) Design for the Environment (DfE) program. The new products are formulated using dipropylene glycol monomethyl ether (DPM) solvent instead of diethylene glycol monobutyl ether (butyl carbitol), the solvent used previously. Some consider DPM to be an environmentally preferred formulating agent. The PolyFox technology platform is based on an oligomeric poly (oxetane) backbone with short perfluoroalkyl groups. PolyFox materials are neither prepared from PFOA, PFOS or telomer-based fluorochemicals of concern, nor can they degrade into such materials. Consequently, PolyFox fluorosurfactants and fluorochemicals by regulatory agencies globally, including the EPA and the EU's REACH program. — Omnova Solutions, Inc., Fairlawn, Ohio
Use this rupture disc
in clean applications
Designed specifically for the pharmaceutical, biotech and food and beverage industries, the Sanitrx MP rupture disc features severe service application capabilities. This rupture disc offers reliable performance from full vacuum to the recommended operating pressure in excess of 100,000 cycles. Precision scoring on the vent side of the dome assures optimum cleanability and improves rupture disc performance. The Sanitrx MP scored reverse-acting rupture disc complies with ASME BPE criteria. — Continental Disc Corp., Liberty, Mo.
Realtime viscosity monitoring,
even at high pressure
The new XL7-HT2 high-temperature viscometer provides continuous realtime viscometry measurement of fluids at up to 450°C without special cooling. The device has no moving parts, and the sensor is an all-welded construction that can be mounted at any location and in any orientation using any process fittings. Calibration is unaffected by installation or environment. The standard sensor is made of 316 stainless steel, but if necessary, other materials of construction can be used. High-pressure models are rated at 20,000 psi (1,380 bars) or greater. Viscosities of up to 1,000,000,000 cP can be measured. — Hydramotion Ltd., York, England
For light duty,
use this power-driven stacker
This line of fully powered stackers has a lifting height of 62 in. and a capacity of 1,500 lb. The Power Stak Lite line of light-duty stackers (photo) features a narrow mast design and an offset control handle to improve ease of use and comfort, while eliminate blind spots. An auto-reversing belly switch protects operators when walking the unit backwards, while an automatic brake immediately halts travel when reversed. The Power Stacker is built on an stable, yet short wheel base to provide maximum maneuverability, even in tight quarters. Units are available in fork-over design for use with open-bottom pallets or adjustable straddle design for use with closed-bottom pallets. — Presto Lifts, Inc., Attleboro, Mass.
The IS1 remote I/O interface
now comes in a FF HSE version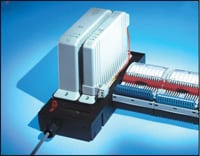 A market-leading remote I/O system for Zone 1, Div. 1 applications, the IS1 (photo) has now been extended to feature its first operational communication interface for Foundation Fieldbus High Speed Ethernet (FF HSE). The system has already supported the Modbus TCP protocol for basic Ethernet performance. This new FF HSE version now provides users with a more advanced and considerably more powerful Industrial Ethernet protocol implementation. Remote I/O technology allows users to deploy consistent plant communication networks integrating conventional HART-capable and Foundation Fieldbus H1 devices. — R. Stahl Schaltgeräte GmbH, Waldenburg, Germany
Kate Torzewski and Gerald Ondrey


Realtime viscosity measurement; Remote I/O interface; A versatile level switch... and more new products and services

Realtime viscosity monitoring,
even at high pressure
The new XL7-HT2 high-temperature viscometer (photo) provides continuous realtime viscometry measurement of fluids at up to 450°C without special cooling. The device has no moving parts, and the sensor is an all-welded construction that can be mounted at any location and in any orientation using any process fittings. Calibration is unaffected by installation or environment. The standard sensor is made of 316 stainless steel, but if necessary, other materials of construction can be used. High-pressure models are rated at 20,000 psi (1,380 bars) or greater. Viscosities of up to 1,000,000,000 cP can be measured. — Hydramotion Ltd., York, England

The IS1 remote I/O interface
now comes in a FF HSE version
A market-leading remote I/O system for Zone 1, Div. 1 applications, the IS1 (photo) has now been extended to feature its first operational communication interface for Foundation Fieldbus High Speed Ethernet (FF HSE). The system has already supported the Modbus TCP protocol for basic Ethernet performance. This new FF HSE version now provides users with a more advanced and considerably more powerful Industrial Ethernet protocol implementation. Remote I/O technology allows users to deploy consistent plant communication networks integrating conventional HART-capable and Foundation Fieldbus H1 devices. — R. Stahl Schaltgeräte GmbH, Waldenburg, Germany
A versatile level switch
for monitoring bins, silos and hoppers
The Sitrans LVS100 (photo) is the latest addition to this firm's line of vibrating point level switches for high, low or demand levels of dry bulk solids in bins, silos or hoppers. The new device detects the presence of material with bulk densities starting at 60 g/L (3.8 lb/ft3) in mining, food, plastics, chemical and pharmaceutical industries, even in hazardous applications. The device is used primarily for high- or low-level indication, and for redundancy of continuous level systems as overfill or dry-run protection. Sitrans LVS100 is impervious to external vibrations, and the vibrating fork design ensures the sensing tines are kept clean for reduced maintenance. — Siemens Industry Automation Division, Nuremberg, Germany
This booster allows fast control,
even with high flowrates

Thanks to its precisely manufactured bypass restriction, the new Type 3755 Booster (photo) can be adjusted exactly and lead-sealed in this setup. Because the Booster is completely pressure balanced, it provides a stable output, even under changing pressure conditions. The signal pressure is transmitted with defined hysteresis, without loss and emitting little noise. The Booster is designed so that the functional parts only come into contact with instrument air. Its exhaust-air port can be protected against weather or environmental influence, or the exhaust air can be routed through a pipeline. When combined with a positioner, the booster allows control valves with large pneumatic actuators to be controlled quickly and precisely, even with high flowrates or pressure drops. — Samson AG, Frankfurt, Germany
Analyze molten liquids
at very high temperatures

The Drop Shape Analysis System with Tube Furnace (DSAHT; photo) can perform optical drop studies at temperatures up to 1,750°C, making it suitable for studying liquid metals and slag, molten glass and ceramics at their firing temperature. The clear shadow image of the sample provides information about the melting behavior (for example, flyash fusibility according to ASTM D1857). The shape of a molten drop on a solid sample makes wetting visible. Versions up to 1,200, 1,500 or 1,750°C, for oxidizing, reducing or inert atmospheres, or for measurement under vacuum cover a wide range of applications. — Krüss GmbH, Hamburg, Germany
Process pumps
for FDS units
KWPKC-Monobloc (photo) is a new pump series designed for use in secondary circuits of fluegas desulfurization (FDS) plants. The main application of these pumps is to transport limestone slurry and circulating water, to remove gypsum and to thicken solutions. The pump series covers flowrates up to 3,000 m3/h and discharge heads up to 120 m. The pumps feature a pull-out design for the radially split casing to make maintenance quick and easy. An adjustable clearance gap is provided on the suction side to keep the pump's efficiency high. The impellers are made of this firm's wear-resistant Noridur Das, and the wetted components (such as casing and discharge cover) are lined with wear-resistant CeramikPolySiC — a specially developed composite material of ceramic and polymer that is proven to be abrasion and corrosion resistant. — KSB AG, Frankenthal, Germany
This valves seal keeps emissions at bay
without excessive friction

The Camflex II rotary globe valve (photo) can help users meet environmental emissions standards. Featuring a specially developed Emissions Free (EF) Seal and many other innovative design characteristics, the Camflex II valve reduces equipment emissions that can occur at the valve shaft sealing or packing, particularly after long-term operation. The EF combines a double O-ring sealed packing follower with low-friction tetrafluoroethylene- (TFE) based packing materials for long-term service that complies with low-emissions standards. In addition, the small-range rotary motion of the Camflex II valve shaft provides benefits, such as preventing contaminants from entering the packing system from atmospheric exposure, which can accelerate corrosion. Another feature of the Camflex II valve is an integrated extension bonnet that enables the standard TFE packing material to withstand its full temperature range — up to 400°C. — Dresser Masoneilan, Courbevoie, France
These membranes enable
higher pressure operation of RO plants
This firm has modified its spiral-wound membrane elements in a way that enables reverse osmosis (RO) desalination plants to operate at pressures of up to 120 bars — considerably higher than the 80 bars used in conventionally driven, high-pressure RO plants. As a result, a significantly higher concentration of salts can be achieved, thereby reducing the investment and operating costs needed for downstream evaporation. In addition, the capacity of an existing evaporation plant can be increased "enormously" by an upstream, high-pressure RO plant. Pilot and test plants (photo) are also available. — OSMO Membrane Systems GmbH, Korntal-Münchingen, Germany
This FB dryer incorporates
a filter for fines

One feature of the Heinen fluidized-bed (FB) systems is the high-performance filter cartridges integrated in the dryer's hood (photo), separating and recycling the fine dust particles that are produced during the process. No material is lost with the exhaust air, nor pollutes the ambient air. The filters are directly cleaned via cleaning nozzles integrated in the dryer's hood. The filter types (stainless steel, PTFE or PP) are selected according to the process (drying, cooling, agglomeration and so on) and product (coarse and fine-grained powders; granules, pellets or extrudates; suspensions, solutions or slurries). — Heinen Drying GmbH, Varel, Germany
Ceramic bearings enable
dry running without lubrication

This manufacturer provides different kinds of bearing solutions for the chemical process industries (CPI). Full ceramic bearings consist of rings and balls made of ceramic, whereas the rings of a hybrid bearing system are made of high-value bearing steel (photo). Both bearing types have a variety of advantages over standard bearings. In particular, seizing — one of the main failure modes in standard steel bearings due to poor lubrication — is virtually impossible in full ceramic and hybrid bearings, says the manufacturer. This makes it possible to use these bearings without lubricants, and dry-running bearings drastically reduce friction and particle emissions. — Cerobear GmbH, Herzogenrath, Germany
This multimotion dryer
offers a number of advantages
The Planex System is a patented, multi-product dryer for vacuum drying of wet powders obtained from a centrifuge or filter press. The system consists of a fixed cylindrical chamber with an eccentric agitator inside that undergoes two independent movements; it can rotate on its own axis as well as tangential to the cylinder. This combined double rotation allows optimal mixing of the product, continuously renewing the surface of the mass exposed to evaporation, covering the entire volume of the vessel. As a result, solvent release is facilitated and drying times are significantly reduced, says the manufacturer. The Planex System is available with volumes from 300 to 4,800 L, with loading capacities from 15 to 80% of the vessel volumes. — Italvacuum S.r.l., Borgaro (Turin), Italy
A new, mineral-free
depth filter medium

This firm has developed the bepure process, in which different types of high-purity cellulose are crosslinked to form a structure that does not require the addition of any inorganic material, even for sterile filtration duties. BecoPad P (photo) is characterized by unparalleled purity, with ion and endotoxin contents hardly detectible, says the manufacturer. The new range is available as a low or high cationic version. The filters are said to have a lifetime up to 20% longer than conventional sheets. Rinse volume is reduced by 50%, which results in significant cost and time savings, says the firm. — E. Begerow GmbH & Co., Langenlonsheim, Germany