Examine reaction kinetics and more with this system; This inline rotary batch mixer evacuates batch with no residual; and more
Examine reaction kinetics
and more with this system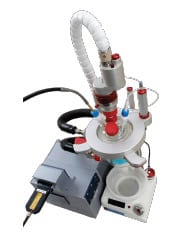 With integrated mid-infrared (IR) capabilities, the fully automated Atlas FT-IR System (photo) for reaction monitoring combines the technology of the Atlas automated reactor with Bruker Optics' Matrix-MF, a process-ready fourier transform infrared (FT-IR) spectrometer. This system can be used to examine product yields, impurities, reaction kinetics, end points and more, with upgrades available to provide further functionality, such as reaction calorimetry, pH control, gravimetric or volumetric reagent addition, crystallization control. The system is available for a range of temperatures of –80 to 180 °C, pressures of up to 200 bar, and wavenumbers from 560 to 3,500 cm -1. — Syrris, Royston, U.K.
www.syrris.com
This inline rotary batch mixer
evacuates batch with no residual
The Model 700-TH-5-SS inline miniature rotary batch mixer (photo) blends batches of up to 5.0 ft 3 in parts as small as one per million with complete uniformity in less than 3 min, then evacuates the batch with no residual. This stainless-steel, sanitary unit features a stationary inlet and outlet for inline operation, and a rotating drum with proprietary mixing flights that tumble, turn and fold material gently, imparting minimal energy to the batch while rapidly achieving uniformity regardless of disparities in the bulk densities, particle sizes or flow characteristics of batch ingredients. A batch weight capacity of 500 lb is standard, with higher capacities optional. — Munson Machinery, Utica, N.Y.
www.munsonmachinery.com
This infrared thermometer
has variable configuration software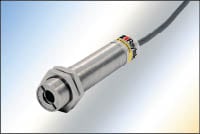 Raytek CM (photo) is an integrated infrared temperature-measurement sensor with precision, high-resolution silicon optics. An RS232 digital interface allows the configuration of all programmable sensor variables via Raytek DataTemp Multidrop software. These include a 24-V-d.c. alarm output triggered by target temperature or head ambient temperature, and more. The remote configuration capability simplifies installation and troubleshooting, especially when the sensor is located in a hostile or remote location. The Raytek CM sensor is designed to measure target temperatures ranging from –20°C to 500°C. Its onboard electronics are protected by a rugged IP 65 (NEMA-4) stainless-steel housing, allowing the sensor to function in ambient temperatures to 70°C without cooling. — Raytek, Santa Cruz, Calif.
www.raytek.com
Screen large particles
while drawing out air and dust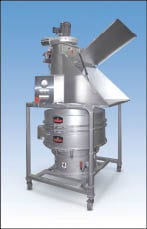 This circular vibratory bag dump screener removes oversize particles from manually dumped bulk materials while protecting against dust contamination. The 40 in.-dia. Vibroscreen separator (photo) causes bag scraps, agglomerates and other oversize material to travel across the screen and discharge through an upper spout, while on-size particles pass through apertures in the screen and a lower discharge spout. Ambient air and dust from dumping activities are drawn onto the exterior of two cartridge filters that derive vacuum from a top-mounted exhaust fan. On-size material gravity-discharged from the screener's outlet can be fed into a conveyor or other process equipment. The Bag Dump Screener is also offered in 24- and 30-in. dia., and available to industrial, 3-A, FDA, BISSC and other sanitary standards. — Kason Corp., Millburn, N.J.
www.kason.com
A power supply for a wide range
of welding applications,
The new Model 205 Orbital Gas Tungsten Arc Welding (GTAW) Power Supply (photo) is the latest addition to this firm's range of orbital tube welding products. Whether joining 1/4-in.stainless-steel tube for a semiconductor plant, 3/4-in. titanium aircraft fuel lines, 1-1/2-in. electro-polished tube for a pharmaceutical application, a 2-in. schedule, 40-carbon-steel pipe steam line, or simply tack-welding two components together, the Model 205 fits the application. Key features include: a full size color touch screen; multi-use USB port; automatic weld schedule development; programming by time or temperature; and compatiblity with all AMI fusion weld heads. — Arc Machines, Inc., Pacoima, Calif.
www.arcmachines.com
These vapor-degreaser solvents
are safer and greener
Precision-V cleaners (photo, p. 32D-3) for vapor degreasing are powerful, leave no residue, evaporate quickly and are non-flammable with no flash-point. They are designed for the removal of oils, greases, silicones and other common industrial contaminants. Electronics, optics, and metal parts are quickly and thoroughly cleaned, eliminating the need for further rinsing. Precision-V is non-ozone depleting, making it an ideal replacement for cleaners containing Freon, HFC-141b or AK225. Exposure to Precision-V solvents is less hazardous than with many other solvents commonly used in vapor-degreasers. The Precision-V Vapor-Degreaser Parts Cleaner and Flux Remover have azeotropic properties that allow them to maintain stablity as they are cycled in a vapor-degreaser. They are not reactive nor corrosive to metals commonly found in the construction of vapor-degreasers. — Techspray, Amarillo, Tex.
www.techspray.com
For clean processes, this magmeter
has onboard sensor memory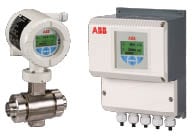 This range of electromagnetic flowmeters is designed for clean applications in the food and beverage, pharmaceutical and biotechnology industries. Part of the new FlowMaster product family, the HygienicMaster magmeter (photo) is available in sizes from 1/10 to 4 in. It is manufactured from FDA-approved materials and certified in accordance with EHEDG and 3A. The units feature electrodes that are embedded into the liner to ensure a smooth surface without any gaps, and a sensor that is clean-in-place (CIP) capable. A reinforced PFA liner improves vacuum stability and prevents liner deformation. Data storage inside the sensor eliminates the problems associated with pluggable data memory modules. — ABB Instrumentation, Warminster, Pa.
www.abb.com
This microfluidic chip
offers rapid fluid mixing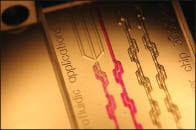 The glass Mitos Micromixer Chip (photo) is designed for the rapid mixing of two or three fluid streams. Compatible with the Mitos four-way edge connector, this novel chip enables extremely rapid mixing across a wide range of flowrates. This chip is ideal for the study of reaction kinetics, sample dilution, improving reaction selectivity, rapid crystallisation and nanoparticle synthesis. The chip measures 45 X 15 mm and incorporates two independent micromixer channels, each with a volume of 8 µL, to ensure efficient mixing of the fluid streams. Mixing of two or three fluid streams occurs within milliseconds. — Dolomite, Royston, U.K.
www.dolomite-microfluidics.com
Two-way valves with online
configuration tool for easy ordering
The 8262/8263 Series two-way direct acting solenoid valves are now available with increased pressure ratings and realtime online configuration and ordering. The valves come in normally-closed, brass and stainless-steel constructions. They can be used to control the flow of air, water, and light oil, and are available in 1/8-, 1/4-, and 3/8-in. pipe sizes. The online configuration tool allows customers to quickly build a valve to meet a set of specific requirements. It then displays the list price, availability, CAD drawings and specifications for the configured product. — Asco Valve, Inc., Florham Park, N.J.
www.ascovalve.com
Communication modules
for extreme environments

The Logix-XT product family (photo) is designed for applications requiring increased reliability in high-temperature and corrosive environments, such as those found in oil-and-gas, wind-turbine and ship-building applications. The Logix-XT product family includes the Logix-XT controller, Allen-Bradley FLEX I/O-XT products and ProSoft Technology communication modules. This product family operates in a broad temperature spectrum, –20º to 70ºC, and meets ANSI/ISA-S71.04-1985 Class G1, G2 and G3, as well as cULus, Class 1 Div 2, C-Tick, CE, ATEX Zone 2 and SIL 2 requirements for increased protection against salts, corrosives, moisture condensation, humidity and fungal growth. — Rockwell Automation, Milwaukee, Wis.
www.rockwellautomation.com
Sealing across a full range
of pressures, up to 15,000 psig
The FKB series ball valve provides a leak-tight seal for applications up to 15,000 psig. The Trunnion-style ball valve features a direct-load design, which delivers a more consistent seal across a full range of pressures. These valves feature a 0.209-in. orifice, 316-stainless-steel body construction, and reinforced PEEK seat seals. The valves are rated for temperatures of 0–250°F and maintain a full pressure rating throughout the operating temperature range. Available O-ring materials include nitrile, fluoroelastomer and perfluoroelastomer. All wetted materials are compatible with most hydrocarbons. Offered in a two-way configuration, the valves are available with medium-pressure tube fitting end connections, which provide single-turn makeup, or makeup by torque. The end connections employ a two-ferrule design to deliver robust tube grip, leak-tight gas seal and vibration resistance. End connections sizes are 1/4, 3/8, and 1/2 in. — Swagelok, Solon, Ohio
Kate Torzewski


July New Products (International)
A new range
of dosing pumps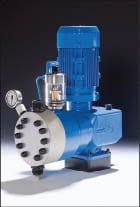 This firm now offers four new series of multilayer diaphragm pumps and piston diaphragm pumps featuring the multilayer diaphragm technology. These include two series for local, manual control (R-Series) and two series with integrated control electronics (C-Series). The new piston diaphragm pumps (photo) handle flowrates of 7.5–900 L/h at an operating pressure of 80 bar, and the multilayer diaphragm pumps handle capacities of 10–1,200 L/h for operating pressures up to 20 bar. — Seybert & Rahier GmbH & Co. KG, Immenhausen, Germany
www.sera-web.de
This positioner
is SIL 2 certified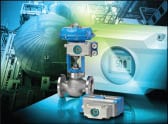 Developed according to SIL (safety integrity level) guidelines, the Sitrans VP300 positioner (photo) is especially suitable for use in the paper, mining and oil-and-gas industries. Sitrans VP300 is said to be the first positioner on the market to feature SIL-certified partial-stroke testing. Air exhausting in the single-acting device is SIL 2 rated. Both the single-acting and double-acting versions of the positioner feature an aluminum housing with high protection (IP66/NEMA 4x), and are especially resistant to vibrations. The device can be used in applications down to –40°C and can even operate in damp air that is contaminated with oil droplets. The positioner has a travel distance of up to 150 mm and can be rotated by up to 120 deg. — Siemens Industry — Industry Automation Div., Nuremberg, Germany
www.siemens.com/automation
A new IR thermometer
for industrial applications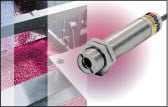 Raytek CM (photo) is a compact, integrated infrared (IR) noncontact thermometer intended for continuous temperature monitoring in a wide range of industrial manufacturing processes. The IP65-sealed, single-piece integrated sensor can easily replace traditional contact probes with a J- or K-type thermocouple output, or with a user-scaleable 0–5 V output, if the application is susceptible to noise. An RS232 digital interface allows the user to configure all programmable sensor variable via the companys DataTemp Multidrop software. The sensor is designed to measure temperatures ranging from –20 to 500°C, and can operate from ambient temperatures up to 70°C without cooling. — Raytek, a Fluke company, Berlin, Germany
www.raytek.de
New features for
this mag-drive pump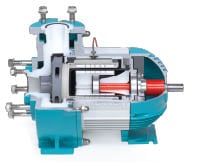 Three years after its initial launch, the Monsun magnetically coupled pump (photo) that was on display at Achema 2009 has new features. For example, the rotor is designed completely without static seals, thereby reducing the static seals from four to two within the pump. There are two defined slide bearings made of silicon carbide. If the pump is operated in a critical situation, such as intermittent flow, an emergency reservoir takes over the lubrication of one of the SiC slide bearings. A rise in temperature is directly detected with a central, chemical-resistant sensor instead of indirect methods used to protect the pump, such as magnetic-field distortion, power consumption or vibration. The temperature rise can be analyzed by a low-cost unit, which is installed beside the pump, and can safely shut down the pump when the temperature limit is reached. — Wernert-Pumpen GmbH, Mülheim an der Ruhr, Germany
www.wernert.de
Solvent recycling
for HPLC analyzers
With the ability to reduce mobile-phase consumables by up to 90%, the SRS Pro Solvent Recycling System (photo) redirects untainted mobile phase to the solvent reservoir during isocratic HPLC (high-performance liquid chromatography) operation. Powered directly from a USB connection, with easy plug-and-play operation, this system is ideal for any chromatography laboratory looking to conserve solvent use. Easy-to-use software enables simple configuration of the system parameters and includes online monitoring and audit-trail facilities. Through continuous monitoring of the HPLC detector output signal, the mobile phase is recycled to the solvent reservoir when the baseline is below a threshold value. When the threshold is exceeded, the eluent flow is redirected to waste, accounting for the transport time from the detector to the switching valve. — Thermo Fisher Scientific Inc., Milford, Mass.
www.thermofisher.com
A smart seal
for screw pumps
Allseal consists of an opto-electronic sensor that detects wear of the mechanical seals as soon as it begins and immediately warns the operator of any leaks. The system instantly detects if a liquid escapes around the mechanical seal. Unusual leaks trigger acoustic and visual warning signals, which can also be integrated into a centralized control system or forwarded to a monitoring station. Allseal technology is now available for the company's screw pumps and will be extended to other pumps on a step-by-step basis, says the manufacturer. This modular sealing concept now makes it possible for the user to choose between conventional mechanical seals, the Allseal version with leak detection, and hermetically sealed pumps with magnetic drive. — Allweiler AG, Radolfzell, Germany
www.allweiler.de
An expanded line of
temperature-measurement devices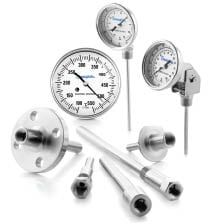 With the addition of bimetal thermometers and thermowells for general industry, this firm expands its existing line of temperature measurement devices. The dampened-movement bimetal thermometers (photo) operate in measurement ranges from –100 to 1,000°F and are available in adjustable-angle, center-back, and lower-back mount process connections. Each thermometer is factory calibrated, and features external reset for field calibration. The sensors are accurate to ±1% of full scale, in accordance with ASME B40.200 and are actuated by a sensitive bimetal helix coil. The thermowells are designed to protect the thermometers from contact with viscous, pressurized, corrosive or abrasive process fluids. — Swagelok Co., Solon, Ohio
www.swagelok.com
This large control valve
has a high accuracy
Together with its joint-venture partner DS Control Technologies (Novgorod, Russia), this firm has recently demonstrated a new benchmark in large-valve positioner accuracy. The Smart Valve Interface II Advanced Performance (SVI IIAP) positioner controls a massive ANSI 150 measurement AST ball valve — the largest valve in a natural-gas-compression station designed by contractor Kukdumalakgaz in Uzbekistan. The double-acting positioner delivers a 0.3% valve-control accuracy rate, which is an order of magnitude above the average of 1–3% for this type of application, says the firm. The built-in self-calibration and self-tuning functionality also makes installation and setup easier. The SVI IIAP positioner integrates with the AST valve configuration that includes a Servovalve Engineering actuator and two volume boosters. — Dresser Masoneilan, Houston, Tex.
www.dresser.com
Several designs available
for this weighing feeder
The Multidos L Weighfeeder delivers outstanding results in gravimetric feeding tasks or when recording mass flow of special products. Available both in an open design and with a dustproof housing variant, the system is economic, space-saving and virtually maintenance free. The system is now available with a hygienic design. The weighing module is easy to dismantle and assemble, saving time and effort for frequent cleaning intervals and wet cleaning. The standardized module system with a band width of 300 to 1,2000 mm and wheel bases of 1,000–3,500 mm is available in all stainless steel. The system has a maximum output of 170 m3/h with measurement accuracy of ±0.25% and feeding precision of ±0.5%. — Schenck Process GmbH, Darmstadt, Germany
www.schenckprocess.com
This packaging system
does two operations in one machine
This packaging machine does not use separate plastic bags to produce inliners for octatainers (orthogonal containers made of corrugated cardboard; photo). Instead, the plastic film for the inliners comes from a roll. The company's Stretch Hood cuts and seals the film, which allows the length to be adjusted freely. The packaging machine then crumples up the inliner in order to guide it over the edge of the octatainer. The inliner falls into the center of the container by its own weight and fits perfectly against the side wall during filling, after which, the inliner is sealed and the lid put on the container. After this, the stretch hood applies a film around the container to secure it. Both operations — creating and inserting the inliner, and securing it — are thus performed by a single machine, avoiding time-consuming and problematic manual operations. — Beumer Maschinenfabrik GmbH & Co. KG, Beckum, Germany
www.beumer.com
A station for filling
and transferring drum contents
The Flow Line Safety cabinets for the active storage of hazardous substances are in accordance with TRbF 20 Annex L, TRbF 30 and BGR 120. The concept of the filling and transfer stations enables users to link their daily work with modern, economic handling of hazardous substances. The media can be safely transferred from a 200-L drum to fill smaller containers. The system is easy to put into service due to integral plug and preassembled connections for media pipe, power supply (compressed air) and venting. The highest safety level is ensured by extensive testing: the removal and storage unit of the drum station are tested together according to DIN EN 14470-1 by recognized test institutes (TÜV Süd, iBMB Braunschweig); TÜV-tested to DIN EN 14727 (laboratory furniture standard); classification Type 90 in accordance with DIN EN 14470-1; GS-/CE mark. — Düperthal Sicherheitstechnik GmbH & Co. KG, Kleinostheim, Germany
www.dueperthal.com
Calibration gases
that last longer
The HiQ 60 range of calibration gases includes pure gases and non-reactive gas mixtures that have an extended 60 month (5-yr) shelf life and flat-line guarantee, allowing for greater reliability in the accuracy of instrument measurement and longer-term usability of gas. Previously, gas suppliers had offered product expiration guarantees of 36 months, with many products available with only 12 or 24 months of shelf life. The HiQ 60 pure gases include Ar, CO2, He, H2, N2 and synthetic air. — Linde Gases, Munich, Germany
www.linde-gas.com
A split butterfly valve
for contained transfers
The Müller Containment Valve (MCV) is a stable and robust split butterfly valve that is also pressure tight, making it suitable for transferring highly potent or toxic substances. The seal around the valve disk has been made very small to reduce costs, and the valve disk can be exchanged in less than 5 min. The MCV is suitable for OEB 4 (OEL 1–10 µm/m 3), is GMP compliant and is available in sizes of DN 100, 160, 200 and 250. The valve is dust and liquid tight at pressures up to 2 barg, with higher pressures possible upon request. Product-contacted components are in AISI 316L stainless steel (or Hastelloy upon request), with a PTFE seal. — Müller GmbH, Rheinfelden, Germany
www.mueller-gmbh.com
Dual-walled tube bundles
keep fluids contained
This manufacturer of shell-and-tube heat exchangers has developed a new safety heat exchanger for applications where the fluids cannot be mixed or contaminated. Compared with the single-wall tube bundle, this double-wall design is characterized by a construction with two tube sheets at each end of the bundle (diagram). Then, two tubes are fitted one inside the other, with leakage space between them designed in such a way as to guarantee the thermodynamic performance of the heat exchanger. Should the inner or outer tube leak, the process fluid enters the leakage space and triggers an alarm. The units can be designed with a wide range of shell diameters and tube bundle lengths, and it is possible to select different materials for the inner and outer tubes. — Flovex S.p.A., Grezzago, Italy
www.flovex.it







More functionality
for a smart flowmeter
Smart-Trak 2 is a significant redesign of this companys Series 100 Digital Mass Flowmeters and Controllers. The expanded functionality of Smart-Trak 2 includes: true linear performance for high accuracy and increased flexibility in multiple gases; Dial-a-Gas technology, which allows users to select from up to ten pre-programmed gases or substitute their own; the ability to adjust calibration in the field for each of the ten gases independently; Pilot Module, which allows users to view and change critical control functions in the field; and proprietary frictionless hovering, direct-acting control valve technology. — Sierra Instruments, Monterrey, Calif.
www.sierrainstruments.com
Dual sensors
for manual valves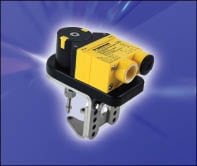 This firms dual sensor (photo) can now be used on hand-operated valves for transmitting the valves position. This is possible thanks to new, stainless-steel mounting brackets, which are easily mounted on the valve with two screws and attached to the manual lever by a threaded bolt. This mounting bracket enhances the dual sensors functionality because it allows the use of reliable detection principle even in non-automated plant areas. Simple maintenance procedures, such as manual operation of drain valves, can be reliable monitored and verified off-site. — Hans Turck GmbH & Co., KG, Mülheim an der Ruhr, Germany
www.turck.com
Software for controlling
biotechnology processes
This firm's control software BioSCADA versatilely and flexibly implements visualization, control and automation of biotechnology processes. BioSCADA is not designed as a fixed software package, does not require a common programmable logic controller (PLC), and is designed to meet 21 CFR Part 11 requirements. This system is said to be not only economical, but also enables integration of numerous interfaces for a wide variety of functionalities as well as progressive upgrading for additional process demands. — Bioengineering AG, Wald, Switzerland
www.bioengineering.com
A new version
of simulation software
The latest release of this firm's steady-state simulation software, ProSimPlus, is now available. ProSimPlus is used in design and operation of existing plants for process optimization, units troubleshooting, or debottlenecking, plant revamping or for performing front-end engineering analysis. It provides a unique thermodynamic module and a comprehensive unit operations library that allow modeling of a wide variety of processes. The new release provides users with a flexible environment that helps them meet today's engineering challenges, increase efficiency and productivity. A new, easy-to-use graphical interface ensures quick learning and optimizes access to simulation results. Simulis Thermodynamics, the company's thermodynamic server, is now fully embedded in ProSimPlus. Transport or thermodynamic properties and phase equilibria on streams can be calculated in only a few clicks. — ProSim, Labege, France
www.prosim.net
Raman imaging
has never been faster
StreamLine Plus is said to be the fastest, fully-scaleable Raman imaging system available today. Readout times can be as short as 6 ms per spectrum, and a high-quality image of an entire tablet can be collected in less than 4 min. A combination of line focus (which minimizes sample damage), a high-speed encoded stage and synchronized readout of the CCD (charge coupled device) detector enables images to be collected both rapidly and at variable spatial resolution. — Renishaw Plc., Wotton-under-Edge, U.K.
www.renishaw.com/raman
A butterfly valve
for aggressive media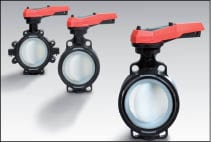 The Type 567/568 butterfly valves (photo) feature a passage seal made of polytetrafluoroethylene (PTFE) in combination with the FPM backing seal and the PVDF media-contacting parts, which guarantee better chemical resistance and expands the application range possibilities. The butterfly valves are suitable for conveying aggressive media and operate over the temperature range from –20 to 120°C. The valves are available with a handle lever for manual operation, with manual gears, as well as with pneumatic or electric actuation from DN 50 to DN 300 for wafers and lug-style installation. With the new PVDF/PTFE butterfly valves, a homogeneous plastic piping system is now available from this firm, with pipes, fittings and butterfly valves. — GF Piping Systems Ltd., Schaffhausen, Switzerland
www.piping.georgfischer.com
Simulate solids
flow faster than ever
CoRheoGrain is part of the CoRheoS Software Suite, which enables the simulation of industrial-scale processes involving various types of grains and powders. A novel approach makes it possible to simulate the flow of granular material in computer times much faster than those of any DEM software, claims the institute. Both rapid granular processes and slow and arresting granular material can be simulated. Applications include simulations of mixing, powder injection molding and bulk-material transport. — Fraunhofer Institute for Industrial Mathematics, Kaiserslautern, Germany
www.itwm.fraunhofer.de
Particle-size standards
for high-resolution calibration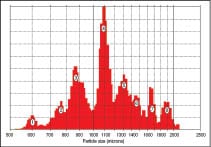 As particle sizing methodologies become more sophisticated, it is becoming increasingly difficult to measure the degree of resolution offered by state-of-the-art instruments. Image analysis methods, for example, offer one of the highest resolutions available, but until now, it has been difficult to quantify the resolution. To address this challenge, this firm is launching a new Multimodal Standard (photo). In this standard, eight distinct peaks have been produced between 500 and 2,000 microns. For very small particle sizes, a Multimodal Standard with ten peaks between 0.1 and 1.5 microns has also been prepared for evaluation. - Whitehouse Scientific, Waverton, U.K.
www.whitehousescientific.com
Versatile user interfaces
for Ethernet-enabled process gauge
Two completely new interfaces, the HMI (Human Machine Interface) and the OWS (Operator Workstation), provide different levels of user access for this firm's recently launched Ethernet-enabled CM710e NIR gauge for moisture measurement in industrial manufacturing processes, such as chemicals, minerals and ore-extraction, ceramics, detergents and construction products. The HMI provides supervisory access to up to 16 networked Series 710e Gauges while the OWS connects to an individual gauge. Both multi-lingual interfaces feature 1/4 VGA high-resolution color touchscreens to provide intuitive access to a range of measurement information, diagnostics and other functions, appropriate for the level of access required. All variants are available in high-impact polymer housings, rated to IP65, and suitable for use in ambient temperatures to 50ËšC. Optional stainless housings meet the need for safety and hygiene in food processing and other environments. The HMI provides scalable analogue outputs and digital I/O as well as extensive Fieldbus connectivity options, including all common EtherNet-based protocols and DeviceNet, Profibus and CANbus Open. — NDC Infrared Engineering Ltd, Maldon, U.K.
www.ndcinfrared.comn


Gerald Ondrey