August New Products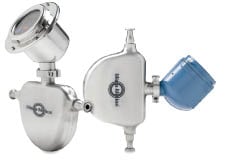 Coriolis meters for low-flow applications
The Micro Motion Elite Coriolis meter range (photo) has been expanded for low-flow applications. Available in two sizes (2 and 4 mm nominal dia.), the new meters deliver flowrates of 2 to 330 kg/h with accuracies of ±0.05% (liquid flow), ±0.35% (gas flow), and ±0.0000 g/mL (liquid density). Wetted parts are of 316L stainless steel and the sensor enclosure is available with a polished 316L external surface and rounded corners. For corrosive and high-pressure applications, the meters are also available in nickel alloy construction and are rated to 413 bar. — Emerson Process Management, Hatfield, Pa.
www.emersonprocess.com
Test pH, conductivity, dissolved oxygen and ion concentrations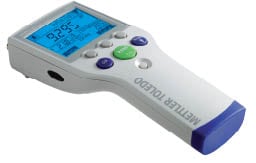 These multi-parameter portable meters (photo) measure pH, conductivity, dissolved-oxygen and ion concentration. All three instruments are based on the rugged design of SevenGo, and are watertight according to IP67. The three new meters expand the range of portable instruments and offer innovative Intelligent Sensor Management. The SG23 is a robust, dual-channel pH/conductivity meter for routine work. The professional pH/ion/conductivity meter SG78 combines all functions of pH and conductivity measurement with a full-fledged ion mode. The multi-parameter SG68 covers the measures pH/ion/dissolved oxygen. Handy features like automatic air-pressure compensation, helpful ion mode, and a wireless infrared communication port, save time and guarantee correct results. — Mettler Toledo, Columbus, Ohio
www.mt.com
Condition monitoring & analysis integrated in automation system
This company has integrated machinery condition-analysis technology into the metsoDNA CR automation system. The application, called DNAmachineAssessor, enables maintenance staff to have first-hand access to machine vibration data and mechanical component condition analysis through the same user interface (photo), which is used to measure and control the process and product quality. New metsoDNA CR system features have been developed to enable high-frequency I/O and digital signal processing. — Metso Corp., Automation business line, Helsinki, Finland
www.metso.com
An optimum valve for reciprocating pumps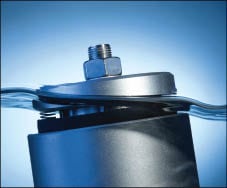 The CL pump valve (photo) for reciprocating pumps combines the two key factors for cutting operating costs in one valve: optimum performance and efficient service. The CL pump valve has an optimized design and a combination of proven materials. They can be incorporated into any reciprocating pump and are suitable for use with any aqueous solution. The valve features heavy duty, non-metallic sealing elements, springs that do not come in contact with the medium being handled, and optimized flow control. — Hoerbiger Kompressortechnik Holding GmbH, Vienna, Austria
This range of flowmeters and controllers is now more flexible
The Smart-Trak 2 (photo) is a significant redesign of this firm's flagship Series 100 Digital Mass Flow Meters and Controllers. Among the expanded functionality of Smart-Trak 2 is true linear performance, which provides high accuracy and great flexibility in multiple gases. With Dial-A-Gas Technology, users select from up to ten pre-programmed gases, or substitute their own. Smart-Trak 2 also provides the ability to adjust calibration in the field for each of these ten gases independently. It provides the most advanced linear sensor available, smoother valve performance, more robust electronics and more control over a wide range of functions, according to the firm. The Compod, has also been introduced as a Smart-Trak 2 add-on, which expands networking, streamlines and simplifies functionality, and reduces costs. — Sierra Instruments, Monterey, Calif.
www.sierrainstruments.com
This pump provides precise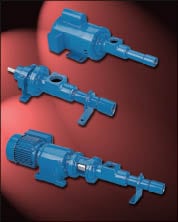 control in low-flow applications
The Chemical Metering Pump (photo) offers economical and efficient performance when metering low-flow liquids in a wide range of processing applications, including dosing, sampling and metering. The progressing cavity design of the pump results in a smooth flow, free from pulsations and variations in velocity and volume, which prevents material waste or mixture imbalance. The pump features sealed universal joints for longer life, and has no valves to clog, stick or vapor lock. The unit provides pressures to 300 psi and flowrates from 1 to 190 gal/h. The pump is available in bare-shaft, close-coupled, and motorized configurations. — Moyno, Inc., Springfield, Ohio
www.moyno.com
An aseptic valve for critical areas
This patented, compact aseptic control valve (photo) newly added to the Badger Meter valve range, is suitable for use in critical areas, such as bioreactors pharmaceuticals, biologics and food processing. The Series SCV-09 is a modulating diaphragm style valve that meets the manufacturing standards of 3A Sanitary Standards. The valve uses a patented sealing arrangement, which avoids metal-to-metal contact that could result in metal particles being released into sensitive products, while providing a similar level of control to a metal plug and seat. The valve is available in sizes 1/2, 3/4 and 1 in. with body of 316L stainless steel. It is suitable for low to medium flowrates and has a maximum operating pressure of 10 bar. — Pump Engineering Ltd., Littlehampton, U.K.
www.pumpeng.co.uk
A new spray dryer for laboratories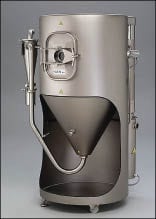 The MobileMinor Basic spray dryer (photo) is said to meet all the basic requirements of laboratories, especially those in small companies and universities, and other laboratories that don't need many of the options available for the advanced MobileMinor models. The MobileMinor Basic meets all health and safety requirements, including dust explosion hazard (class ST1), and is easy to operate. The system is suitable for laboratories that need only basic facilities for drying food and chemical products. It is supplied with a push-button control panel and either a rotary atomizer or a co-current two-fluid nozzle for atomization. A single-point powder discharge makes product collection easy, and the standard cyclone secures an efficient product recovery. A cartridge filter is available (optional) for cleaning the exhaust gas to reduce emissions to a minimum. — GEA Niro A/S, Søborg, Denmark
www.niro.com
Download CAD drawings for free
This company is complementing its comprehensive product database with an easy-to-use download tool for two- and three-dimensional CAD drawings. The software enables users to generate and download CAD files for sensor, fieldbus, interface and connectivity products free of charge and without registration. System-specific and cross-system formats are possible for technical documentation purposes or 3D models for more complex Solidworks applications. — Turck, Inc, Minneapolis, Minn.
www.turck.com
For clean applications, use this metal-free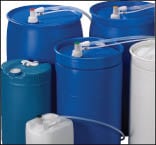 The all-plastic DrumQuik PUR chemical-dispensing system (photo) provides extraction of high-purity chemicals from drums, jerry cans and intermediate bulk containers. The system is comprised of a PVDF coupler and an HDPE drum insert assembly. The drum insert assembly contains a bung closure and dip-tube and can be shipped as part of a drum package, providing a cost-efficient alternative to open and semi-open dispensing systems. The coupler features a built-in vent port, which allows connection of a check valve to prevent release of harmful vapors to the atmosphere or an inert blanket gas (N2or CO2) to protect valuable chemicals from exposure to air. DrumQuik PUR is made from FDA-approved, animal-free and RoHS-compliant materials that are compatible with high-purity chemical handling processes found in semiconductor, flat panel and pharmaceutical manufacturing. — Colder Products Co., St. Paul, Minn.
www.colder.com
Support EU regulations for classification, labeling and packaging
Intelligent Authoring's (IA) Service Pack 2 (SP2) is now available, with support for the EU's new Regulation on Classification, Labeling and Packaging (CLP) of substances and mixtures. This solution now provides Managed Regulatory Content in support of the new regulation, enabling users to fully automate the creation of CLP-compliant labels and SDS documentation. The deadlines of December 1, 2010 for substance classification and June 1, 2015 for mixtures provide little time for full CLP compliance, but the delivery of IA 4.1 SP2 facilitates this process for manufacturers that may otherwise struggle to meet these deadlines. Being at the forefront of changing regulations, this firm will continue to track the GHS schedule and will add support as additional countries announce their adoption plans. — Atrion International, St. Laurent, Quebec, Canada
www.atrionintl.com
A thermocouple connector that communicates wirelessly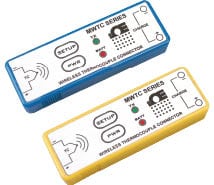 The MWCT Wireless Smart Thermocouple Connector Series (photo) features stand-alone, battery-powered thermocouple (TC) connectors that transmit measurement data back to a mating receiver up to 90 m away. Each unit is factory set as a Type J, K, T, E, R, S, B, C or N calibration connector. When activated, the connector will transmit readings continuously at a preset time interval that was programmed by the user. Each unit measures and transmits: TC input reading and connector ambient temperature to a receiver and is displayed on the PC screen in real time using free software. — Omega Engineering, Inc., Stamford, Conn.
www.omega.com
Kate Torzewski