October New Products (International)
This decanter uses less energy
for sludge dewatering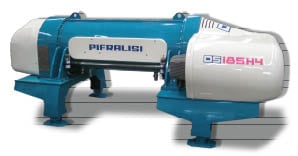 Pieralisi
Launched at IFAT last month, this new series of decanters (photo) has been designed specifically for the dewatering of sludge from industrial wastewater. The designers of the new decanter series have given particular attention to energy savings: thanks to the innovative internal fluid dynamics, it is possible to reduce the energy absorber, thus reducing the installed power, says the manufacturer. The new DS Series decanters will be available with capacities ranging from 3 through 150 m3/h. — Pieralisi S.p.a., Jesi, Italy
www.pieralisi.com


Perform all types of x-ray analysis
at your desk
The D2 Phaser with XFlash detector is said to be the first desk-top instrument offering angle-dispersive and energy-dispersive x-ray diffraction as well as x-ray fluorescence measurements under ambient conditions. Based on Silicon Drift technology, the XFlash detector features energy resolution of less than 180 eV at count-rate levels of more than 100,000 cps. Measurements can be made on even loose powders. — Bruker AXS GmbH, Karlsruhe, Germany
www.bruker-axs.de
This erosion-resistant diaphragm
means longer valve life
For its Industrial Diaphragm Valve (IDV) Collection, this firm has introduced the new Saunders XA diaphragm. Developed inhouse using a compound based on an ethylene-propylene technology, the XA offers increased erosion resistance in both corrosive and abrasive applications, including fertilizer, metals, chemicals and mining. Demonstrating a 70% improvement in elastic recovery, the new diaphragm leads to a better sealing performance and reduced emissions. — Crane ChemPharma Flow Solutions, Cincinnati, Ohio
www.cranechempharma.com
Extending predictive diagnostics
to remote applications
Last month, a new, physically smaller version of the CSI 6500 Machinery Health Monitor was introduced. The system — only 19 cm wide by 27 cm high — allows predictive condition monitoring for rotating equipment in a greater number of applications, and is more versatile for installation in remote or skid-mount applications. As in the full-size chassis option, prediction capabilities in the smaller unit can be delivered as a standalone solution, integrated with both the DeltaV and Ovation digital automation systems in the PlantWeb digital plant architecture, or interfaced to third-party hosts. — Emerson Process Management, Baar, Switzerland
www.emersonprocess.eu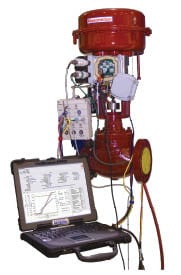 Dresser Masoneilan



Launch of the next-generation
valve diagnostic tool
The ValScope-Pro (photo) control-valve diagnostic tool helps operators identify problems by providing a scientific evaluation of valves in operation. The tool is portable, enabling users to troubleshoot valves in-line and in harsh environments to determine which valves need to be removed. A graphic interface allows users to view the valve as it is being tested and provides realtime analysis. The ValScope-Pro is compatible with analog, Fieldbus and HART communication protocols. — Dresser Masoneilan, Houston
www.dressermasoneilan.com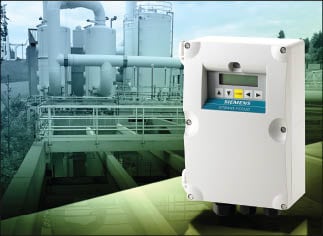 Siemens
When all you need to know is flow,
consider this clamp-on unit
The new clamp-on ultrasonic flowmeter, Sitrans FST020 (photo) is designed for basic applications that only require flow-reading functionality along with easy communication capabilities. The device measures flowrates of practically any liquid and meets the specific requirements of the water and wastewater, HVAC, power and chemical industries. The unit can be installed on pipe sizes up to DN 9000 (360 in.). The clamp-on unit is particularly suited for retrofit applications and installations where corrosive, toxic or high-pressure liquids rule out the option of cutting the pipe. — Siemens Industry Automation Div., Nuremberg, Germany
www.siemens.com/industry
This solid-fuels feeder is now
even more shock resistant
The Multidos HPG (high pressure gravimetric) weighfeeder is the new generation of weighfeeders and coal conveyors that are resistant to 3.5 bar shock pressure. The units tension roll and active belt-steering system maintains belt alignment, even in the event of uneven distribution of load. This removes the need for a V-guide and extends the belts service life. An internal belt scraper has also been incorporated to extend the life of the drive components. The inlet (610-, 914- or 1,000-mm wide) ensures an even flow from the coal bunker, even with coal grades having awkward material flow properties. — Schenck Process GmbH, Darmstadt, Germany
www.schenckprocess.com
Reference standards now available
in single-shot format
Sub-sampling of reference standards by users is not recommended because of the possibility of introducing errors, and thus deviating from the certified size value. To avoid the need for this, a new set of 10 image-analysis, particle-sizing reference standards are now available in convenient, easy-to-use, single-shot formats. The multi-modal standards are packaged in weights suitable for todays image analyzers (5–20 g). — Whitehouse Scientific, Chester, U.K.
www.whitehousescientific.com
A new compact, high-flow version
of filter regulator
This firm has developed and expanded its range of filter regulators to include a compact, high-flow version. Constructed from 316 stainless steel for both hazardous areas and industrial use, the 1/4-in. self-relieving filter regulator provides an easy installation, repair and replacement unit for FPSO (floating production, storage and offloading) units, onshore and offshore facilities, and production installations. Offering a 25-µm element and manual drain, the flow paths have been designed and engineered to minimize pressue drop across the valve operating range. — Midland-ACS, Wolverhampton, U.K.
www.midland-acs.com
Multi fluid and multi range
gives flexibility and cost reduction
The Select Series of digital mass flowmeters and controllers offers greater flexibility for user selection of both flow ranges and gas types. For user convenience, the firm has developed a free software tool called FlowTune. By hooking up the instrument to the RS 232 port of a laptop and running this configuration tool, the selection of different flow ranges becomes very simple. The instruments cover flow ranges from 0–1 mL/min up to 0–1,670 L/min, and are available in two configurations: The EL-Flow Select has a housing designed for laboratory and clean processing conditions; and the IN-Flow Select is of rugged design according to IP 65. — Bronkhorst High-Tech B.V., Ruurlo, the Netherlands
www.bronkhorst.com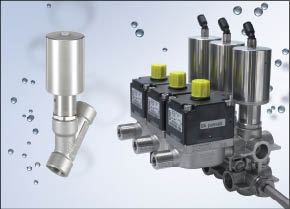 Bürkert Fluid Control Systems
This 2/2-way valve
is made of stainless steel
The pneumatically operated 2000 INOX angle seat valve (photo) consists of a pneumatic piston actuator and a two-way valve body. Both parts are made from 316L stainless steel and can be used with media at temperatures up to 180°C. In addition to high temperature resistance, the material offers optimal protection against corrosion. Available with nominal diameter of DN 10, the 2/2-way valve can be used for controlling fluids such as water, alcohols, oils, steam and air. Fuels, alkaline and saline solutions, organic solvents and neutral gases can also be isolated with the valve. — Bürkert Fluid Control Systems, Ingelfingen, Germany
www.burkert.com

Gerald Ondrey
K-Show Preview
At K 2010 — the 18th International Trade Fair for Plastics and Rubber (Düsseldorf, Germany; October 27–November 3) — some 3,100 exhibitors from 57 countries will present the latest developments from all sectors of the plastics and rubber industry. The exhibition occupies 17 halls and covers an exhibit area of about 1.7-million ft2.
Manufacturers of machinery and equipment are traditionally the largest group of exhibitors at the K-Show, and will occupy Halls 1 to 4 and 9 to 17, which account for about two-thirds of the total exhibition area. Suppliers of raw materials, semi-finished products and technical parts will be exhibiting in Halls 5 to 8a. Hall 8b, at the interface between the thematic exhibition zones, will house, among other things, the joint presentation by the Chinese industry.
The exhibition will be supplemented by future-oriented elements, which will be dealt with in the special review "Visions in Polymers," organized by the German plastics industry under the auspices of PlasticsEurope Deutschland e.V. and Messe Düsseldorf. In daily panel discussions, top academics and experienced users will address questions such as what our daily lives will look like 20 years from now, and how plastics can contribute to solving major problems. On the basis of examples from different areas of life, speakers will explain which development trends can be discerned, and which innovations the industry has in its pipelines. Special emphasis will be placed on the themes of energy efficiency and resource conservation.
What follows is a small sample of some of the new products being exhibited at K 2010.
Mercury-free pressure
sensors for polymer melts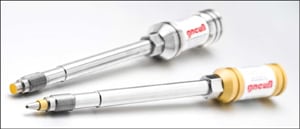 Gneuss
The NTX Melt Pressure transducers (photo) are characterized by their high measurement accuracy and are now supplied without mercury. They operate equally well as conventional sensors and, in most cases, are more accurate with better temperature behavior. The NTX sensors can be used without any restrictions on high-temperature applications, and have an extremely low temperature drift. Special surface treatment improves abrasion resistance and protects against products with high adhesive properties. The sensors are available in impassive or active (with integrated amplifier) designs, and versions are available for explosion-proof environments and HART protocol. Hall 9, Stand 9A38 — Gneuss, Inc., Mathews, N.C.
www.gneuss.com
Coperion
This degassing unit
keeps getting better
The ZS-EG twin-screw degassing unit (photo) is just one of a comprehensive group of degassing solutions for compounding and extrusion processes. The company has made a number of improvements to its ZS-EG side degassing units: The screw set has been optimized; the standard models are designed for an absolute vacuum of up to 50 mbar (lower degassing pressure upon request); and the units come with a variable speed drive as standard. Compared to an open-vent dome, the twin-screw side-degassing unit offers many advantages, including: the ability to be fitted at low-cost to a combi-barrel segment of the ZSK twin-screw extruder; deliver effective degassing, even with high air or moisture content of the bulk material, at acceptable residence times, so plant throughput can be raised by 10–15%; and improve compound quality and consistency since no material can fall back into the processing unit through the vent. Hall 14, Stand B33 — Coperion GmbH, Stuttgart, Germany
www.coperion.com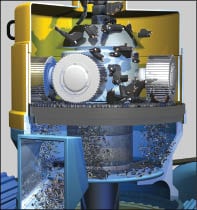 Amandus Kahl
A new method for
recycling old tires
This firm has developed a process for ambient grinding of waste tires that is said to be more economical than traditional ambient or cold grinding processes. Tires are first cut into 50–100-mm chips, which are then conveyed to the rubber-grinding unit (photo). There, the chips are ground in a Kahl flat-die granulation press according to the pan grinder-roller principle. The chips are ground between the cylindrical pan grinder rollers and the circular die, which is designed as a perforated plate. The shearing force produced by the pan-grinder, as well as the pressing force (up to 120 bar) applied by a regulated hydraulic system, decompose the tire parts and separate the components. Because only shearing forces are involved, the wear of the grinding tool does not have any influence on the granulation results. A granulation press Type 60-1250, with a power drive of two times 160 kW processes up to 4.5 ton/h of tire chip to a granular size of 0.4–20 mm. The modular system is designed for a throughput of up to 15,000 ton/yr. Plant capacities can be increased by simply adding modules in parallel. Hall 9, Stand E08 — Amandus Kahl GmbH, Reinbek, Germany
www.amandus-kahl-group.de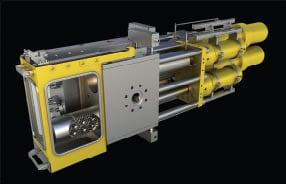 Maag Pump Systems
Automatic cleaning of filter screens
in recycling processes
The newly developed CSC/BF-PE Screen Changer (photo) meets all the requirements of direct recycling processes, such as the fabrication of food-wrapping films from PET bottle flakes, in one process step. This is possible thanks to the fully automatic cleaning of the screens, which can be adjusted to any kind of process. The amount of material needed for back flushing of screens is collected in a permanently flushed accumulating space, and will then clean the dirty screen cloth outside the production process by back flushing. The flow geometry is free of any dead space, and the free setting of back-flush pressure, quanity and time facilitates the processing of all marketable recycling plastics and thermally sensitive polymers. Hall 9, Stand 5 — Maag Pump Systems AG, Oberglatt, Switzerland
www.maag.com
A handheld photometer
for the control of plastics color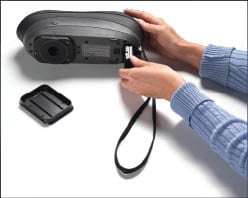 X-Rite Europe
The MA94, 96 and 98 multi-angle spectrophotometers can help manufacturers monitor and maintain precise control of the color of plastics they blend into their process. The MA94 and 96 (photo) are next generation, improved versions of the company's MA68II, and all three units are fully compatible with existing data generation using the MA68II instrument. The units offer improved data repeatability and a more robust method for measuring flexible or curved surfaces, and users will be able to utilize the advanced X-ColorQC software to obtain more information from the data. The instruments feature the firm's Jobs workflow routine, with both text and visual cues that instruct the user where measurements need to be collected, and records data for analysis by the bundled X-ColorQC software. Hall 10, Stand A75 — X-Rite Europe GmbH, Regensdorf, Switzerland
www.xrite.com
Targeted design of
tribological surface properties
This firm is exhibiting its efficient, standard plasma system V6-G, which is designed as a compact device for industrial, small-series production as well as for low-pressure plasma treatment in R&D laboratories. Plasma can be used to generate ultraclean surfaces, improving higher adhesive strength of steel glued to polypropylene or for improved durability of varnish on plastics. The company is also involved in the BMBF-funded Nanodyn project, which aims to discover ideal surface conditions to reduce friction, increase reliability and improve longterm stability for ball bearings. The new concept is investigated for different kinds of bearings and lubricants. Hall 11, Stand E05 — Pink GmbH Thermosysteme, Wertheim, Germany
www.pink.de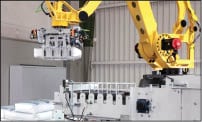 Beumer Maschinenfabrik
This robot is efficient
at stacking bags safely
Innovative solutions for palletizing and packaging palletized goods, such as plastic granulate or high-quality pigments packed in bags, are being presented at this firm's stand. The solutions are tailored to meet the needs of petrochemical and engineering companies, and film and plastics manufacturers. One example of what to see is the robopac (photo), a space-saving, fully automatic articulated robot, which is able to solve even complex palletizing and de-palletizing tasks. Bags can be stacked safely and efficiently, and for every packaged good, the firm has developed a suitable gripping system that can be exchanged flexibly. Hall 12, Stand C23 — Beumer Maschinenfabrik GmbH & Co. KG, Beckum, Germany
www.beumer.com
This devolatization process
slashes energy and water use
This firm has developed and demonstrated a two-step process — using its kneader technology — for the direct devolatilization of temperature-sensitive elastomer-cement solutions. The process was developed to address some of the disadvantages of the conventional steam stripping process that has been in use for over 50 years. It has been estimated that the direct devolatilization process will reduce energy consumption by 76% when compared to the conventional steam stripping and drying process. It was also estimated that the consumption of water would be decreased by 66%. Hall 9, Stand C24 — List AG, Arisdorf, Switzerland
www.list.ch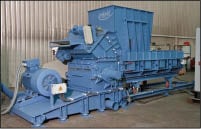 Herbold Meckesheim
Shred and grind bales
of plastic in a single machine
This firm's range of granulators has been expanded with the addition of the HB Series (photo), which will be launched for the first time at the K-Show. With this new granulator, it is now possible to size-reduce whole bales of film, bulk injection-molding and blow-molding parts, and bales of foamed plastics, in one step, to the required granule size for subsequent treatment. The grinding chamber is directly linked to a feed hopper. With the help of a PLC-controlled ram, the material is moved to the rotor. As a result, a two-step process (shredder and granulator) is no longer necessary. Hall 9, Stand 42 — Herbold Meckesheim GmbH, Mechesheim, Germany
www.herbold.com
Castor oil is used to make
new polyamides greener
This firm will launch two new innovations at the K-Show: Technyl eXten is an environmentally friendly polyamide 6.10 solution, produced in part from castor oil; and Fuel In by Technyl, a new family of polyamide-based (6 and 6.6) products specifically developed for the production of parts that will come in contact with fuels. The firm is also introducing a patented, polyamide-based matrix that is perfectly suited for producing high-performance continuous-glass or carbon-fiber composite materials. Hall 8a, Stand H39 — Rhodia, Lyon, France
www.rhodia.com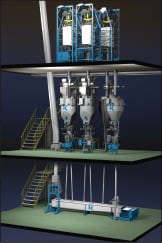 K-Tron


Stations that combine
multiple feeding operations
This firm will be exhibiting several stations integrated into one complete system. One of the stations features a 2415 Premier vacuum receiver on top of a KT35 twin-screw feeder completed with an ActiFlow bulk-solids activator. Another station shows an FB130 loss-in-weight belt feeder with a Premier P10 vacuum receiver. Other elements of the system include a bag-dump station, PD vacuum blower with housing and 2400 Series filter group. In addition to a wide selection of products for feeding and conveying (photo), the company's Process Group also offers a full range of auxiliary equipment, such as storage tanks, bulk bag unloading stations, dryers, valves and accessories, piping and more. — Hall 10, Stand B73 — K-Tron Ltd., Niederlenz, Switzerland
www.ktron.com
Specialized polymer materials
for improving products
Among the new innovations launched at the K-Show are Edgetek AM Flame Retardant, Non-Halogen compounds, a new line of RoHS-compliant, high-temperature polyamide compounds. Configured for easy processing, these compounds are suitable for molding thin-walled parts in multi-cavity tools for improved production efficiencies. Another product launch is Edgetek XT BPA-free High Performance Blends, a new class of ecologically-conscious compounds that provides chemical resistance, strength and durability to consumer, healthcare and electronics components. Hall 8b, Stand G46 — PolyOne Corp., Cleveland, Ohio
www.polyone.com
Gerald Ondrey