Focus on Personal Protective Equipment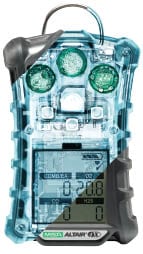 MSA
Software now available
for bump testing gas detectors
As part of the Altair 4X Gas Detector (photo), a new Altair 4 QuickCheck Station software version is available and is currently installed in production units. This version allows the Altair 4 QuickCheck Station to bump test both Altair 4 and Altair 4X Gas Detectors. — MSA, Pittsburgh, Pa.
www.msanet.com
Gateway Safety
Safety glasses that
easily turn into goggle
Swap protective eyewear (photo) comes with temples for use as safety glasses as well as a head strap to make it a safety goggle. Ideal for workers who perform a variety of tasks throughout the day, Swap can easily be converted from spectacles to goggles by swapping the temples and head strap with a simple snap. The lenses meet ANSI Z87.1+ and CSA Z94.3 standards and offer 99.9% UVA, UVB and UVC protection. — Gateway Safety, Inc., Cleveland, Ohio
www.gatewaysafety.com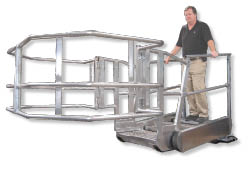 Benko Products
Stable stairs ensure safety
at the loading dock
Elite Series Safety Stairs (photo) deliver enhanced rigidity and longer lasting tread for safe access from a loading rack or dock to an elevated walkway. The stairs provide a stronger engineered connection point that eliminates shakiness and increases the stability of an attached fall-protection enclosure. Construction materials include carbon steel, aluminum and fiberglass, or a combination of materials. — Benko Products, Inc., Sheffield Village, Ohio
www.green-mfg.com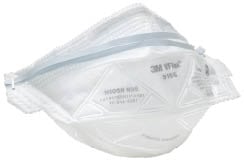 3M
Respirators with a
unique, flexible fit
Introduced in September, the VFlex Particulate Respirators 9105, 9105S, N95 (photo) feature V-shaped pleats that expand to help provide a comfortable seal, and to flex with mouth movements for easier talking. The increased surface area of the V-shaped pleats, in combination with the patented filter media, results in lower breathing resistance and helps make breathing easier. VFlex respirators also feature embossed front panels, which helps them to retain their shape, and have side tabs designed for easy positioning on the face for a comfortable fit. A nose clip provides a custom fit and secure seal. — 3M, St. Paul, Minn.
www.3m.com/occsafety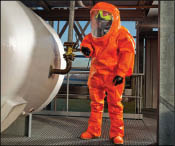 Dräger Safety
This hazmat suit
is comfortable to wear
CSP 5900 (photo) is a new single-exposure, disposable, Level A gas-tight chemical protective suit for hazardous materials (hazmat) incidents. The fully encapsulated suit is especially designed to provide complete protection against hazardous gases, liquids and particles. The CSP 5900 is approved to NFPA 1994 standards and also meets European requirements for protective clothing for industrial applications and fire brigades. The suit is made of Zytron 500, the softest laminate material on the market, says the firm. — Dräger Safety, Inc., Pittsburgh, Pa.
www.draeger.com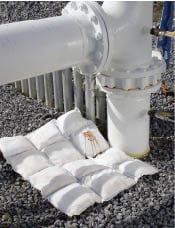 New Pig
This blanket soaks up oily spills
even when its windy
This firm has recently introduced the Pig Oil-Only Weighted Blanket (photo) to capture leaks and drips outdoors, even in windy conditions. The blanket features a hydrophobic polypropylene filler that absorbs petroleum-based liquids, but no water. Heavy-duty seams form self-contained pockets within the blanket to maximize coverage area and keep the filler evenly distributed. The blanket helps companies to comply with 40 CFR 112.7 and 40 CFR 122.26. — New Pig Corp., Tipton, Pa.
www.newpig.com
Clothing for when safety
depends on visibility
This firm has recently completed the launch of its line of high-visibility safety clothing. The new line is suited for workers in public works, road security, building construction and other occupations where high-visibility clothing will enhance their safety. The most recent additions to complete the line are a five-in-one waterproof, high-visibility coat that can be worn in four seasons; and two types of rain pants, one nylon for warmer weather, and the other featuring a quilted lining for colder weather. — Linde Canada, Mississauga, Ontario, Canada
www.lindecanada.com
Ear protection that's
comfortable and effective
The Pilot push-in ear plug for occupational hearing protection features an innovative hybrid design that combines the performance and cost savings of the firm's Quiet multiple-use ear plug with the comfort of Max single-use ear plug. The Pilot inserts easily into the ear with a fingertip twist of the non-obstrusive, Navigation stem, and the Pilot's soft, pearl-skinned polyurethane foam is resilient and easy to clean. With an NRR 26 rating, the Pilot is suitable for medium-to-low (95 dB or less) noise environments. — Howard Leight/Sperian Protection, LLC, Smithfield, R.I.
www.howardleight.com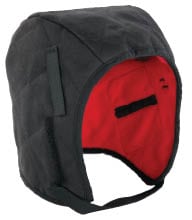 Ergodyne
New liners keep workers warm
in very cold weather
This firm has expanded its N-Ferno Extreme Warming product line with the introduction of two new three-layer FR Winter liners (photo), which are available in regular and shoulder lengths. The liners feature three layers of warmth protection: A Banox FR3 Cotton shell, a foam mid-layer, and a poly-fleece liner. These winter liners not only help to keep workers warm on the most frigid work days, but they also keep them protected with the Banox FR3 cotton shell. — Ergodyne, St. Paul, Minn.
www.ergodyne.com
This horn and strobe can be used
anywhere in the world
The globally certified Yodalex explosion and flameproof combination horn and strobe is one of the lightest and most compact products on the market, says the manufacturer. Certifications include UL, CUL, CSA, GOST, ATEX and IECEx for Zone 1 and Zone 2, Zone 21, Class I, Div. 1 Groups B, C and D. The "football" shaped unit offers the only omni-directional sounder with integrated strobe available, and it produces a 110 dB sound output with a 5-J Xe strobe light. — R. Stahl, Houston
www.rstahl.com
Lighter, more-effective suits
for firefighters
Developed in cooperation with Akao Co., these firefighting suits are made with Triprotech arimid-fiber fabric. Weighing just 2.5 kg, the new suits are 10% lighter than existing suits, and are 60% more effective in preventing second- and third-degree burns compared to the lightest suits of Akao. Akao will begin marketing the suits next March. — Teijin Techno Products, Ltd., Osaka, Japan
www.teijin-technoproducts.co.jp
A new hazmat suit
for Level B
This firm has launched its first Level B style hazmat suit. OneSuit Shield is developed from the firm's proprietary Coretech Barrier Membrane, ensuring the flexibility and comfort that emergency responders are used to in the firm's Level A portfolio. The new suit is currently in testing for NFPA 1992 and 1994 standards. Level B hazmat suits are used for interacting with controlled and known chemicals in liquid form. — Saint-Gobain Performance Plastics, Merrimack, N.H.
www.onesuittec.com
Protect your workers
and your bottom line
From eyewear to hazmat suits, this company offers a full line of personal protective equipment for a variety of industries. And with its exclusive In-Plant Service Centers, everything needed to keep workers safe is available onsite and around the clock, saving both time and money. — Total Safety, Houston
www.totalsafety.com
Gerald Ondrey