February New Products
This blower applies
rotary screw technology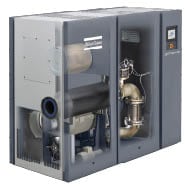 AtlasCopco Compessors
A prominent design feature of ZS Series blowers (photo) is their application of rotary screw compression technology. The rotary screw concept helps the blower to operate at efficiencies 35–40% higher than traditional tri-lobe blowers at a compression ratio equal to one. ZS products are positive-displacement, rotary-screw compressors with an integrated gearbox that drives intermeshing compression rotors, reducing energy losses compared to a belt-driven machine. The intake air is compressed between the rotors and their housing. Three sizes of the blowers, from 5 to 100 hp, are available. Primary uses for the ZS blowers are for aeration of wastewater at water treatment plants, moving grain or powders off railcars, and for cooling extruded plastic in non-woven textile plants. — AtlasCopco Compressors, Rock Hill, S.C.

Syrris
This laboratory reactor
can handle the pressure
The Atlas Sodium Pressure System (photo) is a modular laboratory reactor capable of operating up to 250°C and 200 bar. The reactor is available with volumes of 160, 300 and 450 mL, and offers heating/cooling, overhead or magnetic stirring, pressure sensing, and monitoring and control of pressure and mass flow. Designed for high temperature and pressure applications, such as performing hydrogenation and carbonylation reactions, the system also features maximum temperature and burst-disc cutouts to ensure that the system is completely safe and compliant with PED/ASME design codes. — Syrris Ltd., Royston, U.K.
www.syrris.com
Enforce tighter security with this
portable fingerprint reader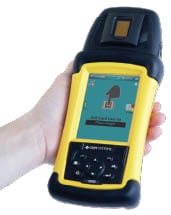 CEM Systems
The S3020f Portable Fingerprint Reader (photo) can be used in conjunction with the manufacturer's AC2000 system range, and is said to offer a new level of roaming security to the industry. With a large internal database and supporting multiple card technologies, the reader enables fully integrated biometric verification as well as card validation to be carried out remotely. The reader allows random ID card and fingerprint security checks to be carried out at temporary entrances where no mains power is available, thereby preventing "card sharing." One of the reader's features is the Occupancy Mode, which allows a head count of individuals in a defined area. For example, patrolling checks can be performed on workers coming into construction sites on buses to ensure that all passengers have authorized access. — CEM Systems, Belfast, Northern Ireland
www.cemsys.com
Exair

Eliminate static electricity from surfaces
with this air jet system
The new static-eliminating blowoff station (photo) delivers a concentrated flow of ionized air to remove dust and other contaminants from a charged surface. It is ideal for benchtop and machine mounting to clean parts and eliminate the static electricity charge that attracts dust and contaminants. The system minimizes compressed air use by inducing surrounding airflow at a ratio of 5:1. The airstream carries static-eliminating ions to the targeted surface, neutralizing the charge in less than half a second. A flexible hose that holds its position keeps the airflow aimed at a specific spot until physically bent or moved to another position. The magnetic base allows easy mounting and includes a foot pedal valve for hands-free operation. Applications include cleaning products and containers, as well as removing contaminants from parts prior to surface coating, painting, screen printing or ink jetting. — Exair Corp., Cincinnati, Ohio
www.exair.com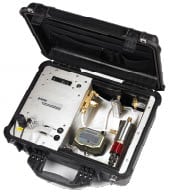 Michell Instruments
Drift-free dew-point measurement
is now portable
The Optidew Transportable dew-point hygrometer (photo) combines the drift-free performance of the chilled-mirror principle with the convenience of a transportable instrument. Housed in a specially designed case, the device is both fully self-contained as well as small and lightweight. The instrument offers a wide measurement range from the equivalent of less than 0.5 up to 100% relative humidity, and measures dew points as dry as –40C at ambient temperatures. — Michell Instruments, Ely, Cambridgeshire, U.K.
www.michell.co.uk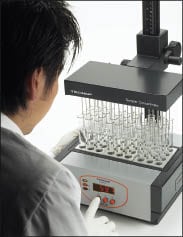 Bibby Scientific
A faster way to evaporate
solvent from laboratory samples
When used with this firm's DriBlock heaters, the Techne Sample Concentrator (photo) provides fast solvent or diluent evaporation with no sample loss. The height-adjustable head of the concentrator delivers a flow of inert gas that removes evaporated solvent from the surface of solutions in tubes or 96-well plates. The combination of heating from below and the flow of inert gas provides faster evaporation when compared to traditional methods of reducing the volume of solvent, which can take many hours. The concentrator features a patented gas chamber mounted on a fully adjustable stand. Inert gas is directed onto the sample surface via a set of stainless-steel needles positioned in a silicon matrix. Any sample format can be accommodated. — Bibby Scientific Ltd., Stone, Staffordshire, U.K.
www.bibby-scientific.com
A control device that cuts
energy consumption for making WFI
Christ Aqua Pharma & Biotech
The new WFI-Flex (WFI = water for injection) power control can help reduce energy costs in water treatment. With the WFI-Flex control for all multi-stage water systems, operation is possible in a range from 10 to 100% at maximum load. The power is increased or decreased as a function of the level in the tank; so the number of on-off switching cycles can be greatly minimized. The system is always running at optimal levels — with improved energy efficiency and a simultaneous reduction of media and heating steam. When used in a system such as the Multitron (photo), with a capacity of 15 m3/h, a "six-figure sum per year" can be saved quickly, by dispensing with just four startup and shutdown processes per day, says the manufacturer. Also, the distillation system has been completely redesigned for WFI production, and now offers it with an increased capacity range of up to 17 m3/h. — Christ Aqua Pharma & Biotech, Vaihingen/Enz, Germany
www.christaqua.com
A vibrating feeder with
built-in bulk hopper inlet
This firm's line of volumetric Rectangular Feeder Machines (RFM) has been extended to include the compact, self-contained RFM Integra Series, vibrating feeders with a built-in bulk hopper inlet. This new Series has an integrated hopper and feeder design that relies on the actuation of two electrical vibrators to ensure a constant, reliable flow of castings, billets and other large parts. The design is also suited to a number of applications in the chemical process industries (CPI). Engineered for continuous flow control, the Series eliminates the need for steeply angled hopper walls associated with gravity hoppers. The Integra models offer a lower overall height and hopper walls angled at less than 30 deg for reduced material dump height. — Cleveland Vibrator Co., Cleveland, Ohio
www.clevelandvibrator.com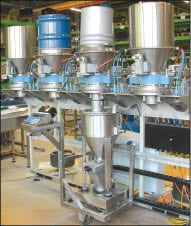 Kokeisl Industrial Systems
Transfer problematic
solids with this robot
The Picking Robot (photo) is a new, automated guided vehicle with weighing scale to collect components directly from a silo or container that is equipped with this firm's Discharge and Dosing Device. Picking of even sluggish and bridge-prone material within a wide range and with high precision is possible. The system is modular and expandable. — Kokeisl Industrial Systems AG, Schönenwerd, Switzerland
www.kokeisl.com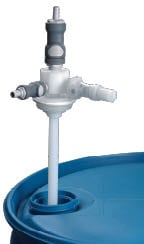 Colder Products
Connect a pump to almost any container
with this adapter
The new DrumQuik 3-port Universal Dispensing Adapter (photo) enables a pump to be connected to virtually any container. Suitable for use in both low-flow dosing and high-flow transfer pump applications, the adapter facilitates the connection and disconnection of multiple chemical lines in a process while minimizing chemical exposure and maintaining workplace safety. The adapter features a 3/4-in. NPT male thread that will mate with common drum bung plugs or bottle caps with a female 3/4-in. thread. Three ports enable liquid removal, venting or blanket gas and recirculation if needed. The DrumQuik is made from food-grade, virgin polypropylene material. — Colder Products Co., St. Paul. Minn.
www.colder.com
This gas seal exhibits
a self-cleaning effect
Cartex GSDN bi-directional gas-lubricated seals can be used to standardize new centrifugal pumps or recondition existing pumps that have conventional stuffing-box packings or liquid-lubricated mechanical seals. The characteristic design feature of the Cartex Series is a seat and shaft sleeve that rotates along with the pump shaft, while the springs remain stationary. Internal pressurization together with centrifugal forces creates a self-cleaning effect at the sliding faces during ongoing operation. This prevents harmful contamination and increases operational reliability, especially in applications where the media contains solids. Other design features of the Cartex GSDN are high axial tolerance and the absence of dead space. The seals have silicon-carbide-face materials and a high-strength diamond-like carbon (DLC) coating ensure optimal performance in continuous operation. — EagleBurgmann LP, Houston, Tex.
www.eagleburgmann.com
Manage tank inventories
from anywhere in the world
BinLink is a Web-based monitoring solution for bins, tanks and silos that enables remote wireless inventory management of stored material from any computer connected to the Internet. The core components of the solution are the company's SmartBob2 and SmartBob-TS1 sensors mounted on the bins, a wireless or wired data-communications network, a gateway to provide connectivity to a personal computer or IP network and data collection software that can be viewed by any authorized individual via an Internet connection. — BinMaster, Lincoln, Neb.
www.binmaster.com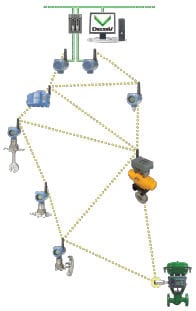 Emerson Process Management
The launch of full redundancy
for Smart Wireless monitoring
Available with the DeltaV S-series digital automation system, full redundancy (photo) protects the wireless network from any single point of failure by allowing primary failover to ensure that data are always delivered, even if there is a malfunction. The enhancements include redundant wireless I/O, power and communications and a redundant Smart Wireless Remote Link. The Remote Link can be mounted in class 1/Div. 1/Zone 0; it easily links the wireless field network into a DeltaV system, which makes an optimized PID available for wireless control. The new full redundancy increases the strength of Smart Wireless technology as a complement to wired and bus approaches of capital projects. — Emerson Process Management, Baar, Switzerland
www.emersonprocess.eu
Software for NIR administration,
network and remote access
SimPlus software allows users to monitor and administer multiple DA 7200 near-infrared (NIR) analysis systems (onsite or remote installations) from one location. Users can also access data and results, update calibrations and create reports. As a result, quality control managers can immediately track production results from multiple facilities; purchasing departments can monitor ingredient quality and evaluate suppliers; production managers can access necessary analyses to optimize production; and NIR support staff can monitor calibration performance and update instruments remotely. For feed manufacturers, SimPlus offers the additional benefit of integration with formulation software packages. — The Perten Instruments Group, Stockholm, Sweden
www.perten.com
'See how these X-ray machines
perform without a site visit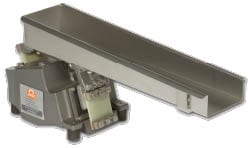 Eriez
This firm has introduced a way for users to view the performance of its X-Ray machines live online. This eliminates the need for an on-site facility visit, saving time and money. Users will "virtually" attend the material test in realtime via a password-protected Website. Participants will see their products passing through an E-Z Tec X-Ray Inspection System (photo) to determine performance for foreign object detection, mass, fill level or missing items. Multiple viewers can observe from different locations and ask questions live to company personnel. — Eriez, Erie, Pa.
www.eriez.com
New fail-safe modules
for an I/O station
This company has improved the performance and increased the functionality of the fail-safe modules for its modular Simatic ET 200M I/O station. The new ET 200M modules (24F-DI, 8 F-DO and 10 F-DO) are now able to meet the requirements of the safety levels SIL3 (Cat. 4/PLe) in mixed operation with standard modules, without the need of a safety protector. The new modules are equipped with PROFIsafe Profil 2.0. enabling them to be used in Profinet networks. The narrow (40 mm) design of the ET 200M 10 F-DO is now suitable for a cable length of 1,000 m, offering P/P switching (current sourcing) and has a switched current of two amplifiers per channel. — Siemens AG, Industry Automation Division, Nuremberg, Germany
www.siemens.com/industry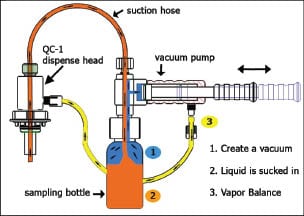 as Strömungstechnik
Perform ultrapure sampling
with this quick connect unit
The quick connect QC-S Liquid Chemical Sampling Unit enables rapid and safe collection of laboratory samples for the highest purity applications and most aggressive liquids. The unit (diagram) is composed of a hand-operated vacuum pump that aspirates samples via the dispensing head into a sampling bottle. Transferred chemicals only make contact with the 1/4-in. withdrawal tubing and the inside of the sampling bottle. No cross contamination can occur. Excessive vapor or minor chemical overflows can be safely returned from the pump to the drum or intermediate bulk container. — as Strömungstechnik GmbH, Ostfildern, Germany
www.asstroemungstechnik.de
Isolate and amplify analog signals
with this conditioner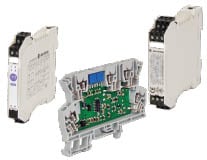 Rockwell Automation
The Bulletin 931 analog signal conditioner (photo) isolates multiple signals on the same power source, which can reduce group-loop and common-mode noise. Designed specifically for process applications involving batch or continuous operations, the Bulletin 931 can be incorporated into an existing control system to convert a wide range of signals from field devices into a standard 4- to 20-mA signal. The product helps users extend the performance and functionality of legacy control systems. — Rockwell Automation Inc., Milwaukee, Wisc.
Software to view process variables,
alarms and quality control
Visual Explorer 2.5 (CVE 2.5) is the fifth release of this firm's Geometric Process Control (GPC) software this decade. GPC technology mathematically unites, for the first time, the three key plant applications of process control, alarm management and quality control to achieve business objectives. The program allows users to view hundreds of process variables and their alarm limits in a single graph. CVE 2.5 includes new features in alarm management, process stewardship and production reporting, continuous process control, process analysis and trouble shooting, and spectral analyzer support for process analytical technology (PAT). One of the highlights of CVE 2.5 is its batch process analysis and control feature, which enables the analysis of multi-stage and multi-phase process data without the need to do any calculations or data manipulations. — Curvaceous Software Ltd., Gerrards Cross, U.K.
www.curvaceous.com

Gerald Ondrey and Scott Jenkins