March New Products (international)
A benchtop FTIR
for near-infrared analysis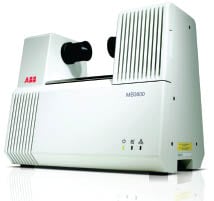 ABB Analytical
Launched last month, the MB3600-PH FT-NIR (Fourier transform, near-infrared) spectrometer (photo) is a benchtop analyzer suitable for a broad range of applications, including quality control analysis, raw material identification and qualification, R&D and inline process analytics. The instrument combines the attributes of a research-grade analyzer — in particular an outstanding signal-to-noise ratio — while maintaining a minimal cost of ownership, says the manufacturer. Its aluminum casting also provides a level of protection needed for intensive use in an industrial environment. — ABB Analytical, Québec, Canada
http://www.abb.com/analytical
A flowmeter that ensures
reproducible chromatography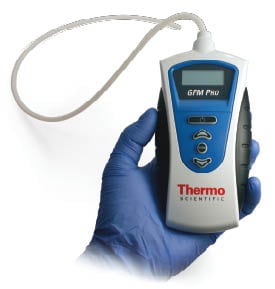 Thermo Fisher Scientific
The GFM Pro Flowmeter (photo) continuously measures gas flows in realtime for accurate and reproducible chromatography analysis. With the capacity to measure both positive and negative vacuum flows from ±0.5 to 500 mL/min, the CE-certified probe can measure volumetric flow of any gas with an accuracy of ±2%. The unit also protects itself against excessively high flowrates by deploying an automatic shutoff when the measured flow exceeds 600 mL/min. — Thermo Fisher Scientific Inc., Milford, Mass.
http://www.thermofisher.com
Abrasive slurries are not a problem
for this disc valve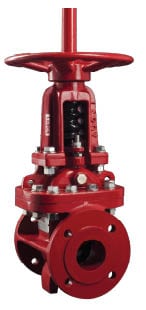 Larox Flowsys Oy
Designed for heavy scaling, abrasive and corrosive slurries, the LDR Rotory Disc Valve (photo) is suitable for applications in mineral processing, power generation, and the gravel-and-sand, pulp-and-paper, chemical and mining-and-metal industries. The patented design allows the valve to cycle in heavy-scaling slurries without sticking or leaking and with minimum wear. It is available with pressure ratings up to 100 bar. — Larox Flowsys Oy, Lappeenranta, Finland
http://www.larox.fi/flowsys
A machinery protection solution
that's fast to setup
Emerson Process Management
Machinery protection and prediction of critical mechanical equipment has been integrated into the DeltaV digital automation system (photo). This new capability directly supports users' goals for improved availability and performance. This integrated machinery protection-and-prediction solution easily connects to the DeltaV system in three simple steps that take less than 10 min. Asset parameters are scanned, selected and imported into DeltaV from AMS Suite predictive-maintenance software and the CIS 6500 Machinery Health Monitor. After import, the DeltaV alarm banner is automatically populated and the system is fully configured with function blocks that can be further used in control strategies. — Emerson Process Management, Baar, Switzerland
http://www.emersonprocess.eu
Test wet or dry powders
with this sieve-tower analyzer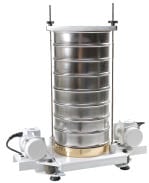 Cleveland Vibrator
The Laboratory/Pilot Sieve Tower (photo) tests both wet and dry material, analyzing a wide range of product samples, including ceramics, foodstuffs, pharmaceuticals, and metal and paint powders. Dual drive controls assure effective "throughout" for up to eight full-frame sieves or 16 half-frame sieves with mesh sizes as small as 20 microns (635 mesh). — Cleveland Vibrator Co., Cleveland, Ohio
http://www.clevelandvibrator.com

Keep instrumentation free of condensation
with this heater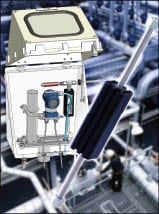 Intertec Instrumentation
This new range of steam heaters (photo) for field-instrumentation-protection applications offers a choice of vertical, horizontal or panel mounting styles. With four outputs ranging from around 65 to 490 W, users can select the appropriate heater for all common enclosure-scale freeze and condensation protection or temperature-maintenance applications. The steam elements are identical in size to those of the firm's electrical heating range, but come with a press-fitted, 12-mm OD stainless-steel tube for connection to the steam or hot-water service line. — Intertec Instrumentation Ltd., Sarnia, Ont., Canada
http://www.intertec-inst.com
Track bio-aerosols
with this validated device
The new generation of SAS Isolator, stainless-steel air sampler simplifies bio-aerosol monitoring in isolators and other controlled environments. The system is composed of two parts: an aspiration chamber that is positioned within the isolator or near production lines; and an external command unit. The system is validated according to ISO 14698, and the stainless-steel construction is suitable for sterilization by vaporized hydrogen peroxide and peracetic acid. — International PBI S.p.A., Milan, Italy
http://www.internationalpbi.it
Shred and granulate plastics
and wood with one machine
Now it is possible, in one single size-reduction step, to both shred and obtain small granule sizes with the HB Series granulator. The design of this machine combines a feed hopper and a hydraulic ram with a granulator. The special design of the grinding chamber and the high cutting frequency enables the machine to transform bales, cut-open film rolls, mingled packs and extremely large and thick-walled purgings into the finished product in one step. Four versions are available, with throughputs of 0.5–3.0 ton/h to 1.2–6.0 ton/h. — Herbold Meckesheim GmbH, Meckesheim, Germany
http://www.herbold.com
Larger members
for this family of small pumps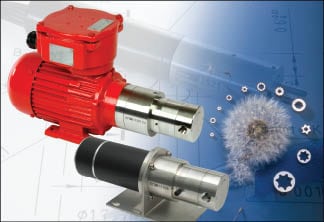 Michael Smith Engineers
The established range of HNP positive displacement, internal-gear pumps has been expanded to include new, larger pumps and more drive options. The 11500 Series (photo) deliver output flows of 0.2–1,150 mL/min and differential pressures between 0–60 or 0–150 bar, depending on the viscosity of the process fluid. Three motor options are available: a.c., d.c. and an ATEX-rated, explosion-proof a.c. version for hazardous areas. — Michael Smith Engineers Ltd., Woking, U.K.
http://www.michael-smith-engineers.co.uk
Hearing protection
with hybrid design
The new Pilot push-in earplug features a hybrid design that combines the performance and cost savings of multiple-use earplugs with the superior comfort of single-use earplugs. Pilot inserts easily into the ear with a simple fingertip twist of the non-obtrusive Navigation Stem. Its soft, pearl-skinned polyurethane foam construction is resilient and easy to clean. With NRR 26 rating, Pilot provides protection in medium-to-low noise environments (95 dB or less). — Howard Leight/Sperian Hearing Protection, LLC, Smithfield, R.I.
http://www.howardleight.com
Keep explosions from propagating
with this pinch valve
The Explosion Isolation Pinch Valve (EIPV) is an economical, yet reliable form of explosion isolation — a method for preventing deflagration propagation through interconnecting pipes or conveyor lines. The EIPV consists of a cast valve body containing an elastomeric sleeve. Upon explosion detection, compressed air is released at high speed and within milliseconds, the sleeve is pinched to full closure, stopping explosion propagation beyond the valve. The valve has been proven to block explosion pressures of 3 bar. — Fike, Blue Springs, Mo.
http://www.fike.com
A new globe valve
comes in a range of sizes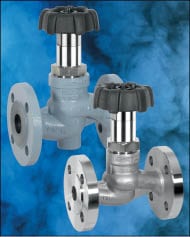 GEMÜ
The new 537 manually operated globe valve (photo) uses the same valve body as the company's 534 and 532 actuator designs. Valve bodies in nominal sizes DN 15–50 in cast-stainless-steel 1.4408 and SG iron GGG 40.3 (EN-GJS-400-18-LT) are available. The maximum operating pressure is 25 bar for DN 15–40 sizes, and 16 bar for DN 50. Standard versions can handle temperatures up to 180°C, and the PTFE gland packing is suitable for steam. — GEMÜ Gebr. Müller Apparatebau GmbH & Co. KG, Ingelfingen-Criesbach, Germany
http://www.gemue.de
Mix solids as if they were fluids
with this blender
Vibra Screw
The Vibra Blender (photo) uses a unique combination of a rotating paddle and material fluidization to blend dry solids with the ease of liquids, according to the manufacturer. Gentle, controlled vibration of the mixing trough fluidizes ingredients on entry where a cut-and-fold mixing rotor provides agitation. Materials flow through the Vibra Blender by gravity making it completely self-regulating to changes of infeed rates. Units are available in capacities up to 1,500 ft3/h. — Vibra Screw, Totowa, N.J.
http://www.vibrascrew.com
Advanced cartridge filters
for collecting dust and fumes
The Cam-Airo filter cartridge is engineered to solve nearly all dry-dust- and fume-collection challenges. Unlike horizontal designs that sacrifice nearly 30% of the filter media area over time, Cam-Airos vertical design optimizes virtually 100% of the filter-media area. The cartridge collector is fabricated in welded sub-assemblies, flanged and externally reinforced, thereby avoiding horizontal ledges that can obstruct airflow, retain dust and cause bridging. Cartridges are available in a variety of materials and surface treatments, with filtration areas of 325 or 245 ft2 per cartridge. — Camcorp Inc., Lenexa, Kan.
http://www.camcorpinc.com
These burner valves
now have TÜV approval
The Jamesbury series 7000/9000 flanged ball valve are automated shutoff valves designed not only to meet EN161 and EN264, as approved by TÜV Rheinland, but also provide protection against fire and explosive hazards during the operation of gas- and oil-burning equipment. When the electrical signal is interrupted, or when there is a loss of air pressure, these burner valves close within 1 s to isolate the gas or oil flow. This action may be initiated either by safety trip or normal shutdown sequencing. The units are also suitable for use in safety loops with SIL compliance according to ISO 61508. — Metso Automation Inc., Helsinki, Finland
http://www.metso.com/automation
Gerald Ondrey