Get on-demand nitrogen with these generators....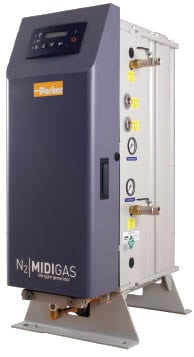 Parker Hannifin



Get on-demand nitrogen with these generators
The latest version of the Midigas (photo) and Maxigas onsite nitrogen generators are available now for a wide range of applications, including modified atmosphere packaging, purging, blanketing and pressure transfer. The on-demand nitrogen generators produce nitrogen from compressed air onsite and offer an alternative to traditional nitrogen gas storage cylinders or bulk storage equipment. Midigas, designed for small- to medium-nitrogen requirements, and Maxigas, for medium to large needs, can offer significant savings in nitrogen costs, with equipment payback in 12–24 months, and ongoing savings of up to 90%, says the manufacturer. The systems produce nitrogen according to the demands of downstream processes, which limits waste and reduces overall energy consumption. — Parker Hannifin Ltd., Industrial Division, Birtley, U.K.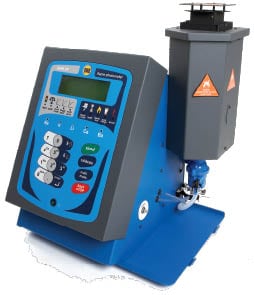 BWB Technologies
Simultaneously detect five elements
with this flame photometer
The XP Flame Photometer (photo) detects and displays concentrations of sodium, potassium, lithium, calcium and barium simultaneously in liquid samples. The instrument measures characteristic wavelength emissions for the five elements and calculates concentration based on emission intensity. The XP photometer can be used with multiple fuels, including propane, butane, natural gas and liquified petroleum gas, and has a flameout and automatic shutdown feature for safety. It is configured to be compatible with centralized or local computer networks, and comes with all equipment necessary for calibration, including calibration standards. — BWB Technologies, Essex, U.K.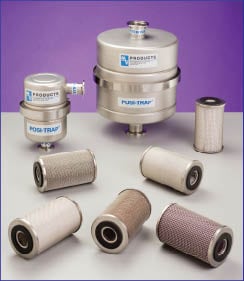 MV Products
This pump inlet trap
is adaptable to changing processes
The PosiTrap Vacuum Inlet Trap product line (photo) is designed to protect pumps in small production and R&D applications up to 50 ft3/min. The filter elements are available in a variety of specialized media that are easily changed to allow tailoring to different processes. The user-selectable elements remove corrosive and abrasive particles from the vacuum stream to protect vacuum pumps. The filter elements are positively sealed at both ends to prevent "blow-by" and come in 4- and 8-in.-dia. straight-through and right-angle models. Filter types include stainless-steel-and-copper gauze, molecular sieve, activated charcoal and pleated polypropylene. — MV Products Inc., Mass-Vac Division, North Billerica, Mass.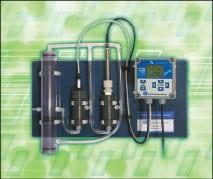 Electrochemical Devices
A chlorine dioxide analyzer
with automatic flow control
The CDA-22 chlorine dioxide analyzer (photo) monitors ClO2 concentrations from 0.05–20 ppm. Featuring a panel-mounted plumb-and-play design and automatic flow control, the CDA-22 is suitable for measurement of chlorine dioxide concentrations in industrial cooling and rinse water, wastewater, municipal water and other fresh water samples. Designed for easy installation and maintenance, the CDA-22 incorporates an automated flow control device and a controller mounted on a PVC panel. — Electrochemical Devices Inc., Yorba Linda, Calif.
This dessicant dryer is designed for small applications
KADW products are wall-mounted dessicant dryers with capacities from 7 to 50 ft3/min at 100 psig. They are capable of delivering consistent dew points as low as 100 F and are designed for easy installation. The instruments feature an accurate steady-state timer and are based on a counter-flow design that ensures the driest dessicant material is always at the top of the bed. They are available fully assembled in ready-to-mount cabinets. — Kaeser Compressors Inc., Fredericksburg, Va.
Direct or converge solids with this diverter
The Quantum Series four-way, wye- line diverter can direct powder, pellets or granules from one source to four destinations or converge from four sources to one destination. It is engineered to handle dry bulk solids in pneumatic conveying systems with vacuum or positive pressures up to 15 psig. Available in 2–6-in. pipe or tube, the diverter can be constructed of stainless steel, aluminum and/or carbon steel. The diverter can also be customized with a wide selection of actuators, position indication switches, flanges and tube stubs, as well as modified to accommodate high or low temperatures, corrosive, humid and hazardous environments. — Vortex Valves North America, Salina, Kan.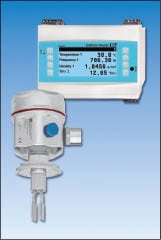 Endress+Hauser
Measure density directly with this online meter
The Liquiphant M density meter (photo) provides direct, online measurement of density and concentration, thus eliminating the need for offline laboratory instruments. The online measurements allow control systems to react more rapidly to changing process conditions. Equipped with a mechanically oscillating fork that is excited to its resonant frequency, the Liquiphant M is immersed in process liquid, which changes its frequency. Those changes are related to the density of the medium. Applications suitable for the Liquiphant M include: content measurements, quality statements, purity indication and product identification. — Endress+Hauser Inc., Greenwood, Ind.


This catalyst is designed for high-melt-flow applications
The D7000 Donor catalyst is designed specifically to optimize high-melt impact copolymer polypropylene resins, such as the plastic used in automotive interior and food contact applications. The catalyst is said to smooth and speed transitions between product grades and improve performance characteristics of finished products. In addition, the catalyst allows the reduced use of peroxide, which lowers resin manufacturing costs. Commercial trials with the catalyst have shown improved process efficiency and lower costs, says the manufacturer. — Dow Chemical Co., Midland, Mich.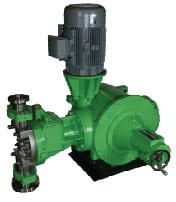 Pulsafeeder
Motors for this versatile pump
can be mounted horizontally or vertically
The PulsaPro 900, a hydraulic diaphragm process and metering pump (photo), is designed for a broad array of chemical, petrochemical and oil-and-gas applications. It can handle flows to 16,380 gal/h (62,000 L/h), standard pressures to 4,350 psi (300 bar), and future design capabilities to 15,000 psi (1,000 bar). This pump can handle process temperatures from –100°F (–73°C) to 500°F (260°C) with standard viscosities to 3,000 cp. The patented hydraulic diagnostic package both protects the pump from damaging operation forces and presents a visual indication of pump performance. — Pulsafeeder, Rochester, N.Y.
http://www.pulsafeeder.com
Economically measure product from bags
The Aero-flex flexible screw conveyor provides an economic method of metering product from bulk bag unloaders, bag dump stations and storage vessels. Available in a range of sizes, the conveyor transfers powders over distances of up to 40 ft and rates to 10 ton/h for materials having a bulk density of 40 lb/ft3. Applications include the refilling of packaging machine hoppers, metered feed into mix tanks and gain-in-weight hopper filling and bulk bag discharging. — Vac-U-Max, Belleville, N.J.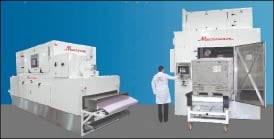 Radio Frequency
Save time and expense with
this new drying system
The Macrowave radio frequency (RF) drying system heats filter cake material uniformly to remove water without overheating. The drying system is a suitable replacement for tumble, spray, tray, spin flash and belt/tunnel dryers, and can reduce labor and energy costs by up to 60%, according to the manufacturer. The Macrowave applies energy to filter cake material in the form of RF waves at a frequency of 40.68 MHz. The equipment features volumetric heating, which provides rapid and uniform heating to prevent overheating. The system is available in both batch and conveyorized configurations. — Radio Frequency Co. Inc., Millis, Mass.
This sifter features quick screen changes
The Kek Centrifugal Sifter offers efficient processing of powders, granules and slurries, and allows rapid screen changes — under 30 seconds in most cases — and easy access for cleaning. It is available for gravity and fully inline pneumatic conveying applications with output ranges from a few pounds per hour to over 100,000 lb/h. The Kek Centrifugal Sifter provides size classification for a variety of applications including: de-agglomeration, bulk conditioning, classification, scalping, inline sifting, policing raw material, dedusting, dewatering and reclaiming damaged product. It is compact, dust-tight, vibration-free and virtually noise-free. — Kemutec, Bristol, Pa.
Manage GHG reporting
with this package
This greenhouse-gas-(GHG) reporting startup package is designed to help companies quickly set up the calculations, data collection and quality control and assurance processes that are necessary for important source categories of the U.S. Environmental Protection Agency's mandatory GHG reporting rule. The GHG Quick-Start Package includes templates for data collection, emissions accounting, calculation processes and more. The GHG reporting package is part of a more comprehensive GHG management solution from this company. — TechniData America LLC, Wilmington, Del.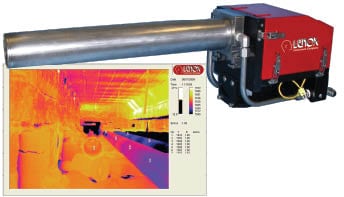 Lenox Instrument
Monitor combustion flames
in realtime with this camera
The FireSight Thermal Imaging Camera System (photo) can provide clear, realtime monitoring of furnace and boiler flames, as well as accurate, non-contact temperature measurement. Designed to be installed through a small opening in the combustion chamber wall, the high-resolution camera and lens tube employ efficient water-cooling and integrated air-purging to keep the optics free of debris. The infrared camera operates within a wavelength band carefully selected to eliminate obscuring and measurement errors caused by absorption and emission bands present in the combustion gases in hydrocarbon-fueled furnaces, boilers and fired heaters. The camera can be remotely controlled by image-processing software, which is included. — Lenox Instrument Co., Trevose, Pa.
Enclose the entire noise source to meet OSHA noise specs.
Soundscreen panels and equipment enclosures provide thermal and acoustical control for blowers, fans, compressors, pumps and other bulk handling equipment. By enclosing the entire noise source, noise levels can be reduced to within OSHA specifications, typically 20–25 dB. The outer shell construction is solid galvanized steel with acoustical and thermal fiberglass batt (pre-cut panels) insulation fill and either a solid or perforated inner liner of galvanized steel. The fiberglass insulation will not settle or promote the growth of bacteria, mold, vermin or insects. Soundscreen panels are available in durable 2- and 4-in.-thick panel constructions with maintenance access and ventilation, and are suited for indoor or outdoor applications. — McGill AirSilence LLC, Columbus, Ohio
http://www.mcgillairsilence.com.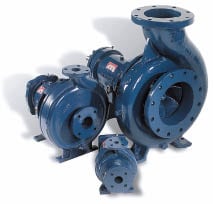 Griswold Pump
Clean 'on the fly' with this drawer magnet
The HF Series drawer magnets are equipped with powerful magnetic cartridges to handle a wide range of separation tasks in mechanical or gravity flow applications. The cartridges can fully extend outside the housing, and clean "on-the-fly," with no disruption of product flow. As the tube assemblies travel outside the housing, grommets wipe the tubes clean all the way to their nonmagnetic tapered ends Cartridges in the HF Series can be configured with two or more trays in a staggered arrangement to increase contact with the product stream. The equipment is available in utility, powder, food and sanitary construction grades and in a standard two-row model and three- and four-row trays as well. — Bunting Magnetics Co., Newton, Mass.
http://www.buntingmagnetics.com



This pump is ideal for corrosive, abrasive, solid and fibrous materials
The open impeller design of 811 ANSI Series pumps (photo) provides performance advantages during the pumping of demanding chemical process fluids. For instance, the open impeller minimizes concentrated wear by balancing the hydraulic axial thrust load. It also reduces stuffing-box pressure, simplifies maintenance, extends pump life and reduces repair costs, says the company. These self-tightening impellers also help to reduce leakage and failure. — Griswold Pump Co., Grand Terrace, Calif.
http://www.griswoldpump.com
Versatility is the major feature of these rupture disc holders
The TQ+ is a new pre-torqueable rupture disc holder in this company's product line. The TQ+ type was designed to be installed in multiple international flange rating configurations, including ANSI, JIS, DIN and ISO, making the rupture-disc holders versatile enough to be used in a wide range of applications. Pre-torqueable holders allow rupture discs to be installed, then torqued to recommend static load levels, properly clamping the rupture disc within the assembly. The holders have the ability to be removed, inspected and re-installed during routine maintenance. — Fike, Blue Springs, Mo.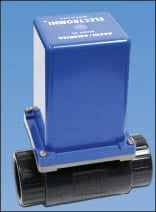 Asahi/America
A new version of a popular
ball-valve actuator improves quality
An updated version of the Series 83A Electromni actuator for small, quarter-turn ball valves is available from this company. Designed for improved performance, the Series 83A now features a Nema 4X-type enclosure to meet today's industry standards. The flanged cover and baseplate design with a full gasket Nitrile seal enhances sealing performance to keep external water out of the actuator enclosure. The new version now has four captivated 304 stainless-steel, hex-head-slotted cap-screws to fasten the actuator's cover and base halves together, and four Nitrile cap-plugs to cover the formerly exposed motor mounting bolts. Dimensions permit tight fits and incoming customer wiring hook-up requirements remain unchanged from previous versions of the actuator. — Asahi/America Inc., Malden, Mass.

This probe offers continuous monitoring of particles
The Parsum inline particle probe features the particle velocimetry technique for inline particle-size measurement. The technique is suitable for measuring particles in the size range from 50 to 6,000 μm travelling at velocities of between 0.01 and 50 m/s. The size and velocity ranges make the technique ideal for monitoring processes such as granulation, spray drying, fluidized bed and particle size reduction. — Malvern Instruments Inc., Westborough, Mass.
Reduce heat loss by 49% with this insulation
Hitlin (high-temperature layered insulation) features low thermal conductivity that offers 49% less heat loss than traditional industrial insulation materials calcium silicate and perlite, according to the manufacturer. The new industrial insulation is appropriate for power plants, petroleum refineries and petrochemical plants, among others, and can be used in process applications with temperatures up to 1,400F. Hitlin is made of continuous filament E-glass fibers that are bound through an enhanced mechanical needle-punching process, then mandrel-wound into pipe cover sizes from 0.5- to 44-in.-dia., and thicknesses up to 6 in. Said to have total installed costs and life-cycle costs lower than competing products, Hitlin is now being distributed in North America. — Visionary Industrial Insulation, Kapolei, Hawaii
Handle heavy slurries
with this knife gate valve
Designed especially for heavy slurry applications in the power and mining industries, the Series DX slurry knife-gate valve minimizes wear by reducing turbulence with reinforced elastomer sleeves that provide a 100% full port opening. The valve can provide drop-tight shut-off in both directions. The Series DX design also prevents slurry build-up in the seat by discharging a small amount of slurry from the valve to keep the gate path and seat area clear of entrapped particulate material. — Red Valve Co. Inc., Carnegie, Pa.
This polymer is designed
for fuel contact applications
Fuel'In is a new family of polyamide 6 and 6,6 polymers designed specifically for fuel contact, including fuel storage and transport. The polymer family provides high barrier performance and up to 30% weight reduction without compromising safety. The polymer line has proven durability and high impact resistance, even at low temperatures, says the company, and offers users reduced processing costs through minimal tooling and machine investment. — Rhodia S.A., Lyon, France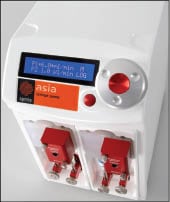 Syrris
Laboratory applications will benefit
from this tiny, automated pump
This company's Asia Syringe Pump (photo) is only 23 cm wide, yet is rated to 20 bar (300 psi). Constructed from highly chemically resistant polytetraflurorethylene (or other fluorinated polymers) and glass, this pump is well-suited for laboratory use. The compact module offers two independent continuous flow channels, each with an integrated pressure sensor and a flowrate range from 0.01 to 10 mL/min. The flowrate and volume can be controlled using the intuitive front panel, or via the firm's Asia PC software. — Syrris, Royston, U.K.
http://www.syrris.com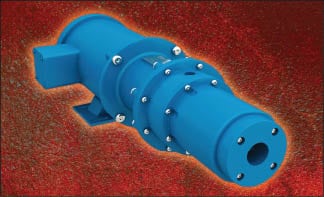 Moyno
Magnetic-drive pump provides
a 'zero-leakage' option for operators
The Moyno Mag Drive 500 Series pumps (photo) are said to be the first progessing-cavity, wobble-stator pumps to offer magnetic drives. They are designed to handle toxic, aggressive, caustic or even flammable and explosive fluids. This proprietary mag-drive pump is designed to maximize operator safety, eliminate workplace hazards and protect the environment by eliminating leakage pathways. The elimination of mechanical seals also helps to eliminate costly repairs. Four models are available, providing flowrates from 0.1 to 900 gal/h. — Moyno, Inc., Springfield, Ohio
http://www.moyno.com
This incremental encoder can handle harsh environments
The Sendix 5006 2-in. incremental encoder features a completely stainless-steel housing and Viton seals to resist corrosion and physical abuse in harsh plant environments. The encoder can handle fluctuations in temperature, from –40 to 85°C, and is IP67-rated when sealed. The Sendix 5006 incorporates a proprietary Safety-Lock bearing assembly that has been tested to provide additional protection against vibration and installation errors. It is ideal for use in corrosive environments or for applications requiring long-term durability. — Turck Inc., Plymouth, Minn.
Deposit low-friction coatings with this system
The AL400 system is a new plasma-enhanced, chemical-vapor-deposition (PECVD) instrument designed for the deposition of a smooth coating on rubber and elastomeric surfaces. The low-coefficient-of-friction coating reduces tackiness and drag of rubber and elastomeric surfaces, and can repel lint and other contaminants on silicone components. Coating thickness is typically less than one micron, and has no effect on the bulk properties of the coated material. The PECVD system is clean-room compatible and available in a table-top version or with a free-standing enclosure. — Plasmatech Inc., Erlanger, Ky.
http://www.plasmatechnology.com
This sifter allows quick screen changeouts
The CS-1 gyratory sifter is a stacked-deck sifter designed to save time and labor in screen changes. Screen inserts can be switched within minutes using only standard hand tools, without the need for glues or tensioning machines. The CS-1 provides two to four separations of dry product from ¼ in. size down to 400 mesh with a capacity of 50,000 lb/h. — Sifter Parts and Service Inc., Wesley Chapel, Fla.
Protect sensitive instruments with this gas cylinder
The Ecocyl OSQ specialty gas cylinder uses a unique form of negative gas pressure to protect sensitive instruments, such as environmental monitoring devices, from damage due to positive gas pressure, which can be associated with conventional gas cylinders. The on-demand, stainless-steel cylinder is refillable, and has an integrated cylinder valve, pressure regulator and flow control device, which are permanently protected by a specially designed protective cowling. The new cylinder is suited to instruments such as detection monitors with integrated pumps or monitors calibrated in docking stations with built-in pumping systems. — Linde Canada Limited, Mississauga, Ontario, Canada
This pump family is designed for sanitary and hygienic applications
Pro-Flo X Hygienic Series pumps feature the company's patent-pending Pro-Flo X Air Distribution System (ADS) and the Efficiency Management System (EMS). The ADS provides reliable operation, high flowrates, and anti-freezing characterisics, while the EMS allows the user to control flowrate and efficiency with the turn of a dial. All polished product-contact surfaces have a maximum roughness values (Ra) of 0.8 μm. A flow-through liquid chamber design and smooth flow path enhances cleanability and prevents product entrapment. — Wilden Pump, Grand Terrace, Calif.
http://www.wildenpump.com
These compact pumps are ideal for applications with space restrictions
The three-chambered configuration of the Flojet Triplex Series high-pressure, self-priming pump operates at flowrates up to 1.4 gal/min (5.3 L/min) and operating pressures up to 150 psi (10.3 bar). Their molded diaphragms virtually eliminate potential leakage paths, says the company. These pumps can run dry for extended periods without damage. — ITT Flojet, SantaAna, Calif.
http://www.flojet.com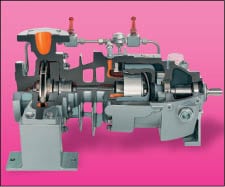 Dickow Pump
Seal-less centrifugal pumps
keep potential emissions at bay
The Series NMWR seal-less centrifugal pumps (photo) have magnetic couplings and no shaft duct to the atmosphere, and are available with maximum capacity to 4,000 gal/min and differential head to 500 ft. The containmment shell forms a closed system with a hermetically sealed liquid end. They are designed to handle heat transfer fluids with temperatures up to 750°F without cooling. The containment shell provides a simpler replacement to conventional double-acting mechanical seals with external fluid reservoirs, says the firm. — Dickow Pump Co., Marietta, Ga.
http://www.dickow.com
Less pipe straight-run needed with this flow conditioner
The Model VIP flow conditioner offers this company's tab-type flow-conditioning technology in a low-cost, simply installed insertion panel format. It avoids the need, as with many flowmeter types, to have a significant straight run of pipe to allow a repeatable, swirl-free flow profile to the sensor. When space and pipe orientation conditions do not allow a straight run, the VIP can neutralize flow disturbance from valves, elbows and other components when installed at a distance of three pipe diameters from the flow meter, allowing optimum function of the flowmeter. The thin, lightweight VIP can be installed between flanges or welded in place. — Vortab Co., San Marcos, Calif.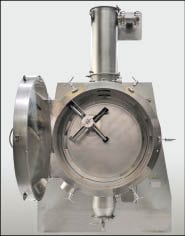 Italvacuum
New rules in vacuum drying: The Planex System
The Planex System (photo) is a new horizontal paddle vacuum dryer developed for vacuum drying of wet powders obtained from centrifuge or filter press. The system consists of a fixed cylindrical chamber with an eccentric agitator inside with two independent movements: it can rotate on its own axis and tangentially to the cylindrical chamber as well. This combined double rotation allows optimal product mixing, continuously renewing the surface exposed to evaporation. As a result, the release of solvent vapor is facilitated and drying times are significantly reduced compared to conventional systems, says the manufacturer. The unique configuration of the agitator and the double rotation provides continuous revolution of the product while limiting the mechanical and thermal stress, preventing local overheating due to friction. The mechanical stress on the product is said to be three times less than that produced in traditional paddle dryers equipped with concentric agitators. This property makes the system ideal for drying heat-sensitive products, and also leads to a reduction in power consumption by about a third. — Italvacuum S.r.l., Borgaro (Torino), Italy
Eccentric-disk pumps can be used for abrasive, thick or thin fluids
The Mouvex SLC-Series eccentric-disk pumps are designed to self-compensate for mechanical wear and maintain consistent flow over time. With seal-less construction, low shear and agitation of the pumped product, the ability to run dry for up to five minutes and clean-in-place capabilities, these pumps enjoy lower maintenance requirements and lifecycle costs for the transfer of various liquids. The eccentric-disk technology produces the pumping performance of a positive-displacement pump, creating a constant flow independent of pressure and viscosity, says the firm. — Mouvex, Auxerre, France
http://www.mouvex.com


This pump family has been expanded to
include an engine-driven model

The newest addition to the Ultra V Series pumps family is an engine-driven model said to offer higher pressure, flow and efficiency than comparable pumps. Shimless adjusting, atmospheric vents and self-cleaning wear plates ease maintenance requirements. They are available in 3-, 4- and 6-in. sizes, and can handle flows of 2,050 gal/min and maximum head of 175 ft. — Gorman-Rupp, Mansfield, Ohio
http://www.gormanrupp.com
Scott Jenkins
Achemasia 2010 Show Preview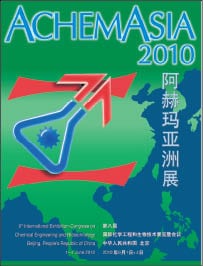 More than 400 exhibitors from 24 countries are expected to participate in AchemAsia 2010, the 8th International Exhibition-Congress on Chemical Engineering and Biotechnology (Beijing, China; June 1–4). Held every three years in Beijing for the past two decades, AchemAsia 2010 is expected to generate positive momentum and a significant boost for the chemical engineering discipline in China, says Thomas Scheuring, head of exhibition congresses, Dechema e.V. (Frankfurt, Germany; www.dechema.de). This comes at a great time, as it coincides with the substantial investment package launched by the Chinese government last year. This package, representing a volume of RMB500 billion [about $73 billion], gives testimony to the essential position of the chemical sector in the Chinese economy, and opens up excellent opportunities for suppliers to the chemical and petrochemical sector in China, says Scheuring.
The trade fair will be held in the new China National Convention Center, close to Beijings Olympic Park. Along with the exhibition, more than 80 scientific lectures will be presented during the conference program, which covers all of todays hot topics, including future feedstocks, future energy sources, water, air and mobility. In addition, a guest event — the 2010 Pharmaceutical Engineering International Forum — will take place June 2–3. Officials from the U.S. Food and Drug Administration (FDA; Washington, D.C.), the European Medicines Agency (EMEA; London), and experts from the global pharmaceutical engineering fields will be invited to the Forum, which is divided into four branch forums about validation, aseptic production, project management and GAMP 5.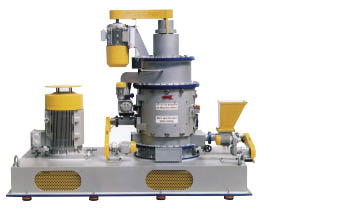 Altenburger Maschinen Jäckering
A mill that pulverizes, grinds
and dries a variety of materials
This firm will present its famous Ultra-Rotor air turbulence mills (photo), which can be used for pulverizing and also simultaneous grinding and drying of various products like plastics, filter cakes, visco-elastic material, slurries and other products, which are difficult to handle. The extremely high speed of the mill (up to 140 m/s) and its construction design (based on more than 50 years of experience with this type of mill) demonstrate the manufacturers pioneering role in this grinding and drying process. Stand 9G — Altenburger Maschinen Jäckering GmbH, Hamm, Germany
www.jaeckering.com

Zhejiang Dongxin Seal
Seals from this sintered SiC
are self-lubricating
This firm specializes in the development and manufacture of silicon carbide, carbon graphite, hot-press graphite and other materials for sealing systems. Its latest product — sinter silicon carbide with free graphite (SSiC+C; photo) — has been developed for applications such as the seal rings of mechanical seals. The material can be used in corrosive environments. Another new material launched at AchemAsia is a porous SSiC+C that provides superior self-lubrication and instant dry friction in the event of an emergency. Stand 15U — Zhejiang Dongxin Seal Co., Shanghai, China
www.dongxin.com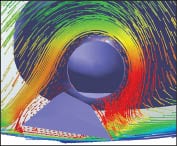 Ekato Ruhr- und Mischtechnik
A mixer for processing
a wide range of viscous products
Today, the production of viscous products is subject to significantly more stringent criteria than 10–20 years ago. This firm has responded to these new requirements concerning process optimization. The Paravisc (photo) is suited to a wide range of viscosities from water-like up to 1,000,000 mPas and is ideal for multipurpose plants or processes with changing viscosities. When necessary, the firm can supply wall scrapers, off-center agitators or baffles. A coaxial agitator that is equipped with a Paravisc and Viscoprop impeller is ideally suited for hot-melt processes or in the production of silicon emulsions. When compared to the anchor impeller, the high circulation rates of the Paravisc at the same or lower power input allows a reduction of the heating/cooling time up to 30%, says the manufacturer. Stand 10S — Ekato Rühr- und Mischtechnik GmbH, Schopfheim, Germany
www.ekato.com
Samson
Control valves
with innovations built in
Some of this leading control-valve manufacturers most prominent inventions include the metal bellows, which serve as a reliable dynamic sealing element, and the integral positioner attachment, which increases dependability and reduces risk of injury. The company manufactures control (photo) and butterfly valves in all common materials in accordance with DIN, ANSI and JIS standards for any application in process engineering. The product range also includes self-operated regulators for simple control loops with a constant reference variable as well as sophisticated transmitters, controllers and automation systems. Stand 10M — Samson AG, Frankfurt, Germany
www.samson.de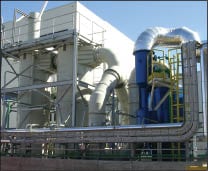 GEA Wiegand
Clean hot gas streams
with these scrubbers
Jet and Venturi scrubbers (photo) are used successfully for cleaning and dedusting discharge air, absorbing noxious gaseous substances, separating aerosols and cooling gases. This firm offers a series of standard scrubber types, which can also be combined depending on the application: Jet scrubbers; hot-gas scrubbers (quench) and fluegas scrubbers; packing towers; and Venturi scrubbers with capacity ranges from 0.05 up to approximately 100,000 m3/h gas throughput with exhaust temperatures of up to 1,300°C. Applications include fluegas cleaning, process gas cleaning, dust separation with jet and Venturi scrubbers, gas cooling, chloric gas absorption, scrubbers and emergency units, and laboratory compact gas scrubbers for gas quantities of up to 2,000 m3/h. Hall 8Q — GEA Wiegand GmbH, Ettlingen, Germany
www.gea-wiegand.com
Filtration systems for
biofuels production, and more
This firm is working closely with many biofuel-industry leaders to help optimize their filtration needs. Whether the feedstock is wood chips, grass clippings, corn stover, rice straw or other biowaste material, each process has its own unique challenges. Each biofuel process or variation within the same process changes the filtration characteristics of the slurry due to variations in the feedstock, pretreatment used, feed particle size, particle size reduction due to shear pumps, residence time prior to filtration, solids content in the slurry, slurry temperature and amount of washing required. The Pressure Filter (PF), for example, is suitable for maximum recovery of valuable sugars and dry solids, whereas the Gas Tight options with the RT/GT and the DS Filter are well suited for solvent applications. Stand 14F — Larox Corp., Lappeenranta, Finland
www.larox.com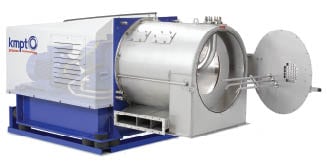 KMPT
Centrifuges, filters and dryers
for the chemical process industries
This firm designs, manufacturers and services Krauss-Maffei centrifuges, filters and dryers (photo). The company engineers systems individually tailored to users specific requirements. With Horizontal Peeler Centrifuges known for reliability, Pharma Centrifuges designed to meet highest quality standards, innovative centrifuges for gypsum dewatering and continuously operating Pusher Centrifuges, the company has the capability to handle a broad range of separation applications in the chemicals, pharmaceutical and environmental industries. Stand B6 — KMPT, Vierkirchen, Germany
www.kmpt.com
Process technology for
making chemicals from coal
The MegaMethanol and MTP (methanol-to-propylene) concepts open new routes for coal monetization, and SNG (substitute natural gas) is a possible way to convert coal into a transportable fuel — methane. SNG can be used either for power generation or routed to pipelines as an admixture to natural gas. This company is also active in the field of synthesis gas (syngas), hydrogen generation and clean conversion technologies for the production of motor fuels and chemicals. The firm is a leading technology company operating worldwide in the fields of process engineering and plant contracting. Its technology is based on proprietary and exclusively licensed technologies in the areas of gas-to-petrochemicals products via syngas or methanol or synthetic fuels, petrochemicals, petroleum-refining technology, polymers, as well as renewable resources and food. Hall 5P — Lurgi GmbH, Frankfurt, Germany
www.lurgi.com
Calculate a products carbon footprint
with this software
Carbon footprint studies have received considerable attention, both from consumer goods manufacturers as well as from commodities producers. Having developed the life-cycle-assessment (LCA) software Umberto for more than 15 years, this company decided to launch a dedicated version exclusively for carbon footprint calculations. Umberto for Carbon Footprint offers all the functionality needed, such as graphical modeling of the product life cycle, a library with more than 4,000 raw materials and components wit their carbon-dioxide equivalents, breakdown of carbon footprint by contribution from each life cycle phase, and Sankey diagram display of flow quantities. Stand 5X, German Pavillion — ifu Hamburg GmbH, Hamburg, Germany
www.ifu.com
Proven design and know-how
are built into this waste incinerator
An important component of designing and operating an active-pharmaceutical-ingredient (API) batch plant is the treatment of all the offgas and waste generated from it. Preferred solutions to handle fluctuating gas and waste streams from such systems are incineration plants with integrated heat recovery and fluegas treatment. This firm has analyzed the typical offgas amount and composition from a standard 10–16-m3 batch reactor system, with a product portfolio in other company plants around the globe, and used this information to write a user-required specification with the basic design for its Nansha plant. The incinerator handles a nominal offgas flowrate of 1,400 m3/h with a maximum water content of 1,500 kg/h, a nominal (maximum) calorific value of the residue of 18 MJ/kg (43 MJ/kg), and a nominal thermal capacity of 7,200 kW. Stand 23H – Lonza Engineering Ltd., Basel, Switzerland
www.lonza.com/eng
Process technology for best use
of energy and raw materials
As at Achema 2009, the theme of this engineering-and-construction firm's AchemAsia exhibition stand will be "The power of the new." The company's employees invest all their energy in developing new ideas and process technologies that enable customers around the world to use raw materials and energy sources more efficiently and cost-effectively than before. Eight lectures will be presented during the conference, including coverage of: new developments in lactic acid technology; Prenflo coal gasification for coal-to-liquids and IGCC; innovative heat integration; plant solutions to use raw materials and energy sources more efficiently; and more. Stand 27J — Uhde GmbH, Dortmund, Germany
www.uhde.eu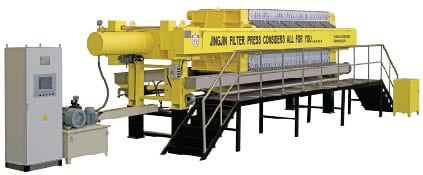 Jing Jin Filter Press Group
This filter press is
both flexible and rigid
The Unattended Quick Filter Press Model KZG185/1500-U (photo) delivers high efficiency and energy savings. The system has 48 chambers with volumes of 3.7 m3, and a filtration area of 185 m2, and delivers a squeezing pressure of up to 1 MPa and feed pressure of 0.8 MPa. The filter plate is made of TPE elastomer, fiberglass and polypropylene. These materials impart the advantages of flexibility, toughness and rigidity. Incorporating an Allan Bradley PLC, the system performs all operations and checks automatically. Stand 17B — Jing Jin Filter Press Group Co., Dezhou, China
www.jjylj.com
A more efficient system
for making compressed air
Specializing in energy-efficient systems for compressed air, this firm has developed systems that allow energy savings of the initial compressor-power consumption. As an example, a conventional compressor with nominal flowrate of 160,000 Nm3/h and a discharge pressure of 18.5 bars requires a power of 22 kW, whereas this firm's PTP, EES and EES-RTC systems have respective power requirements of 21.6, 21.33 and 21.01 kW, says the firm. An existing compressor train can increase the nominal flowrate by up to 15%, and a new compressor can be designed smaller with less stages. Stand 13T — Qingdao Sineco Consulting Company Ltd., Qingdao, China
www.sineco.com.cn
Filter elements in a wide range
of materials and pore sizes
This firm offers a variety of standard materials for filtration and fluidization as well as filter elements with ratings from 0.2 to 200 microns. The seamless filter elements are manufactured by isostatic pressing or coaxial pressing via a powder metallurgical process. Fittings and connectors can be bonded to the porous parts by welding, machining or directly during the sintering process. Available materials include stainless steel 316, 316L, 304, 304L, titanium, IconelHastalloy and other alloys. Stand 30M — Beot Membrane Separation Equipment Co., Shijiazhuang, Hebei, China
www.beot-filters.com
No leaking from the stem
of this control valve
The Vari-V control valve features small dimensions with maximum flowrates and a low flow-resistance coefficient. The valve allows for a large pressure drop, has zero stem leakage and covers a wide adjustment range. The manufacturer offers all types of valves, including ball, butterfly, check and globe valves, as well as diaphragm and plug valves. Hall 24L — Modentic Valve Corp., Nanjing, China
www.modentic.com.cn
These butterfly valves handle
a wide temperature range
Valstar valves are triple eccentric, metal-seat butterfly valves for bi-directional on/off regulation. The valves are available in sizes from DN 30 up to DN 2000, and can operate over the temperature range of –200 to 1,000°C. They are sealed according to ANSI standards, with expandable and metallic gaskets (Class IV) or with lamellar gaskets (Class V and VI). Valves can be specially designed according to technical specifications. Stand 4V — Verdelet A.T.N., Neuville-les-Dieppe, France
Gerald Ondrey

http://www.verdelet.com