July New Products (International)
New diaphragm valve
delivers twice the flow

Georg Fischer Piping Systems
Launched in April, this new generation of diaphragm valves (photo) is said to have a number of decisive advantages in handling and safety, but also in regard to efficiency. The flow in these valves is, on average, double that of conventional diaphragm valves, says the manufacturer. The central plastic thread, which is used instead of the normal four metal screws, guarantees a corrosion-resistant connection. The more homogeneous thermal expansion behavior achieved by this central plastic thread also eliminates the need for retightening. Leak tightness is provided for operating pressures of up to 16 bar. —
Georg Fischer Piping Systems, Schaffhausen, Switzerland
www.piping.georgfischer.com
Camlab
Measure turbidity in the field
with this portable instrument
The portable TB200 white-light turbidity meter (photo) is designed to quickly provide reliable onsite testing of water samples. The unit uses a white light source and a 90-deg infrared detection technique to meet specifications of EPA Standard 180.1. The instrument is capable of performing 600 tests without a battery charge. Calibration of the turbidity meter is simple, and the device comes with four turbidity standards. Autoranging is a feature that allows the instrument to automatically select the correct turbidity range for a given sample. — Camlab Ltd., Cambridge, U.K.
www.camlab.co.uk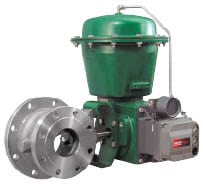 Emerson Process Management
This valve family now has
an expanded outlet version
The Fisher Vee-Ball family has been extended to include the V150E expanded outlet version (photo). The valve features a transitional flow contour that increases in flow area from inlet to outlet. The V150E is designed for installation directly to a medium-consistency pump-discharge flange, and the expanded outlet will accommodate larger diameter transfer lines. The valve is available in sizes down to DN 80x100 (NPS 3x4) and up to DN 250x300 (NPS 10x12), and mates with ASME Class 150 or PN 10/16 raised-face flanges. — Emerson Process Management, Baar, Switzerland
www.emersonprocess.com/fisher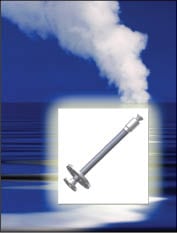 BETE
Nozzles for keeping
ethylene plants cool
An example of this firm's development of customized spraying solutions is a recent application involving oil quenching in the production of ethylene. Ethylene feedstock is mixed with steam and heated to around 1,500°F in the pyrolysis furnace. Downstream of the furnace, the process stream must be cooled. This is accomplished by injecting oil into the process stream to reduce the temperature. The solution is a MaxiPass series of nozzles (photo), which are designed for hydrocarbon feed applications, provide good drop size and are available in a wide range of materials, including the 316L stainless steel selected for this application. — BETE Ltd., Lewes, U.K.
www.beteuk.com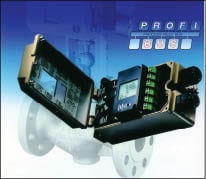 Samson Controls
Profibus communication
is one feature of this positioner
The Series 3730 electro-pneumatic control-valve positioner with Profibus-PA (photo) provides high-quality air output capacity combined with optimum functionality and ease of operation. The 3730 is one of a range of positioners from this firm, all of which are based on a common model platform. The Type 3720-2 and all higher versions come with the fully integrated Expert valve diagnostics that supply the required information for predictive maintenance. Alarms are indicated via the fault indication output and displayed as error codes. — Samson Controls Ltd., London, U.K.
www.samsoncontrols.co.uk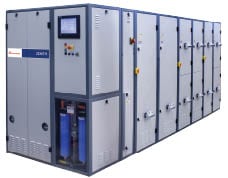 Edwards
Reduce footprint with these
exhaust-treatment systems
The Zenith range of integrated exhaust management systems (photo) has been expanded to include a new offering incorporating the iXH harsh process vacuum pump and the Alas family of gas-abatement solutions. This expansion of the Zenith range offers semiconductor manufacturers a highly efficient, low cost-of-ownership solution to the increasing vacuum and abatement demands of advanced semiconductor processing at the 60-nm and smaller design rules, says the manufacturer. A Zenith exhaust management solution can reduce system footprints by up to 70% and can reduce utility hookups by over 60%, says the firm. — Edwards, Crawley, U.K.
www.edwardsvacuum.com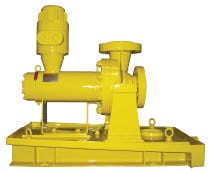 Nikkiso-KSB
Pumps designed to last a long time
in harsh environments
This firm has launched a new pump-type series (photo) for use in the chemical and petrochemical industries. The pumps meet the requirements of API 685 Standards, and the series comprises 27 sizes designed for a minimum of 20 years of operation in a petroleum refinery under heavy-duty conditions and at pressures of at least 40 bar. The casings with their centerline pump feet and the flameproof motor housings are provided with a corrosion allowance of 3 mm. Throttle rings on the front and rear shrouds of the impeller and balancing holes, together with a hydraulic-pressure balancing chamber, ensure that the axial forces are absorbed. The new series generates a maximum flowrate of 350 m3/h and a maximum discharge head of 200 m. — Nikkiso-KSB GmbH, Bruchköbel, Germany
www.nikkiso-ksb.com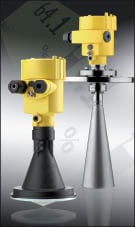 VEGA
Simplified level measurement
of bulk solids
New hardware and extended software algorithms make the sensors of the Vegapuls 60 radar instrument series (photo) even more powerful, says the manufacturer. Application parameters describe the measurement task of the sensor, thereby enabling simple and optimal adaption to the application. The user only has to select the type of medium to be measured, the vessel geometry and mounting situation, and the measurement range. The software then operates to ensure the level is precisely measured. Setup and commissioning is simple to perform, and standardized diagnostics are included. — VEGA Grieshaber KG, Schiltach, Germany
www.vega.com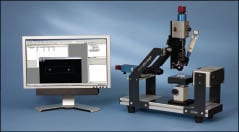 Krüss
This analyzer provides a top view
of surface properties
The TVA100 Top View Analyzer (photo) measures the contact angle of liquids using the image of light spots that are mirrored by the curved surface of the drop. Contact angles in the lower range (down to 1.5 deg), which in the past has been difficult to approach, can be measured with precision by this technique. The view from above makes wetting inhomogeneities immediately visible. Surface energy measurements can be carried out thanks to the insensitive precision dosing unit with a wide range of liquids. — Krüss GmbH, Hamburg, Germany
www.kruss.de
Swagelok
This valve isolates
pressure gages for venting
The new compact gage valve (photo) is designed with a smaller footprint than conventional assemblies for quick, convenient access for the isolation and venting of pressure gages. Tube-fitting end connections reduce valve installation time and cost, and provide robust tube grip and vibration resistance. An integral purge valve eliminates a threaded connection, reducing potential leak points. The valve's 316 stainless-steel construction offers durability and corrosion resistance. — Swagelok Co., Solon, Ohio
www.swagelok.com
BS&B Pressure Safety Management
More certification for this
buckling-pin relief valve
The BPRV Buckling Pin Relief Valve (photo) may be certified according to the 2009 addendum of ASME Section III, Div. 1, bearing both the UD stamp and NB mark. Since 2004, the BPRV valves have been available with ASME UD stamp based on certification according to ASME Code Case 2091-3. This latest addendum welcomes pin-actuated devices to full code status. The patented BPRV is based upon the offset shaft butterfly valve concept. The offset of the shaft results in a turning moment being generated about the valve shaft when a pressure differential is applied across the device. A Buckling Pin mounted externally to the process normally resists the moment. By calibrating the pin, the BPRV provides accurate pressure relief. — BS&B Pressure Safety Management LLC, Tulsa, Okla.
www.bsbipd.com
A tight connector for
multiple tubes of microfluidic systems
The Mitos Inline Connector System (photo) provides a single, fast and reliable multi-way connection for microfluidic tubing. Available in three sizes (4-, 8- and 12-way), the connector operates over a wide temperature range (–15 to 250°C) and handles pressures up to 10 bar. Low dead volume reduces the risk of cross-contamination between fluid samples. The system is compatible with a variety of polymeric tubes, including PTFE, FEP and PEEK. — The Dolomite Centre Ltd., Royston, U.K.
www.dolomite-microfluidics.com
Hans Turck
Monitor and control many I/O functions
— without wires
In May, this firm and Banner Engineering introduced a scalable wireless network that can monitor and control I/O functions or provide serial communication at up to 56 locations. The new SureCross DX80 product line (photo) replaces costly wiring in a wide range of industrial, agricultural, power generation, water supply and waste disposal applications. Discrete, serial and analog devices that can be controlled by the network include ultrasonic and photoelectric sensors, pumps, counters, thermocouple and RTD temperature sensors. The remote nodes gather data and transmit control commands between sensors and other devices and a central Gateway, which maps inputs from the remote nodes and interfaces with a PLC or HMI via RS-485 Modbus or EtherNet/IP. — Hans Turck GmbH & Co. KG, Mülheim an der Ruhr, Germany
www.turck.com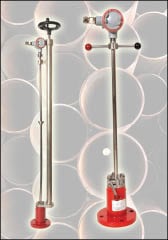 Filton Process Control Engineering
Remove or insert these flow-meters
without flow interruption
This firm now offers a new range of insertion flowmeters for applications where installation and removal from the pipeline without interruption to flow is more important than extreme accuracy. The Series 5000 turbine flowmeters (photo) are simple to install and remove, and are particularly suitable for large pipelines (4-in. dia. and upwards) where the cost of inline meters can be prohibitive. The flowmeters can be fitted with different, interchangeable rotor assemblies and are available with a wide range of electronic signal conditioning and readout devices. When used in conjunction with a ball valve, the metering head retracts fully into the housing, so it can be removed without interrupting flow. — Filton Process Control Engineering, Haywards Heath, U.K.
www.filton.com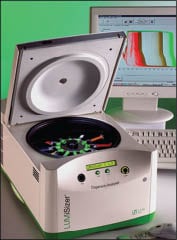 L.U.M.
An all-in-one
dispersion laboratory
The Dispersion Analyzer LUMiSizer (photo) is said to be a complete dispersion laboratory in a single instrument. The LUMiSizer simultaneously determines the demixing of 12 different dispersions at original concentration, based on a patented STEP Technology. Due to acceleration of demixing in the LUMiSizer up to a factor of 2,300, information about colloidal stability, surfactant influence, particle size, agglomeration and flocculation of dispersions is obtained in a short time. The variation of the centrifugal force — comparable to a falling sphere viscometer — also provides first information about the rheological behavior of the dispersion. — L.U.M. GmbH, Berlin, Germany
www.lum-gmbh.com
Aluminum-ring-type valve
thats certified for gas applications
The new gas valve RD-G is a DVGW- (German Technical and Scientific Association for Gas and Water) certified control device without zero-cutoff, according to EC gas appliance directive 2009/142/EC, DIN 3394-1 and DIN EN 13611. The valve is available with an electric or pneumatic actuator, and a swing-through version and a model with stop-bar sealing are also available, both with a nominal diameter of up to DN 150. — ARIS Antriebe und Steuerungen GmbH, Troisdorf, Germany
www.stellantriebe.de
Three new, efficient
progressive cavity pumps
Three new progressive cavity pumps are now available from this manufacturer: the Series C is designed for demanding duties in the pulp and paper, mining and minerals, and chemical industries; the Series D is designed for dosing applications; and the Series E is a compact solution targeting environmental and wastewater applications. The new pumps feature a number of innovations, including the precise Evenwall 3D technology with two-lobe rotor geometry, which offers a more rigid and tighter pumping unit compared to conventional progressive cavity pumps. This makes it possible to reduce the friction between the rotor and stator, which allows for a much lower starting torque and "significantly higher" efficiency, says the firm. A patented shaft design enables its mechanical seal to be quickly replaced without dismantling the entire pump or its drive shaft and coupling. — Larox Flowsys Oy, Lappeenranta, Finland
www.larox.fi
More modular mixer-mounting
options now available
The Nettco i-Series Portable and Fixed Mount Mixers handle a wide variety of mixing and mounting requirements using a modular assembly design. Multiple mounting configurations, including clamp-style, open-tank or sealed designs can be quickly converted from one mounting arrangement to another in less than two minutes. The latest offering includes: the Bung Adapter, for mixing in drums by fitting securely into the opening of the lid; the Sanitary Flange Mechanical Seal Assembly, which clamps to sanitary tank flanges; the Sanitary Flange Lip Seal, which also clamps to sanitary tank flanges; the Angle Riser, for open tank units for off-center positioning of the mixer; and the Air Motor Option, for operation wherever compressed air is required or available. — SPX Flow Technology, Rochester, N.Y.
www.spxft.com
Reduce VOC emissions
with this packing-free pump
The new Hydra-Cell T80 Series pumps are packing-free and designed to replace packed plunger pumps in oil and gas applications. Featuring a sealless diaphragm design, the T80 Series pumps eliminate emissions of volatile organic compounds (VOCs), cleanup and disposal costs of packed-pump leakage, the need for external lubrication and maintenance and plunger wear problems associated with packing. The pumps can run dry without damage, will operate with a closed or blocked suction line and can pump abrasive fluids. The first model of the series, the T8045, has a flowrate capacity of 1,543 bbl/d (45 gal/min) at pressures of 3,000 psi. — Wanner Engineering, Inc., Minneapolis, Minn.
www.wanner.com
This holder allows rupture discs
to be torqued after installation
The TQ+ is the latest addition to this firm's line of pretorqueable rupture disc holders. The holder allows rupture discs to be installed and then torqued to recommended static load levels, properly clamping to the rupture disc within the assembly. The TQ+ was designed with the ability to be installed in multiple international flange rating configurations, including ANSI, JIS, DIN and ISO. The holders can also be removed, inspected and re-installed during routine maintenance and plant turnarounds. Standard, stocked sizes range from 1 to 60 in. (DN25–DN150). — Fike, Blue Springs, Mo.
www.fike.com
A new name for
a range of control valves
A comprehensive range of control valves, now known as iCV (intelligent control valves), was introduced in May. The iCVs are fully suited to both general and demanding applications, especially in hydrocarbon processing plants. The offerings consist of eccentric rotary-plug valves, V-port segment valves, Neles RotaryGlobe valves, high-performance eccentric disc valves and top-entry rotary control valves. The iCV rotary control valves eliminate the gland-packing leakages associated with rising stem globe valves. The company's non-leakage, live-loaded valve packing prevents loss of raw materials and also effectively eliminates the need for gland packing maintenance and associated costs. — Metso Automation Oy, Helsinki, Finland
www.metso.com/icv
Problem-free pumping
of heat-transfer fluids
Etanorm SYT is the latest generation of single-stage volute casing pumps, which were developed for applications in modern heat-transfer systems and hot-water circulation. Besides hot water, the pumps handle mineral-oil-based thermal fluids and synthetic thermal oils at temperatures up to 350°C. The pumps' stable rib design and reinforced bearings make them resistant to external forces. A new vent design enables the gases to be removed during operation, and users can select between carbon (standard) or silicon-carbide plain bearings. — KSB AG, Frankenthal, Germany
www.ksb.com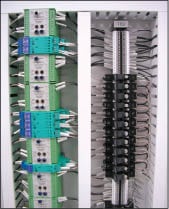 SIS-Tech
Launch of an automated
overfill protection system
The Automated Overfill Protection System (AOPS; photo) is a safety-instrumented system that can prevent dangerous overfill conditions in terminals, tank farms and process vessels. The AOPS incorporates a non-programmable Logic Solver (suitable up to SIL 3) that receives signals from switches or transmitters, determines if an abnormal process condition is present, and provides outputs to close isolation valves, shutdown transfer pumps or open dispersion valves. The system operates independently of the plant's process control system with the capability to communicate to the control system via hardwire, Modbus, Ethernet or wireless communications. — SIS-Tech, Houston, Tex.
www.sis-tech.com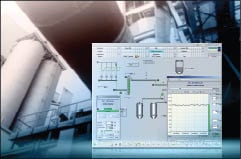 Siemens Industry Sector
Process control for cement
and related industries
This firm's Industry Automation Div. has equipped Version 7.1 of its Cemat process control system (photo) with multiple new functions. An enhanced signaling and diagnostics concept is designed to reduce plant downtime as well as operating and maintenance costs, thus increasing plant availability and productivity. For example, Alarm Control is a freely-configurable signaling system integrated into the operator system for effective message display and processing. Interrupts can be individually filtered, or they can be exported for better analysis of critical plant states. Other new functions include the listing of by-passed process signals and the display of corresponding groups and routes for all process objects and object-granular alarm acknowledgement. — Siemens Industry Sector, Nuremberg, Germany
www.siemens.com/cemat
A tool for integrating analytical devices
into control systems
Link II is a new and powerful OPC-standardized software package that simplifies the integration of analytical devices with expert control systems. A valuable tool for system integration engineers, the Link II promotes the development of future-proof control solutions, reducing the cost of upgrades and future maintenance, says the firm. With a simple drag-and-drop tool that allows the sequencing of many standard operating procedures, the Link II can be used to create limitless process scenarios with fully customized presentation of data and live displays. — Malvern Instruments Inc., Westborough, Mass.
www.malvern.com
Universal, remote I/O module
for Safety Manager
Released in May, this universal remote input/output (I/O) module for the Safety Manager platform allows process manufacturers to integrate more safety devices while simplifying installation and maintenance. The module is said to be ideal for facilities that must cost effectively integrate equipment, units and other assets that are spread over wide geographical distances, such as upstream applications in the oil-and-gas industry. The new remote I/O also helps facilities more easily expand the Safety Manager solution. By using soft marshalling, the module can be mounted close to the process unit, eliminating the need for marshalling panels and homerun cables, and reducing or eliminating field auxiliary rooms. — Honeywell Process Solutions, Phoenix, Ariz.
A new engineering tool
that improves efficiency
Last month, this firm released an enhanced version of its Stardom Network-based Control System with upgraded engineering functionality. A new engineering tool facilitates the construction of field digital communications networks that can reduce the cost of maintaining production equipment distributed over wide areas. For this latest Stardom version, the company has optimized its existing engineering tool that is used top configure large-scale SCADA systems based on Foundation Fieldbus protocol. The new tool, Foundation fieldbus Configurer, enables a 60% reduction in engineering man-hours compared to the predecessor tool, says the firm. — Yokogawa Electric Corp., Tokyo, Japan
www.yokogawa.com