Get improved precision in batching-and-filling applications...
Get improved precision in batching
and filling applications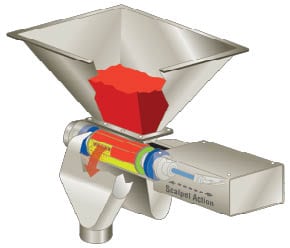 3i's Technologies
This company's Rotary Scalpel technology (photo) can deliver small increments of a wide variety of solid materials with precisions of ±0.5 g. The technology consists of a large inlet area designed for consistent material flow feeding into a rotary feed drum, and a pneumatically controlled "scalpel" that ensures each vane of the feed drum is filled precisely, while the excess is recirculated to the material source. In batching applications, the Rotary Scalpel can be applied as a standalone batch-dribble system, or as a batch-dribble control system to complement a fast-fill batcher. It can also be used as a single-ingredient, loss-in-weight batch system, or as a single-ingredient, gain-in-weight batch process system. — 3i's Technologies, Vineland, N.J.




Reduce filtration cost
with these cartridge filters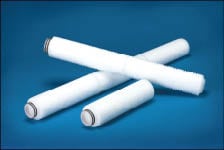 W.L. Gore and Associates
A new family of cartridge filters (photo) can increase production capacity and reduce the total filtration cost for high-purity chemicals used in semiconductor fabrication and other microelectronics-manufacturing processes. The new filter family incorporates this company's proprietary expanded polytetrafluoroethylene (ePTFE) filtration media, allowing improved particle retention, higher flowrates and faster processing times. — W.L. Gore and Associates, Inc., Elkton, Md.



Use this oxygen meter
in field or laboratory applications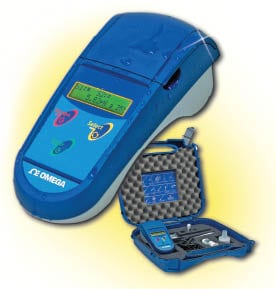 Omega Engineering
Designed for use both in the field as well as in the laboratory, the DOB21 benchtop dissolved-oxygen meter (photo) is ideal for testing water, wastewater, biological samples and others. The instrument automatically compenstates for temperature, salinity and barometric pressure, and features automatic calibration. The DOB21 has a three-button keypad for programming and can log up to 99 data points. — Omega Engineering Inc., Stamford, Conn.










This calibrator handles both
analog and digital instruments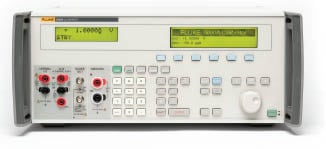 Fluke
The 5080A multi-product calibrator (photo) handles both analog and digital test instruments. Its high voltage and current compliance allows the 5080A to calibrate accurately and economically. The instrument is said to be easy to use and works with analog meters, panel meters, digital multimeters and watt meters. With optional accessories, the 5080A can also calibrate clamp meters, megohmeters and oscilloscopes to 200 MHz. The calibrator incorporates protection circuitry that prevents it from being damaged by reversed input voltage. The 5080A includes tools to create calibration procedures quickly without programming, automate calibration, store calibration records and export data. — Fluke Corp., Everett, Wash.

No tipping required
with this bin unloader
With a new system from this company, filled bins can be unloaded from the top without the need to tip the container. Designed for unloading tablets, the system features a smooth-moving suction wand that is controlled by a level-detection mechanism. Tablets do not have to flow under loads from the top, as is the case in discharging from the bottom under gravity. The whole system is designed to work under clean conditions, including filtration of all the conveying air needed to aspirate and move the tablets. — Volkmann GmbH, Soest, Germany

A portable videoscope system
with a 7-in. screen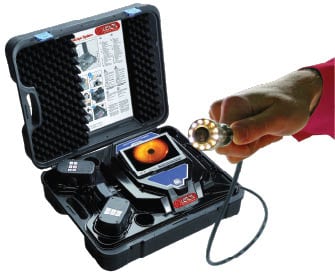 Lenox Instrument
A new Portable Videoscope System (photo) is designed to meet the demands of the industrial inspection environment, with a self-contained system that combines state-of-the-art video technology, cordless operation, compact portability and rugged durability at an affordable price. The Portable Videoscope System is well suited for inspection of bridges, drill pipes, turbines, airframes, power generation equipment, process tanks and vessels, tubing and pipes, heat exchangers and hydraulic cylinders and other locations that are difficult to reach. The system offers a choice between a miniature, waterproof, 1-in. dia., removable, 120 deg field-of-view, color CCD (charge-coupled device) camera head with built-in, bright LED lighting or a waterproof, 1.5-in. dia., removable, 360-deg pan and 180-deg tiltable, color CCD camera head with built-in, bright LED lighting. Mounted to the end of a flexible, retractable push rod, the system's camera can easily negotiate 90-deg bends and inspect lengths up to 98 ft. — Lenox Instrument Co., Trevose, Pa.


This sensor can be used with
many energy-harvesting systems
EH-LinkT is a wireless sensor node that can draw power from a host of energy-harvesting systems, including strain, vibration, thermal gradients, solar, electromagnetic fields and piezoelectric harvesters. The device is compatible with any analog transducer, and so can be used with strain gages, load cells, torque sensors, pressure transducer and magnetic sensors. In addition to multiple harvesting inputs, EH-LinkT features an onboard triaxial accelerometer, as well as sensors for temperature and relative humidity. — MicroStrain Inc., Williston, Vt.

A flowmeter with
averaging pitot tube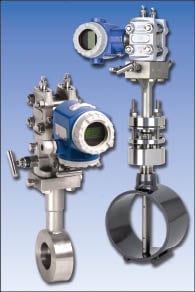 Endress+Hauser
The Deltatop differential pressure flowmeter (photo) includes an averaging Pitot tube, which provides excellent accuracy and reliability. Intended for accurate flow measurement on liquid, gas or steam, Deltatop flowmeters are designed specially for applications in accordance with ASME B16.36. The flowmeters are available with flanges of class 300 to 2,400. The flowmeters design makes it clog-free and precise, with a high signal-to-noise ratio. — Endress+Hauser Inc., Greenwood, Ind.



A single-use-temperature sensor
that needs no calibration
This disposable temperature sensor can be used for filtration and chromatography processes, as well as filling operations and general processing. The single-use sensor is connected to a monitor via a reusable 10-ft cable. The sensor will stand up to gamma-wavelengh radiation, and is available in a wide range of sizes. It is accurate to within ±0.2°C and can measure temperatures between 0 and 70°C — PendoTech, Inc., Princeton, N.J.

Fabric containment enclosures
that are fully configurable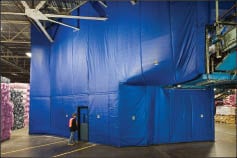 Zoneworks
Zoneworks enclosures (photo) are designed to provide enclosure to rooms or individual instruments for control of environmental conditions such as temperature, humidity, sound, odor, dust fumes and more to protect plant employees. Constructed of modular vinyl panels, the enclosures can be reconfigured for use in internal, external, conditioned or ambient surroundings. — Zoneworks, Milwaukee, Wisc.




These sensors have built-in transmitters
that can communicate with digital and analog interfaces
ARC sensors feature a built-in microprocessor that can communicate with both analog and digital interfaces. The sensors are designed to measure pH, dissolved oxygen and conductivity. The built-in transmitter saves cost by eliminating the need for separate transmitters, and the signals produced are more robust and reliable than in classical measurement systems, says the company. ARC sensors can be precalibrated and configured in the laboratory, reducing installation time and downtime. — Hamilton Co., Reno, Nev.

This filtration system optimizes
downstream purification steps
Cadence tangential flow filtration (TFF) systems are designed to optimize downstream purification steps in biopharmaceutical manufacturing. The Cadence module incorporates a patented fluid-path design, enabling direct flow operation with a substantial reduction in system holdup volume. Cadence modules feature multiple TFF cassettes in series, which results in high conversions of feed-to-permeate in a single flow path. The Cadence also features a compact design requiring less production space. — Pall Corp., Port Washington, N.Y.

Control medium-consistency fiber slurries
and pulp stock with this valve
The V150E Vee-Ball valve features an expanded outlet that makes it effective at handling medium-consistency fiber slurries as well as pulp stock. The valve has a transitional flow contour that increases in flow area from inlet to outlet. Designed for installation directly on a medium-consistency pump-discharge flange, the V150E accommodates larger-diameter transfer lines. Its control element is a segmented V-notch ball, which has natural shearing action that is ideal for slurry flows. — Emerson Process Management, St. Louis, Mo.

This size analyzer is intended
for battery designers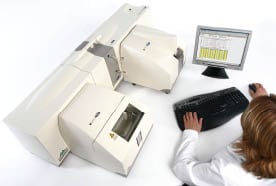 Malvern Instruments
The Mastersizer 2000 (photo) laser-diffraction particle-size analyzer allows comprehensive characterization of small-sized particles often used in production of advanced battery electrodes. Designed to be fast and accurate, with a dynamic range of 0.2 to 2,000 μm, the Mastersizer features consistent sensitivity across this range. — Malvern Instruments Inc., Malvern, U.K.





Monitor particulate emissions
with high accuracy
The Model PM 100 particulate-flow and emissions-monitoring system provides continuous realtime and averaged analysis of particulate emissions for compliance with U.S. Environmental Protection Agency (EPA) regulations. Designed for fabric filters, cyclones and process particulate flow monitoring, the PM 100 features short- and long-term averaging, high-accuracy, low-level monitoring and is compatible with several types of communications devices. As particles flow near and around the probe, a small charge is induced, which is processed into an absolute output that is proportional to mass flow. — Filtersense, Beverly, Mass.

Lower NOx emissions
with this burner
The ECOjet burner is designed for ultra-low NOx emissions when using a wide range of gaseous fuels, including natural gas, propane, refinery gas, landfill gases and offgas, as well as liquid fuel oils. The company says each aspect of the burner was strategically developed and tested. The burner features a staged-gas design to provide stable flames, and is applicable to package, industrial and utility boilers ranging from single- to multiburner arrangements. The ECOjet is available in capacities up to 400 MBtu/h, and can lower NOx emissions to less than 30 ppm without fluegas recirculation. — Hamworthy Peabody Combustion, Inc., Shelton, Conn.

These capacitance probes
offer flexible time delays
ProCap dual-timer capacitance probes for level detection can be set to react immediately or with up to a 30-s delay when they detect a covered or uncovered condition. ProCap probes can be used for high- and low-level detection in tanks, silos, bins, hopppers, chutes and other vessels used for material storage or process manufacturing. For example, the capacitance probe can be set to send an immediate alert when it reaches a covered state, but can be set to alert with a 15-s delay when it detects an uncovered state. The probes do not interfere with two-way radios or other equipment operating in the radio-frequency spectrum, and can be adapted to a variety of solid, liquid and slurry materials with a wide assortment of extensions. — BinMaster Level Controls, Lincoln, Neb.

Achieve flows up to 400 gal/min
with these cartridge filters
This company's new High-Flow Series cartridge filters can achieve flowrates of up to 400 gal/min for some applications. The series is a new line of horizontally mounted filter vessels containing between one and 18 high-surface-area pleated filter cartridges in either 40- or 60-in. lengths. The products are offered in carbon steel, as well as 304 and 316 stainless steel, and are designed for fast cartridge changeout. The flow path runs from inside-out, ensuring that collected solids stay inside the filter cartridges as they are removed. — Rosedale Products Inc., Ann Arbor, Mich.

This excipient reduces
tablet manufacturing costs
Methocel Direct Compression (DC) premium grade hypromellose polymers can reduce the costs of manufacturing pharmaceutical tablets by enabling processes that eliminate the wet granulation step. The polymers exhibit improved powder flow properties by virtue of their specially engineered particle morphology and size distribution. The result is the ability to carry out direct compression of tablets without the need for wet granulation. Methocel DC polymers offer comparable performance with regard to drug formulation attributes, including tablet hardness and controlled release drug action, to equivalent Methocel products. The new excipient also holds the same regulatory status as existing related excipient polymers. — Dow Wolff Cellulosics, Horgen, Switzerland

This spill container is designed
with a low-profile
The Ultra-Rack Sump is designed to accommodate up to four 55-gal drums on standard 40- by 48-in. or 48- by 48-in. shipping pallets. Its low-profile design remains positioned in the warehouse rack while allowing forklift access to a wooden pallet. Constructed out of high-visibility polyethylene, the spill-containment unit is resistant to chemicals and corrosion. — Ultratech International, Inc., Jacksonville, Fla.

Submersible mixers with
longer service lives
The new AmaRoc mixer stand was developed as a secure and durable foundation for the firm's AmaProp submersible mixers with their large (up to 2.5-m dia.) propellers. The propeller is capable of absorbing all forces generated by the mixer and of safely transferring these forces to the foundation of the sedimentation tank. As a result, the guide rail remains unaffected by the mixer forces. The rail only serves to keep the mixer in the correct position, so pipes can be laid up to 12 m long. The AmaRoc is made from NoriRoc, a polymeric composite material that dampens vibrations and is highly resistant to abrasion. — KSB AG, Frankenthal, Germany
www.ksb.com

This water-in-solvents analyzer
offers cost savings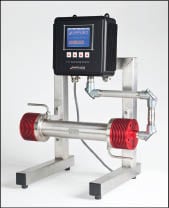 Applied Analytics
The MCP-200 is an infrared (IR) spectroscopy-based analyzer (photo) for realtime determination of water concentrations in a wide variety of solvents and gases, including hexane, acetone, oils, urea, gasoline, aniline, acetophenone and carbon dioxide. The company says it offers cost savings through long-lasting components and a reduction in the amount of work needed by laboratory personnel. The instrument continuously monitors a wide range of water concentrations and can withstand tough industrial conditions. — Applied Analytics, Inc., Concord Mass.






Handle sluggish materials
with this conveyor
Hapman
The Helix Hi/Lo flexible screw conveyor (photo) is designed for handling sluggish or non-free-flowing materials without the need for separate in-hopper agitation. The system encourages discharge of sluggish solids with an optional mass-flow hopper with a steep conical shape, and optional external vibration. The Helix is ideal for materials with high moisture content. The unit conveys material to heights of up to 12 ft and at rates up to 25 ft3/min. — Hapman, Kalamazoo, Mich.

A sifter designed
with sanitation in mind
The QA36 Inline sifter is said to be ideal for HACCP solutions with a high level of sanitation required. Designed for moderate to high production volumes, the QA36 utilizes a gentle gyratory motion to reduce product degradation. The sifter's design is such that it can be inserted directly into a vacuum or pressure dilute-phase pneumatic conveying system. — Great Western Manufacturing, Leavenworth, Kan.

A new textile material that
eliminates the need for padding
Deflexion technology is a performance textile and impact-absorbing material that is designed to protect without the added bulk and stiffness of traditional padding. The impact-protection technology is based on silicones and is suitable for a wide range of products, including apparel, luggage, footwear, equipment and medical devices. — Dow Corning Corp., Midland, Mich.

Remove iron from products,
even in hazardous zones
The newly developed overbelt electromagnets are suitable for dusty, explosion-sensitive environments in ATEX 22 zones. These magnets are suitable for removing iron particles from recycling or bulk-handling material flows, such as wood, garbage, refuse-derived fuel (RDF), hard coal and cement. The conveyor belts are durable, so they easily capture separated iron particles and cast them off. An auxiliary magnet ensures removal of the iron from the magnetic field. An optional heat exchanger with fan can be added to control the cooling of the magnet. — Goudsmit Magnetic Systems BV, Waalre, the Netherlands
www.goudsmit-magnetics.nl

A seated ball valve with
interchangeable ball and seat
A new line of Krombach Metal Seated Ball Valves features machining of the ball and seat to such high tolerences that ball-and-seat lapping does not have to be performed individually for each valve. The tight tolerances make the ball and seat freely interchangable. Designed for specialty chemicals and mining applications, the valves feature a two-piece construction with a flange connection, as well as a self-cleaning system to remove excess particles, minimize leakage and extend product life. — Crane ChemPharma Flow Solutions, Cincinnati, Ohio

New, efficient decanters
for environmental applications
Efficient acceleration of the product in the feed zone combined with an optimized discharge system enables the new C-Series environmental decanter line to boast a reduced power consumption of up to 20–30% for capacities of 20 to 90 m3/h. This leads to a "huge monetary advantage," says the manufacturer. A complete revision of the decanter's bowl drive makes it possible to increase the capacity of the machines by 10–20%. As a result, a smaller machine can be used for the same federate, which means a lower investment cost and higher processing performance. — Flottweg AG, Vilsbiburg, Germany
www.flottweg.com

These sludge-dewatering belts
feature a new seam
With dewatering belts made of polyester or polyphenylene sulfide, considerably dryer sludges can be attained in serial dryers. These synthetic meshes cover working temperatures ranging from 80 to 200°C and pH values of 1–14. The belts, woven from robust monofilaments and given extensive subsequent treatment, can stand extremely high surface loads. Their specific structure also ensures excellent cleaning of the belt. The patent-pending GKD-PAD seam further develops the conventional hook seam, thereby providing operators with a considerably thinner seam than the previous glue-compressed seam while maintaining the high quality standards. The hook seam, which is covered by a textile pad, is melted and pressed together with glue into the mesh using a novel heating press. The seam is not only easy to use but also particularly durable and persistent. The GKD-PAD seam has proved its worth in various applications, especially in the sewage sludge dewatering and the fruit juice industry running on twin-wire belt presses. — GKD – Gebr. Kufferath AG, Dürren, Germany
www.gkd.de

When space is limited,
consider this ultrafiltration rack
The T-Rack vario ultrafiltration module is said to have a 60% smaller footprint than conventional racks. The unit's modular design means the rack can be configured to match each user's specific requirements. Each row can be operated as a separate filtration line, thereby maximizing flexibility in day-to-day operations. The feed and drain pipes are integrated into the end caps of the headers and the filtrate connections are welded to the module bodies and headers. There are no O-rings, and all flanges of the header pipes are mounted in the same plane. Modules can be configured in either two or four rows. — inge watertechnologies AG, Greifenberg, Germany
www.inge.ag

These connections are for
gas & cryogenic applications
This line of connection solutions for demanding gas and cryogenic processing applications maintain safety and performance while reducing cost through faster fill times. The connection solutions comprise high-end flexible hoses and fittings with anti-whip armor casing that restricts violent movement during pressure surges, and contains gases in the case of leakage. All hoses and fittings in this line are designed for faster filling and lower production costs. — Saint-Gobain Performance Plastics, Akron, Ohio

This ball valve accepts
multiple input power signals
The electrically actuated Polypro valve will automatically accept virtually any input power signal. Designed for both water and chemical applications, Polypro valves are are available in sizes from 3/8 to 2 in. The electrical actuator can be assembled to the valve or sold separately. — Plast-O-Matic Valves Inc., Cedar Grove, N.J.

Use this valve in
high-demand applications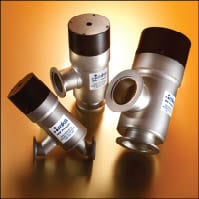 MKS Instruments
The High Cycle Valve (photo) is a durable vacuum valve designed for demanding applications where a long cycle life is critical. The small, light and durable valve is rated for 10 million cycles, and is available with an air solenoid for electro-pneumatic control of the valve. It features a new formed-stainless-steel bellows to prevent outgassing, virtual leaks and particle entrapment. The valve is available in angle, inline and internal-only configurations. — MKS Instruments, Inc., Andover, Mass.
Scott Jenkins