January New Products
A complete, modular system
for flow chemistry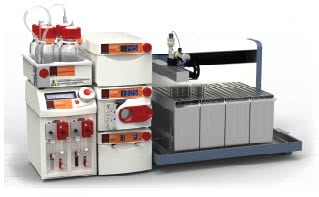 Syrris
Launched last November at the First RSC/SCI Symposium on continuous processing and flow chemistry, the Asia range of flow chemistry systems (photo) is scalable and modular. Commercially available next February, the Asia system covers wide temperature (–15 to 300°C) and pressure (0–20 bars) ranges, and safely provides accurate temperature control. With fast reaction times and microgram to kilogram scalability, its design enables manual or automated operation with optional PC control. — Syrris Ltd., Royston, U.K.
www.syrris.com
A quick way to measure
viscosities of foods and feeds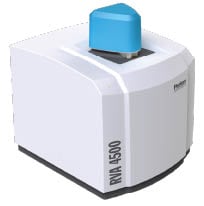 Perten Instruments
The RVA (Rapid Visco Analyzer) 4500 (photo) is a cooking and stirring viscometer with ramped temperature and variable shear that can be used to determine the quality and processing characteristics of starch in grains, tubers, flours and extruded and cooked foods and feeds. There are also applications for protein foods, ingredients such as modified starches and hydrocolloids, and malting and brewing. — Perten Instruments, Stockholm, Sweden
www.perten.com
Rotary level indicators
for corrosive materials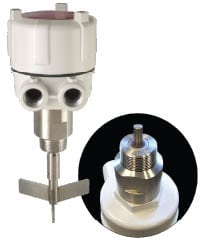 BinMaster
A new stainless-steel process connection is now available for the BMRX and Maxima+ rotary level indicators (photo). Designed for corrosive materials, the solid 304 stainless-steel fitting is available in both 1.25 and 1.5 NPT sizes, and comes with a stainless-steel seal and bearing carrier. The fail-safe rotaries can be used in materials with bulk density from 1 to 150 lb/ft3, and are used to prevent bin overflows, spills, empty conditions, clogged chutes and jammed conveyors. — BinMaster, Lincoln, Neb.
www.binmaster.com
This module speeds up
combinatorial flow experiments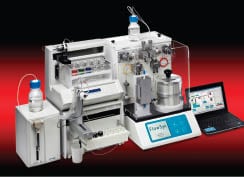 Uniqsis
Auto-LF is an automated loop-filling module that allows flow chemists to perform multiple experiments with multiple reagents automatically. Used with for this firm's FlowSyn range of continuous flow reactors (photo), Auto-LF enables chemists to deliver more compounds even faster. Used to prepare combinatorial libraries in Flow, FlowSyn can also perform automated experiment optimization and reagent screening. By using a separate liquid handler and fraction collector, Auto-LF allows sample loop filling for the next experiment to occur before the current experiment has finished, thereby reducing overall runtimes. — Uniqsis Ltd., Cambridge, U.K.
www.uniqsis.com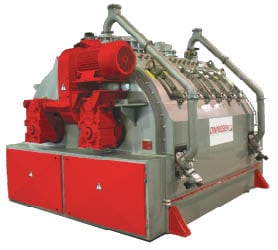 One machine to mix, coat
and even dry granulates
Up to now, the Pegasus Vacuum Coater (photo) has been used for producing granular and extruded products. Now, a new application for the Pegasus is being introduced: the drying of a variety of ingredients at low temperatures. Because liquids boil at lower temperatures under vacuum, the vacuum coater can be used to dry heat-sensitive materials to retain taste, color and functional activity of substances, such as vitamins, minerals, flavors and enzymes. The new drying function can be combined, in a single process step, with other functions of the Pegasus, such as applying and impregnating liquids into dyes, additives, extruded plastics and chemicals, as well as for blending of powders, pellets and granules. — Dinnissen BV, Sevenum, the Netherlands
www.dinnissen.nl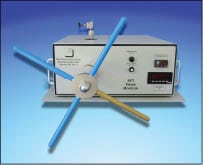 Supercritical Fluid Technologies
This unit helps find
solubilities in SC fluids
The SFT Phase Monitor II (photo) is a powerful analytical tool for determining the solubility of various compounds, and mixtures of compounds, in sub- and supercritical (SC) fluids. It provides direct, visual observation of materials under conditions that may be controlled precisely by the researcher. Experiments can be performed in liquid or supercritical CO2 or in other compressed gases. The effects of co-solvents on the solubility of compounds in supercritical CO2 can also be investigated with the instrument. Experiments can be performed from a few hundred to 10,000 psi, and from ambient to 150°C. — Supercritical Fluid Technologies, Inc., Newark, Del.
www.supercriticalfluids.com
Expanding ISO/IEC accreditation
of flow calibration facilities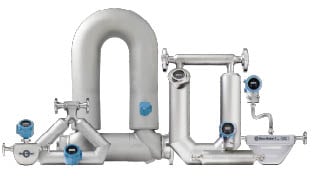 Emerson Process Management
This firm has completed a global network of ISO/IEC 17025 accredited calibration services. The network makes available accredited calibrations from the Coriolis production calibration facilities at centers in Boulder, Colo., Ede, the Netherlands, and Nanjing, China. These accreditations encompass the patented Micro Motion TSM (Transfer Standard Method) process. The company's global flow calibration facilities are used to calibrate Micro Motion Elite Coriolis meters (photo), which are used for critical applications and as master meters to calibrate other meters in the field. Flow ranges from 0.1 to 27,000 kg/min allow accredited calibration of the full range of flowmeters. — Emerson Process Management, Baar, Switzerland
www.emersonprocess.com
Pump Engineering
Easy-to-clean pumps
for food and pharmaceutical duty
The CSF-CS, CSA and CSM centrifugal pumps (photo) deliver capacities from 1 to 550 m3/h at heads up to 155 m. CSF pumps are manufactured in investment cast AISI 316L stainless steel, with stainless steel for all wetted parts. They also feature a six-vane impeller, which facilitates the handling of "challenging" liquids that may occur in food-processing applications. The pumps are designed for clean-in-place (CIP) to ensure the absence of dead areas, and feature electropolished finishing on all surfaces. CSF pumps are available with standard or ATEX-certified motors. — Pump Engineering Ltd., Littlehampton, U.K.
www.pumpeng.co.uk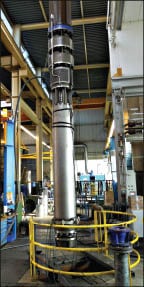 KSB
Special pumps
for crude oil caverns
This firm recently delivered three specially designed, submersible borehole pumps (photo) for discharging crude oil from an underground rock cavern in Sweden. The three pumps are equipped with a 700 kW motor and are operated at a voltage of 6,600 V. The pumps are made of duplex stainless steel, and each has a flowrate of 2,000 m3/h. The head is approximately 80 m. Since the cavern is heated, the motors had to be equipped with an external cooling-water tube. Nevertheless, the pumps — including power cable and cooling-water tube — could still fit into the existing caisson pipes. — KSB AG, Frankenthal, Germany







Turck
New signal processors
for flowmeters
The new FM (flow module) family (photo) consists of six modules: three for use in Ex areas and three for use outside Ex areas. The modules are implemented into the approved IM DIN rail rack and are configurable at the push button or via IO-Link and HART. Indicator LEDs and a 10-segment LED bargraph show the current measuring status onsite. In addition to flow, all modules continuously measure the temperature and possible failures. All of the firm's flowmeters can be operated with the new modules. The calorimetric sensors are suitable for the surveillance of liquids and gases, such as for protection against dry running pumps, or for monitoring cooling circuits and inerting processes. — Hans Turck GmbH & Co. KG, Mülheim an der Ruhr, Germany
www.turck.com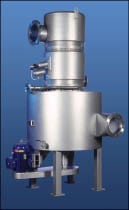 GEA Niro
Improved drying
leads to quality powders
This firm has developed a new (patent pending) Dual Feed System for its Swirl Fluidizer dryers (photo). The new system allows very-low-viscosity and thixotropic feeds to be dried to produce a powder with consistent moisture content and product quality. The Dual Feed System uses the mixing that already takes place in the drying chamber, driven by its rotating disintegrator. One feed carries the liquid feed product to the drying chamber; the second carries dry powder pneumatically or by screw feeder. The two inlet streams are arranged so that the powder is immediately mixed with the liquid feed so that the moisture is distributed over the entire available powder surface. — GEA Niro, GEA Process Engineering, Inc., Columbia, Md.
www.niroinc.com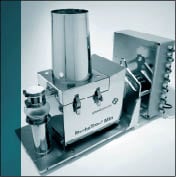 Schenck Process
A gravimetric feeder
for small-scale applications
MechaTron Min (photo) is a gravimetric feeder with delivery rates between 0.1 and 10 kg/h, making it suitable for laboratory and test facility applications and for feeding mixers, mills and extruders. The unit features a double shaft and vertical agitator, and is designed to be quickly dismantled for cleaning and replacing the discharge devices. Two different feed hoppers are available, one with negative taper and an agitator operating near the base (for manual filling and small outputs); and another of conical shape and an agitator that operates near the walls (for larger outputs and automatic refilling). — Schenck Process GmbH, Darmstadt, Germany
www.schenckprocess.com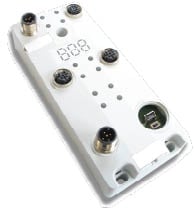 Hilscher North America
A gateway
for harsh environments
The netBrick (photo) is an IP67-rated gateway designed to provide industrial network connectivity in harsh environments. Each unit utilizes M12 connectors for connectivity to CANopen, DeviceNet, Profibus, CC-Link, EtherCAT, Ethernet/IP, Modbus TCP, PowerLink, ProfiNetSercos III, MB/RTU, ASCII, and RS 232, 422 and 485. Each supported protocol conversion is pre-programmed, making the mapping of I/O straightforward. netBrick can be a slave or master device on the network. — Hilscher North America Inc., Lisle, Ill.
www.hilscher.com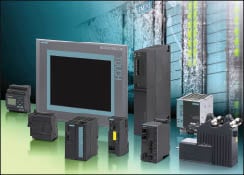 Siemens Industry Sector
Control and communication
for extreme environments
This firm has expanded the range of its Siplus extreme control and communication products (photo), which are especially suited to harsh environmental conditions. The devices are now also certified for use in toxic atmospheres (according to ISA-S71.04 GX), for offshore deployment (salt mist) and in "Arizona dust." The components were previously suited for corrosive atmospheres (ISA-S71.04 G1, G2 and G3) as well as in situations involving 100% humidity, dewing and ice formation. — Siemens Industry Sector, Automation Div., Nueremberg, Germany
www.siemens.com
Improve rheological analysis
with this FTIR module
Launched at the K-Show last month, Rheonaut is a compact Fourier transform, infrared (FTIR) module for this firm's rheometer platform. When used with the Haake Mars rheometer platform, the module helps users understand the causes of rheological properties on a microscopic level. Dynamic rheometry and FTIR spectroscopy can be employed simultaneously to monitor structure development during the reactive processing of a sample (such as thermal or UV curing reactions) and to detect interactions. — Thermo Fisher Scientific, Karlsruhe, Germany
www.thermoscientific.com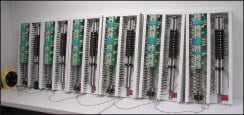 SIS-Tech
Preventing unsafe actions
by coker-drum operators
The Coker Drum Safety System (CDSS; photo) automatically inhibits the opening of valves under unsafe process conditions. In a crude petroleum refinery, this prevents the release of hydrocarbons or hydrogen sulfide (or both) into the atmosphere, or introduction of hydrocarbons into an open drum. The CDSS logic server makes sure that an in-service drum is not opened to the atmosphere, or that an open drum is not placed in service. The CDSS is suitable for use up to SIL-3. — SIS-Tech, Houston
www.sis-tech.com
This controller offers
trouble-free commissioning
The eControl 8611 is a high-performance universal controller for flowrate, pressure, temperature, pH, conductivity and ratio between fluid and gas flow. It can be commissioned quickly and covers a wide range of different applications. During the initial configuration, the intelligent, pre-parameterized controller requests all information needed for configuring the control circuit. The interactive configuration process is based on the process parameter, followed by the type of control valve and the choice of the sensor inlet. Suitable valves are proportional valves (PWM signal), constant-control valves (with 4–20-mA or 0–10-V control signal) or simple on/off valves for two- or three-point time-proportional control. — Bürkert Fluid Control Systems, Ingelfingen, Germany
www.burkert.com
Gerald Ondrey