Focus on Motors & Drives
Safely ground shaft currents to protect bearings
Electro Static Technology
The Split-Ring Aegis bearing-protection ring with conductive epoxy mounting (photo) can protect a.c. motor bearings from electrical damage by safely grounding shaft currents induced by variable frequency drives. The protection ring can be installed quickly without detaching coupled equipment, and prevents bearing noise, downtime and motor repairs. — Electro Static Technology, Mechanic Falls, Maine
www.est-aegis.com
Baldor Electric

Load ratings for these bearings are the highest around
Type E-Xtra bearings (photo) have the highest load ratings in the industry, this company says, and also feature an advanced sealing system. Manufactured in the U.S., the high-capacity tapered roller bearing insert allows for a combination of radial and thrust loads, yielding the highest available load ratings. According to the company's laboratory tests, the new tapered insert has load ratings 13–14% higher than previously existing inserts. The carburized inner ring has also been designed to absorb shock and resist cracking. Type E-Xtra bearings feature the exclusive XTS triple-lip seal, an advanced system that protects against contamination in dusty or wet environments. The bearings are pre-assembled, pre-lubricated and factory-adjusted for easy installation. — Baldor Electric Co., Fort Smith, Ark.
www.baldor.com


Permanent-magnet motors reduce size and weight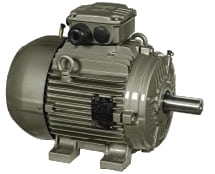 WEG Electric
The WMagnet Series (photo) is a permanent-magnet motor designed for mainstream usage. The high-efficiency WMagnet motors reduce size by up to 50%, and weight by up to 36%, with efficiencies up to 97.5% compared to equivalent size-induction motors. WMagnet motors are designed for applications where constant torque, low vibration and low noise are required. The series is manufactured with high-energy neodymium-iron-boron (NdFeB) magnets in their rotors. — WEG Electric Corp. U.S., Duluth, Ga.
www.weg.net/us
A reversing drive with minimal strain
The dual-clutch system on this high-speed reversing drive allows for rapid reversing without undue strain on the motor or drive system. In traditional reversing applications, motors must accelerate in the forward direction, stop, then accelerate in the opposite direction before stopping again. With the dual-clutch system, known as Posidyne, the inputs to the two clutches rotate in opposite directions. One motor, rotating in the forward direction, is connected through a primary clutch, and a second motor in the reverse direction, is connected through a secondary clutch. By actuating the proper clutch and brake, the reversing is handled within the Posidyne, while the motor runs continuously. The High-Speed Reversing Drives are ideal for higher horsepower (up to 75 hp) applications that require frequent reversing, such as mineral processing, machine tools, loading machines and more. — Force Control Industries, Fairfield, Ohio
www.forcecontrol.com
These motors are designed for high temperatures
This motor is designed to handle demanding applications where ambient temperatures are high (up to 90°C). Suitable for applications where high temperatures are crucial, such as in the metallurgical, wood and food industries, the motor is harmonized for IEC – Cenelec power and frame-size standards. The motor's output power ranges from 11 to 55 kW, and it is available with a moisture ingress protection rating of 55. It can handle all common voltages. — ABB Ltd., Zürich, Switzerland
www.abb.com



Explosion-proof motors are used in these blowers
The motors in these regenerative blowers are UL- and CSA-approved for use in Class 1, Group D explosive gas environments. Typical applications include landfill gas recovery, scrubbing, vent-header off-gassing and others. The explosion-proof motors found in Rotron EN and CP blowers can accommodate international voltage and frequency requirements, and can deliver horsepower to meet the requirements of the most demanding applications. — Ametek Technical and Industrial Products, Kent, Ohio
www.ametektechnicalproducts.com



These monitoring relays protect motors
Monitoring relays from this company have all been equipped with IO-Link, a communication standard designed for uniformly linking sensors and switching devices to the control level via a cost-effective, point-to-point connection (photo). The monitoring relays are key to reliably protecting motors by monitoring parameters such as temperature, speed, network quality, current and voltage. As an open interface, IO-Link can be integrated into all conventional fieldbus and automation systems. — Siemans AG, Industry Automation Div., Erlangen, Germany
www.siemans.com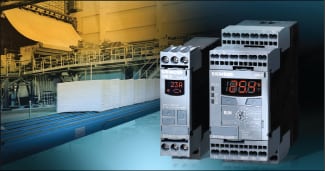 Siemans


These motor gearboxes are ideal for OEM applications
This company's planetary gearboxes are ideal for proprietary OEM use and as replacements for conventional gearboxes. They are 90% efficient and can be half the size of conventional gear units, allowing them to save weight by 60% and fit into spaces where others will not. — Brevini Power Transmission, Reggio, Italy
Scott Jenkins