Focus on Motors & Drives
More motors added to this product line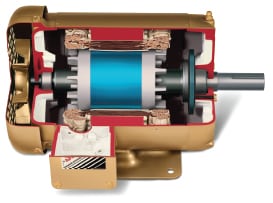 Baldor Electric
This company has added 98 new ratings to its Super-E motors with Internal AEGIS Bearing Protection Ring (photo). The additional ratings expand the existing four-pole line of TEFC & ODP designs through 100 hp, and add a generous offering of two- and six-pole models as well. Also, 575-V TEFC motors were added, 1–50 hp, as well as TEFC & ODP close-coupled pump motors. While most shaft-ground applications use a shaft ground on the outside of the motor, the Super-E has the grounding ring factory installed internally on the motor. This internal design minimizes exposure to the outside elements and keeps the grounding ring from being damaged by external forces, says the manufacturer. Applications include heating, ventilation and air conditioning (HVAC) blower and fan motors, pump motors and other general-purpose applications using an adjustable-speed drive. —
Baldor Electric Co., Fort Smith, Ariz.

www.baldor.com
Precise speed control
for small motors with this device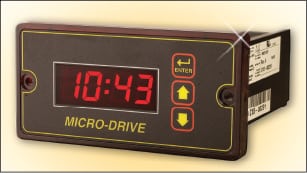 Omega Engineering
The OMDC-MD Series (photo) is a compact, programmable speed control with digital closed-loop feedback and LED display for d.c. motors rated to 2 hp. It features adjustable minimum and maximum speeds, adjustable acceleration and deceleration, and display options include decimal point positions and intensity. The pulse input capacity for speed feedback is 50,000 pulses per minute (833 Hz). Non-volatile memory in the device provides programmable power-on initial settings and allows all custom settings to be stored for future use. —
Omega Engineering, Inc., Stamford, Conn.
www.omega.com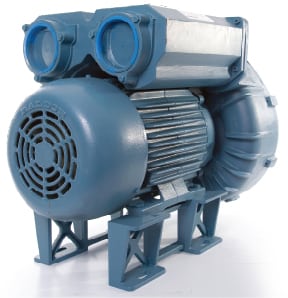 Ametek Technical and Industrial Products


The motors in these blowers
are explosion proof
Rotron EN and CP regenerative blowers incorporating explosion-proof a.c. motors (photo) provide ideal solutions for a wide range of environmental remediation and chemical processing applications. These motors are UL and CSA approved for Class 1 Group D explosive-gas atmospheres to promote safe operation in potentially hazardous locations. Typical applications include spot sourcing, vent header off-gassing, landfill gas recovery and scrubbing, to name a few. The explosion-proof motors can accommodate international voltage and frequency requirements, and can deliver the power necessary to satisfy the most demanding applications, says the company. — Ametek Technical and Industrial Products, Kent, Ohio
www.ametektechnicalproducts.com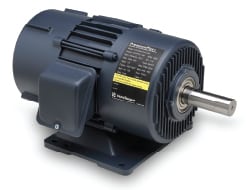 Novatorque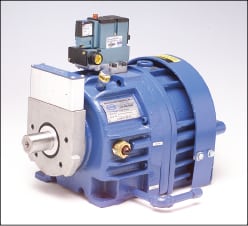 Force Control Industries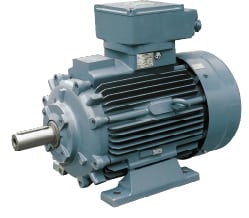 Siemens Industry


These brushless motors
are very efficient
In January, this company introduced its next generation design of 3- and 5-hp PremiumPlus+ motors (photo, p. 56). Gen2.0 brushless permanent-magnet motors driven by variable frequency drives (VFDs), boast motor-only rated point efficiencies of 93 and 92% for the 3- and 5-hp versions, respectively — far exceeding the levels achieved with induction motors, says the manufacturer. In addition to higher efficiencies, the PremiumPlus+ motors also maintain their high efficiency over a much wider speed range. These motors are packaged in standard NEMA frame sizes and mounting dimensions for easy substitution, and are compatible with readily available VFDs from most leading manufacturers. — Novatorque, Inc., Sunnyvale, Calif.
www.novatorque.com
Motion control for when
rapid speed changes are required
Posidyne clutch/brakes (photo) feature oil-shear technology that allows rapid and precise stopping, starting, reversing, speed change and positioning — all without adjustment and virtually no maintenance, says the manufacturer. These motion-control devices are suited for applications with frequent start/stop cycles, and allow higher cycle rates (as high as 300 cycles per minute) to increase production rates with lower downtime. The unit dissipates heat through the housing by flowing fluids from the friction surface to the housing. Additional heat can be dissipated by adding an integral fan or a water-cooling system, or even by withdrawing the fluid out of the unit for additional heat exchanger cooling and filtration. The controller is totally enclosed, making it impervious to dust, chips, chemicals, coolants, caustic wash-down, weather and more. — Force Control Industries, Inc., Fairfield, Ohio
www.forcecontrol.com
These motors operate
in hazardous zones
Suitable for pumps, compressors, fans, extruders and mixers in the chemical and petrochemical industries, the Loher Chemstar Ex nA II motor (photo) is designed to fulfill the requirements for use in hazardous Zone 2 applications. For example, an extremely high-quality paint finish and galvanized fan cowl protect against aggressive atmospheres. Anti-condensation heating is often no longer required — even for high levels of air humidity. When required, the motors can be equipped with corrosion-resistant stainless-steel screws and bolts. Shaft seals rated to IP66 protect against water and dust, and the protection extends up to IP67. The enclosure is manufactured out of rugged, gray cast iron, and is therefore extremely resistant to corrosion. It also dampens vibration and has a high strength, says the manufacturer. — Siemens Industry, Inc., Norwood, Ohio
www.usa.siemens.com/motors
Control machinery via
single network with this drive
The new Allen-Bradley PowerFlex 755 AC Drive with Integrated Motion provides users with the simplicity of using a single EtherNet/IP network for complete machine control, thereby eliminating the need for a dedicated motion network. The ability to support variable frequency drives, servo drives, I/O, smart actuators and other EtherNet/IP-connected devices on a common network helps increase design flexibility, improve system performance and reduce engineering costs, says the manufacturer. The PowerFlex 755 AC drive and the Kinetix 6500 servo drive can reside on the same standard network, helping to simplify machine design, operation and maintenance. Both drives provide high-performance, closed- and open-loop drive control using the Common Industrial Protocol (CIP) Motion technology on EtherNet/IP. Users can also configure the drives using the same Rockwell Software RS Logix 5000 software. — Rockwell Automation, Inc., Milwaukee, Wisc.
www.ra.rockwell.com
Gerald Ondrey
This resin-purging system reduces scrap rates and downtime
The E2 integrated polymer system is designed for purging high-temperature engineering resins from injection molding machines. The proprietary E2 system is more effective than mechanical (abrasive) and chemical purging for high-temperature resins, the company says. The E2 is said to clean faster and with less machine downtime, and is effective with a wide range of high-temperature engineering resins, such as polyether ether ketone (PEEK), polyetherimide, polyphthalamide, polysulfone and polyphenylene sulfide. In an independent study comparing E2 to a mechanical purging approach, the E2 system produced post-purge resins that were free of contamination. — Shuman Plastics Inc., Dyna-Purge Div., Buffalo, N.Y.
Harsh conditions are not a problem for these printable labels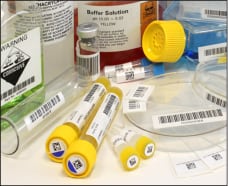 Resistant to extreme temperatures (–196–388°C), chemicals and solvents, humidity and moisture, the 9100 Sample ID Labels are fully printable directly from a standard laser, inkjet or thermal-transfer printer. This allows variable data (batch numbers, barcodes and so on) to be added in minutes, saving time and eliminating the risk of smudged or illegible handwritten data. The labels can be made to any size, shape and color-coded design, and their high-tack adhesive provides long-term sticking to all labware. — Computer Imprintable Label Systems (CILS) Ltd., Worthington, U.K.
www.cils-international.com