Achema 2012 Show Preview
Achema 2012 — the 30th World Exhibition Congress on Chemical Engineering, Environmental Protection and Biotechnology (June 18–22; Frankfurt am Main, Germany) — is approaching, and organizers at Dechema e.V. (Frankfurt, Germany; www.dechema.de) are optimistic that the attendance and exhibitor totals will outpace those of the 2009 event, which recorded a total of 3,767 exhibitors and over 173,000 visitors.
Held every three years, Achema is the global summit for technology developers, suppliers and users in the chemical process industries (CPI), covering all aspects of chemical processing, from the laboratory all the way to world-scale production plants and packaging technology.
The hot topics at Achema 2012 are energy (energy storage technologies and energy-saving plants) and resources — the increased use of renewable resources coupled with the application of biotechnological processes.
Throughout the week, over 900 lectures will be presented in the Congress program, which covers the entire spectrum of process engineering, pharmaceutical production and biotechnology. With 18 parallel tracks running every day, visitors are encouraged to make use of the congress planner (kongress.achema.de/en/congressplanner).
For more on Achema 2012, see Chem. Eng., March, pp. 32I2–32I4, as well as the extensive online tools available at achema-content.dechema.de. Chemical Engineering will be covering all the activities and reporting them in the Achema Daily — a bilingual, daily newspaper that will be co-produced with Vogel Media (Würzburg, Germany) and distributed at the Frankfurt fairgrounds. A digital version of the Achema Daily will also be available at www.chemengonline.com for those readers unable to attend the event.
What follows is a small sample of some of the new products that will be on display at the exhibition.
Nine different I/O modules are available here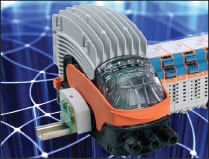 Bartec
The Antares plus remote I/O (photo) can be connected to any current control with various bus systems (Profibus-DP, ProfiNet, Ethernet IP, Modbus TCP). There are nine different I/O modules available in the form of digital and analog inputs and outputs. In addition, with Profibus-DP, high system stability can be achieved through the redundant structure of the two top modules. A power-supply unit allows the supply of up to 32 modules. A large number of sensors and actuators can thus be connected. The system is certified for ATEX Zones 1 and 2 (gas) and ATEX Zones 21 and 22 (dust). Hall 11.1, Stand E76 —
Bartec GmbH, Bad Mergentheim, Germany
www.bartec.de
Put your iPad to work with this augmented reality software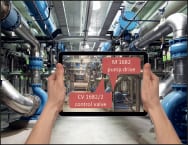 Augmensys
While leveraging mobile devices, such as tablets, smart phones and head-mounted displays, the UBIK software allows the creation of flexible, high-performance object models that are capable of consolidating data from almost any source. Equipped with XML capabilities, the server can integrate data from third-party systems by means of international standards, such as ISO 15926. This can happen whenever it is needed — as a one-time import, at regular intervals or immediately upon request. The software displays tag information in the form of floating bubbles (photo) in realtime, faded into the camera image. By tapping on a specific tag, further available data can be retrieved from the server via UMTS, HSDPA, LTE or Wi-Fi. Hall 9.2, Stand D32 —
Augmensys GmbH, Klagenfurt, Germany
www.augmensys.com/de
Proven cooling technology for sulfuric acid plants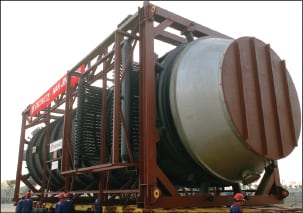 Oschatz
In order to make sulfuric acid from elemental sulfur, catalytic exothermic processes are used. These require special cooling sections. This construction company uses water-tube boilers (photo) to cool down the gases containing SO
2
, which are produced in the combustion chamber. Several heat exchangers — precisely matched to the process requirements for the catalytic converter — cool the gases down to the required temperatures. A constant temperature from the waste-heat boiler is maintained by internal or external gas- or steam-side bypasses, which can be regulated. This company has built many such waste-heat boilers, which are now in use all over the world. Hall 9.1, Stand D22 —
Oschatz GmbH, Essen, Germany
www.oschatz.com
One mixer performs five process steps for making food products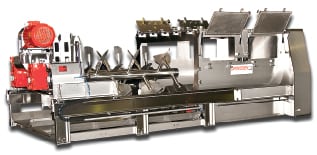 Dinnissen Process Technology
This company has launched the new 5-in-1 Pegasus Mixer (photo) for multifunctional preparation of food products. A single investment allows performance of five process steps: mixing, vacuum coating, drying, sterilization and acidulation. This new variant of the existing Pegasus Mixer is especially suitable for producing aromatized products quickly, efficiently and homogeneously in situations where high hygiene standards apply. Typical applications include tea, cereals, sweets and snacks. Hall 5.0, Stand D17 —
Dinnissen Process Technology B.V., Sevenum, The Netherlands
www.dinnissen.nl
Abrasives and corrosives are not a problem for this diaphragm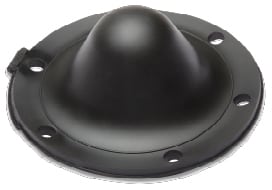 Crane ChemPharma Flow Solutions
Among this company's extensive line of fluid-handling products being showcased at Achema is the Saunders XY Diaphragm (photo), which offers increased erosion resistance in both corrosive and abrasive applications, including fertilizers, metals, chemicals and mining. The new diaphragm provides enhanced flex life, resulting in reduced down time and improved productivity therefore equating to a lower cost of ownership, says the company. The diaphragm demonstrates a 25% improvement in elastic recovery, which means a better sealing performance and reduced emissions, and is considered leak-free in accordance with the standards MSS SP-88 and BS EN 12266-1. This diaphragm is fully compatible with all existing Sanders Industrial Diaphragm Valve (IDV) product ranges — both for new installations and as a replacement in existing valves. Hall 8.0, Stand C94 —
Crane ChemPharma Flow Solutions, Cincinnati, Ohio
www.cranechempharma.com
Sintered metal filters in many shapes, sizes and materials
Beot Inorganic Membrane Separation Equipment
This leading Chinese manufacturer of sintered-metal powder filters (photo) can produce filter elements tailored to an application. Product types include cartridge, cylinder, tube, disc and plate filters; as well as spargers, cups, fittings and others. Filter ratings range from 0.2 to 200 micron. Materials available include stainless steel (316, 316L, 304, 304L, 310, 904), nickel, Monel 400, Iconel 600/625, titanium, Hastelloy and more. Products are certified for quality assurance under ISO9001:2008. Hall 6.0, Stand D78 —
BEOT Shijiazhuang Beot Inorganic Membrane Separation Equipment Co., Hebei, China
www.beot-filters.com
A thermostat that is robust, reliable and flexible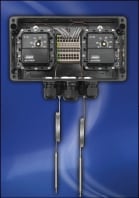 JUMO
The new exTherm-AT surface-mounted thermostat (photo) features three qualities: robustness, with an approved operating temperature as low as –55°C; reliability, proven by 250,000 tested switching cycles; and flexibility, thanks to a wide range of options for equipment and combinations. The thermostat can be used in all areas with a potentially explosive atmosphere, even to the surrounding area of pipe-tracing systems, where the primary concern is monitoring the maximum pipe temperature, and to distillation plants, where thermal processes are controlled. The device has ATEX approvals to Zones 1 and 2 (gas) or Zones 21 and 22 (dust), and zone separation between zones 0 and 1 is possible with special thermowells. Hall 11.1, Stand F62 —
JUMO GmbH & Co. KG, Fulda, Germany
www.jumo.de
Support over 200 actuators with this master station
Sipos Aktorik
This company is exhibiting the HiMod extreme precision actuator range. Offering advanced flexibility and accuracy, HiMod actuators (photo) support the most challenging control-valve requirements, says the company. Capability in realtime, distributed control is also enabled with the company's SIMA master station, which provides intelligent fieldbus-based automation and supports over 200 electric actuators. The Sipos 5 Flash range of rotary, linear and part-turn actuators will also be featured at Achema. Hall 9.0, Stand E35 —
Sipos Aktorik GmbH, Altdorf, Germany
www.sipos.de
Destroy biofilms with this solid-state catalyzer system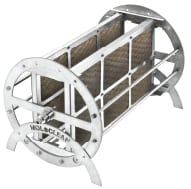 Berkefeld
As an effective countermeasure to biofilms, this company has developed a solution based on solid-state catalyzers (photo). The core of the process is the VWS MOL catalyzer technology. So-called biotensides, produced by solid-state catalyzers, ensure efficient removal of biofilms. By means of electrostatic charging, free germs are attracted and the biotensides are produced by their fragmentation. The biofilm is subsequently killed and removed from the surfaces of heat exchangers. Two variants have been demonstrated: for the production of biotensides, in the VWS MOL Clean system, small amounts of MOL aktivE30 are added; in the VWS MOL LIK system, light of a specific wavelength is used. Hall 6.1, Stand B98 —
Berkefeld, VWS Deutschland GmbH, Veolia Water Solutions & Technologies, Celle, Germany
www.berkefeld.de
Nuclear containment technology for robotic chemical manipulations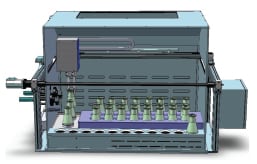 Nucomat
With strong roots in the nuclear sector, this company has developed the Hotcell Compact (photo), a complete robotized sample-preparation system embedded into a completely closed fume-extraction cabinet. A sample is identified by the RoBin software and, based on this, a pre-programmed method is activated. The sample is first placed inside the cabinet, which is then closed and an automatic sequence is initiated for acid dispensing, hotplate leaching, hotplate digestion, dilution and so on, until the prepared sample is ready to exit the cabinet. Everything is executed without any human intervention under strict health and safety regulations. Hall 4.2, Stand A54 —
Nucomat CV, Lokeren, Belgium
www.nucomat.com
Use this surface-treatment to harden stainless steel
Heat & Surface Treatment
Stainihard NC is a process used to harden the surface of austenitic stainless steel without reducing the corrosion resistance, and in some cases, the corrosion resistance is even improved, says the company. The process is based on traditional, gas nitrocarburizing treatment for steels, but is a variant that is able to treat steels that cannot be treated with normal gas-diffusion treatments. This thermochemical process is suitable for processing individual components or large batch volumes. Stainihard NC provides a strong improvement in abrasion resistance, fatigue strength and seizing to components (photo). Applications include the food-processing industry, where the treatment reduces wear of machine parts (rotating parts, drive components, pump parts, valves, plungers and so on), while also making them easier to clean. Hall 9.1, Stand B67 —
Heat & Surface Treatment B.V., Eindhoven, The Netherlands
www.h-st.nl
Residual leakage, media loss are minimized with these couplings

Walther-Präzision, Carl Kurt Walther
The clean-break couplings of the new CP Series (photo) were developed for water hydraulic applications and for demanding media in the chemical and medical sectors, for process technology and engineering. Ergonomic and non-squirting operation — even under residual pressure — is made possible by means of a special clean-break valve technology. The function-related residual leakage is thus minimized in such a way that very little media is lost when the fitting is disconnected. At the same time, very little foreign media enters into the pipe system when it is reconnected. Couplings are made in stainless steel (as standard), and are available in nominal sizes 6, 9, 12 and 16. Hall 8.0, Stand K82 —
Walther-Präzision, Carl Kurt Walther GmbH & Co. KG, Haan, Germany
www.walther-praezision.de
A portable tensiometer for onsite surfactant measurements
Krüss
The Bubble Pressure Tensiometer BP50 (photo) is a mobile surface-tension measurement system that can be used, for example, for checking the concentration of cleaning agents onsite, checking rinsewater for surfactant residue after tank cleaning or determining the correct time for additional dosing of surfactants in electroplating baths. The BP50 can detect the surface tension that occurs just after surface formation at surface ages of between 15 and 16,000 ms, thus making it suitable for measurements of high-speed processes, such as printing, spraying and coating. The system consists of a capillary, compressor, pressure sensor and temperature sensor, all combined in a hand-held instrument for onsite measurements. Hall 4.1, Stand F50 —
Krüss GmbH, Hamburg, Germany
www.kruss.de
This ePTFE tape saves time and money when joining large flanges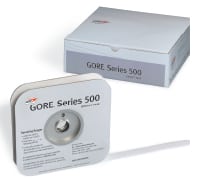 W.L. Gore & Associates
Based on this company's patented expanded polytetrafluoroethylene (ePTFE), the new Series 500 Gasket Tape for large steel flanges enables industrial plants to save time, money and trouble compared to conventional large gaskets, says the manufacturer. The new gasket tape is said to deliver at least a 50% greater creep resistance than other ePTFE gasket tapes, which gives greater assurance of a secure seal, maximizing operational reliability and performance of flanged connections, says product specialist Peter Wagner. Because the user can create a gasket instantly in any shape, regardless of flange size or complexity, Series 500 Gasket Tape (photo) is a great time saver; it eliminates the time needed for large, custom gaskets to be fabricated off-site. Hall 9.0, Stand B14 —
W.L. Gore & Associates, Inc., Newark, Del.
www.gore.com
Measure concentrations with this ultrasonic flowmeter system
SensoTech
A measuring and analytical system that determines concentration in any type of liquid is provided with the LiquiSonic system (photo). LiquiSonic consists of one controller and one or several sensors. The sensors are installed directly in the process, work maintenance-free, and are usually manufactured in stainless steel. The completely enclosed design, which requires neither gaskets, moving parts nor windows to the process, makes the sensors especially robust. ATEX- and IECEx-certified systems are available for use in hazardous areas. Typical applications include the precise determination of concentration of mixtures, phase detection, and neutralization or reaction motoring, such as polymerizations and crystallizations. Hall 11.1, Stand F75 —
SensoTech GmbH, Magdeburg-Barleben, Germany
www.sensotech.com
Chip technology enables hand-held viscometery measurements
RheoSense
The µVISC portable viscometer (photo) is this company's latest product from its core VROC technology. Based on MEMS and microfluidic technology, the viscosity measurement is performed in a small chip, and the µVISC requires only 100 to 400 µL per measurement. Measurements are performed within a minute with an accuracy of 1% of full scale (2% of reading). The device measures viscosity in centipoise, shear rate and sample temperature, and can log as many as 20 tests, each with a user-defined sample ID. Both Newtonian and non-Newtonian fluids can be measured. Hall 4.1, Stand P75 —
RheoSense, Inc., San Ramon, Calif.
www.rheosense.com
A compact still for large throughputs of heat-sensitive materials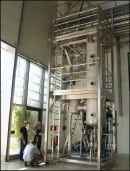 GIG Karasek
The patented Plate Molecular Still (photo) is capable of distilling large quantities of product (10 ton/h and more), under medium- or high-vacuum conditions. The system is suitable for applications involving temperature-sensitive substances, such as oils, fats, pharmaceuticals, vitamins methyl esters and more. The product is fed through a distribution system to the outer surface of the evaporator plates within a cylindrical vessel. In this arrangement, the heated and cooled panels lead to a high evaporation and condensation surface in the smallest possible space. As a result, the economics are more favorable when using the Plate Molecular Still compared to more expensive short-path distillation processors, says the company. Hall 4.0, Stand A68 —
GIG Karasek GmbH, Gloggnitz, Austria
www.gigkarasek.at
Internal ring baffles improve heat transfer in glass reactors

Asahi
The Stripe Jacketed Glass Reactor (photo) incorporates ring baffles inside the heat-transfer-fluid zone, thereby promoting turbulent flow for efficient heat transfer. This not only enables precise control of the process temperature, but also makes it possible to cool down to very low temperatures, such as –95°C, which has not been achievable in glass reactors before, says the manufacturer. —
Asahi Glassplant Inc., Arao City, Japan
www.theglassplant.com

Novosep



The length of this chromatography bed can be hand-adjusted
The Prochrom-Bio manual biochromatography columns (photo) are available with adjustable column length as a standard feature for operation at pressures up to 5 bars. This unique design is said to be operator-friendly, allowing manual bed-length adjustments and maintenance. The piston is equipped with an inflatable gasket that ensures both easy assembly and tightness. These columns are suitable for all purification steps, such as capture, intermediate purification and polishing in both R&D and cGMP environments. Hall 6.1, Stand B70 — Novosep, Pompey, France
www.novasep.com
This blender outperforms extruders for viscous fluids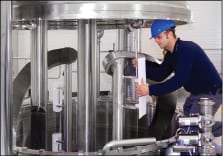 Ekato
The blending of fine particles with viscous fluids is required for the production of highly viscous products, such as sealing and insulation materials. As an alternative to cost and energy-intensive extruders, this company has developed a new blender-design concept (photo) that is said to "markedly" reduce the energy requirements. The design of the impellers causes a continuous flow through the vessel and divides it into two zones; one of intense back mixing and another area of high shear intensity. The solid is wetted in the backmixing zone while complete dispersion of the product occurs in the shear area with plug-flow characteristics, which leads to consistent, high product quality, says the company. Hall 5.0, Stand D42 —
Ekato Group, Schopfheim, Germany
www.ekato.com
A large pressure filter is now two times bigger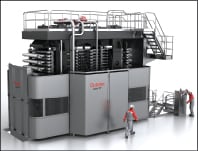 Outotec Oyj
This company has scaled up the proven Larox pressure filtration (PF) technology to larger scale. The Larox PF 180 series filters (photo) are now 50% larger than the previous model. The PF 180 is almost 9 m long, 9 m high and has a maximum filtration area of up to 252 m
2
. Filtration cloth of the PF 180 is continuous with only one seam and is 200 m long. The automation system of the PF 180 has also been upgraded with interactive self-diagnostic features, user manuals and an electronic spare-parts catalog with 3D images. Hall 5.0, Stand C62 —
Outotec Oyj, Espoo, Finland
www.outotec.com
Large, rubber-lined bends for transporting abrasives
immuG Rohr + Schlauch
Piping-bends up to ND 900 from rubber incorporating a seamless, highly abrasion-resistant inner rubber layer (photo) completes the range of this company's products. On display at the company's stand will be a bend of dimension ND 600. Rubber bends have proven themselves in conveying applications for highly abrasive suspensions in the chemical industry, mining and environmental areas. Rubber bends provide a much higher lifetime under chaffing conditions than bends made of other materials, says the manufacturer. The process for fabricating these bends allows for continuous configuring of both the bend radius (from 1.6  ND to 6  ND) and bend angle (from 15 to 105 deg.). Hall 9.0, Stand D22 —
immuG Rohr + Schlauch GmbH, Walbeck, Germany
www.immug.com
Liquid jet pumps do more than create a vacuum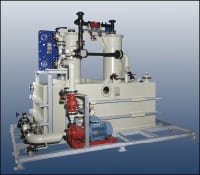 GEA Wiegand
This company has opened up new fields of applications for liquid jet pumps in which the pump is not only used to generate a vacuum, but at the same time to scrub gas and separate dust (photo). In the new application presented at Achema, HCl-laden exhaust gas is extracted from a tumbling dryer and scrubbed until the exhaust meets TA-Luft requirements, with simultaneous generation of a 50-mbar vacuum. The jet pump is made of conductive polypropylene (PP) with glass-fiber-reinforced plastic, and is offered as a compact unit that includes: a separator made of PP, motive fluid pumps of perfluoroalkoxy (PFA) and plate heat exchangers made of titanium. Hall 4.0, Stand F44 —
GEA Wiegand GmbH, Ettlingen, Germany
www.gea-wiegand.de
Make distilled water from wastewater using low-grade heat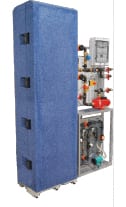 TMW
EcoStill (photo) is based on patented multistage humidification/dehumidification (MHD) technology — a distillation process operating under atmospheric pressure, below boiling point with evaporation and condensation in air streams, without pressure or vacuum. With only one moving component, EcoStill works with low-grade heat (temperature less than 80°C) as hot water, low-pressure steam or exhaust gas. It produces distilled water that can be reused or safely discharged into the environment. Each EcoStill module can treat up to 300 m
3
/yr of liquid waste and recover up to 90% of the water. Up to five modules can be assembled in parallel for treatment capacities of up to 1,500 m
3
/yr. Hall 5.1, Stand D52 —
TMW, Paris France
www.tmw-technologies.com
Cold is okay for this chemically resistant elastomer
The Perplast ICE G75LT offers a combination of "excellent" chemical resistance and low-temperature performance. This perfluoroelastomer material has been specifically developed to perform under extreme conditions, in temperatures as low as –40°C or lower. The elastomer has been formulated to provide increased resistance to a broad range of chemicals by carefully controlling the molecular architecture. Also, this material has low permeability and as a result, it is less prone to swelling, leading to extended in-service performance in valves, pumps and mechanical seals. Hall 9.0, Stand E14 — Precision Polymer Engineering, COG Gehrckens, Pinneberg, Germany
www.prepol.com
Filterbelts featuring double-layer weaving
This company has pioneered the double-layer weave (DLW) filter media made of synthetic yarn technology, and now offers the widest range of double-layer filter media in the market. The Tetex DLW filter media family ranges from a standard polyester fabric to polyether ether ketone (PEEK). The latest innovation is the heavy-duty line, Tetex DLW HD, a next generation filter media for vacuum belt filters. Choice of pore sizes from 7 to 150 µm, in widths up to 3.5 m (6 m on request) are available. The company also is presenting its Pharma-Grade dust filter bags for particle recovery to meet the demanding conditions imposed by regulations in the pharmaceutical industry. Hall 5.0, Stand D60 — Sefar AG, Heiden, Switzerland
www.sefar.com
This steam trap has no moving parts
The recently launched Delta DSV energy saving steam trap has no moving parts and yet is still able to completely remove condensate while holding the steam back in the system, even in varying load or pressure conditions. The Delta DSV is guaranteed for ten years and can never fail open and pass steam. The steam trap is said to save between 10 and 20% of a boiler fuel bill through the elimination of any steam wastage, while allowing better heat transfer in the steam system through its condensate-removal ability. A full range of sizes is available — from DN15 threaded through DN200 flanged — covering pressure ranges up to 100 bars saturated steam. Hall 5.1, Stand D44 — Delta Steam Systems, Cape Town, South Africa
www.deltasteamsystems.com
A wide range of structured packing available here
Evergreen Technologies
This company offers a full range of sheet metal structured packing (photo), along with a full range of column internals. This high-efficiency structured column packing covers operating conditions from vacuum to medium pressure, with specific surface areas from 70 to 750 m
2
/m
3
, providing a wide range of efficiency and pressure-drop requirements. The structured packing complements the company's line of wire-gauze and knitted-mesh packing products. Hall 6.1, Stand C79 —
Evergreen Technologies Pvt. Ltd., Mumbai, India
www.evergreenindia.com
A transmitter that measures both pressure and dewpoint
The DPT146 Dewpoint and Pressure Transmitter is said to be the first transmitter available for monitoring both dewpoint and process pressure simultaneously, making it especially suitable for applications involving high-quality compressed air. Dewpoint data are constantly pressure compensated online and in realtime, which means that separate conversions are no longer needed to take possible changes in pressure into account. As one single transmitter provides two of the most important measurements for compressed air applications simultaneously, installation costs can be reduced and setup and maintenance are simplified and efficient. Hall 11.0, Stand A1 — Vaisala, Vantaa, Finland
www.vaisala.com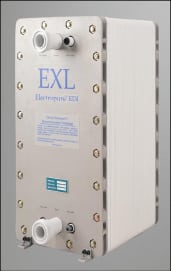 SnowPure
Achieve high flow with this electrodeionizer
Designed to be the highest flow EDI (electro-deionization) modules on the market, the new Electropure EXL-700 EDI modules (photo) are configured to easily build ultrapure water systems, and can be used with either single- or double-pass reverse-osmosis (RO). Among the features are the company's patented Excelion membranes, non-scaling electrode system, new "never-leak" permanent O-ring seals and thin-cell technology. With the Electropure EDI thin-concentrate technology, scaling is almost eliminated and salt-injection or feed-and-bleed systems are not required. Hall 6.1, Stand C79 — SnowPure, LLC, San Clemente, Calif.
www.snowpure.com
This hybrid still system handles heat-sensitive substances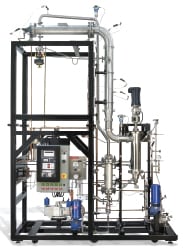 Pope Scientific
Extremely heat-sensitive fine chemicals and other substances are safely and efficiently separated with this Hybrid Still Technology (photo). These systems combine the gentle evaporating principle of high vacuum, dynamically mixed and transported wiped thin films with the highly efficient separation capability of fractional packed columns. Versatile designs allow onsite reconfiguration for high-vacuum molecular (short-path), distillation, evaporation or fractionation. Systems are available in sizes from 1-kg/h bench-top units to pilot and processing plants with feedrates of more than 1,000 kg/h, with construction in glass, 316L stainless steel, Hastelloy and other materials. Hall 5.1, Stand C44 —
Pope Scientific, Inc., Saukville, Wisc.
www.popeinc.com
Study moisture-induced changes with this microscope cell
Surface Measurement Systems
The GenRH-H (photo) is a new environmental microscopy cell with relative humidity control. The cell provides dynamic humidity control of a sample in optical, Raman, Fourier-transform infrared (FTIR) and other analysis techniques. Used in conjunction with an optical microscope, the GenRH is suitable for studying moisture-induced phase changes; relaxation, swelling and stability of particles, granules and fibers; degradation and caking of foodstuffs; deliquescence and powder stability; and more. With Raman or FTIR, the cell can be used to study hydration formation, polymorphs transitions, crystallization of amorphous compounds, and so on. Hall 4.2, Stand F66 —
Surface Measurement Systems Ltd., London, U.K.
www.genrh.co.uk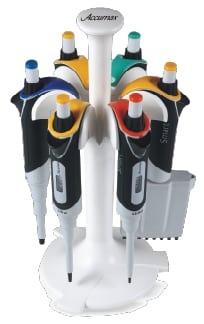 Fine Care Biosystems
Smart pipettes that are comfortable to use
Accumax Smart Pipettes (photo) have an ergonomic design for fatigue- and stress-free operation with a convenient handgrip that enables long hours of pipetting. The Soft Touch requires only the lightest force for aspiration and dispensing, and a large digital display enables smaller increments and smooth volume changes. Sealing with PTFE ensures longterm performance. The devices are autoclavable and have enhanced ultraviolet resistance. Hall 4.1, Stand A62 — Fine Care Biosystems, Gujrat, India
www.accumaximum.com
Helmer
Freezers and refrigerators with smart features
This company's refrigerators and freezers (photo) are available on all i.Series and Horizon Series models. The i.Series line features the door-mounted i.C User Interface with full-color touchscreen. It provides constant temperature monitoring, event acknowledgement, and multiple information logs that can be downloaded. Horizon Series models feature a temperature controller with an alarm and monitoring system. Refrigerators are available in laboratory, pharmacy and blood bank models from 5–56 ft3. They offer superior chamber temperature uniformity with quick recovery, bacteria-resistant powder coating, self-closing doors, and LED lighting. Shelves, roll out baskets, and drawers provide custom storage options. Freezers are available in 5, 20 and 25 ft3 models for laboratory and plasma storage. They feature programmable automatic defrost, bacteria-resistant powder-coated interior and exterior, and custom storage options. Hall 4.2, Stand A29 — Helmer, Noblesville, Ind.
www.helmerinc.com
Measure NOx over a very wide concentration range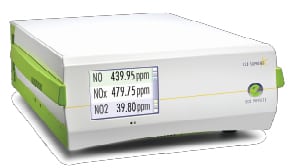 Eco Physics
The CLD 811 nitrogen-oxide analyzer (photo) allows the measurement of oxides of nitrogen (NOx) concentrations in raw exhaust of several thousand parts per million (ppm) down to a few parts per billion (ppb). This broad dynamic range combined with the linearity of the chemiluminescence principle meets the demands for response time, sensitivity and reproducibility. The instrument not only handles rough samples, such as hot and humid exhaust gas, but also diluted samples from bags. The entire unit, together with vacuum pump and ozone scrubber, fits in a single, compact case. —
Eco Physics AG, Duernten, Switzerland
www.ecophysics.com
This ULT freezer even sends Email alerts
A new range of ultra-low temperature (ULT) freezers (–86°C), tradenamed EvoSave-series, features a Web interface and unique TCP/IP address. In case of an alarm, the freezer will send an Email. Users simply connect the freezer to a local network, which activates the onboard Webmail server with recipients and the mail server will do the rest. This service offers maximum remote security, at no additional cost, says the manufacturer. Hall 4.2, Stand N62 — Snijders Scientific B.V., Tilburg, The Netherlands
www.snijders-scientific.com
This decanter centrifuge may be the largest of its kind
Flottweg
With the introduction of the new decanter centrifuge Z8E (photo), this company enlarges the capacity range of its decanters for the food and chemical industries. The Z8E is said to be the largest three-phase decanter with an adjustable impeller on the market. With the adjustable impeller, the fluctuations in the feed can be evened out automatically while the machine is running. At the same time, the fluid level in the decanter can be optimally readjusted. Thanks to its modular design, this decanter can be customized to the specific demands of each industry. Besides models for strict hygienic requirements of the food industry, there are more designs in progress. For the chemical industry, gas-tight machines with ATEX certified equipment are currently being developed. The Z8E is available in two-phase as well as three-phase versions. Hall 5.0, Stand A86 —
Flottweg SE, Vilsbiburg, Germany
www.flottweg.com
Photometers for a variety of applications
This company manufactures optical measuring devices for monitoring the quality of a large range of process variables in many different industries, including water, chemical, air and beverages. The company's photometers meet the highest standards of quality and reliability, and are used to support process optimization, and continuous safety, purity and quality control. Among the applications in which the photometers are used are for measuring turbidity, dissolved substances, color, oil or particulate matter. Hall 11.1, Stand A4 — Sigrist-Photometer AG, Ennetbürgen, Switzerland
www.photometer.com
A Web-based platform for assuring REACH compliance
Launched earlier this year, REACH Factory is said to be the first IT solution covering all aspects of the REACH (Registration, Evaluation and Authorization of Chemicals) regulation. REACH Factory is a Web platform made of six different tools that can be used individually or combined with one another for complete compliance. Developed by experts in chemistry, toxicology and IT, each tool meets one aspect of REACH and easily integrates into all information systems. Three tools allow data management in the supply chain, and three others help manage data within the company. Hall 9.2, Stand D39 — EcoMundo, Issy-les-Moulineaux, France
www.ecomundo.eu
Safely ground piping with this earthing bridge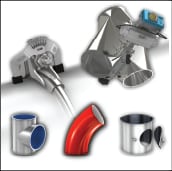 Fr. Jacob Söhne
The patented Earthing Bridge is now complemented with a new model — the Universal Earthing Bridge. The new version replaces the earthing cable traditionally used for electrostatic grounding of pipe systems. The bridge is fixed to the company's pull-ring using a simple screw, so no welding work is required, even for retrofitting existing systems. Other products (photo) highlighted at this company's stand is the new Hygiene Distributor, which is used in applications where frequent cleaning of the inner surfaces of pipes necessitates quick and easy disassembly and reassembly of the parts. The design of the distributor enables this to be achieved, even in its installed state. The entire shaft and flap components can be removed and refitted without the use of any tools. Hall 6.0, Stand B29 —
Fr. Jacob Söhne GmbH & Co. KG, Porta Westfalica, Germany
www.jacob-rohre.de
Particle analysis from R&D to product quality control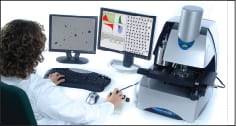 Malvern Instruments
This stand will present the complete range of complementary materials-characterization technologies and instruments, including the Morphologi G3 and Zetasizer Nano particle characterization systems (photo). This company has also recently announced a cooperation with Postnova Analytics (Landsberg, Germany) to deliver the combined FFF (field-flow-fractionation) and DLS (dynamic light scattering) solutions that provide critical insight when characterizing a number of challenging particulate systems. Such systems include complex, aggregated, cross-linked, nano-particles and fibrillated proteins. FFF enables the separation of particles that are too large for analysis by GPC/SEC, and the addition of this company's Zetasizer Nano as a DLS detector allows the subsequent measurement of absolute particle size. Hall 4.1, Stand D59 —
Malvern Instruments Ltd., Malvern, U.K.
www.malvern.com
A large rotary vacuum filter for solid-liquid separation
The vacuum rotary drum filter features a scraper blade for continuous service, and 25 or 30 m2 of filtration area. The drum (3-m dia., 2.7-m length) is subdivided into different sectors having air tubes connected to an extraction valve. These sectors are separated by specially formed pieces of AISAI 304, which support the drainage grills and the filters. The drum rotates with variable speed from 0.2 to 1.2 turns per minute. — Velo Acciai Srl., Treviso, Italy
www.veloacciai.com