Load pallets and lower injury risk with this machine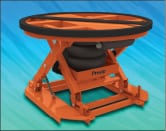 The new P3 All-Around level loader is designed to keep pallets at a convenient height for loading and unloading. The P3 has a pneumatic airbag that automatically raises and lowers pallet as material is added or removed. It also features a turntable ring or platform to allow users to remain in the same spot while loading or unloading. Requiring no electrical power, the P3 can accommodate loads from 400 to 4,500 lb, depending on the spring package chosen, and can be moved easily with a forklift. — Presto Lifts Inc., Attleboro, Mass.
This glass-coating system is now enhanced for cost savings
The next-generation Certincoat hot-end coating system applies a uniform layer of tin oxide to the surface of glass containers just after they emerge from the bottle-forming equipment. The tin oxide provides a good surface for the adhesion of cold-end coating. This combination of coatings increases scratch resistance, improves lubricity, reduces breakage, allows faster filling times and enhances a bottle's appearance. The new XE Series hot-end coating system hood includes patent-pending innovations to enhance efficiency and cut costs, says the company. — Arkema, King of Prussia, Pa.
www.arkema.com