Powtech 2013 Show Preview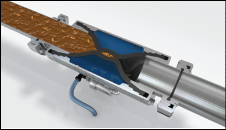 AKO Armaturen & Separationstechnik
A new pinch valve with a variety of connectors
New to this company's pinch-valve product range are the pneumatic pinch-valves type VMC, which are currently available in sizes DN10–100. These are multifunctional modular systems, which consist of a four-part construction: the housing (body), an elastomeric sleeve and two connection covers (socket ends). A variety of different end-connection types is available: flange; internal thread; Tri-clamp; weld-on ends; and threaded spigot (RJT connection). Special conductive models with separate grounding are also available for use in hazardous areas for Zones 1, 2, 21 and 22. The VMC Series of air-operated pinch valves meets all requirements of the Pressure Equipment Directive 97/23/EC. Hall 4, Stand 211 — AKO Armaturen & Separationstechnik GmbH, Trebur-Astheim, Germany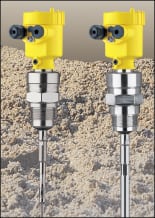 VEGA Grieshaber
Guided radar for level measurement of bulk solids
The new guided radar sensor Vegaflex 82 features a new, automatic probe-end-tracking function, which enables the device to measure the levels of bulk solids — even those with dielectric constants of 1.1 and higher — with unprecedented reliability, says the company. When there is an increasingly unreliable product signal, the sensor switches automatically to the stable probe-end-tracking signal, which is always proportional to the level. This guarantees accurate, consistent readings, especially with critical products, such as plastic powder. Vegaflex 82 is suitable for level measurement in almost all bulk solids. It delivers reliable measurement data in process temperatures from –40 to 200°C and process pressures from –1 to 40 bars. Its applications range from large-volume bunkers to 75-m-high silos, from light, fine powders to coarse, heavy gravel. Hall 6, Stand 209 — VEGA Grieshaber KG, Schiltach, Germany
Goudsmit Magnetic Systems
Use this strong magnet to remove impurities from product
The recently developed, fast-cleaning clean-flow magnet reaches a magnetic field of 10,700 Gauss on the bars that are within the product. The magnetic system removes iron particles and weakly magnetic particles from powdery substances, such as powdered milk, sugar and flour. With the application of the new generation of Neoflux magnets, it is also possible to capture weakly magnetic particles, such as 304 stainless steel (SS). Because the grill of this type of clean-flow magnet can be drawn outward via a rail, the magnet ensures a smooth operation and safety for the operators. The casing is made of 304 SS and the entire machine has a smooth finish (Ra ≤ 0.8), thus complying with the HACCP/EHEDG requirements. Three standard sizes are available for handling capacities of 10 to 20 m3/h. Hall 1, Stand 339 — Goudsmit Magnetic Systems B.V., Waalre, the Netherlands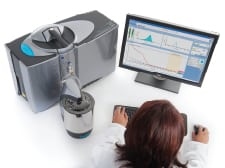 Malvern Instruments
Many material-characterization instruments on display here
This company is exhibiting a number of instruments, including the new Zetasizer Nano ZSP, a system for measuring particle size, zeta potential, molecular weight and protein mobility, as well as for microrheology applications. The Mastersizer 3000 laser-diffraction particle-sizing instrument will also be at the stand, as will the Insitec process analyzer for realtime monitoring. Finally, the company will show visitors how the Morphologi G3 can be combined with Raman spectroscopy to extend analytical capabilities. Hall 1, Stand 357 — Malvern Instruments Ltd., Malvern, U.K.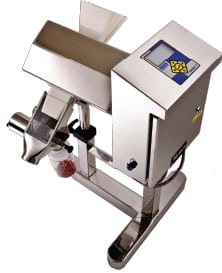 Lock Inspection Systems
These two inspection companies merge at Powtech
By joining forces, these two companies — Loma and Lock — will create one of the most diverse, technically advanced and service-oriented inspection companies. Among the products being exhibited together for the first time is the Insight PH for inspecting tablets and capsules. The unit is capable of accepting a high-output rate from tablet presses — up to 30,000 tablets or capsules per minute — and rejecting any minute metal contaminants with high efficiency. Also on the show floor is the Insight VF Vertical Fall metal detector, which inspects powders and granules at high throughput rates (up to 50 ton/h). Hall 6, Stand 237 — Lock Inspection Systems B.V., Etten-Leur, the Netherlands; and Loma Systems, Carol Stream, Ill.
www.lockinspection.com www.loma.com
Filter bags and cartridges featuring patented microfibers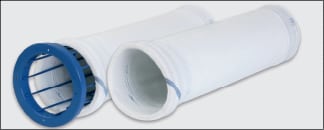 Freudenberg Filtration Technologies
The Viledon Nexx and Hi-Nexx filter bags, along with the sinTexx Plus filter cartridges have been designed for maximum efficiency in dust-removal applications. These new media feature the unique Evolon technology, which is based on a patented microfiber material that offers advantages compared to conventional needlefelt-type bags, says the company. Thanks to the fine microfiber surface featuring endless filaments, valuable recovered products will not be contaminated. Viledon Nexx and Hi-Nexx filter bags are up to 50% lighter than conventional needlefelt bags, which simplifies cleaning and installation. The Viledon sinTexx Plus Series of filter cartridges feature corrugated polyester nonwovens with a nanofiber coating, enabling the filters to handle dust and smoke, and an antistatic version is available for applications with potentially explosive dusts. Hall 5, Stand 235 — Freudenberg Filtration Technologies SE & Co. KG, Weinheim, Germany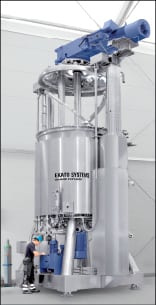 Ekato Systems
Doubling the production rate of personal-care products
This company has set a new milestone in mixing technology for large-volume batch processing. The Paravisc agitator enables very fast wetting and the incorporation of structure-forming components, thereby allowing a very high powder-dosing rate to be achieved. The high-shear homogenizer S-Jet/V has the ability to incorporate thickener in high doses without the buildup of agglomerates. It exhibits a high circulation rate, even with high-viscosity media. Maximum production rate of existing 4,000–5,000-L equipment can now be more than doubled to 9,000–12,000 kg/h. The Unimix SRC 10,000 (photo) is said to be the worlds largest batch-production machine. — Hall 6, Stand 410, Ekato Systems GmbH, a subsidiary of the Ekato Group, Schopfhein, Germany
One machine that combines two milling principles
IKA-Werke
The new universal mill Pilotina MU is said to be the ideal combination of a cutting and impact mill. This universal 2-in-1 dry mill combines the features and benefits of both a cutting and an impact mill into one machine. This dry mills modular design allows for an easy transition from impact to cutting mill (and vice versa) within a matter of seconds. In addition, the mill features the highest milling quality as well as an adjustable circumferential speed of the tool to meet specific application needs. The machine is also equipped with special safety features. Hall 5, Stand 322 — IKA-Werke GmbH & Co. KG, Staufen, Germany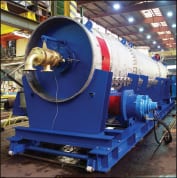 Buss-SMS-Canzler
This versatile, heavy-duty processor is self-cleaning
The Reactotherm consists of a cylindrical, horizontal shell and a rotor with segmented discs and mixing bars. Stationary mixing hooks are attached to the inside of the shell. The close clearance between the mixing hooks, the segmented discs and the rotor results in a high mixing and kneading effect and largely self-cleaning properties of the rotor. Mixing bars are used to clean the inside of the shell, which prevents fouling of heat exchange surfaces and the formation of agglomerates. The shell, shaft and discs can be heated or cooled. The system can operate continuously or batch-wise under vacuum, atmospheric pressure and overpressure. Units are available with volumes from 160 to 10,000 L and 3 to 104 m² of heat-exchange surface area. Research and pilot units are also available with working volumes of 8 to 60 L. Hall 5, Stand 112 — Buss-SMS-Canzler GmbH, Düren, Germany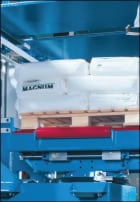 Beumer Group
A system to accurately stack bags and package the pallet
Among the products and system solutions on display is the paletpac high-performance layer palletizer for palletizing bags filled with bulk materials. This flexible unit stacks polyethylene (PE) and polypropylene (PP) bags, layer-by-layer, on pallets of all common sizes up to a stack height of 2.4 m with geometrical accuracy and extreme stability. The user can quickly and easily set the required parameters using a multi-program. Depending on the product requirements, the paletpac is fitted with a rotary clamp or double-belt turning device that moves the filled bags quickly and gently into the required position. The stacked bags can then be packaged using the company's stretch hood. Hall 1, Stand 135 — Beumer Group GmbH & Co. KG, Beckum, Germany
This containment valve protects workers and the product
This company is presenting the new generation of the Müller Containment Valve (MCV), which is designed for the handling of toxic or highly potent products. The new series is suitable up to OEB (occupational exposure bands) Level 5 (occupational exposure level less than 1 µg/m³), and not only safeguard the health of employees, but maintain the purity of the product and protect the environment. The locking device of the valve has been improved, offering advantages for the operator. The valve is sturdy, but lightweight, and the handling is simple. It can be used for applications under vacuum (–1 bar) as well as for those with overpressure (up to 6 bars). A new explosion-pressure-shock resistant version is also available offering safety against flame breakthrough for gases of explosion group IIB (up to 6 bars). Hall 1, Stand 345 — Müller GmbH, Rheinfelden, Germany
Many new features incorporated in this electronic weighing scale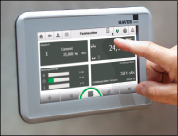 Like its predecessor of the MEC series, the new MEC 4 electronic weigher was designed in this packaging-machine manufacturer's development department for electronic weighing systems. The MEC 4 features a completely new family of hardware that allows the machines to keep up with the increasingly demanding requirements for more flexibility, speed and operator comfort. With its touchscreen panel (photo), the MEC 4 offers a user-friendly interface, and is programmable with CoDeSys. Additional features include a high-speed processor, good electromagnetic compatibility and temperature stability up to 70°C. Up to 31 modules can be integrated for complex applications. Hall 1, Stand 533 — Haver & Boecker OHG, Oelde, Germany
Reduce tablet coating times with this system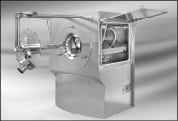 Gebr. Lödige Machinenbau
This fully optimized tablet coater is said to revolutionize the efficiency of coating processes and enables coating times that are 40 to 50% shorter than with conventional solutions due to its innovative drum geometry combined with a special configuration of the installed nozzles. The unit will be at the stand to demonstrate the possibilities for mixing processes and related technologies in the chemical, pharmaceutical, food and environmental industries. Also on display will be the horizontal Ploughshare mixer, which has a total volume of 900 L. A continuously operating Ploughshare mixer with the same volume will be used to demonstrate a multi-stage, continuous process that uses three continuous mixers of different sizes and designs. Hall 5, Stand 222 — Gebr. Lödige Machinenbau GmbH, Paderborn, Germany
Thin-film dryers gently process liquids, slurries and pastes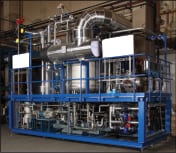 GIG Karasek
The thin-film drying technology from this company can be used for continuous drying of suspensions, municipal sludge, slurries, pastes, wet solids, filter cakes and chemical products. It is also suitable for heat-sensitive products, such as polymers, foods and pharmaceuticals. A thin-film dryer is a special type of wiped-film evaporator. The product to be dried is distributed over the circumference of the heating surface to form a downward-flowing thin film of liquid that is stirred by a specially shaped rotor system to create optimal turbulence. These dryers can produce dry powder from a liquid feed. They can be used either alone, or as a pre- or post-dryer combined with other equipment. Horizontal thin-film dryers are ideal for drying slurries and pastes, while their vertical counterparts are preferred for continuous drying of liquids to wet solids in a single step. Both types feature short residence times, low holdup, self-cleaning characteristics and low-energy consumption. Closed-system operation allows toxic and dangerous products, such as solvents, to be handled safely. Hall 6, Stand 328 — GIG Karasek GmbH, Gloggnitz, Austria
This sampling system is completely automated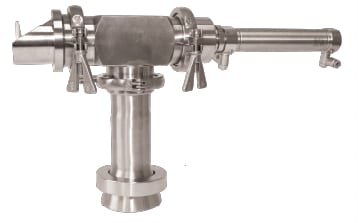 Dinnissen
This new, fully automated sampling system complies with the most recent criteria of EHEDG (European Hygienic Engineering and Design Group) and can be used for the automated sampling of incoming, stationary and outgoing product flows. The system can be used for continuous and batch production processes based on dry powders, granules or granulates. The user simply selects the desired parameters (frequency, volume and weight) beforehand, and the system then takes the required samples quickly, accurately and efficiently, says the company. Sample capacity ranges from 25 to 1,000 g per sample. Hall 4, Stand 323 — Dinnissen B.V., Sevenum, the Netherlands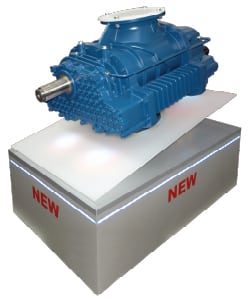 Aerzener Maschinenfabrik
More flowrate and power from this hybrid compressor series
The Delta Hybrid rotary-lobe compressor series has been extended by another size. The 14 sizes now cover intake volume flowrates of 110 up to 5,800 m3/h, and overpressures of up to 1,500 mbar. The new sizes D 98 S and D 98 H are used in the upper volume flow range of 1,470 to 5,900 m3/h, with drive powers up to 250 kW. The company is also preparing a version in the size D152S (photo), with volume flows of up to 9,100 m3/h and maximum drive power of 400 kW. The multi-patented design of these compressors is said to improve energy efficiency, with energy savings of up to 15% compared to conventional designs. — Aerzener Maschinenfabrik GmbH, Aerzen, Germany
Measure nanoparticles in gases with this condensation unit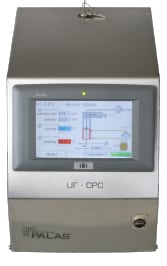 Palas
he Universal Fluid Condensation Particle Counter (UF-CPC) measures the number concentration of nanoparticles in air or gases by means of a condensation process that makes the particles large enough to be detected optically. The patented way that the working fluid is delivered in the UF-CPC enables the use of butanol, water or other environmentally friendly liquids. The modular design allows the unit to be optimized for single counting of droplets containing up to 106 particles/cm3, and allows most maintenance tasks to be performed by the operator. For process control applications, the UF-CPC supports standardized interfaces (such as Modbus), remote access and data storage (internal network or internet). Hall 5, Stand 156 — Palas GmbH, Karlsruhe, Germany
Piping for handling bulk goods, dust extraction and exhaust air
Pipe systems for bulk material handling as well as dust extraction and exhaust air units for environmental engineering (cooling and exhaust air) are the largest application areas for this company's modular pipe systems. The piping and components are available with 60–800-mm dia., or larger as a customized production, with 1–3-mm pipe wall thickness, and can be supplied as primed, galvanized or in stainless steel. The main applications are found in the chemical, pharmaceutical, plastics and food industries, and many more. Hall 5, Stand 348 — Fr. Jacob Söhne GmbH & Co. KG, Porta Westfalica, Germany
Bulk-material handling from components to systems
This company is presenting its latest generation of system components for bulk-material technology, including rotary feeders, double-flap gates and dome valves. The companys conveyor systems enable transport distances of over 1 km and capacities of over 100 ton/h. All systems are energy-optimized and tailored to the specific requirements of the user. Rotary feeders (including ceramic versions), pressure vessels, jet conveyors and screw sluices are used as feed-in units. In April, the company will also commission an in-house technical laboratory, which is equipped with industrial-scale bulk-material transport and storage systems that can reach a test capacity of up to 20 m3/h and transport distance of 250 m. Hall 5, Stand 217 — Kreisel GmbH & Co. KG, Krauschwitz, Germany
Gerald Ondrey