Metso Corp. (Helsinki, Finland; www.metso.com) has optimized its existing rotary kiln technology and launched RotarEkiln, an electrically powered, indirectly heated rotary kiln. The electric heating system of the RotarEkiln provides a sustainable alternative to conventional fuel-powered indirect rotary kilns.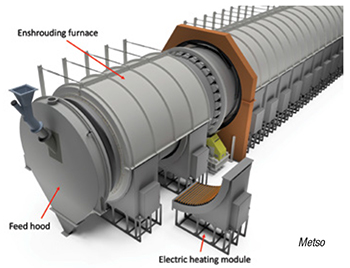 The RotarEkiln (diagram) is comprised of modular heating sections that have resistive-heating elements along their inner circumference to heat the kiln shell. This modular design is said to offer superior temperature control over the length of the kiln compared to fuel-fired designs, and can be customized to match specific applications. The modules can easily be removed and exchanged for maintenance and repair.
Traditional indirect kilns combust fuel, creating exhaust gases that carry away heat as waste, explains Maximilian Köpf, director Technology and R&D, BL Ferrous & Heat Transfer at Metso. Because the RotarEkiln does not fire fuel, there is no heat wasted in the exhaust gases. This, combined with the improved flexibility and control of the shell temperature leads to a decrease in energy consumption of nearly 50%, he says.
The RotarEkiln is available with kiln-shell diameters of up to 5 m — the largest commercially available electric kiln, says the company. It can be used for low- to medium-temperature processes (up to 850°C). Potential applications include lithium acid roasting, rare-earth-acid roasting, pyrolysis (carbonization), low- to medium-temperature calcination and drying. Throughputs depend on the process itself, but for a lithium-extraction, acid-roast process, Metso has considered the RotarEkiln for cases of up to 35 metric tons per hour.
Capital and operating costs are highly variable and dependent on the application, location and project requirements, says Köpf. "In some scenarios, the RotarEkiln can increase capital costs as much as 10–15%," he says. "Metso is working to optimize the technology and reduce this impact to assist customers in achieving their decarbonization goals."