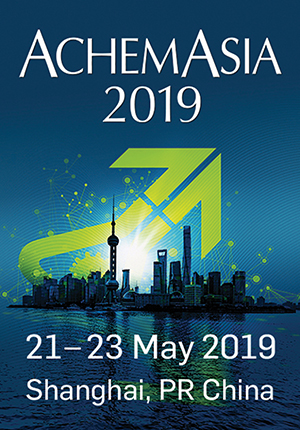 AchemAsia — International Expo and Innovation Forum for Sustainable Chemical Production — is the international technical and scientific exhibition and conference for the Asian market. With about 400 exhibitors from some 20 countries, it focuses on the exchange of experience between scientists and engineers, as well as between equipment suppliers and users. Taking place every three years, this edition of AchemAsia runs from May 21–23 in Shanghai. It is organized by Dechema (Frankfurt am Main, Germany; www.dechema.de) and CIESC (Chemical Industry and Engineering Society of China), in cooperation with numerous Chinese and international partners.
Apart from the move to Shanghai, where AchemAsia will take place at the National Exhibition and Convention Center (NECC) for the first time, participants can look forward to a couple of novelties: The International Expo and Innovation Forum for Sustainable Chemical Production brings the latest technologies in this field to the spotlight. Making the chemical process industries (CPI) more sustainable means using less resources and less energy. Efficiency in production processes is increased via the implementation of energy recovery measures, the use of better catalysts and optimized equipment. It means designing processes with a holistic perspective, making use of new digitalization and modeling approaches. It means protecting scarce water resources through state-of-the-art industrial water management, closing loops, culminating in concepts such as zero liquid discharge, where no water leaves the industrial process.
Besides being showcased in the exhibition, these trends will also be discussed in the accompanying congress. Composed of satellite symposia on hot topics of the Chinese CPI, the congress takes place right in the exhibition hall.
The following is a sample of products being exhibited at AchemAsia 2019.
This variable-speed actuator is also explosion proof
This electric-actuator manufacturer is showcasing the latest advances in valve actuation at this year's AchemAsia. The new SAV variable-speed actuators bring significant advantages to challenging valve automation tasks, because each change of valve position can be done at the optimum speed. These actuators are now also available in explosion-proof versions. High operating speeds favor rapid opening and closing. Low speeds give the best positioning accuracy, which considerably increases the effectiveness of control valves. Reducing operating speeds close to the end positions avoids pressure peaks in pipelines and protects the mechanical integrity of valves and sluice gates. Hall 7.1, Stand F26 — AUMA Riester GmbH & Co. KG, Muellheim, Germany