Global digitalization professionals will convene in Austin, Tex. for the 2021 Connected Plant Conference (www.connectedplantconference.com), which is being held August 30–Sept. 2. The event will cover all aspects of the industrial internet of things (IIoT), and its enabling technologies, including machine learning (ML), artificial intelligence (AI) and augmented and virtual reality.


Important IIoT applications and implementation best practices for the chemical process industries (CPI) will be covered in great detail in presentations by a wide variety of industry experts from companies including Eastman Chemical, ExxonMobil, Evonik, Mitsubishi, Google, Black & Veatch, Lonza, BP and more. This show preview highlights some of the advanced technologies that will be showcased at this year's Connected Plant Conference.
A full-service IIOT platform that supports flow-control equipment
RedRaven is an IIoT services platform that enables operators to digitalize operations with full-spectrum wireless monitoring, analytics and managed-engineering services. The RedRaven platform supports any flow-control equipment, regardless of manufacturer. The platform's intelligent fluid-motion insights improve plant resilience with agile protocols that serve to predict, act and protect. Available with wireless or wired options based on applications, the platform includes sensors that are placed on industrial equipment and gateways that collect data from assets and then transmit them to the cloud with a secure, data-encrypted technology. — Flowserve, Corp., Irving, Tex.
New software features facilitate machine-learning initiatives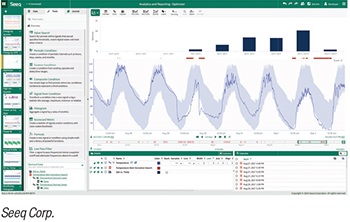 The new R52 release of this company's software platform (photo) offers new features that support the use of ML innovation in process manufacturing organizations. These features enable users to deploy their own or third-party ML algorithms into the advanced analytics applications used by frontline process engineers and subject matter experts, thus scaling the efforts of a single data scientist to many operational employees. New capabilities include add-on tools, display panes and user-defined functions, each of which extend the predictive, diagnostic and descriptive analytics capabilities. With R52, users will also be able to schedule Seeq Data Lab notebooks to run in the background. In addition to Seeq Data Lab support for ML code and libraries, the platform also enables access to the Seeq/Python library via third-party ML solutions, including Microsoft Azure, Amazon SageMaker and open-source offerings, such as Apache Anaconda. — Seeq Corp., Seattle, Wash.
Advanced machine-health platform for rotating equipment
This company's AI-powered machine-health platform, Grundfos Machine Health (GMH; photo), empowers users to convert their data into meaningful actions aimed at optimizing maintenance planning and improving reliability. GMH can be installed on nearly any piece of stationary rotating equipment to ensure complete site coverage. The platform's advanced wireless sensors are installed non-invasively at all bearing points on the machine. Data is transferred to an ISO 27001-certified, secure cloud platform where a robust algorithm uses measurements of vibration, temperature and magnetic flux to detect the slightest variation in equipment's optimal performance. The variant is then translated into actionable tasks that help maintenance teams prioritize their workload and prevent costly failures. — Grundfos Pumps Corp., Brookshire, Tex.
Next-generation productivity through self-service analytics
This company's intuitive, web-based self-service analytics platform (photo) enables rapid visualization of time-series based process and asset data. Using this self-service, advanced-analytics solution supports improving an organization's key performance indicators (KPIs), while also reducing costs. Classic model-based analytics require data-science expertise and can often be time consuming. Enabling more users to access advanced analytics decreases "time-to-insight." This democratization of analytics supports people with a deep understanding of the process to improve the performance of the plant. The platform analyzes both time-series data and contextual data. Users can find relevant data, identify trends and create actionable information to solve production issues. They can also troubleshoot problems and monitor processes and assets in real-time to make better decisions, faster. — TrendMiner US, Houston
Smart predictive analytics for heat-transfer-fluid maintenance
Fluid Genius is a new predictive analytics tool for heat-transfer-fluid (HTF) life expectancy that uses AI algorithms built around HTF sample analysis data. The tool is designed to provide recommendations for extending fluid life and maintaining HTF systems. Fluid Genius generates a fluid condition score, a unique measure of the overall fluid condition, as well as notifications about fluid trends and customized recommendations for proactive maintenance actions. These could include system venting, inert-gas blanket system installation and inspection, fluid replacement, the implementation of side-stream filtration and alerts for possible contamination. — Eastman Chemical Co., Kingsport, Tenn.
Cloud-based APM merges modeling and analytics
The Forge Asset Performance Management (APM) platform goes beyond traditional machine monitoring and data gathering by merging machine modeling with modern cloud analytics. Digital twins developed in this platform predict machinery availability, drill to the root cause of inefficient machine operation and bring order to reliability and maintenance planning. Forge APM deploys rapidly through a variety of standard asset libraries and tools to integrate data sources quickly. To achieve peak asset performance and maximize machinery uptime, Forge APM supports greater enterprise asset management, even where pre-existing monitoring systems are already installed. — Honeywell International Inc., Charlotte, N.C.
Explainable machine learning for manufacturing optimization
This company's software platform aims to make manufacturing more efficient through explainable machine learning. With this easy-to-use software, factory personnel can optimize production and address root causes of quality issues, with no data-science experience required. Once deployed, models offer real-time optimization suggestions that constantly learn from the latest production data. Visual dashboards allow results to be shared with operations teams, so models can be scaled to other plants within weeks. A highlight of this solution is the ability to virtually replicate multi-stage batch processes in the software. With this functionality, users can model complex interactions between stages of batch processes with a high degree of accuracy, providing key data for decision-making. — Fero Labs, New York, N.Y.