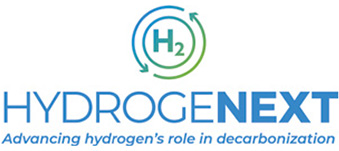 Concepts surrounding the hydrogen economy are quickly becoming practically realized as industries turn their focus to decarbonization initiatives. To address this rapidly evolving sector, the HydrogeNext conference (www.hydrogenextevent.com), taking place October 3–5 at the Gaylord Rockies Resort & Conference Center (photo below) in Denver, Colo., is bringing together technical and business experts to share their knowledge about the full hydrogen value chain, including production technologies, handling, storage and safety considerations, as well as updates on carbon capture and significant use cases. Safety is of particular importance for the advancement of hydrogen-based
decarbonization strategies.

According to the Compressed Gas Association (www.cganet.com), only 12% of Americans believe that hydrogen is a "very safe" energy source, and 92% of Americans say it is important to ensure safety standards are set before we begin expanding and scaling up hydrogen technologies. At HydrogeNext, CGA president and CEO, Rich Gottwald, will give a presentation about the Safety is Step One initiative, which is focused on emphasizing existing hydrogen standards and developing new standards for emerging hydrogen-related applications. "We cannot make the revolution a reality without assuring that hydrogen technology is handled safely and that this is communicated to the consumer," says Gottwald. Other highlights of the HydrogeNext program include the presentation of successful hydrogen-economy use cases from industry leaders like Worley, Southern Company, GE Power, Kiewit and more. The following Show Preview includes the HydrogeNext agenda and describes two of the HydrogeNext exhibitors and their technology offerings for the hydrogen economy.
Vacuum pump systems for hydrogen handling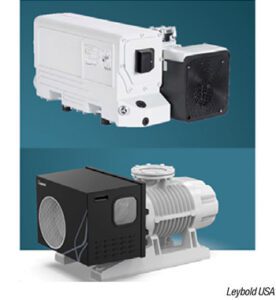 Liquid hydrogen storage and transport requires vacuum-insulated vessels to minimize heat transfer. This application requires pumping air from the vacuum insulation space to the milliTorr pressure range. The Varodry and Ruvac WSU vacuum pumping systems (photo) are appropriate for such hydrogen-handling applications because they do not require cooling water. There is also a number of ranges with ATEX and EXP motor options available, including: Trivac, Dryvac, Ruvac, Leyvac, Screwline, Turbopump, Ecodry and Scrollvac. Booth 118 — Leybold USA Inc., Export, Pa.
Demonstration project for fuel-cell-powered datacenter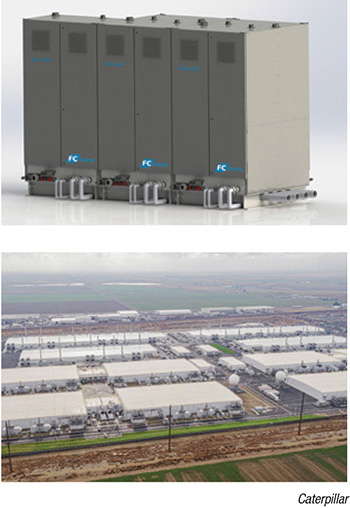 This company — in collaboration with Microsoft and Ballard Power Systems — has launched a three-year project to demonstrate a power system incorporating a large-format hydrogen fuel cell to produce reliable and sustainable backup power for datacenters. The project is supported and partially funded by the U.S. Department of Energy (DOE) under the H2@Scale initiative and backed by the National Renewable Energy Laboratory (NREL). The partners are demonstrating a 1.5-MW backup power-delivery and control system that would meet or exceed the performance of current diesel-engine systems. As the prime contractor on the project, Caterpillar is providing the overall system integration, power electronics and controls that form the central structure of the power solution, which will be fueled by low-carbon-intensity hydrogen. Microsoft is hosting the demonstration project at a company datacenter in Quincy, Wash. (photo, bottom), while Ballard is supplying an advanced hydrogen fue-cell module (photo, top). The NREL is performing analyses on safety, economics and greenhouse-gas impacts. The demonstration will provide key insights into the capability of fuel-cell systems to serve multi-megawatt datacenters by providing uninterruptible power that supports 99.999% uptime requirements. The project will also explore the scalability of fuel-cell systems powered by low carbon-intensity-hydrogen from cost and performance perspectives, including 48-h operation using onsite fuel, power transfer time and load acceptance. Booth 201 — Caterpillar Inc., Deerfield, Ill.
HydrogeNext Agenda
Monday, October 3
7:00 am–6:30 pm: Registration Hours
5:30 pm – 6:30 pm: Happy Hour
Tuesday, October 4
8:00 am–9:30 am: The Way Forward — Opening Keynote Presentations
10:00 am–11:30 am: Safe at any Speed? Debating the Pace of the Energy Transition
1:00 pm–2:30 pm: Usage, Demand and Market for Hydrogen
3:30 pm–5:00 pm: H2 Technology Updates: Current Production and Emerging Methods
Wednesday, October 5
8:30 am–9:00 am: Bitcoin's Vital Role in the Energy Transition
9:00 am–10:00 am: Hydrogen Storage Considerations
10:30 am–12:00 pm: Safety Issues and Policies Around Hydrogen
1:00 pm–1:20 pm: Hydrogen Case Studies in Decarbonization
1:20 pm–1:50 pm: Hydrogen Firing at Long Ridge Energy Center: What it Tells Us about the Future of Hydrogen in Combustion Turbines
1:50 pm–2:15 pm: Hydrogen Case Studies — Southern Co. and GM Super Trucks
2:15 pm–3:00 pm: World's Largest Hydrogen Fuel Blending at Plant McDonough-Atkinson
3:30 pm–5:00 pm: Carbon Capture Technology Development and Integration Considerations