Standard Lithium Ltd. (Vancouver, B.C.; www.standardlithium.com), today announced that it has broken ground in El Dorado, Arkansas for its first-of-a-kind direct lithium extraction demonstration plant that selectively extracts lithium from the tail brine that is a byproduct of the existing bromine production operations run by LANXESS.
The Demonstration Plant will employ the Company's proprietary technology that uses a solid sorbent material to selectively extract lithium from LANXESS South Plant's tailbrine. Designed to continuously process an input tailbrine flow of 50 gallons per minute (11.4 m3/h), the plant is expected to achieve equivalent to an annual production of between 100 and 150 ton/yr lithium carbonate. The environmentally friendly process eliminates the use of evaporation ponds, reduces processing time from months to hours and greatly increases the effective recovery of lithium.
The site, located at one of the operational brine processing plants, is currently being leveled and graded in preparation for construction of the foundations and concrete slabs needed to house the industrial-scale demonstration plant (see press release dated 2nd June 2019).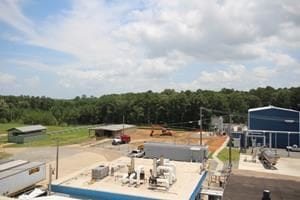 The work is being managed on-site by Hunt Guillot & Associates LLC (HGA) of Ruston, Louisiana, which has completed all the civil engineering and site utility connection works to date. HGA has been contracted to supervise and control all work related to the installation and connection of the modular Demonstration Plant at the operational brine facility, and El Dorado-based contractor Milam Construction will complete the majority of the work. Standard Lithium's recently hired Plant Manager, Mr. Bruce Seitz, will also be present on-site during all enabling and installation works. The current schedule allows for pre-installation works to be completed prior to all the modules being mobilised to the site by the end of Q3, 2019.
Standard Lithium CEO Robert Mintak stated, "No new lithium mine has been built in the United States in over five decades; breaking ground at our El Dorado site represents a major achievement towards changing that. We anticipate our project and progress will be keenly watched as lithium has taken on significant political interest with the White House 2017 executive order and subsequent pending legislation aimed to boost domestic supplies of critical minerals."
The Company recently announced the results of a Preliminary Economic Assessment (PEA) (see press release dated June 19th,2019). The PEA considers the production of battery-quality lithium carbonate through a phased build-out with production ramped up over 5 years to a total 20,900 ton/yr with a total CAPEX estimate including 25% contingency on both direct and indirect capital costs of $437 Million.