The technological advances that we witness in our everyday lives are quite astounding. What were once fantasies in science fiction have become reality. "Smart" devices that are now affordable to many, can talk to us, answer our questions, vacuum our floors and do much more. And, robotics, artificial intelligence, additive manufacturing and other technologies have capabilities far more advanced than the simple assembly-line tasks of early robots. While we marvel at the thought of self-driving cars and advances yet to come, many are also concerned that the fast-moving world of automation is a threat to our jobs: Are robots taking over the workplace?
According to a report by the World Economic Forum (WEF) 1, the fourth industrial revolution is causing not just a disruption to business models, "but also to the labor markets … with enormous change predicted in the skill sets needed to thrive in the new landscape." Current trends could lead to a net loss of over 5 million jobs globally (in the countries covered by the report) in 2015 to 2020, says the report. Most of the job losses are expected to be in office and administrative functions; while gains are expected in computer, mathematical and engineering fields. There are numerous reports by various groups that address potential job losses due to automation. While the predictions vary, one thing that seems sure is that skill requirements are changing rapidly.
The digital worker
Many experts are focusing on the human side of the technological advances. At the recent Emerson Global User's Exchange (Minneapolis, Minn.; October 2–6), much attention was given to the "digital worker." In his opening comments, Mike Train, executive president, Emerson Automation Solutions, discussed how the era of increasing efficiency by cutting costs has come to an end, because productivity through efficiency has been maximized, and has left workforces stretched. Automation is now the driver for productivity, and changes in the workforce are needed. Train says, "The pressure is on industry leaders to take the next step to the game-changing performance made possible by digitally empowering the workforce." The message is that automation is not about eliminating jobs, but it is changing jobs. Emerson has identified five competencies as critical for succeeding with digital transformation: automated workflow (leaving people to handle only the exceptions and not routine jobs); decision support(using data analytics combined with expertise); workforce upskilling; mobility; and change management.
Moving forward
The need for new skills is evolving rapidly, as jobs change and new jobs emerge with digitalization. With this pace of change, immediate focus needs to be given to training workers. In the WEF report, survey respondents cited future workforce planning and change management as high priorities. The report recommends actions for the immediate term, including: making use of data analytics, employing the benefits of a diverse workforce and leveraging flexible working arrangements. Longer term recommendations include rethinking education systems, incentivizing lifelong learning, and cross-industry and public-private collaboration.
Now, more than ever, we as employees need to pay attention to keeping pace with the changing needs of our workplaces.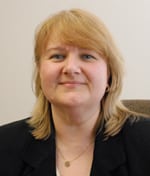 Dorothy Lozowski, Editorial Director
1.The Future of Jobs, January 2016; www.weforum.org/reports/the-
future-of-jobs; accessed October 17, 2017