The new European Union Personal Protective Equipment (PPE) Regulation explained, and what it means for the chemical process industries
The European Commission's Personal Protective Equipment (PPE) Directive 89/686/EEC is over 20 years old and is now being superseded by the new PPE regulation (EU) 2016/425. This new regulation has been designed to reflect current technologies and processes for developing and bringing PPE to the market, as well as to enhance consumer safety and ensure fair competition between companies. The new regulation carries some important implications for the chemical process industries (CPI), which utilize a wide range of PPE to protect staff against potentially serious health and safety risks. This article outlines the new PPE regulation and describes its implications for the CPI.
PPE defined for regulations
PPE encompasses hundreds of products, including protective clothing, helmets, hearing and respiratory protection, gloves, body armor, boots and more (Figure 1). From legal and regulatory perspectives, PPE is defined more specifically as follows:
Equipment designed and manufactured to be worn or held by a person to protect against one or more risks to the person's health or safety
Interchangeable components for equipment referred to in Point A that are essential for its protective function
Connection systems for equipment referred to in A that are not held or worn by a person, that are designed to connect that equipment to an external device or to a reliable anchorage point, that are not designed to be permanently fixed, and that do not require fastening works before use
PPE falls into the following three categories, with Category 3 covering many serious risks of relevance to the CPI:
Category 1. This category covers "simple PPE" designed to protect users against minimal risks, including contact with hot surfaces not exceeding 50°C, contact with water or cleaning materials of weak action, and superficial mechanical injury (manufacturer's self-declaration).
Category 2. This category covers "intermediate PPE," such as safety spectacles and goggles, industrial helmets, bump caps, high-visibility clothing and other products not included in Categories 1 and 3 (EU Type Examination Certificate issued by a notified body).
Category 3.This category covers "complex PPE" to guard against risks that may cause serious consequences, such as death or irreversible damage to health (EU Type Examination Certificate issued by a notified body and ongoing assessment of factory production control). It includes risks known to arise — some of them frequently — in chemical processing facilities, such as:
Hazardous substances / mixtures
Harmful biological agents
Ionizing radiation
Oxygen-deficient atmospheres
High-temperature environments, the effects of which are comparable to those of an air temperature of at least 100°C
Low-temperature environments, the effects of which are comparable to those of an air temperature of –50°C or lower
The new regulation
The PPE Directive is now being superseded by the European Regulation on Personal Protective Equipment. The regulation was adopted on February 12, 2016 and published in the European Union Official Journal. It will apply to products from April 21, 2018, with a one-year transition period until April 21, 2019 for the transfer of certified products from the Directive to the new regulation.
The PPE Regulation is mandatory in every E.U. country, covering any type of product that falls within its scope. It is a legal obligation for all PPE manufactured after April 21, 2019 to comply. In addition, those involved in procuring PPE, such as health and safety professionals, facilities managers and specialist buyers, need to be aware of the changes to ensure equipment meets the requirements of the new regulation.
The main changes that the regulation brings include the following:
Clear placement of protection from substances and mixtures hazardous to health in Category 3 (Complex PPE)
The need for product risk assessments in the product technical file
Enclosing a declaration of conformity with each item of PPE or at least a link to where such a document can be obtained
Made-to-order PPE is now covered in the regulation
The need for manufacturers to place their name and address on the product
Responsibilities outlined for importers and distributors
Mandatory 5-year certificate validity
PPE for hazardous substances
All PPE that claims any protection from chemical substances is included in Category 3, with the exception of water or cleaning materials of weak action. This includes toxic industrial chemicals (TIC), toxic industrial materials (TIM), and chemical warfare agents (CWA). Typical PPE for protection from these hazards includes hoods, eyewear, respiratory protection, clothing, gloves and footwear. A combination of standards and technical specifications may be required to demonstrate compliance with the essential health and safety requirements of the new regulation, and the protection may consist of combined devices or complete ensembles.
The most complex area for determining compliance is with protective clothing. Tables 1 and 2 show some of the options that are available: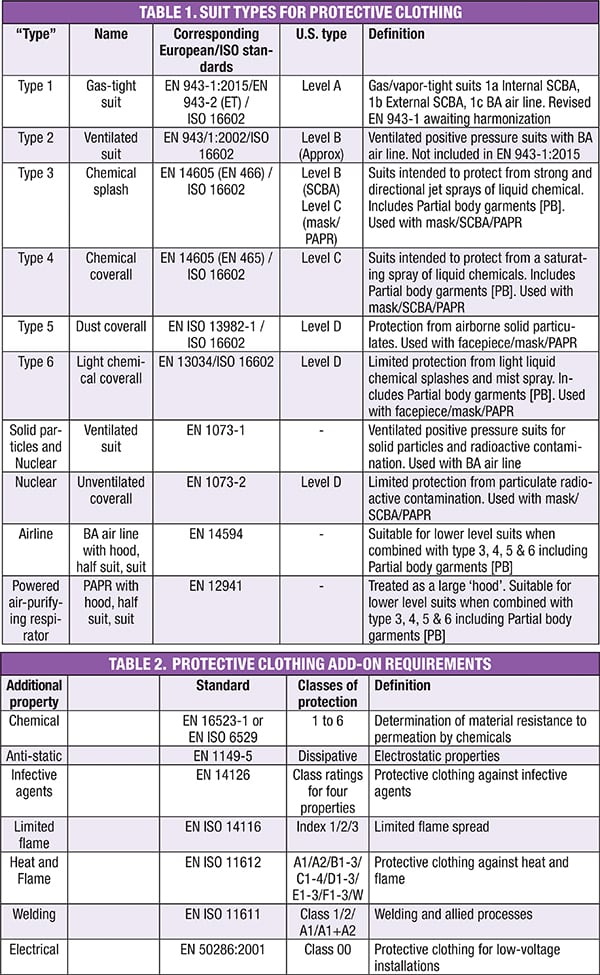 New glove standards
The group of standards that apply to chemical risks for gloves has also been recently updated with changes to parts of the classification system:
BS EN ISO 374-1:2016: Terminology and performance requirements for chemical risks
BS EN 374-2:2014: Determination of resistance to penetration
BS EN 374-4:2013: Determination of resistance to degradation by chemicals
BS EN ISO 374-5:2016: Terminology and performance requirements for micro-organisms risks
BS EN 16523-1:2015: Determination of material resistance to permeation by chemicals
Countering counterfeits
There is a good amount of effective PPE available to the CPI, but there are also numerous counterfeit and illegal products. Invariably, such fakes do not perform as they should, put employees' lives at risk and expose their organization to prosecution.
From the laboratory to the factory floor, PPE is vital to workplace well-being and it is imperative that it meets or exceeds health and safety standards. The new Regulation will help prevent companies from selling sub-standard PPE without accountability. Under the new regulation, any company importing or distributing PPE products will have to ensure it meets the regulation and keeps records.
Certification of PPE
So how can specifiers and buyers of PPE in the CPI be confident a product will do what it claims? Commercial specifiers and buyers of PPE can derive a measure of reassurance about the quality and safety of products from the presence of the "CE Mark." The presence of the CE Mark on a product means that a manufacturer claims it conforms to minimum legal requirements for the product as laid down by the E.U.
CE (conformité Européenne) Mark. For products sold within the E.U., PPE manufacturers must CE mark products following the specific requirements laid down in the regulations. The CE Mark requirements may be achieved by demonstrating that the product meets the Essential Health and Safety Requirements included in Annex II of the regulation. This may be through a harmonized European Standard, published in the Official Journal of the European Union (giving presumption of conformity), or through other European, national, international, publicly available standards or an appropriate technical specification.
A CE Mark placed on a product covers all the directives and regulations that apply to it, and there can be several relating to a single product, which may include the EMC Directive, Low-Voltage Directive, and Medical Devices Directive.
BSI Kitemark. BSI's status as a notified body for many European directives and regulations enables it to offer third-party testing and factory production control assessments, where products require it, and can offer support for PPE manufacturers wishing to CE Mark their products.
The BSI Kitemark is voluntary, independent, third-party certification. To achieve it, a manufacturer must have a comprehensive quality management system based on ISO 9001, or a recognized factory production control system, combined with initial product type-testing and regular ongoing audits. The certification process demonstrates the product has been manufactured under a verified quality system, and the products and processes are assessed on a continuing basis. In addition, it provides verification that the product meets the standard, as it requires regular factory visits, typically twice a year, and an ongoing product audit. Certification to, and display of, an independent BSI Kitemark provides a much stronger statement of product quality than a CE Mark, enabling customers — including those in the CPI — to differentiate between PPE and derive genuine assurance of product quality and fitness for purpose. From a buyer's perspective, it helps differentiate well-made PPE products from those of a lower standard — or indeed counterfeit goods.
BSI works both with PPE manufacturers that achieve CE marking and also with those that choose to go for BSI Kitemark certification to demonstrate product quality and generate customer trust.
Edited by Scott Jenkins
Authors

Bob Wells is global head of personal safety at BSI (389 Chiswick High Road, London W4 4AL, U.K.; Phone: +44 20 8996 7248; Email: [email protected]) and has been working in the product certification field for over 25 years. He started out at BSI as a laboratory test engineer and later became a manager testing mechanical products prior to certification. In 2010, he returned to BSI to handle the certification of personal safety equipment.

Graham Clements joined BSI in 2014 as certification manager for PPE (Phone: +44 20 8996 7248; Email: [email protected]. He has over 25 years' experience in PPE and assurance and has worked with industry and government bodies within the field of chemical protection. He is passionate about ensuring products have been tested to the highest level, that a product will perform as expected and protect people, property and the environment and that it will do what it is designed to do.