I first visited Achema some years ago, while I was working in Europe as an R&D project leader for a large, international chemical company. It was my first year living in the Netherlands on an expatriate assignment from the U.S., and I, along with several of my engineering colleagues, set off on a roadtrip from the Netherlands to Frankfurt, Germany. All of my European colleagues seemed to be very familiar with Achema, but for me, it was my first exposure to this important event for the chemical process industries (CPI). I recall my first impressions of Achema — it was huge, larger than any trade fair I had previously attended. Even though I spent several days there, I remember thinking that there was so much more to see and learn.
Achema
Achema (www.achema.de) is one of the largest exhibitions and conferences for the CPI in the world. It occurs once every three years at the fairgrounds (Messe) in Frankfurt am Main, Germany, and is organized by Dechema (www.dechema.de), a non-profit professional association for chemical engineering and biotechnology. The event was started in 1920, and will reach its centennial anniversary by the next exhibition in 2021.
In recent years, I have had the privilege of attending Achema regularly to cover the event for Chemical Engineering and the Achema Daily. The editors of Chemical Engineering magazine, together with colleagues from Vogel, a German publishing company, write and produce the Achema Daily, which is distributed in print on the fairgrounds and digitally worldwide.* The publication is written in both English and German. Even with a total of 256 pages over the five days of the event, the Achema Daily could cover only part of what was going on at the trade fair.
This year's event was held June 11–15 with more than 3,700 exhibitors from 55 countries and about 145,000 visitors. Three focal points for the event included: flexible production, focusing on modular solutions; biotech for chemistry, which showcased the integration of biotechnological methods into the CPI; and chemical and pharma logistics, which showed how the supply chain is being integrated more and more into the process industries. There was much activity around digitalization and new trends in automation.
After all these years, Achema does not disappoint — it is still huge, and offers something for everyone in the CPI.
In this issue
For those who were not able to attend Achema, we have summarized some of the highlights in this month's news story on pp. 14–17, as well as in a brief article on new membrane distillation technology in our Chementator section. And, many of our new products this month were featured at the event as well. We hope you enjoy reading these, along with our wide variety of articles on agitators, materials of construction, solids processing and much more. ■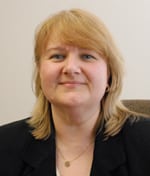 Dorothy Lozowski, Editorial Director
*As an example, this link is to one of the five Achema Daily issues: https://epaper.vogel.de/process_87418/index.html