Growing awareness of and concerns about the impact of waste on our environment, along with corporate directives to improve sustainability, are driving numerous initiatives that focus on recycling and other technologies for reducing waste. Many companies in the chemical process industries (CPI) have made commitments to develop more sustainable practices and are reporting on their progress.
Reducing plastic waste
Plastic waste has garnered particular attention and commitments from CPI companies, including the ambitious goal of eliminating plastic waste*. Mentioned here are some recent developments, several of which were announced at last month's show for plastics and rubbers, K 2019 (Düsseldorf, Germany; October 16 to 23), where reducing plastic waste was a major topic.
Mitsui Chemicals, Inc. (www.mitsuichem.com) is collaborating with Kaisei Inc. to commercialize bio-polypropylene. The method being investigated would ferment mainly non-edible biomass to produce isopropanol, which would be dehydrated to obtain propylene.
BASF (www.basf.com) is investing €20 million in Quantafuel, a specialist in the pyrolysis of mixed plastic waste and purification of pyrolysis oil. The intention is to develop technology for chemical recycling and use the recycled product as feedstock in chemical production. BASF's ChemCycling project aims to process recycled raw materials obtained from plastic waste. Prototypes based on chemically recycled plastic waste, including food packaging, have already been made.
SABIC (www.sabic.com) highlighted several of its sustainable technologies at K 2019, including its "certified circular polymers" that are created from chemically recycled mixed plastic waste. The company's Trucircle initiative includes certified renewable polyethylene and polypropylene, and polymer resins created from mechanically recycled polymers.
Clariant (www.clariant.com) introduced its EcoCircle Centers of Excellence, for collaborative research and joint development of products for a circular plastics economy. Projects on mechanical recycling of packaging materials are said to be underway. Future facilities will include a mini recycling plant for polyolefins and supporting laboratory capabilities.
Baerlocher (www.baerlocher.com), a supplier of plastic additives, offers a proprietary Resin Stabilization Technology (RST) that aims to improve quality and consistency issues that result from using recycled plastics. The company reports that its RST stabilizers enable manufacturers to increase the use of recycled plastic waste in their products.
Beyond plastics
Waste reduction technologies are being developed for much more than plastics. One example is a recent announcement by AkzoNobel (www.akzonobel.com), that it is the first major manufacturer to launch recycled paints. In partnership with Veolia, AkzoNobel is creating a product called Evolve Matt, which is part of its Dulux Trade brand, that contains 35% recycled paint.
The initiatives mentioned here represent only a fraction of the work being pursued on sustainability within the CPI. Further developments in technologies for sustainability can be found in this issue — in the Newsfronts on supply chains (pp. 12–14), and on water treatment (pp. 16–20), as well as in our Chementator department (pp. 5–9).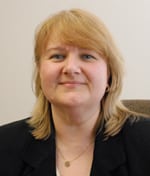 Dorothy Lozowski, Editorial Director